The Islington Tribune (11 May 2007) revealed that spiritual healers are being paid by the NHS. The National Secular Society commented
"Spiritual healers" using up scarce NHS resources
The University College London Hospital is to spend £80,000 on testing whether "spiritual healers" can have an effect on cancer.
" 'Healers' who wave their hands over the patient and claim to transmit some kind of undefined 'energy' " want to find out whether their efforts increase the number of white blood cells in cancer sufferers.
Astonishingly, UCLH has a dedicated team of 10 "healers", who cost the hospital around £80,000 a year to maintain. They are the idea of department manager Angela Buxton who first became interested in 'spiritual healing' after the death of her seven-year-old son from leukaemia. She told the local paper: "Science has not caught up with how it works. Anecdotal evidence shows it works but we need hard evidence."
A defence of this procedure was offered in an email from Martin Lerner (Divisional Manager, Cancer Services)' He cites cancertherapies.org.uk as saying.
"Today we are also entering the era where appropriate scientific studies of complementary therapy will begin to show specific improvements in outcome for some patients."
Hang on. Aren't you meant to get the scientific studies before you start treating patients?
Lerner goes on to say
"UCLH does employ the staff and provide some of the budget (about £90,000 this year) towards the cost of this service, with a similar amount raised through charitable fundraising. By making these complementary therapy services an integral part of the clinical service, we show that we take responsibility for the whole of the patient's wellbeing, . . ."
Spiritual healing clearly comes under the heading of "dishonest placebo effects". Nobody is disputing the value to some patients of palliative treatments. The placebo effect can be quite powerful. But is seems the proponents of laying-on-of hands have not considered adequately the lying dilemma
The laying-on-of hands also gives rise to the training dilemma. What does it mean to be "trained", In something that is essentially mumbo-jumbo?. Well this poses no problem for the box-ticking mentality of the corporate administrator, Just tick the box. Here is the application form. It seems that if you can produce a piece of paper saying you are well-qualified in mumbo-jumbo, then everything is fine.
There is more on the box-ticker mentality elsewhere. It is only too typical of the "efficient administration" that results from corporatisation of the health service, and universities, and the removal of power from those who know what they are talking about.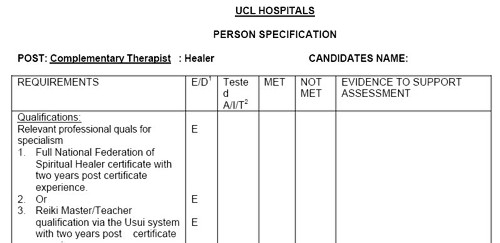 What is the evidence about 'spiritual healing' ?
Very little it seems. There is an interesting paper with the title "Psychotherapy and Survival in Cancer: The Conflict Between Hope and Evidence", by Coyne, Stefanek & Palmer (2007) [download the paper]. They conclude that, despite the popular belief to the contrary, there is little reason to believe that psychotherapy can prolong life in cancer patients. Insofar as complementary treatments are placebos, they count as a form of psychotherapy.
No doubt, mumbo-jumbo can make some people feel better, and to that extent it is justified. But it can and should done be honestly (for example, foot massage is fine, 'reflexology' isn't). Lies to patients should be minimised and universities should not be tempted to hand out certificates in mumbo jumbo.

Postscript
Here is another interesting article on this topic . Attitude doesn't affect cancer survival. That is based on Optimism and Survival in Lung Carcinoma Patients [download pdf]..
14 Responses to Laying on of hands: just tick the box