Much has been written on this blog about Dr Michael Dixon, and about the "College of Medicine", which is the direct inheritor of the mantle of the late, unlamented, Prince's Foundation for Integrated Health. At the time of the foundation of the College it was stated that "The College represents a new strategy to take forward the vision of HRH Prince Charles".
Michael Dixon has also been chairman of the NHS Alliance since 1998. That was one of very few organisations to support Andrew Lansley's Health Bill. No doubt he will be happy for Crapita Capita to supply alternative nonsense at public expense.
Dr Dixon took offence to a review in The Times of Mark Henderson's new book, The Geek Manifesto.

.
The review, by David Aaronovitch, said, apropos of the 1023 campaign,
" . . .there was now, almost for the first time, a group of people who were not content to see claims made for discredited treatments without making everyone aware of the science that disproved those claims. And second, what they were doing had implications for public policy."
and
"The geeks represent, for me, one of the most encouraging recent developments in British public life."
This excellent review evidently upset Dr Dixon, because on 20th May, his letter appeared in the Times.
David Aaronovitch is right to argue for a robust scientific approach in medicine. However, he is not being logical or scientific when he says that if something is suspected to be placebo then it has no benefit and the NHS should not pay for it.
What about scientific research on remedies that many believe to be placebo? These frequently show that there is a benefit but this is confined to those who believe in the treatment given. Surely, in such cases, it would be logical to say that the treatment was beneficial albeit in a specific group of "believers". From there, it would be good science to compare the safety costs of this supposed placebo remedy with its currently given alternative before deciding whether "believers" should be able to receive such a remedy on the NHS.
The problem here is that belief and mindset play an enormous part in healing – science needs to take account of this. Patients' symptoms are frequently metaphors and effective treatment can often be symbolic and culturally dependent. The mind, in the right circumstances, can produce its own healing chemicals often mimicking those given in conventional medicine. Until science can explain healing in psychosocial as well as biomedical language, we must be cautious about "voting for the geeks" as Mr Aaronovitch suggests. It is far better surely that individual treatment should be tailored, within reason, to the patient and their beliefs and perspectives. Further more, might it not be wiser to direct NHS resources according to pragmatic trials of cost effectiveness and safety rather than a limited interpretation of science that excludes the effect of the mind?
Dr Michael Dixon
Chair of Council College of Medicine.
This letter seemed remarkable to me. It is very close to being an admission that alternative medicine is largely placebo. It called for a reply.
We have been here before. Many people have discussed the dubious ethics of deceiving patients by giving placebos while pretending they are no such thing. There is wide agreement that it is not only unethical, but also unnecessary. Kevin Smith has written a scholarly essay on the topic. Edzard Ernst wrote Mind over matter? Margaret McCartney, the Glasgow GP, and author of The Patient Paradox, has explained it. Some views of Dr Dixon's approach are less flattering than mine. For example, from the USA, Steven Novella's Dr. Michael Dixon – "A Pyromaniac In a Field of (Integrative) Straw Men". And, from Majikthyse, Michael Dixon caught red-handed!, and Dr Aust's Dr Michael Dixon is annoyed. The list is almost endless.
.Two replies were published in the Times on 26 May (and they were the lead letters -bold print). One from the excellent Evan Harris, and one from me.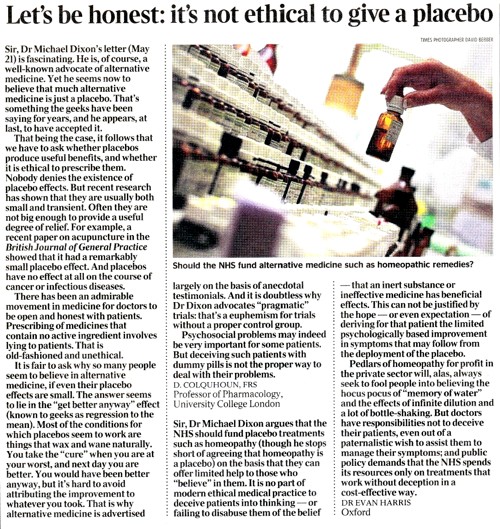 Here they are as text.
Sir, Dr Michael Dixon's letter (May 21) is fascinating. He is, of course, a well-known advocate of alternative medicine. Yet he seems now to believe that much alternative medicine is just a placebo. That's something the geeks have been saying for years, and he appears, at last, to have accepted it.
That being the case, it follows that we have to ask whether placebos produce useful benefits, and whether it is ethical to prescribe them. Nobody denies the existence of placebo effects. But recent research has shown that they are usually both small and transient. Often they are not big enough to provide a useful degree of relief. For example, a recent paper on acupuncture in the British Journal of General Practice showed that it had a remarkably small placebo effect. And placebos have no effect at all on the course of cancer or infectious diseases.
There has been an admirable movement in medicine for doctors to be open and honest with patients. Prescribing of medicines that contain no active ingredient involves lying to patients. That is old-fashioned and unethical.
It is fair to ask why so many people seem to believe in alternative medicine, if even their placebo effects are small. The answer seems to lie in the "get better anyway" effect (known to geeks as regression to the mean). Most of the conditions for which placebos seem to work are things that wax and wane naturally. You take the "cure" when you are at your worst, and next day you are better. You would have been better anyway, but it's hard to avoid attributing the improvement to whatever you took. That is why alternative medicine is advertised largely on the basis of anecdotal testimonials. And it is doubtless why Dr Dixon advocates "pragmatic" trials: that's a euphemism for trials without a proper control group.
Psychosocial problems may indeed be very important for some patients. But deceiving such patients with dummy pills is not the proper way to deal with their problems.
D. Colquhoun, FRS Professor of Pharmacology, University College London
---
Sir, Dr Michael Dixon argues that the NHS should fund placebo treatments such as homeopathy (though he stops short of agreeing that homeopathy is a placebo) on the basis that they can offer limited help to those who "believe" in them. It is no part of modern ethical medical practice to deceive patients into thinking — or failing to disabuse them of the belief — that an inert substance or ineffective medicine has beneficial effects. This can not be justified by the hope — or even expectation — of deriving for that patient the limited psychologically based improvement in symptoms that may follow from the deployment of the placebo.
Pedlars of homeopathy for profit in the private sector will, alas, always seek to fool people into believing the hocus pocus of "memory of water" and the effects of infinite dilution and a lot of bottle-shaking. But doctors have responsibilities not to deceive their patients, even out of a paternalistic wish to assist them to manage their symptoms; and public policy demands that the NHS spends its resources only on treatments that work without deception in a cost-effective way.
Dr Evan Harris Oxford
Follow-up
20 Responses to Dr Michael Dixon of the "College of Medicine" seems to admit that alternative medicine is a placebo