Adrian Eddleston
The bulletin of the British Pharmacological Society, Pharmacology Matters, declined to publish the following article. Sadly the Society seems to be more interested in "reputation management" than in truth. Luckily, it is not easy to suppress criticism these days. A version of the article has appeared in Research Fortnight where it will be seen by far more people than it would have been in Pharmacology Matters. This is the original version that I submitted to them. They would not allow me to quote Lewis's comment (apropos of the sale of homeopathic meningitis vaccine)
"Children will be harmed by this inaction. Children will die. And the fault must lie with Professor Sir Kent Woods, chairman of the regulator [MHRA]."
If a child were to die of whooping cough or meningitis as a result of buying the fraudulent "vaccines", that would be true. It's a sad reflection on the state of defamation law that journals are not willing to say so. Blogs are fast becoming the best source of reliable information.
Stop press. The BPS has now signed up to Alltrials (too late for the printed version)
---
Pharmacology society does little to defend its subject
David Colquhoun
Over the past few years a courageous group of writers, researchers and activists has worked to expose the truth about the medicines we are sold, be they conventional or alternative.
Thanks, above all, to Ben Goldacre (1), more people than ever know that the big pharma companies have been concealing evidence of the harm that their products do, or the good they fail to do. Thanks to a small army of bloggers the preposterous claims made by peddlers of homeopathic remedies and other quackery are less likely to go unchallenged.
And yet, the organization charged with safeguarding the good name of pharmacology in this country, the British Pharmacological Society (BPS), has remained silent throughout.
The pharmaceutical industry
The BPS, rather than helping, became actively complicit when, along with much of the medical establishment, it signed an agreement with the ABPI (2). This document, developed under the aegis of the Ethical Standards in Health & Life Sciences Group (ESHLSG), contained two objectionable clauses:
"Industry plays a valid and important role in the provision of medical education"
And
"Medical representatives can be a useful resource for healthcare professionals"
Given that clinical "education" has long been part of Pharma's marketing strategy, this seems disgraceful. And most of the doctors I know and respect refuse to see reps altogether. It is hopelessly optimistic to think that can an industry person can teach clinical pharmacology without bias in favour of his own company's products. The BPS has many members who teach pharmacology. Can they really cope so badly that we need to have industry to educate clinicians?
It's fine, and sometimes desirable, for academics and industry to work together on drug development. But only as long as the industry partner has no say in how, or whether, the results are published. Without that proviso we can expect more corruption of the sort that's been seen at the University of Sheffield (3).
This is very sad, because I have great reason to like the drug industry. I've benefitted from several of their products myself. But the industry is in trouble. Many of its products provide only marginal benefits. Furthermore, some of the things that seemed to be useful, like SSRI antidepressants, have turned out to be next to useless once hidden trials were revealed (4). The MHRA's learning module on SSRIs doesn't seem to have caught up with this yet.
Sadly, the reaction of industry has been to resort to dishonesty, to hide unfavourable data and to increase yet more what it spends on marketing. Between 2009 and 2012, fines of at least 10 billion dollars (5) have been imposed on some of the most eminent companies. They include Lilly, Pfizer, AstraZeneca, Merck, Abbott and GlaxoSmithKline (GSK). The biggest fine of all ($3 bn, in July 2012) went to a British company, GSK. This succession of large fines seems to be regarded by the companies as mere marketing expenses.
All these fines were levied in the USA. Where, one might ask, are the regulators in the UK? Why have there been no fines here? Why, indeed, are some of the senior managers of these companies not in jail? Why has the BPS remained silent about the prostitution of its subject? And why have the MHRA done so little to stop it?
I suggest that you support the petition for release of the results of all trials (6). It's been supported by many individuals and a lot of organisations, including the BMJ and the Royal Statistical Society. But, disgracefully, not by the BPS.
Quackery
At least in the case of the pharmaceutical industry some of its products work. But pharmacologists should also be concerned about the quackery industry, worth about 60 billion dollars per year (as opposed to $600 bn for the pharmaceutical industry). Virtually none of their products work (7). Why has the BPS said so little about it? It has, along with most of the medical and university establishment, shrugged its shoulders about the fact that students at Westminster University have been shown dowsing with a pendulum as a method for selection of herbal "remedies", as part of a Bachelor or "Science" degree. It is an area in which every regulatory agency has failed to ensure even minimal levels of honesty (8). And the BPS has just shrugged.
The MHRA has been worse than useless in this area: it has been actively unhelpful (9). The senior staff of the MHRA are members of the BPS which has, as usual, said next to nothing. The MHRA's herbal medicine committee has allowed misleading labels that give indications to be put on herbal potions, and these labels fail to make it clear that no evidence whatsoever of efficacy is required to get the MHRA kitemark. The wording was suggested (not required) by European law, but that law does not prevent the MHRA from saying, as it should, "there is no reason to think that this product is effective for any of the indications on the label" (10). Arguably, the MHRA is in breach of Consumer Protection law (11, 12).
At the time, the BPS did make some objection to the labelling (13), but only under great pressure from me (indeed I wrote it) . That has not been followed up, and I can no longer find it on the BPS web site. Indeed Philip Routledge, one of the people who is responsible for the misinformation in his capacity as chair of the MHRA Herbal Medicines Advisory Committee, is, at present the president of the BPS.
The MHRA has also been responsible for misleading labelling of the products of the most obviously fraudulent products of the lot: homeopathic pills, the medicines that contain no medicine. Most of the pills (anything beyond 12x dilution) contain not a single molecule of the substance on the label. Yet they have been given a get-out clause that enables them to evade prosecution by Trading Standards (an organisation that consistently fails to apply consumer protection laws. Rose et al (2011) (12) concluded
"EU directive 200s5/29/EC is largely ineffective in preventing misleading health claims for consumer products in the UK".
It is simply bizarre that the people at the MHRA, many of who are BPS members, have sat round a table and approved the following label. This example is for Arnica 30C pills, which, of course, contain no trace of arnica (14, 8). The outcome of their deliberations is simply surreal (see the actual labels here).
"Used within the homeopathic tradition for the symptomatic relief of sprains, muscular ache; and bruising or swelling after contusions."
This will deceive the naïve into thinking that it will have some effect on sprains etc. It won't. And the MHRA have declined to test how the label is perceived by the public, though it took some effort to get them to admit it.
"If you are allergic to any of the ingredients in this medicine, consult your doctor before taking this medicine."
The ingredients aren't stated apart from "contains lactose and sucrose". That's all they contain. No arnica.
"If pregnant or breastfeeding consult your doctor before use."
Why should a few mg of lactose and sucrose have the slightest effect on a pregnant or breast-feeding mother. This is pure make-believe
"If you forget to take this product, continue to take your usual dose at the usual time, it does not matter if you have missed a dose. Do not take a double dose to make up for a missed dose."
This statement is even more bizarre. There is nothing in the pills.
"If you take too much of this product (overdose) speak to a doctor or pharmacist and take this label with you."
And this is the ultimate in nonsense. The 1023 campaign regularly swallows whole bottles, and of course nothing happens. You can't overdose on nothing. The fact that the MHRA can insist on this label, with a straight face, is the ultimate betrayal of science and reason.
"When asked to comment, as part of the consultation on these rules, this was the response from the BPS."

This is extracted from page 16 of the "selected response" provided by the MHRA under a Freedom of Information Act request [download all]
Things have changed little since A.J. Clark wrote his book on Patent Medicines in 1938 (15). And the BPS has done next to nothing to help. Neither has the MHRA. In fact both have colluded in the failures of both honesty and reason.
A BBC South West program recently revealed that a pharmacist was selling "homeopathic vaccines" for whooping cough and meningitis (16). The MHRA have know about his homicidal practice for years, but have done nothing. The General Pharmaceutical Council let him off with a rap on the knuckles. It has been left to bloggers and TV reporters to focus attention on these scoundrels. The well-respected blogger, Andy Lewis, wrote (17)
"Children will be harmed by this inaction. Children will die. And the fault must lie with Professor Sir Kent Woods, chairman of the regulator [MHRA]."
And the full clinical data for Tamiflu are still being concealed by Roche (18).
I think that is rather shameful.
I have been a member of the BPS for all my working life. I was happy when they made me an honorary fellow. But I now find myself asking if I can remain a member of an organisation that has done so little to defend honest scientific behaviour.
References
(1) Ben Goldacre's Bad Pharma. Buy it now. Then do something. http://www.dcscience.net/?p=5538
(2) ABPI 2012 Guidance on collaboration between healthcare professionals and the pharmaceutical industry. http://www.abpi.org.uk/our-work/library/guidelines/Pages/collaboration-guidance.aspx
(3) Colquhoun, D. (2007) The Corporate Corruption of Higher Education: part 2 http://www.dcscience.net/?p=193
(4) Kirsch,I., B.J.Deacon, T.B.Huedo-Medina, A.Scoboria, T.J.Moore, and B.T.Johnson. 2008. Initial severity and antidepressant benefits: a meta-analysis of data submitted to the Food and Drug Administration. PLoS. Med. 5:e45. http://www.plosmedicine.org/article/info:doi/10.1371/journal.pmed.0050045
(5) Groeger, L. (2012) Big Pharma's Big Fines http://www.propublica.org/special/big-pharmas-big-fines
(6) All trials registered. All results reported, http://www.alltrials.net/supporters/
(7) Singh,S. and E.Ernst. 2009. Trick or Treatment. Corgi. http://en.wikipedia.org/wiki/Trick_or_Treatment
(8) Colquhoun, D. (2012) Regulation of alternative medicine: why it doesn't work, and never can. http://www.dcscience.net/?p=5562
(9) Colquhoun, D, (2006) The MHRA breaks its founding principle: it is an intellectual disgrace. http://www.dcscience.net/?p=32
(10) Colquhoun, D. (2011). Why does the MHRA refuse to label herbal products honestly? Kent Woods and Richard Woodfield tell me. http://www.dcscience.net/?p=4269
(11) Colquhoun, D. (2009) Most alternative medicine is illegal. http://www.dcscience.net/?p=30
(12) Rose,L.B., P.Posadzki, and E.Ernst. 2012. Spurious claims for health-care products: an experimental approach to evaluating current UK legislation and its implementation. Med. Leg. J. 80:13-18. http://www.dcscience.net/Rose-medico-legal-2012.pdf
(13) Colquhoun, D. (2006) Learned Societies speak out against CAM, and the MHRA. http://www.dcscience.net/?p=30
(14) MHRA Arnicare Arnica 30c pillules NR 01175/0181 http://www.mhra.gov.uk/home/groups/par/documents/websiteresources/con049307.pdf
(15) Colquhoun, D. (2008) Patent medicines in 1938 and now: A.J.Clark's book. http://www.dcscience.net/?p=257
(16) BBC South West on the evils of homeopathic "vaccines" http://www.youtube.com/watch?v=TZf9mUzI4RI
(17) Why Does the MHRA Not Close Down these Homeopaths? The regulators have known of serious problems for years, Nothing is done. http://www.quackometer.net/blog/2013/01/why-does-the-mhra-not-close-down-these-homeopaths.html
(18) Payne, D. (2012). Tamiflu: the battle for secret drug data http://www.bmj.com/content/345/bmj.e7303
Follow-up
25 February 2013 This post has some follow-up even before it appeared on Research Research. I noticed on the BPS web site a press release "BPS announces intention to sign All Trials Petition". It was dated 20th February, but I didn't notice it until after the printed edition went to press. It was expressed as a future intention to sign, though in fact they signed almost straight away (though over 100 organisations had already done so). That's good. I suspect that when my old friend, Humphrey Rang, who is president elect of the BPS, takes charge, the Society may start to take its responsibilities to the public more seriously than it has in the past.
| | |
| --- | --- |
| The MHRA, on the other hand, is still evading its self-declared job of ensuring the public that drugs work. | |
13 March 2013. A reply to this piece appeared in red on Research Research, The British Pharmacological Society champions its science. It was written by Humphrey Rang who, as president elect of the BPS naturally felt obliged to defend its record. He defends the BPS membership of ESHLSG, but fails to mention that first the Lancet and then the BMA withdrew their support. Nor does he mention that medical students and doctors launched a campaign, BadGuidelines.org, against the agreement. The Medical Schools Council, which also signed the agreement, said "the scrutiny of the guidance has 'identified deficiencies in the current statement". Didn't they read it before signing? Rang says that the BPS is also working to improve the joint statement with the ABPI. That's good, but one must wonder why the BPS signed up to the original form.
On the points about quackery, Rang sites the BPS statement on homeopathy (now vanished) but fails to mention that that statement was written by me in an attempt to wake the BPS from it's slumbers on the matter of medicines that don't work. But he doesn't mention at all the matter of mislabelling of both homeopathic and herbal preparations.
Of course, the BPS does many good things. But like most organisations, it is too reluctant to speak out when it sees wrongdoing, and too reluctant to say "sorry we made a cock-up that time".
The King's Fund recently published Assessing complementary practice Building consensus on appropriate research methods [or download pdf].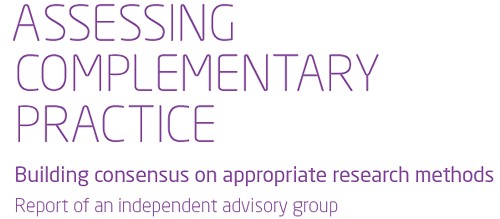 It is described as being the "Report of an independent advisory group". I guess everyone knows by now that an "expert report" can be produced to back any view whatsoever simply by choosing the right "experts", so the first things one does is to see who wrote it. Here they are.
Chair: Professor Dame Carol Black
Harry Cayton, Chief Executive, Council for Healthcare Regulatory Excellence
Professor Adrian Eddleston, then Vice-Chairman, The King's Fund
Professor George Lewith, Professor of Health Research, Complementary and Integrated Medicine Research Unit, University of Southampton
Professor Stephen Holgate, MRC Clinical Professor of Immunopharmacology, University of Southampton
Professor Richard Lilford, Head of School of Health and Population Sciences, University of Birmingham
We see at once two of the best known apologists for alternative medicine, George Lewith (who has appeared here more than once) and Stephen Holgate.
Harry Cayton is CEO of Council for Healthcare Regulatory Excellence (CHRE) which must be one of the most useless box-ticking quangos in existence. It was the CHRE that praised the General Chiropractic Council (GCC) for the quality of its work. That is the same GCC that is at present trying to cope with 600 or so complaints about the people it is supposed to regulate (not to mention a vast number of complaints to Trading Standards Offices). The GCC must be the prime example of the folly of giving government endorsement to things that don't work. But the CHRE were not smart enough to spot that little problem. No doubt Mr Cayton did good work for the Alzheimer's Society. His advocacy of patient's choice may have helped me personally. But it isn't obvious to me that he is the least qualified to express an opinion on research methods in anything whatsoever. According to the Guardian he is "BA in English and linguistics from the University of Ulster; diploma in anthropology from the University of Durham; B Phil in philosophy of education from the University of Newcastle."
Adrian Eddlestone is a retired Professor of Medicine. He has been in academic administration since 1983. His sympathy for alternative medicine is demonstrated by the fact that he is also Chair of the General Osteopathic Council, yet another "regulator" that has done nothing to protect the public
from false health claims (and which may, soon, find itself in the same sort of trouble as the GCC).
Richard Lilford is the only member of the group who has no bias towards alternative medicine and also the only member with expertise in clinical research methods His credentials look impressive, and his publications show how he is the ideal person for this job. I rather liked also his article Stop meddling and let us get on.. He has written about the harm done by postmodernism and relativism, the fellow-travellers of alternative medicine.
Most damning of all, Lewith, Eddlestone and Holgate (along with Cyril Chantler, chair of the King's Fund, and homeopaths, spiritual healers and Karol Sikora) are Foundation Fellows of the Prince of Wales Foundation for Magic Medicine, an organisation that is at the forefront of spreading medical misinformation.
I shall refer here to 'alternative medicine' rather than 'complementary medicine' which is used in the report. It is not right to refer to a treatment as 'complementary' until such time as it has been shown to work. The term 'complementary' is a euphemism that, like 'integrative', is standard among alternative medicine advocates whose greatest wish is to gain respectability.
The Report

The recommendations
On page 10 we find a summary of the conclusions.
The report identifies five areas of consensus, which together set a framework for moving forward. These are:

the primary importance of controlled trials to assess clinical and cost effectiveness.
the importance of understanding how an intervention works
the value of placebo or non-specific effects
the need for investment and collaboration in creating a sound evidence base
the potential for whole-system evaluation to guide decision-making and subsequent research.
The first recommendation is just great. The rest sound to me like the usual excuses for incorporating ineffective treatments into medical practice. Notice the implicit assumption in the fourth point
that spending money on research will establish "a sound evidence base". There is a precedent, but it is ignored. A huge omission from the report is that it fails to mention anywhere that a lot of research has already been done.
Much research has already been done (and failed)
The report fails to mention at all the single most important fact in this area. The US National Institutes of Health has spent over a billion dollars on research on alternative medicines, over a period
of more than 10 years. It has failed to come up with any effective treatments whatsoever. See, for example Why the National Center for Complementary and Alternative Medicine (NCCAM) Should Be Defunded; Should there be more alternative research?; Integrative baloney @ Yale, and most recently, $2.5B Spent, No Alternative Med Cures found. .
Why did the committee think this irrelevant? I can't imagine. You guess.
The report says
"This report outlines areas of potential consensus to guide research funders, researchers, commissioners and complementary practitioners in developing and applying a robust evidence base for complementary practice."
As happens so often, there is implicit in this sentence the assumption that if you spend enough money evidence will emerge. That is precisely contrary to the experence in the USA where spending a billion dollars produced nothing beyond showing that a lot of things we already thought didn't work were indeed ineffective.
And inevitably, and tragically, NICE's biggest mistake is invoked.
"It is noteworthy that the evidence is now sufficiently robust for NICE to include acupuncture as a treatment for low back pain." [p ]
Did the advisory group not read the evidence used (and misinterpeted) by NICE? It seems not. Did the advisory group not read the outcome of NIH-funded studies on acupuncture as summarised by Barker Bausell in his book, Snake Oil Science? Apparently not. It's hard to know because the report has no references.
George Lewith is quoted [p. 15] as saying "to starve the system of more knowledge means we will continue to make bad decisions". No doubt he'd like more money for research, but if a billion dollars
in the USA gets no useful result, is Lewith really likely to do better?
The usual weasel words of the alternative medicine industry are there in abundance
"First, complementary practice often encompasses an intervention (physical treatment or manipulation) as well as the context for that intervention. Context in this setting means both the physical setting for the delivery of care and the therapeutic relationship between practitioner and patient." [p. 12]
Yes, but ALL medicine involves the context of the treatment. This is no different whether the medicine is alternative or real. The context (or placebo) effect comes as an extra bonus with any sort of treatment.
"We need to acknowledge that much of complementary practice seeks to integrate the positive aspects of placebo and that it needs to be viewed as an integral part of the treatment rather than an aspect that should be isolated and discounted." [p. 13]
This is interesting. It comes very close (here and elsewhere) to admitting that all you get is a placebo effect, and that this doesn't matter. This contradicts directly the first recommendation of the House of Lords report (2000).. Both the House of Lords report on Complementary and Alternative Medicine, and the Government's response to it, state clearly
". . . we recommend that three important questions should be addressed in the following order". (1) does the treatment offer therapeutic benefits greater than placebo? (2) is the treatment safe? (3) how does it compare, in medical outcome and cost-effectiveness, with other forms of treatment?.
The crunch comes when the report gets to what we should pay for.
"Should we be prepared to pay for the so-called placebo effect?

The view of the advisory group is that it is appropriate to pay for true placebo (rather than regression to the mean or temporal effects)." [p 24]
Perhaps so, but there is very little discussion of the emormous ethical questions:that this opinion raises:
How much is one allowed to lie to patients in order to elicit a placebo effect?
Is is OK if the practitioner believes it is a placebo but gives it anyway?
Is it OK if the pratitioner believes that it is not a placebo when actually it is?
Is it OK for practitioners to go degrees taught by people who believe that it is not a placebo when actually it is?
The report fails to face frankly these dilemmas. The present rather absurd position in which it is considered unethical for a medical practitioner to give a patient a bottle of pink water, but
perfectly acceptable to refer them to a homeopath. There is no sign either of taking into account the cultural poison that is spread by telling people about yin, yang and meridians and such like preposterous made-up mumbo jumbo. That is part of the cost of endorsing placebos. And just when one thought that believing things because you wished they were true was going out of fashion
Once again we hear a lot about the alleged difficulties posed by research on alternative medicine. These alleged difficulties are, in my view, mostly no more than excuses. There isn't the slightest
difficulty in testing things like herbal medicine or homeopathy, in a way that preserves all the 'context' and the ways of working of homeopaths and herbalists. Anyone who reads the Guardian knows
how to do that.
In the case of acupuncture, great ingenuity has gone into divising controls. The sham and the 'real' acupuncture always come out the same. In a non-blind comparison between acupuncture and no acupuncture the latter usually does a bit worse, but the effects are small and transient and entirely compatible with the view that it is a theatrical placebo.
Despite these shortcomings, some of the conclusions [p. 22] are reasonable.
"The public needs more robust evidence to make informed decisions about the use of complementary practice.

Commissioners of public health care need more robust evidence on which to base decisions about expenditure of public money on complementary practice."
What the report fails to do is to follow this with the obvious conclusion that such evidence is largely missing and that until such time as it is forthcoming there should be no question of the NHS paying for alternative treatments.
Neither should there be any question of giving them official government recognition in the form of 'statutory regulation'. The folly of doing that is illustrated graphically by the case of chiropractic which is now in deep crisis after inspection of its claims in the wake of the Simon Singh defamation case. Osteopathy will, I expect, suffer the same fate soon.
In the summary on p.12 we see a classical case of the tension
Controlled trials of effectiveness and cost-effectiveness are of primary importance

We recognise that it is the assessment of effectiveness that is of primary importance in reaching a judgement of different practices. Producing robust evidence that something works in practice – that it is effective – should not be held up by the inevitably partial findings and challenged interpretations arising from inquiries into how the intervention works.
The headline sounds impeccable, but directly below it we see a clear statement that we should use treatments before we know whether they work. "Effectiveness", in the jargon of the alternative medicine business, simply means that uncontrolled trials are good enough. The bit about "how it works" is another very common red herring raised by alternative medicine people. Anyone who knows anything about pharmacology that knowledge about how any drug works is incomplete and often turns out to be wrong. That doesn't matter a damn if it performs well in good double-blind randomised controlled trials.
One gets the impression that the whole thing would have been a lot worse without the dose of reality injected by Richard Lilford. He is quoted as a saying
"All the problems that you find in complementary medicine you will encounter in some other kind of treatment … when we stop and think about it… how different is it to any branch of health care – the answer to emerge from our debates is that it may only be a matter of degree." [p. 17]
I take that to mean that alternative medicine poses problems that are no different from other sorts of treatment. They should be subjected to exactly the same criteria. If they fail (as is usually the case) they should be rejected. That is exactly right. The report was intended to produce consensus, but throughout the report, there is a scarcely hidden tension between believers on one side, and Richard Lilford's impeccable logic on the other.
Who are the King's Fund?
The King's Fund is an organisation that states its aims thus.
"The King's Fund creates and develops ideas that help shape policy, transform services and bring about behaviour change which improve health care."
It bills this report on its home page as "New research methods needed to build evidence for the effectiveness of popular complementary therapies". But in fact the report doesn't really recommend 'new research methods' at all, just that the treatments pass the same tests as any other treatment. And note the term 'build evidence'. It carries the suggestion that the evidence will be positive. Experience in the USA (and to a smaller extent in the UK) suggests that every time some good research is done, the effect is not to 'build evidence' but for the evidence to crumble further
If the advice is followed, and the results are largely negative, as has already happened in the USA, the Department of Health would look pretty silly if it had insisted on degrees and on statutory regulation.
The King's Fund chairman is Sir Cyril Chantler and its Chief Executive is Niall Dickson. It produces reports, some of which are better than this one. I know it's hard to take seriously an organisation that wants to "share its vision" withyou, but they are trying.
"The King's Fund was formed in 1897 as an initiative of the then Prince of Wales to allow for the collection and distribution of funds in support of the hospitals of London. Its initial purpose was to raise money for London's voluntary hospitals,"
It seems to me that the King's Fund is far too much too influenced by the present Prince of Wales. He is, no doubt, well-meaning but he has become a major source of medical misinformation and his influence in the Department of Health is deeply unconstitutional. I was really surprised to see thet Cyril Chantler spoke at the 2009 conference of the Prince of Wales Foundation for Integrated Health, despite having a preview of the sort of make-believe being propagated by other speakers. His talk there struck me as evading all the essential points. Warm, woolly but in the end, a danger to patients. Not only did he uncritically fall for the spin on the word "integrated", but he also fell for the idea that "statutory regulation" will safeguard patients.
Revelation of what is actually taught on degrees in these subjects shows very clearly that they endanger the public.
But the official mind doesn't seem ever to look that far. It is happy ticking boxes and writing vacuous managerialese. It lacks curiosity.
Follow-up
The British Medical Journal published today an editorial which also recommends rebranding of 'pragmatic' trials. No surprise there, because the editorial is written by Hugh MacPherson, senior research fellow, David Peters, professor of integrated healthcare and Catherine Zollman, general practitioner. I find it a liitle odd that the BMJ says "Competing Interests: none. David Peters interest is obvious from his job description. It is less obvious that Hugh MacPherson is an acupuncture enthusiast who publishes mostly in alternative medicine journals. He has written a book with the extraordinary title "Acupuncture Research, Strategies for Establishing an Evidence Base". The title seems to assume that the evidence base will materialise eventually despite a great deal of work that suggests it won't. Catherine Zollman is a GP who is into homeopathy as well as acupuncture. All three authors were speakers at the Prince of Wales conference, described at Prince of Wales Foundation for magic medicine: spin on the meaning of 'integrated'.
The comments that follow the editorial start with an excellent contribution from James Matthew May. His distinction between 'caring' and 'curing' clarifies beautifully the muddled thinking of the editorial.
Then a comment from DC, If your treatments can't pass the test, the test must be wrong. It concludes
"At some point a stop has to be put to this continual special pleading. The financial crisis (caused by a quite different group of people who were equally prone to wishful thinking) seems quite a good time to start."