alternative medicine
The King's Fund recently published Assessing complementary practice Building consensus on appropriate research methods [or download pdf].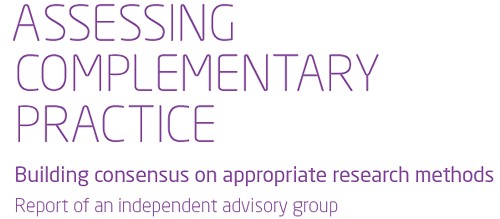 It is described as being the "Report of an independent advisory group". I guess everyone knows by now that an "expert report" can be produced to back any view whatsoever simply by choosing the right "experts", so the first things one does is to see who wrote it. Here they are.
Chair: Professor Dame Carol Black
Harry Cayton, Chief Executive, Council for Healthcare Regulatory Excellence
Professor Adrian Eddleston, then Vice-Chairman, The King's Fund
Professor George Lewith, Professor of Health Research, Complementary and Integrated Medicine Research Unit, University of Southampton
Professor Stephen Holgate, MRC Clinical Professor of Immunopharmacology, University of Southampton
Professor Richard Lilford, Head of School of Health and Population Sciences, University of Birmingham
We see at once two of the best known apologists for alternative medicine, George Lewith (who has appeared here more than once) and Stephen Holgate.
Harry Cayton is CEO of Council for Healthcare Regulatory Excellence (CHRE) which must be one of the most useless box-ticking quangos in existence. It was the CHRE that praised the General Chiropractic Council (GCC) for the quality of its work. That is the same GCC that is at present trying to cope with 600 or so complaints about the people it is supposed to regulate (not to mention a vast number of complaints to Trading Standards Offices). The GCC must be the prime example of the folly of giving government endorsement to things that don't work. But the CHRE were not smart enough to spot that little problem. No doubt Mr Cayton did good work for the Alzheimer's Society. His advocacy of patient's choice may have helped me personally. But it isn't obvious to me that he is the least qualified to express an opinion on research methods in anything whatsoever. According to the Guardian he is "BA in English and linguistics from the University of Ulster; diploma in anthropology from the University of Durham; B Phil in philosophy of education from the University of Newcastle."
Adrian Eddlestone is a retired Professor of Medicine. He has been in academic administration since 1983. His sympathy for alternative medicine is demonstrated by the fact that he is also Chair of the General Osteopathic Council, yet another "regulator" that has done nothing to protect the public
from false health claims (and which may, soon, find itself in the same sort of trouble as the GCC).
Richard Lilford is the only member of the group who has no bias towards alternative medicine and also the only member with expertise in clinical research methods His credentials look impressive, and his publications show how he is the ideal person for this job. I rather liked also his article Stop meddling and let us get on.. He has written about the harm done by postmodernism and relativism, the fellow-travellers of alternative medicine.
Most damning of all, Lewith, Eddlestone and Holgate (along with Cyril Chantler, chair of the King's Fund, and homeopaths, spiritual healers and Karol Sikora) are Foundation Fellows of the Prince of Wales Foundation for Magic Medicine, an organisation that is at the forefront of spreading medical misinformation.
I shall refer here to 'alternative medicine' rather than 'complementary medicine' which is used in the report. It is not right to refer to a treatment as 'complementary' until such time as it has been shown to work. The term 'complementary' is a euphemism that, like 'integrative', is standard among alternative medicine advocates whose greatest wish is to gain respectability.
The Report

The recommendations
On page 10 we find a summary of the conclusions.
The report identifies five areas of consensus, which together set a framework for moving forward. These are:

the primary importance of controlled trials to assess clinical and cost effectiveness.
the importance of understanding how an intervention works
the value of placebo or non-specific effects
the need for investment and collaboration in creating a sound evidence base
the potential for whole-system evaluation to guide decision-making and subsequent research.
The first recommendation is just great. The rest sound to me like the usual excuses for incorporating ineffective treatments into medical practice. Notice the implicit assumption in the fourth point
that spending money on research will establish "a sound evidence base". There is a precedent, but it is ignored. A huge omission from the report is that it fails to mention anywhere that a lot of research has already been done.
Much research has already been done (and failed)
The report fails to mention at all the single most important fact in this area. The US National Institutes of Health has spent over a billion dollars on research on alternative medicines, over a period
of more than 10 years. It has failed to come up with any effective treatments whatsoever. See, for example Why the National Center for Complementary and Alternative Medicine (NCCAM) Should Be Defunded; Should there be more alternative research?; Integrative baloney @ Yale, and most recently, $2.5B Spent, No Alternative Med Cures found. .
Why did the committee think this irrelevant? I can't imagine. You guess.
The report says
"This report outlines areas of potential consensus to guide research funders, researchers, commissioners and complementary practitioners in developing and applying a robust evidence base for complementary practice."
As happens so often, there is implicit in this sentence the assumption that if you spend enough money evidence will emerge. That is precisely contrary to the experence in the USA where spending a billion dollars produced nothing beyond showing that a lot of things we already thought didn't work were indeed ineffective.
And inevitably, and tragically, NICE's biggest mistake is invoked.
"It is noteworthy that the evidence is now sufficiently robust for NICE to include acupuncture as a treatment for low back pain." [p ]
Did the advisory group not read the evidence used (and misinterpeted) by NICE? It seems not. Did the advisory group not read the outcome of NIH-funded studies on acupuncture as summarised by Barker Bausell in his book, Snake Oil Science? Apparently not. It's hard to know because the report has no references.
George Lewith is quoted [p. 15] as saying "to starve the system of more knowledge means we will continue to make bad decisions". No doubt he'd like more money for research, but if a billion dollars
in the USA gets no useful result, is Lewith really likely to do better?
The usual weasel words of the alternative medicine industry are there in abundance
"First, complementary practice often encompasses an intervention (physical treatment or manipulation) as well as the context for that intervention. Context in this setting means both the physical setting for the delivery of care and the therapeutic relationship between practitioner and patient." [p. 12]
Yes, but ALL medicine involves the context of the treatment. This is no different whether the medicine is alternative or real. The context (or placebo) effect comes as an extra bonus with any sort of treatment.
"We need to acknowledge that much of complementary practice seeks to integrate the positive aspects of placebo and that it needs to be viewed as an integral part of the treatment rather than an aspect that should be isolated and discounted." [p. 13]
This is interesting. It comes very close (here and elsewhere) to admitting that all you get is a placebo effect, and that this doesn't matter. This contradicts directly the first recommendation of the House of Lords report (2000).. Both the House of Lords report on Complementary and Alternative Medicine, and the Government's response to it, state clearly
". . . we recommend that three important questions should be addressed in the following order". (1) does the treatment offer therapeutic benefits greater than placebo? (2) is the treatment safe? (3) how does it compare, in medical outcome and cost-effectiveness, with other forms of treatment?.
The crunch comes when the report gets to what we should pay for.
"Should we be prepared to pay for the so-called placebo effect?

The view of the advisory group is that it is appropriate to pay for true placebo (rather than regression to the mean or temporal effects)." [p 24]
Perhaps so, but there is very little discussion of the emormous ethical questions:that this opinion raises:
How much is one allowed to lie to patients in order to elicit a placebo effect?
Is is OK if the practitioner believes it is a placebo but gives it anyway?
Is it OK if the pratitioner believes that it is not a placebo when actually it is?
Is it OK for practitioners to go degrees taught by people who believe that it is not a placebo when actually it is?
The report fails to face frankly these dilemmas. The present rather absurd position in which it is considered unethical for a medical practitioner to give a patient a bottle of pink water, but
perfectly acceptable to refer them to a homeopath. There is no sign either of taking into account the cultural poison that is spread by telling people about yin, yang and meridians and such like preposterous made-up mumbo jumbo. That is part of the cost of endorsing placebos. And just when one thought that believing things because you wished they were true was going out of fashion
Once again we hear a lot about the alleged difficulties posed by research on alternative medicine. These alleged difficulties are, in my view, mostly no more than excuses. There isn't the slightest
difficulty in testing things like herbal medicine or homeopathy, in a way that preserves all the 'context' and the ways of working of homeopaths and herbalists. Anyone who reads the Guardian knows
how to do that.
In the case of acupuncture, great ingenuity has gone into divising controls. The sham and the 'real' acupuncture always come out the same. In a non-blind comparison between acupuncture and no acupuncture the latter usually does a bit worse, but the effects are small and transient and entirely compatible with the view that it is a theatrical placebo.
Despite these shortcomings, some of the conclusions [p. 22] are reasonable.
"The public needs more robust evidence to make informed decisions about the use of complementary practice.

Commissioners of public health care need more robust evidence on which to base decisions about expenditure of public money on complementary practice."
What the report fails to do is to follow this with the obvious conclusion that such evidence is largely missing and that until such time as it is forthcoming there should be no question of the NHS paying for alternative treatments.
Neither should there be any question of giving them official government recognition in the form of 'statutory regulation'. The folly of doing that is illustrated graphically by the case of chiropractic which is now in deep crisis after inspection of its claims in the wake of the Simon Singh defamation case. Osteopathy will, I expect, suffer the same fate soon.
In the summary on p.12 we see a classical case of the tension
Controlled trials of effectiveness and cost-effectiveness are of primary importance

We recognise that it is the assessment of effectiveness that is of primary importance in reaching a judgement of different practices. Producing robust evidence that something works in practice – that it is effective – should not be held up by the inevitably partial findings and challenged interpretations arising from inquiries into how the intervention works.
The headline sounds impeccable, but directly below it we see a clear statement that we should use treatments before we know whether they work. "Effectiveness", in the jargon of the alternative medicine business, simply means that uncontrolled trials are good enough. The bit about "how it works" is another very common red herring raised by alternative medicine people. Anyone who knows anything about pharmacology that knowledge about how any drug works is incomplete and often turns out to be wrong. That doesn't matter a damn if it performs well in good double-blind randomised controlled trials.
One gets the impression that the whole thing would have been a lot worse without the dose of reality injected by Richard Lilford. He is quoted as a saying
"All the problems that you find in complementary medicine you will encounter in some other kind of treatment … when we stop and think about it… how different is it to any branch of health care – the answer to emerge from our debates is that it may only be a matter of degree." [p. 17]
I take that to mean that alternative medicine poses problems that are no different from other sorts of treatment. They should be subjected to exactly the same criteria. If they fail (as is usually the case) they should be rejected. That is exactly right. The report was intended to produce consensus, but throughout the report, there is a scarcely hidden tension between believers on one side, and Richard Lilford's impeccable logic on the other.
Who are the King's Fund?
The King's Fund is an organisation that states its aims thus.
"The King's Fund creates and develops ideas that help shape policy, transform services and bring about behaviour change which improve health care."
It bills this report on its home page as "New research methods needed to build evidence for the effectiveness of popular complementary therapies". But in fact the report doesn't really recommend 'new research methods' at all, just that the treatments pass the same tests as any other treatment. And note the term 'build evidence'. It carries the suggestion that the evidence will be positive. Experience in the USA (and to a smaller extent in the UK) suggests that every time some good research is done, the effect is not to 'build evidence' but for the evidence to crumble further
If the advice is followed, and the results are largely negative, as has already happened in the USA, the Department of Health would look pretty silly if it had insisted on degrees and on statutory regulation.
The King's Fund chairman is Sir Cyril Chantler and its Chief Executive is Niall Dickson. It produces reports, some of which are better than this one. I know it's hard to take seriously an organisation that wants to "share its vision" withyou, but they are trying.
"The King's Fund was formed in 1897 as an initiative of the then Prince of Wales to allow for the collection and distribution of funds in support of the hospitals of London. Its initial purpose was to raise money for London's voluntary hospitals,"
It seems to me that the King's Fund is far too much too influenced by the present Prince of Wales. He is, no doubt, well-meaning but he has become a major source of medical misinformation and his influence in the Department of Health is deeply unconstitutional. I was really surprised to see thet Cyril Chantler spoke at the 2009 conference of the Prince of Wales Foundation for Integrated Health, despite having a preview of the sort of make-believe being propagated by other speakers. His talk there struck me as evading all the essential points. Warm, woolly but in the end, a danger to patients. Not only did he uncritically fall for the spin on the word "integrated", but he also fell for the idea that "statutory regulation" will safeguard patients.
Revelation of what is actually taught on degrees in these subjects shows very clearly that they endanger the public.
But the official mind doesn't seem ever to look that far. It is happy ticking boxes and writing vacuous managerialese. It lacks curiosity.
Follow-up
The British Medical Journal published today an editorial which also recommends rebranding of 'pragmatic' trials. No surprise there, because the editorial is written by Hugh MacPherson, senior research fellow, David Peters, professor of integrated healthcare and Catherine Zollman, general practitioner. I find it a liitle odd that the BMJ says "Competing Interests: none. David Peters interest is obvious from his job description. It is less obvious that Hugh MacPherson is an acupuncture enthusiast who publishes mostly in alternative medicine journals. He has written a book with the extraordinary title "Acupuncture Research, Strategies for Establishing an Evidence Base". The title seems to assume that the evidence base will materialise eventually despite a great deal of work that suggests it won't. Catherine Zollman is a GP who is into homeopathy as well as acupuncture. All three authors were speakers at the Prince of Wales conference, described at Prince of Wales Foundation for magic medicine: spin on the meaning of 'integrated'.
The comments that follow the editorial start with an excellent contribution from James Matthew May. His distinction between 'caring' and 'curing' clarifies beautifully the muddled thinking of the editorial.
Then a comment from DC, If your treatments can't pass the test, the test must be wrong. It concludes
"At some point a stop has to be put to this continual special pleading. The financial crisis (caused by a quite different group of people who were equally prone to wishful thinking) seems quite a good time to start."
This post has been translated into Belorussian..
Chinese medicine and herbal medicine are in the news at the moment. There is a real risk that the government could endorse them by accepting the Pittilo report.
In my view traditional Chinese medicine endangers people. The proposed 'regulation' would do nothing to protect the public. Quite on the contrary, it would add to the dangers, by giving an official stamp of approval while doing nothing for safety.
The government's idea of improving safety is to make sure that practitioners are 'properly trained'. But it is the qualifications that cause the danger in the first place. The courses teach ideas that are plain wrong and often really dangerous.
Why have government (and some universities) not noticed this? That's easy to see. Governments, quangos and university validation committees simply don't look. They tick boxes but never ask what actually goes on. Here's some examples of what goes on for them to think about. They show clearly the sort of dangerous rubbish that is taught on some of these 'degrees'.
These particular slides are from the University of Westminster, but similar courses exist in only too many other places. Watch this space for more details on courses at Edinburgh Napier University, Middlesex University and the University of East London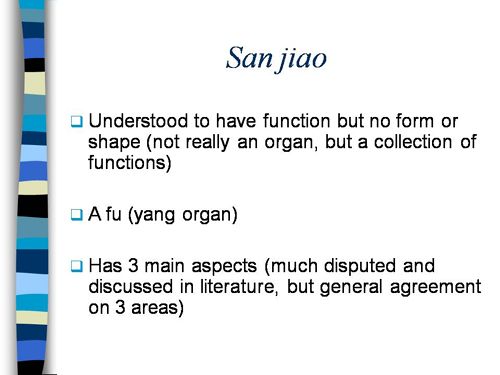 Just a lot of old myths. Sheer gobbledygook,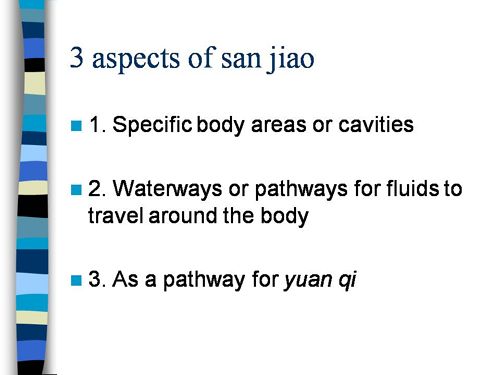 SO much for a couple of centuries of physiology,
It gets worse.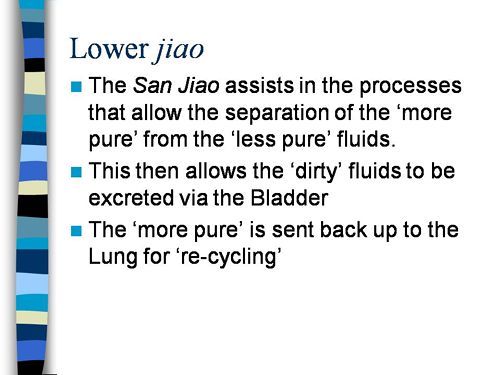 Plain wrong.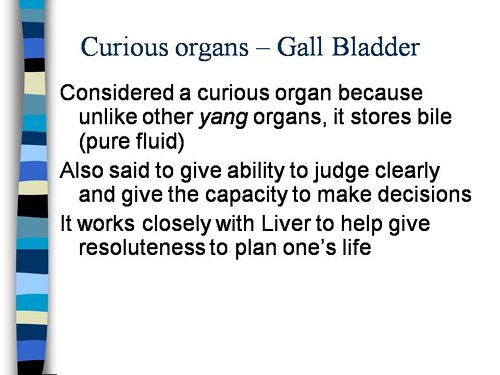 Curious indeed. The fantasy gobbledygook gets worse.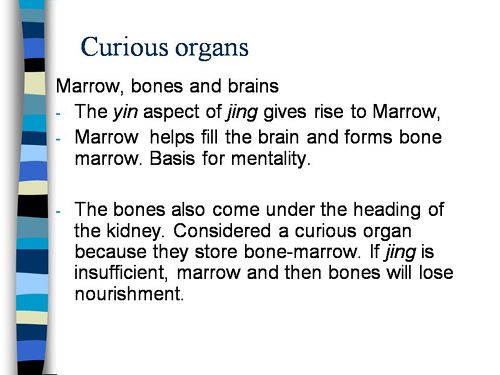 Now it is getting utterly silly. Teaching students that the brain is made of marrow is not just absurd, but desperately dangerous for anyone unlucky (or stupid) enough to go to such a person when they are ill.
Here's another herbal lecture., and this time the topic is serious. Cancer.
Herbal approaches for patients with cancer.
I've removed the name of the teacher to spare her the acute embarrassment of having these dangerous fantasies revealed. The fact that she probably believes them is not a sufficient excuse for endangering the public. There is certainly no excuse for the university allowing this stuff to be taught as part of a BSc (Hons).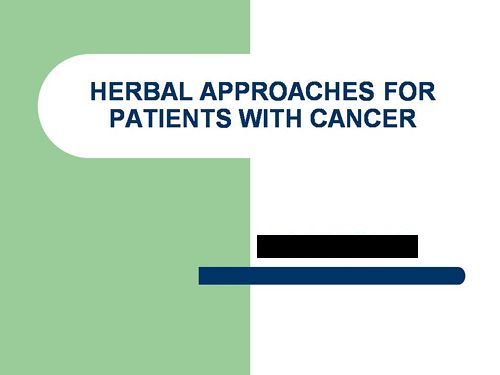 First get them scared with some bad statistics.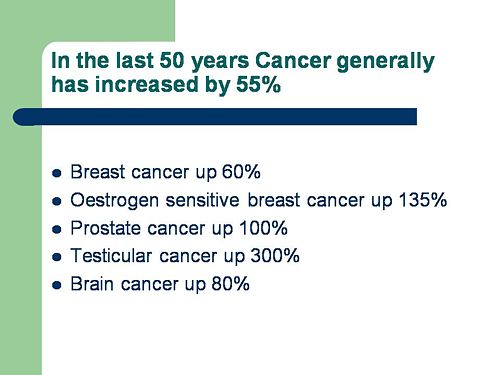 No fuss there about distinguishing incidence, age-standardisation and death rates. And no reference. Perhaps a reference to the simple explanation of statistics at Cancer Research UK might help? Perhaps this slide would have been better (from CDC). Seems there is some mistake in slide 2.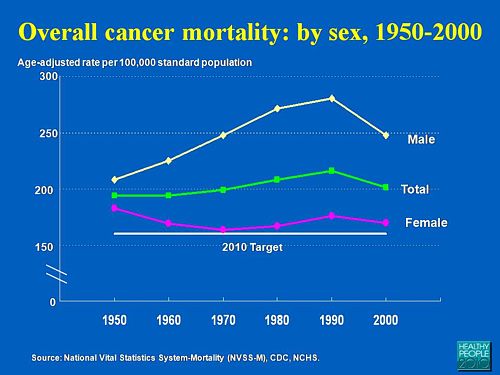 Straight on to a truly disgraceful statement in slide 3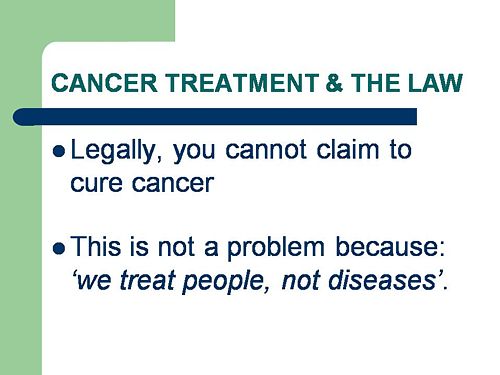 The is outrageous and very possibly illegal under the Cancer Act (1939). It certainly poses a huge danger to patients. It is a direct incentive to make illegal, and untrue claims by using weasel words in an attempt to stay just on the right side of the law. But that, of course, is standard practice in alternative medicine,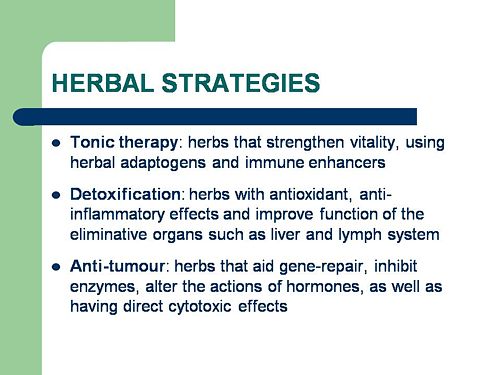 Slide 11 is mostly meaningless. "Strengthen vitality" sounds good but means nothing. And "enhancing the immune system" is what alternative medicine folks always say when they can think of nothing else. Its meaning is ill-defined and there is no reason to think that any herbs do it.
The idea of a 'tonic' was actually quite common in real medicine in the 1950s. The term slowly vanished as it was realised that it was a figment of the imagination. In the fantasy world of alternative medicine, it lives on.
Detoxification, a marketing term not a medical one, has been extensively debunked quite recently. The use of the word by The Prince of Wales' company, Duchy Originals recently fell foul of the Advertising Standards Authority, and his herbal 'remedies' were zapped by the MHRA (Medicines and Health Regulatory Authority).
And of course the antioxidant myth is a long-disproved hypothesis that has become a mere marketing term.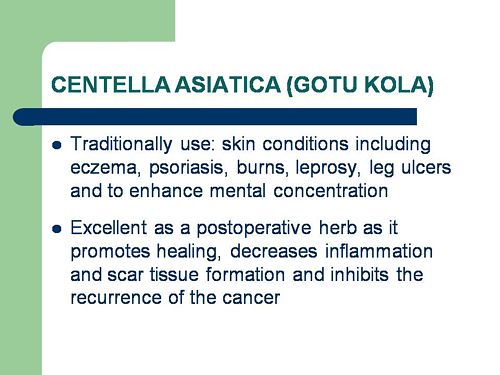 "Inhibits the recurrence of cancer"! That sounds terrific. But if it is so good why is it not even mentioned in the two main resources for information about herbs?
In the UK we have the National Library for Health Complementary and Alternative Medicine Specialist Library (NeLCAM), now a part of NHS Evidence. It was launched in 2006. The clinical lead was none other than Peter Fisher, clinical director of the Royal London Homeopathic Hospital, and the Queen's homeopathic physician. The library was developed with the School of Integrated Health at the University of Westminster (where this particular slide was shown to undergraduates). Nobody could accuse these people of being hostile to magic medicine,
It seems odd, then, that NeLCAM does not seem to thnk to think that Centella asiatica, is even worth mentioning.
In the USA we have the National Center for Alternative and Complementary Medicine (NCCAM), an organisation that is so friendly to alternative medicine that it has spent a billion dollars on research in the area, though it has produced not a single good treatment for that vast expenditure. But NCCAM too does not even mention Centella asiatica in its herb list. It does get a mention in Cochrane reviews but only as a cosmetic cream and as an unproven treatment for poor venous circulation in the legs.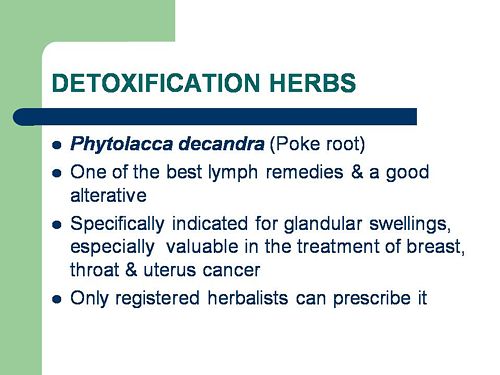 What on earth is a "lymph remedy". Just another marketing term?
"especially valuable in the treatment of breast, throat and uterus cancer."
That is a very dramatic claim. It as as though the hapless students were being tutored in doublespeak. What is meant by "especially valuable in the treatment of"? Clearly a desperate patient would interpret those words as meaning that there was at least a chance of a cure. That would be a wicked deception because there isn't the slightest reason to think it works. Once again there this wondrous cure is not even mentioned in either NELCAM or NCCAM. Phytolacca is mentioned, as Pokeweed, in Wikipedia but no claims are mentioned even there. And it isn't mentioned in Cochrane reviews either. The dramatic claims are utterly unfounded.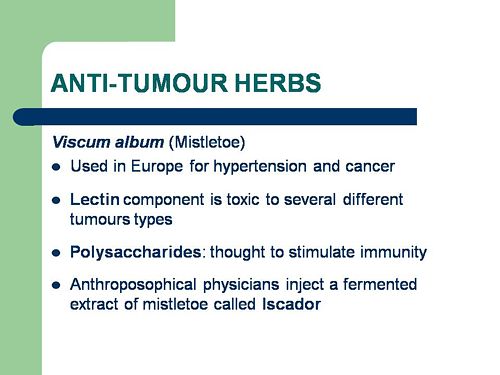 Ah the mistletoe story, again.
NHS Evidence (NeLCAM) lists three completed assessments. One concludes that more research is needed. Another concludes that "Rigorous trials of mistletoe extracts fail to demonstrate efficacy of this therapy", and the third says "The evidence from RCTs to support the view that the application of mistletoe extracts has impact on survival or leads to an improved ability to fight cancer or to withstand anticancer treatments is weak".
NCCAM says of mistletoe
Cochrane reviews lists several reviews of mistletoe with similar conclusions. For example "The evidence from RCTs to support the view that the application of mistletoe extracts has impact on survival or leads to an improved ability to fight cancer or to withstand anticancer treatments is weak".
Anthroposophy is one of the highest grades of fantasy you can find. A post on that topic is in the works.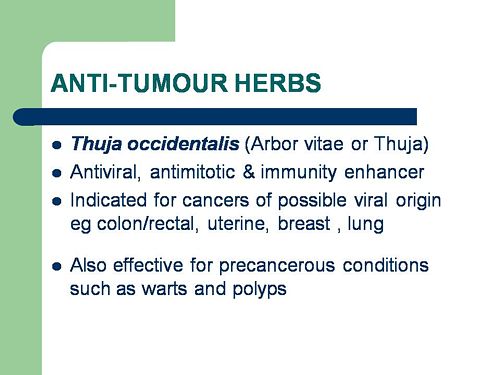 "Indicated for cancers . . . colon/rectal, uterine, breast, lung". A cure for lung cancer? That, of course, depends on how you interpret the weasel words "indicated for". Even Wikipedia makes no mention of any claims that Thuja benefits cancer. NHS Evidence (NeLCAM) doesn't mention Thuja for any indication. Neither does NCCAM. Nor Cochrane reviews. That is not the impression the hapless students of this BSc lecture were given. In my view suggestions that you can cure lung cancer with this tree are just plain wicked.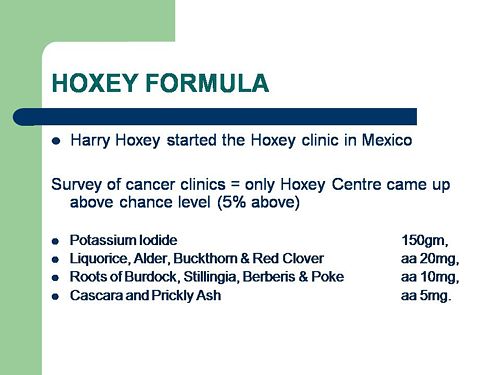 Pure snake oil, and not even spelled correctly, Harry Hoxsey's treatment centres in the USA were closed by court order in the 1950s.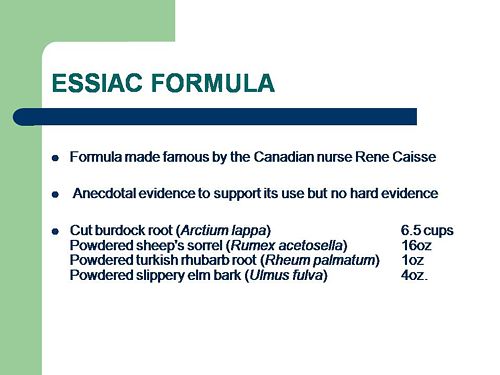 At least this time it is stated that there is no hard evidence to support this brand of snake oil.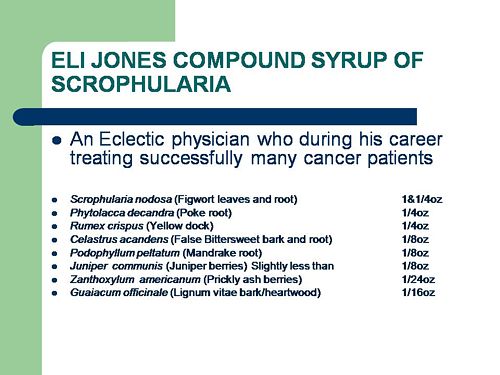 More unfounded claims when it says "treated successfully many cancer patients". No references and no data to support the claim. It is utterly unfounded and claims to the contrary endanger the public.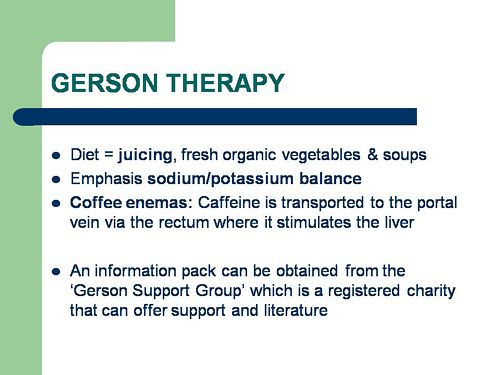 Gerson therapy is one of the most notorious and unpleasant of the quack cancer treatments. The Gerson Institute is on San Diego, but their clinics are in Mexico and Hungary. It is illegal in the USA. According to the American Cancer Society you get "a strict low-salt, low-fat, vegetarian diet and drinking juice from about twenty pounds of fresh fruits and vegetables each day. One glass of juice is consumed each hour, thirteen times a day. In addition, patients are given several coffee enemas each day. Various supplements, such as potassium, vitamin B12, pancreatic enzymes, thyroid hormone, and liver extracts, are used to stimulate organ function, particularly of the liver and thyroid.". At one time you also got several glasses of raw calf liver every day but after infections killed several people] carrot juice was given instead.
Cancer Research UK says "there is no evidence to show that Gerson therapy works as a cure for cancer", and "The Gerson diet can cause some very serious side effects." Nobody (except perhaps the Price of Wales) has any belief in this unpleasant, toxic and expensive folk-lore.
Again patients are endangered by teaching this sort of stuff.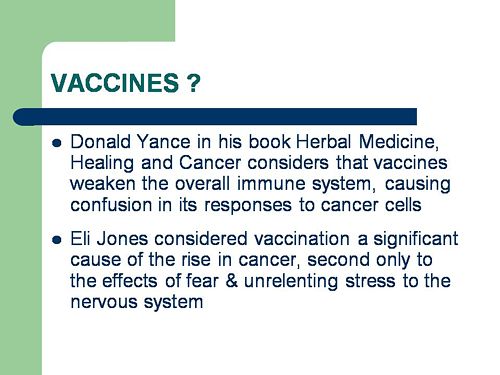 And finally, the usual swipe at vaccines. It's nothing to do with herbalism. but just about every alternative medicine advocate seems to subscribe to the anti-vaccination lobby.. It is almost as though they have an active preference for things that are known to be wrong. They seem to believe that medicine and science are part of an enormous conspiracy to kill everyone.
Perhaps this dangerous propaganda might have been ameliorated if the students had been shown this slide (from a talk by Melinda Wharton).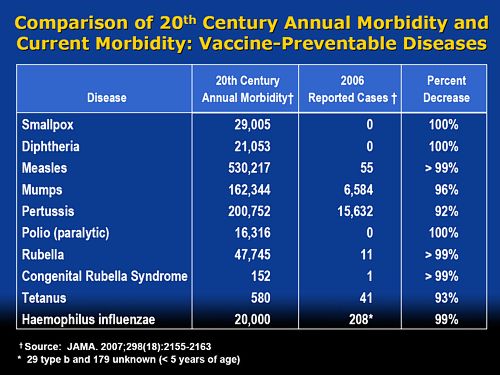 Click to enlarge
Left to people like this, we would still have smallpox, diphtheria. tetanus and rabies, Take a look at Vaccine-preventable diseases.
This is the sort of 'education' which the Pittilo report wants to make compulsory.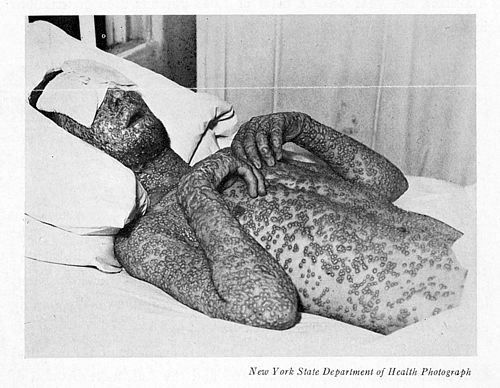 Smallpox in Baltimore, USA, 1939. This man was not vaccinated.
Conclusion
This selection of slides shows that much of the stuff taught in degrees in herbal medicine poses a real danger to public safety and to public health.
Pittilo's idea that imposing this sort of miseducation will help safety is obviously and dangerously wrong. The Department of Health must reject the Pittilo recommendations on those grounds.
Follow-up
The much-delayed public consultation on the Pittilo report has just opened.
It is very important that as many people as possible respond to it. It's easy to say that the consultation is sham. It will be if it is left only to acupuncturists and Chinese medicine people to respond to it. Please write to them before the closing date, November 2nd 2009. The way to send your evidence is here.
There is a questionnaire that you can complete, with the usual leading questions. Best do it anyway, but I'd suggest also sending written evidence as attachment too. I just got from DoH the email address where you can send it. They said
if you have material you wish to send which you can't easily "shoehorn" into the questionnaire, please send it to the following mailbox:

HRDListening@dh.gsi.gov.uk
Here are three documents that I propose to submit in response to the consultation.I 'd welcome criticisms that might make it more convincing. Use any parts of them you want in your own response.
Submission to the Department of Health, for the consultation on the Pittilo report [download pdf].
What is taught in degrees in herbal and traditional Chinese medicine? [download pdf]
$2.5B Spent, No Alternative Med Cures [download pdf]
Briefly, the back story is this.
It is now over a year since the Report to Ministers from "The Department of Health Steering Group on the Statutory Regulation of Practitioners of Acupuncture, Herbal Medicine, Traditional Chinese Medicine and Other Traditional Medicine Systems Practised in the UK" [download the report].
The chair of the steering group was Professor R. Michael Pittilo, Principal and Vice-Chancellor of The Robert Gordon University, Aberdeen. The reason thet the report is so disastrously bad in its assessment of evidence is that it was written entirely by people with vested interests.
The committee consisted of five acupuncturists, five herbalists and five representatives of traditional Chinese medicine (plus eleven observers). There was not a single scientist or statistician to help in the assessment of evidence. And it shows: The assessment of the evidence in the report was execrable. Every one of the committee members would have found themselves out of work if they had come to any conclusion other than that their treatment works, Disgracefully, these interests were not declared in the report, though they are not hard to find. The university of which the chair is vice-chancellor runs a course in homeopathy, the most discredited of the popular forms of alternative medicine. That tells you all you need to know about the critical faculties of Michael Pittilo.
The two main recommendations of this Pittilo report are that
Practitioners of Acupuncture, Herbal Medicine, Traditional Chinese Medicine should be subject to statutory regulation by the Health Professions Council
Entry to the register normally be through a Bachelor degree with Honours
Let's consider the virtue of these two recommendations.
Regulation by the Health Professions Council (HPC) breaks their own rules
For a start, this should be ruled out by the HPC's own rules, which require "Practise based on evidence of efficacy" as a condition for registration. Since there is practically no "evidence of efficacy", it follows that the HPC can't regulate acupuncture, herbal and Chinese medicine as Pittilo recommends. Or so you'd think. But the official mind seems to have an infinite capacity for doublespeak. The HPC published a report on 11 September 2008, Regulation of Medical Herbalists, Acupuncturists and Traditional Chinese Medicine Practitioners.
The report says
1. Medical herbalists, acupuncturists and traditional Chinese medicine practitioners should be statutorily regulated in the public interest and for public safety reasons.

2. The Health Professions Council is appropriate as the regulator for these professions.

3. The accepted evidence of efficacy overall for these professions is limited, but regulation should proceed because it is in the public interest.
In other words, the HPC simply decided to ignore its own rules, Its excuse for doing so is that regulation would protect "public safety" . But it simply would not do that. It is ell known that some Chinese herbs are adulterated with dangerous substances, but laws against that already exist. Trading Standards are much more likely to take appropriate action than the HPC. The Medicines and Health Regulatory Authority (MHRA) already deals with the licensing of herbal medicines. and, despite the fact that it recently betrayed its trust by allowing them to be labelled in a misleading way, they are the people to do it, not the HPC.
The Pittilo report (page 11) says
In future, it is hoped that more Government funding can be allocated to research into traditional/herbal medicines and acupuncture and that grants will become available to encourage practitioners to undertake postgraduate research work.
So they are asking for more government money.
In March 2007, the Chinese Government pledged to spend over $130 million over the next five years on research into the effectiveness of traditional Chinese medicine. It is to be hoped that this money will be targeted effectively to evaluate TCM.
It seems to have escaped the notice of Pittilo that roughly 100 percent of trials of Chinese medicine done in China come out positive. Elsewhere, very few come out positive,(see Vickers et al., 1998, Controlled Clinical Trials, 19, 159-166: download reprint) The Department of Health would be unwise to rely on Chinese research. Remember that modern acupuncture was not so much a product of ancient wisdom, but rather it stems from nationalist propaganda by Mao Tse-Tung, who needed a cheap way to keep the peasants quiet, though he was too sensible to use it himself.
The HPC report (page 5) cites these with the words
" . . . a lack of evidence of efficacy should not prevent regulation but that the professions should be encouraged and funded to strengthen the evidence base."
This sentence seems to assume that the outcomes of research will be to strengthen the evidence base. Thus far, precisely the opposite has been the case. The Pittilo group has apparently not noticed that the US National Institutes of Health has already spent a billion dollars on research in alternative medicine and failed to come up with a single effective treatment. There are better ways to spend money on health. See, for example $2.5B Spent, No Alternative Med Cures found. .An enornous amount of research has already been done and the outcomes have produced no good treatments,
The proposed regulation would endanger the public, not protect it.
The excuse given by the HPC for breaking its own rules is that it should do so to protect the public.
Likewise Ann Keen, Health Minister, said:
"Patient safety is paramount, whether people are accessing orthodox health service treatments or using alternative treatments"
So first we need to identify what dangers are posed by acupuncture, herbal medicine and traditional Chinese medicine.
Acupuncture is fairly safe. Its biggest danger lies in the unjustified claims that are routinely made for what can be achieved by being impaled by needles. This poses a danger that people may use acupuncture in place of treatments that work
Herbal medicines are unstandardised, so even the very few that may work are dangerous to patients because the dose of active principle is unknown and varies from one batch to another. Taking a herbal medicine is a bit like swallowing a random number of tablets, False health claims pose a danger to patients too, when they cause patients to avoid treatments that work.
Traditional Chinese Medicine is probably the most dangerous. Like the other two, the medicines are unstandardised so the dose is never known. False health claims abound. And in addition to these dangers, many cases have been found of Chinese medicines being adulterated with poisonous substances or with conventional drugs.
The form of regulation proposed by Pittilo would do little or nothing to protect the public from any of these dangers.
The proposals accept the herbal and Chinese medicine as traditionally practised. Nothing would be done about one of the major dangers, the lack of standardisation. That is a problem that was solved by pharmacologists in the 1930s, when international standards were set for the biological activity of things like tincture of digitalis, and assays were devised so that different batches could be adjusted to the same potency. Now, 80 years later, it is being proposed by Pittilo that we should return to the standards of safety that existed at the beginning of the last century. That is a threat to public safety., but the proposed regulation would do nothing whatsoever to protect the public from this dangerous practice. On the contrary, it would give official government sanction to it.
The other major danger is that patients are deceived by false health claims. This is dangerous (as well as dishonest) because it can cause patients to avoid treatments that work better, The internet abounds with claims that herbs can cure anything from diabetes to cancer. Many are doubtless illegal, but regulators like the HPC have traditionally ignored such claims: they are left to Trading Standards, Advertising Standards and the Medicines and Health Regulatory Authority (MHRA) to deal with. The MHRA already also has responsibility for monitoring side effects. The HPC would not do this.
The analogy with chiropractic and the GCC
The foolishness of allowing statutory regulation for unproven treatments has recently been illustrated quite dramatically by the case of chiropractic. Chiropractors have had statutory regulation by the General Chiropractic Council, which was established by the Chiropractors Act of 1994. The British Chiropractic Association (BCA) recently decided to sue the science writer, Simon Singh, for defamation when he cast doubt on some of the claims made by chiropractors, in particular their claims to be able to cure colic and asthma in children. That led to close examination of the claims. In fact there is no reason to think that spinal manipulation works for asthma, or that it works for colic. In fact there is quite good evidence that the claims are false. The result was that about 600 well-justified complaints have been lodged with the GCC (enough to bankrupt the GCC if the complaints are dealt with properly).
The point of this story is that the statutory regulator had nothing whatsoever to prevent these false health claims being made. Two of the complaints concern practices run by the chair of the GCC. Worse, the GCC actually endorsed such claims. The statutory regulator saw its duty to defend chiropractic (apart from a handful of cases of sexual misdemeanours), not to protect the patient from false health claims. The respectability conferred by statutory regulation made false health claims easier and endangered the public. It would be a disaster if the same mistake were made again.
On 11th December 2008 I got a letter form the HPC which said
in our opinion a lack of evidence of efficacy would not impede our ability to set standards or deal with complaints we receive. The vast majority of cases we consider are related to conduct.
But perhaps that is because they haven't tried "regulating" quacks before. Now that the public is far more conscious about health fraud than it used to be, one can predict confidently that the HPC would be similarly overwhelmed by a deluge of complaints about the unjustified health claims made by acupuncturists, herbal medicine and traditional Chinese medicine practitioners. There is no shortage of them to complain about.
The education problem
The Pittilo report recommends that the entry level for registration should be a bachelors degree with honours. At first sight it seems reasonable to ask that practitioners should be 'properly qualified', but when one looks at what is actually taught on these degrees it becomes clear that they endanger, rather than protect, the public,
There are two very big problems with this recommendation.
Firstly, you can't have a bachelors degree with honours until after you have decided whether or not there is anything useful to teach. If and when any of the subjects under consideration and shown to work to a useful extent, then it would be quite reasonable to establish degrees in them. Even the report does not pretend seriously that that stage has been reached. The proposal to set up degrees in subjects, at least some of which are quite likely to have no more than placebo value, is self-evidently nonsense,
The time for degrees, and the time for government endorsement by statutory regulation, is after the therapies have been shown to work, not before.
The absurdity of thinking that the public will be protected because a practitioner has a degree in, say, acupuncture, is shown with startling clarity by a recently revealed examination paper in acupuncture'
You can download the entire exam paper. Here are a few highlights from it.
So students, in 2009, are being taught the crudest form of vitalism.
Teaching of traditional Chinese medicine is just as bad. Here are two slides from a course run by the University of Westminster.
The first 'explains' the mysterious and entirly mythical "Qi".
So "Qi" means breath, air, vapour, gas, energy, vitalism. This is meaningless nonsense.
The second slide shows the real dangers posed by the way Chinese medicine is taught, The symptoms listed at the top could easily be a clue to serious illness, yat students are taught to treat them with ginger. Degrees like this endanger the public.
There are more mind-boggling slides from lectures on Chinese medicine and cancer: they show that what students are being taught is terrifyingly dangerous to patients.
It is entirely unacceptable that students are being taught these ancient myths as though they were true, and being encouraged to treat sick people on their basis. The effect of the Pittilo recommendations would be to force new generations of students to have this sort of thing forced on them. In fact the course for which this exam was set has already closed its doors. That is the right thing to do.
Here's another example. The course leader for "BSc (Hons) Herbal Medicine" at the Univsrsity of Central Lancashire is Graeme Tobyn BA. But Tobyn is not only a herbalist but also an astrologer. In an interview he said
"At the end I asked her if I could cast her horoscope. She threw up her hands and said, 'I knew this would happen if I came to an alternative practitioner."

"I think the ruler of the ascendant was applying to Uranus in the ninth house, which was very pertinent."
This would be preposterous even in the life style section of a downmarket women's magazine, The Pittilo report wants to make degrees run my people like this compulsory. Luckily the Univerity of Central Lancashire is much more sensible and the course is being closed.
The matter is, in any case, being taken out of the hands of the government by the fact that universities are closing degrees in complementary medicine, including courses in some of those under discussion here, The University of Salford and the University of Central Lancashire have recently announced the closure of all the degree programmes in complementary and alternative medicine. The largest provider of such degrees, the University of Westminster has already shut down two of them, and the rest are being assessed at the moment. It is likely that the rest will be closed in the future.
The revelation that Westminster had been teaching its first year students that "amethysts emit high yin energy" and that students had been taught to diagnose disease and choose treatments by means of a dowsing pendulum, showed very clearly the sort of utter nonsense that undergraduates were being forced to learn to get a 'bachelors degree with honours'. It stretches credulity to its limits to imagine that the public is protected by degrees like this. Precisely the opposite is true. The universities have recognised this, and shut the degrees. One exception is Professor Pittilo's own university which continues to run a course in homeopathy, the most discredited of all the popular types alternative medicine.
A simpler, more effective and cheaper way to protect the public
I must certainly agree with the minister that protection of the public is an important matter. Having established that the Pittllo recommendations are more likely to endanger the public than protect them, it is essential to suggest alternative proposals that would work better.
Luckily, that is easy, because mechanisms already exist for dealing with the dangers that were listed above. The matter of adulteration, which is serious in traditional Chinese medicine, is a matter that is already the responsibility of the Office of Trading Standards. The major problem of false claims being made for treatment is also the responsibility of the Office of Trading Standards, which has a statutory duty to enforce the Unfair Trading Consumer Protection Regulations of May 2008. These laws state, for example, that
"One of the 31 commercial practices which are in all circumstances considered unfair is "falsely claiming that a product is able to cure illnesses, dysfunction or malformations"
The monitoring of false claims, and of side effects of treatments, is also the responsibility of the Medicines and Health Regulatory Authority (MHRA).
Rather than setting up complicated, expensive and ineffective 'regulation' by the HPC, all that need to be done is to ensure that the MHRA and/or Trading Standards have the funds to enforce existing laws. At the moment, they are not being implemented effectively, so I'd recommend that responsibility for enforcing the law against false health claims be transferred entirely to the MHRA, which has much more expertise in such matters than Trading Standards This would be both cheaper and more effective than the present system in which the responsibility is divided between the two organisations in an unclear way.
This proposal would protect the public against unsafe and adulterated treatments, and it would protect the public against false and fraudulent claims. That is what matters. It would do so more effectively,
more cheaply and more honestly than the Pittilo recommendations. There would be no reduction in patient choice either, There is no proposal to ban acupuncture, herbal medicine or traditional Chinese medicine. All that is necessary is to ensure that they don't endanger the public.
Since the root of the problem lies in the fact that the evidence for the effectiveness is very weak. the question of efficacy, and cost-benefit ratio, should be referred to NICE. This was recommended by the House of Lords Report (2000). It is recommended again by the Smallwood report (sponsored by the Prince of Wales Foundation). It is baffling that this has not been done already. It does not seem wise to spend large amounts of money on new research at the moment, in the light of the fact that the US National Institutes of Health has already spent over $1 billion on such research without finding a single useful treatment.
The results of all this research has been to show that hardly any alternative treatment are effective. That cannot be ignored.
Conclusion
Recent events show that the halcyon days for alternative medicine are over. When the Pittilo report first appeared, it was greeted with derision in the media. For example, in The Times Alice Miles wrote
"This week came the publication of the Report to Ministers from the Department of Health Steering Group on the Statutory Regulation of Practitioners of Acupuncture, Herbal Medicine, Traditional Chinese Medicine and Other Traditional Medicine Systems Practised in the UK. Otherwise known as twaddle."
In the Independent, Dominic Lawson wrote
So now we will have degrees in quackery.

What, really, is the difference between acupuncture and psychic surgery?
People will no doubt continue to use it and that is their right and their responsibility. But if the government were to accept the recommendations of the Pittilo report it would be seen, quite rightly, as being anti-scientific and of posing a danger to the public.
Fortunately there is a better, and cheaper, way to protect the public.
Follow-up
Margaret McCartney's blog in the Financial Times puts rhw view of a GP with her usual sense, humour and incisiveness.
"This report would, if implemented, create lots more nonsense exam papers funded by a lot more public money – and would produce practitioners without the absolutely crucial skill of how to assess evidence and reject or use it appropriately"
The Times has covered the story (with some interesting comments) Consultation on how to regulate complementary and alternative therapies
Times Higher Education UK-wide consultation on CAM regulation is launched Excellent response from Andy Lewis.
The Sun has by far the best coverage up to now, Jane Symons writes "Regulating quacks helps them prey on gullible patients"
Today, 29 July 2009, a large number of magazines and blogs will publish simultaneously Simon Singh's article. The Guardian was forced to withdraw it, but what he said must be heard (even if the word 'bogus' is now missing).
This is an edited version if the article in the Guardian that resulted in the decision of the British Chiropractic Association to sue Singh for libel. That decision was bad for Singh, though its effects could yet be good for the rest of the world, Firstly the decision to use law rather than rational argument stands a good chance of destroying chiropractic entirely because its claims have now come under scrutiny as never before, and they have been found wanting. Secondly, the support for Singh has been so enormous that there must now be a good chance of getting the UK's iniquitous laws about defamation changed.
I'd rather have reproduced the original article in its entirety, but this bowdlerised version still presents the case very strongly (and the unedited version appears here and here).
Beware the spinal trap
Some practitioners claim it is a cure-all, but the research suggests chiropractic therapy has mixed results – and can even be lethal, says Simon Singh.
You might be surprised to know that the founder of chiropractic therapy, Daniel David Palmer, wrote that "99% of all diseases are caused by displaced vertebrae". In the 1860s, Palmer began to develop his theory that the spine was involved in almost every illness because the spinal cord connects the brain to the rest of the body. Therefore any misalignment could cause a problem in distant parts of the body.
In fact, Palmer's first chiropractic intervention supposedly cured a man who had been profoundly deaf for 17 years. His second treatment was equally strange, because he claimed that he treated a patient with heart trouble by correcting a displaced vertebra.
You might think that modern chiropractors restrict themselves to treating back problems, but in fact some still possess quite wacky ideas. The fundamentalists argue that they can cure anything, including helping treat children with colic, sleeping and feeding problems, frequent ear infections, asthma and prolonged crying – even though there is not a jot of evidence.
I can confidently label these assertions as utter nonsense because I have co-authored a book about alternative medicine with the world's first professor of complementary medicine, Edzard Ernst. He learned chiropractic techniques himself and used them as a doctor. This is when he began to see the need for some critical evaluation. Among other projects, he examined the evidence from 70 trials exploring the benefits of chiropractic therapy in conditions unrelated to the back. He found no evidence to suggest that chiropractors could treat any such conditions.
But what about chiropractic in the context of treating back problems? Manipulating the spine can cure some problems, but results are mixed. To be fair, conventional approaches, such as physiotherapy, also struggle to treat back problems with any consistency. Nevertheless, conventional therapy is still preferable because of the serious dangers associated with chiropractic.
In 2001, a systematic review of five studies revealed that roughly half of all chiropractic patients experience temporary adverse effects, such as pain, numbness, stiffness, dizziness and headaches. These are relatively minor effects, but the frequency is very high, and this has to be weighed against the limited benefit offered by chiropractors.
More worryingly, the hallmark technique of the chiropractor, known as high-velocity, low-amplitude thrust, carries much more significant risks. This involves pushing joints beyond their natural range of motion by applying a short, sharp force. Although this is a safe procedure for most patients, others can suffer dislocations and fractures.
Worse still, manipulation of the neck can damage the vertebral arteries, which supply blood to the brain. So-called vertebral dissection can ultimately cut off the blood supply, which in turn can lead to a stroke and even death. Because there is usually a delay between the vertebral dissection and the blockage of blood to the brain, the link between chiropractic and strokes went unnoticed for many years. Recently, however, it has been possible to identify cases where spinal manipulation has certainly been the cause of vertebral dissection.
Laurie Mathiason was a 20-year-old Canadian waitress who visited a chiropractor 21 times between 1997 and 1998 to relieve her low-back pain. On her penultimate visit she complained of stiffness in her neck. That evening she began dropping plates at the restaurant, so she returned to the chiropractor. As the chiropractor manipulated her neck, Mathiason began to cry, her eyes started to roll, she foamed at the mouth and her body began to convulse. She was rushed to hospital, slipped into a coma and died three days later. At the inquest, the coroner declared: "Laurie died of a ruptured vertebral artery, which occurred in association with a chiropractic manipulation of the neck."
This case is not unique. In Canada alone there have been several other women who have died after receiving chiropractic therapy, and Edzard Ernst has identified about 700 cases of serious complications among the medical literature. This should be a major concern for health officials, particularly as under-reporting will mean that the actual number of cases is much higher.
If spinal manipulation were a drug with such serious adverse effects and so little demonstrable benefit, then it would almost certainly have been taken off the market.
Simon Singh is a science writer in London and the co-author, with Edzard Ernst, of Trick or Treatment? Alternative Medicine on Trial. This is an edited version of an article published in The Guardian for which Singh is being personally sued for libel by the British Chiropractic Association.
That's a great account of the evidence. Notice the conclusion,
"If spinal manipulation were a drug with such serious adverse effects and so little demonstrable benefit, then it would almost certainly have been taken off the market".
It is the job of NICE to evaluate critically that sort of thing, which makes it all the odder that the NICE guidance group, very unusually, failed to assess properly the evidence for chiropractic.
If you aren't one of the 15,000 people who have already signed Singh's statement, please do it now
Follow-up
Resignation of Pain Society president. While we are on the topic of chiropractic, my comment, The hidden cost of endorsing voodoo, appeared at last on the BMJ article about NICE's low back pain guidance. The thread came back to life after the British Pain Society voted out its president, Paul Watson, a physiotherapist who was a member of the group that wrote the guidance.
Some of the links Links to some of the many repostings of Singh's article today are aggregated at Sense about Science. There where over 200 in a single day. The British Chiropractic Association tried to suppress criticism, but they clearly don't understand the web.
"An intrepid, ragged band of bloggers. Chiropractors may regret choosing to sue Simon Singh, springing online scientists into action". Ben Goldacre has summed up the reaction of the blogosphere with characteristically fine style in the Guardian. Ragged? Moi? The blog version (with links) is here.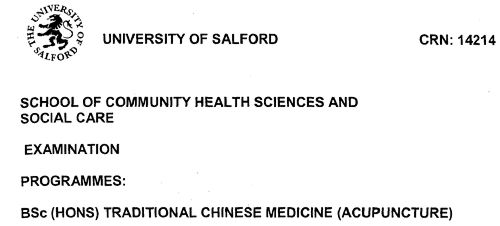 Acupuncture has been in the news since, in a moment of madness, NICE gave it some credence,
Some people still seem to think that acupuncture is somehow more respectable than, say, homeopathy and crystal healing. If you think that, read Barker Bausell's book ot Trick or Treatment. It is now absolutely clear that 'real' acupuncture is indistinguishable from sham, whether the sham control uses retractable needles, or real needles in the 'wrong' places. There has been no clear demonstration of long-lived benefits in any condition, and it is likely that it is no more than a theatrical placebo.
In particular, the indistinguishability of 'real' and sham acupuncture shows, beyond reasonable doubt that all the stuff about "energy flow in meridians" is so much hokum.
There is a small group of 'medical acupuncturists' that believes that it is hokum. but who nonetheless maintain that acupuncture works, despite the evidence to the contrary. But most acupuncturists go for the wholesale gobbledygook.
If you don't believe that, take a look at the exam paper that has come into my possession. It is this year's exam from the University of Salford. Salford has, very sensibly, now decided to stop all its degrees in alternative medicine, so don't hold this against the university too much.
You can download the entire exam paper. Here are a few highlights.

So students, in 2009, are being taught the crudest form of vitalism.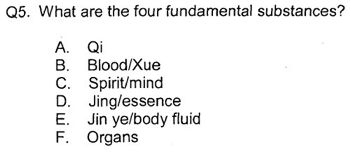 Oh really. Perhaps protons neutrons and electrons?

OK I'd fail that one because the words have no obvious meaning at all.

Perhaps an elementary textbook of embryology would help?

How one would love to see a set of model answers for these questions.
All this is ancient hokum being taugh to hapless students in the 21st century as though it were fact. The University of Salford has understood that and closed the course. All we need now is for NICE and the Department of Health to understand what it is that they are promoting.
NICE neglected the cultural cost of their guidance
When National Institute for Health and Clinical Excellence (NICE) included an acupuncture option on their low back pain guidance, they quite forget that one effect of their decision would be to ensure that new generations of students would have their minds poisoned with intellectual junk like this. That is why NICE really must think again. . See also
NICE falls for bait and switch by acupuncturists and chiropractors
NICE fiasco part 2 Rawlins should withdraw guidance and start again
NICE fiasco Part 3. Too many vested interests, not enough honesty
Pittilo and statutory regulation
Public consultation is due to open shortly on the appalling report of the Department of Health Steering Group on the Statutory Regulation of Practitioners of Acupuncture, Herbal Medicine, Traditional Chinese Medicine and Other Traditional Medicine Systems Practised in the UK (see also, The Times)
One of the recommendations is that acupuncture and Chinese herbal medicine should have statutory regulation by the Health Professions Council (HPC), despite the fact that that would involve the HPC breaking its own rules. Another recommendation of Pittilo is that entry to the "profession" (his word, not mine) should be by means of honours degree only. So he wants to impose on students exams like this one in order to "protect the public"? The absurdity of that proposal should be obvious now. This exam paper will form part of my evidence to the consultation.
And there is one other small problem. Universities are busy shutting down their degrees in alternative medicine, now that the ridiculousness of what is taught has been exposed. They have shut down entirely at the University of Salford and at the University of Central Lancashire, And even the University of Westminster is working on closing them.
All we need now is for the common sense and integrity that has been shown by these universities to spread to the Department of Health (and NICE).
Follow-up
| | |
| --- | --- |
| .The University of Central Lancashire (UCLAN) is the first place I asked to see teaching materials that were used on its homeopathy "BSc" course. The request was refused, and subsequent internal appeals were refused too, Clearly UCLAN had something to hide. | |
An appeal to the information commissioner took almost two years to be judged, but the case was won. The eventual decision by the Information
Commissioner rejected all the grounds that UClan had used to evade the Freedom of Information Act.
UClan appealed against the judgement and I still haven't got the stuff but that hardly matters now, because the course in question shut its doors. In any case, plenty of stuff from similar courses has leaked out already.
Meanwhile, in September 2008, UCLAN announced an internal review of all its courses in magic medicine, The review seemed to be genuine. For a start they asked me to give evidence to the review (something that no other university has done). They also asked Michael Eslea to give evidence. He is the UCLAN psychologist, whose magnificent open letter probably tipped the authorities into holding the review.
Just in case it is useful to anyone, here is a copy of the written evidence that I sent [download pdf],
Report of the Working Party on the Review of issues associated with Homeopathy, Acupuncture and Chinese Herbal Medicine
1. Introduction
As a consequence of concerns expressed by some colleagues within the University of Central Lancashire (UCLan) Dr Malcolm McVicar, Vice Chancellor appointed a working party to review the issues associated with the University offering courses in Homeopathy, Acupuncture and Chinese Herbal Medicine.
MEMBERSHIP:
Eileen Martin (Chair) Pro-Vice Chancellor and Dean of Faculty of Health and Social Care
Professor Gordon Bromage Head of Centre for Astrophysics
Professor Malcolm Edmunds Emeritus; Built and Natural Environment
Professor Doris Schroeder Director of Centre for Professional Ethics
Elaine Austin Project Manager, Faculty of Health and Social Care
The report was the subject of a special meeting of UCLAN's Academic Board on 9th July 2009. The following resolutions were passed.
Resolutions
R1 That further minor revisions be made to the report prior to publication on the University's website;
R2 That the University refrain from offering any practitioner-qualifying courses in Homeopathy, Acupuncture and Chinese Herbal Medicine until such disciplines have achieved statutory regulation status;
R3 That the University consider offering a limited number of postgraduate research studentships (leading to Masters by Research of PhD) to suitably qualified UCLan students and staff in these disciplines. They should have interdisciplinary supervisory teams to facilitate development of a broad range of research skills and to contribute to the generation of knowledge in CAM;
R4 That the University consider how more interdisciplinary teaching can be achieved, where appropriate, within both undergraduate and postgraduate teaching to facilitate greater exposure to subject expertise and different paradigms.
Resolutions 1, 3 and 4 say very little. Resolution 4 sounds thoroughly relativist. We are talking about medicine, about treating sick patients. There is only one "paradigm". That is to find treatments that are as effective and safe as possible. There aren't two sorts of medicine, regular and alternative. There is just medicine that works and medicine that doesn't work. It's a good illustration of DC's rule number 2, "never trust anyone who uses the word paradigm".
Resolution 2 is the really interesting one, because none if the topics, Homeopathy, Acupuncture and Chinese Herbal Medicine, is subject to statutory regulation.
If taken literally, resolution 2 means that all the UCLan courses in alternative medicine will close their doors. Bafflingly, this inevitable conclusion is not stated explicitly.
At least resolution 2 means that homeopathy, already closed, will stay closed. It is never likely to get statutory regulation.
For practical purposes, we can ignore for the moment the obvious fact that statutory regulation of nonsense subjects results only in nonsense. The only forms of alternative medicine that have got "statutory regulation" at the moment are chiropractic and osteopathy. The public has not been safeguarded by the General Chiropractic Council (GCC). The GCC, on the contrary, has endangered the public by allowing false health claims to be made with impunity. Perhaps the members of the review committee had not noticed that the Simon SIngh affair has resulted in almost 600 complaints being made to the GCC? The faith of the review in statutory regulation is clearly misplaced.
The Pittilo report is critical for what happens next
Acupuncture and Chinese Herbal Medicine are not subject to statutory regulation at present, so one would suppose that these degrees will close their doors too. However the infamous Pittilo report has proposed that they should become regulated by the Health Professions Council (HPC). The many problems of the Pittilo report have been documented here, in "A very bad report: gamma minus for the vice-chancellor". There was also a high-profile critique of the report in The Times (and on this blog).
The HPC has, as one of its criteria for regulation, "evidence-based practice". Disgracefully, the HPC has already shown its willingness to ignore its own rules and to act as statutory regulator for Acupuncture and Chinese Herbal medicine. This rather disgraceful behaviour is documented in "Health Professions Council ignores its own rules: the result is nonsense".
The UCLAN report seems to assume that the recommendations of the Pittilo report will be accepted. But the long-awaited consultation has still not opened. We can be sure that when it does, the opposition to it will be very strong indeed.
The report in full
Here are a few comments on the report itself. Download the full report (as of July 15th).
i have to say that when I visited Preston to give evidence, my views seem to be treated seriously, even sympathetically, so it was a great disappointment to see the outcome. So what's wrong? The major disaster is declared early in the report.
Section 2, Context

The debate is centred on a number of key themes which relate to:-

1. The quality of and/or absence of an evidence base to support claims of the efficacy and benefits of such treatments, linked to issues of public safety/protection and professional regulation.
Sounds good. What matters about any sort of medicine is whether or not it works and whether it is safe. It therefore verges on the incredible that we read in section 4.1
"conclusions from research into the efficacy of the various CAM's are outside the remit of this report."
The whole point about CAM is that there is very little evidence that any of it works. So the review committee decided to ignore the most important problem of the lot. I can't see how any rational decision can be made without first deciding whether the treatment is better than placebo. That, surely, is the main question, and it was dodged.
UCLAN has failed to grasp the nettle, just as the Department of Health has also consistently failed to do so.
Section 4,1 Efficacy This section repeats the assertion, absurd to my mind, that it is possible to judge CAM courses while declining to assess whether they work or not.
Section 4.2 Role of Universities in Society.
There is universal agreement that critical thinking is crucial to the idea of a university, but the judgement of whether CAM teaches critical thinking is simply fudged. Again the report fails to grasp the nettle.
"Disagreements about critical thinking within CAMs arises because some will argue that such substantiation and assessment can occur within the discipline, whilst others will argue that the methodology for substantiation, that is evidence provision, is universal. As a result, the latter will demand that evidence is provided using methods from one field (e.g. randomised controlled trials) for use in another."
Sadly, the report dodged the crucial judgement once again. The most obvious characteristic of every form of alternative medicine is their total lack of critical self-appraisal. It is very sad that the review committee could not bring itself to say so.
Section 4.4 Nomenclature of degrees
Recommendation
The nomenclature of courses, leading to a professional as well as an academic award, should reflect the professional route; for example Bachelor with Honours in Complementary Medicine, B Comp. Med.(Hons) or B Acupuncture (Hons).
This sounds to me like another truly pathetic fudge. What on earth is solved by changing the name of the degree? You'd still be teaching students the same load of gobbledygook and then letting them loose on sick people, whether you call it a Bachelor of Science, a Bachelor of Arts, or, as is recommended here, a Bachelor of nothing whatsoever.
Well, I suppose there is a (doubtless unintended) irony in calling CAM degrees "Bachelor of nothing whatsoever".
Section 4.4 Ethical, non-harm and economic considerations
This section list a lot of reasons why teaching alternative medicine should be unethical. but nevertheless manages to conclude that
" . . . it is not unethical to offer courses in Homeopathy, Acupuncture and Chinese Herbal Medicine at a university."
I find the logic by which this bizarre conclusion was reached quite impossible to follow. Like much of the rest of the report this conclusion seems to stem from a reluctance to grapple with the really important questions, like 'does it work or not?'.
Despite this the recommendation is perhaps the most interesting of all.
"Recommendation
• The University refrains from offering any CAM courses until such disciplines have achieved statutory regulation status."
This recommendation was accepted, and passed as a resolution at Academic Board. If it is implemented now, than there will be no more alternative medicine degrees next year at the University of Central Lancashire. If and when this happens, the University must be congratulated on its return to rational medicine.
Follow-up
Michael Eslea, UCLAN's hero in resisting nonsense from the inside, has posted on this topic.
17 July 2009. It seemed odd that that no announcement was made about the future if the remaining CAM courses at UCLAN. So I asked deputy Vice-Chancellor Patrick McGhee for clarification. After a couple of days, I got this response.
From: CTheobald@uclan.ac.uk
To: d.colquhoun@ucl.ac.uk
Subject: uclan clarification
Hi David,
I have been asked to respond to your question below on the running of acupuncture and Chinese herbal medicine at UCLan. It is correct to assume that UCLan will not be taking any new entrants onto these programmes until further notice.
Best Wishes
Chris
Chris Theobald
Corporate Communications
University of Central Lancashire
So the report may have been disappointing, but it has done the job. As several people have pointed out in comments, it would be asking too much to expect a university to say "sorry we just noticed that we have been running junk-science courses for years". But they have done the right thing anyway.
Here is a short break from the astonishing festival of chiropractic that has followed the British Chiropractic Association (BCA) v Simon Singh defamation case, and the absurd NICE guidance on low back pain.
| | |
| --- | --- |
| Singh's statement already has over 10000 signatories, many very distinguished, Sign it now if you haven't already. And getting on for 600 separate complaints about exaggerated and false claims by chiropractors have been lodged with the General Chiropractic Council and with Trading Standards offices. | |
The BCA has exposed the baselessness of most of chiropractic's claims more effectively than any sceptic could have done.
The University of Westminster is seeing the light?
It is only recently that the University of Westminster suspended entry to degrees in homeopathy and remedial massage and neuromuscular therapy. Luckily for science, they have a new Dean who knows bullshit when she sees it. I suspect than she has been instrumental in starting to restore Westminster's reputation. The job isn't finished yet though. According to the UCAS site Westminster still offers
Chinese Medicine: Acupuncture with Foundation (B341) 4FT Hon BSc
Health Sciences: Complementary Ther with Foundn (B300) 4FT Hon BSc
Health Sciences: Complementary Therapies (B255) 3FT Hon BSc
Health Sciences: Herbal Medicine (B342) 3FT Hon BSc
Health Sciences: Herbal Medicine with Foundation (B340) 4FT Hon BSc
Health Sciences: Naturopathy (B391) 3FT Hon BSc
Health Sciences: Naturopathy with Foundation (B392) 4FT Hon BSc
Health Sciences: Nutritional Therapy (B400) 3FT Hon BSc
Health Sciences: Nutritional Therapy with Foundn (B402) 4FT Hon BSc
With the possible exception of herbal medicine, which could be taught scientifically. all the rest is as delusional as homeopathy.
Rumour has it that Naturopathy may be next for the chop, so it seems appropriate to help the dean by showing a bit more of what the hapless students get taught. Remember that, according to Westminster, this is a bachelor of science degree!
Psychotherapeutic Approaches in Naturopathy 3CMW606
"This module is a core subject for BSc (Hons) Health Sciences: Naturopathy and option for BSc (Hons) Health Sciences: Complementary Therapies; BSc (Hons) Health Sciences: Therapeutic Bodywork; Graduate Diploma in Therapeutic Bodywork."
Lectures 3 – 5 of this course are about the Theory and Application of EmoTrance.
EMOTRANCE? No I had never heard of it either. But it takes only two minutes with Google to discover that it yet another product of the enormous navel-gazing self-help industry. A new variant is born almost every day, and no doubt they make buckets of money for their inventors. You can download a primer from http://emotrance.com/. The web site announces.
"EmoTrance REAL energy healing for the 21st Century"
Here are three quotations from the primer.
And then I thought of the lady in the supermarket whose husband had died, and I spend the following time sending her my best wishes, and my best space time quantum healing efforts for her void.
It doesn't matter how "bad"; something is or how old, it is ONLY AN ENERGY and energy can be moved with consciousness in quantum time, easily, and just for the asking.
Is EmoTrance a Science?
Yes! But only if you can accept that all living creatures have an energetic/emotional system. Once you make that leap then EmoTrance is completely logical and just makes sense. Like all great discoveries, EmoTrance is simple, natural and you might find you have always been aware of these processes subconsciously.
Now back to Westminster
Here are a few slides about EmoTrance
So it is pure vitalistic psycho-babble. The usual undefined use of impressive sounding words like "energy" and "quantum" with no defined meaning. Just preposterous made-up gobbledygook.
Before getting to EmoTrance, the course Psychotherapeutic Approaches in Naturopathy (3CMW606) had a lecture on Flower Essences. The evidence says, not surprisingly, that the effects of flower essences is not distinguishable from placebo "The hypothesis that flower remedies are associated with effects beyond a placebo response is not supported by data from rigorous clinical trials." (See Ernst Wien. Klin. Wochenschr. 2002 114(23-24):963-6). Here are two of the slides.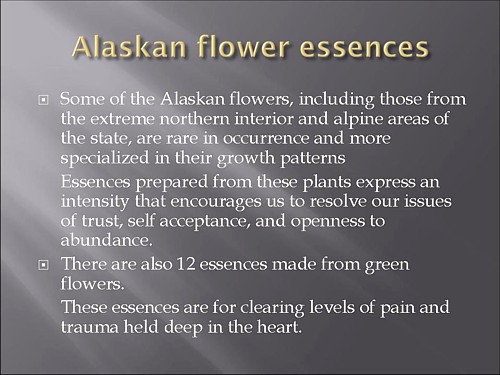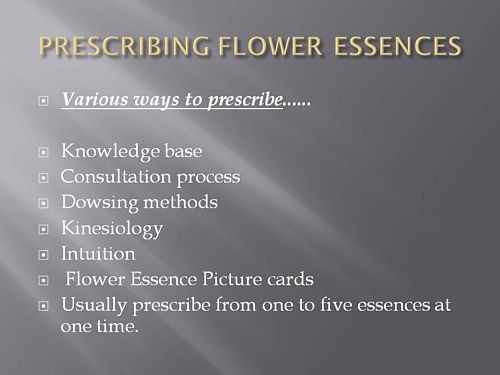 This last slide departs from the simply silly to the totally mad. Dowsing? Kinesiology?
Pendulums I'm told from more than one source that the use of pendulums is not uncommon. both in teaching and by students in the Westminster University polyclinic Apparently they provide an excellent way to choose a 'remedy' or make a diagnosis (well, I expect they are as good as the alternatives). If in doubt, guess.
Of course pendulums were popular with Cherie Blair who is reported to have taken her son Leo to a pendulum waver, Jack Temple, rather than have him vaccinated with MMR. At least her delusions affected fewer people than those of her husband (the latest Iraq body count is about 100,000).
Kinesiology was originally a word that applied to the perfectly sensible science of human movement. But Applied Kinesiology more often refers now to a fraudulent and totally ineffective diagnostic method invented by (you guessed) a chiropractor. It has been widely used by alternative medicine to misdiagnose food allergies. It does not work (Garrow, 1988: download reprint).
General Chiropractic Council It is a mind-boggling sign of the incompetence of the General Chiropractic Council that they manage to include kinesiology within their definition of "evidence based care". Their definition is clearly sufficiently flexible to include anything whatsoever. The incompetence of the GCC is documented in superb detail on jdc325's blog (James Cole).
Council for Healthcare Regulatory Excellence (CHRE) is yet another example of the network of ineffective and incompetent quangos that plague us.. It is meant to ensure that regulation is effective but utterly fails to do so. The CHRE is quoted as saying "[The GCC] takes its role seriously and aspires to, and often maintains, excellence.". Like endorsing kinesiology and 'craniosacral therapy' perhaps? Quangos like the CHRE not only fail to ensure regulatory excellence, they actually endorse rubbish. They do more harm than good.
The reading list for the course includes the following books. I guess the vibrational medicine (whatever that means) was covered already in the now infamous 'amethysts emit high yin energy' lectures.
Reading List
Essential:
Hartman S (2003) Oceans of Energy: The Patterns and Techniques of EmoTrance: Vol 1.DragonRising. ISBN: 1873483732.
Lynch V and Lynch P (2001) Emotional Healing in Minutes. Thorsons: London. ISBN: 0007112580

Recommended:
Gerber R (2001) Vibrational Medicine for the 21st Century. Piatkus Publishers: London.
Gurudas (1989) Flower Essences and Vibrational Medicine. Cassandra Press: California, USA
Hartman S (2000) Adventures in EFT: The Essential Field Guide to Emotional Freedom Techniques. DragonRising. ISBN: 1873483635.
Hartman S (2004) Living Energy: The Patterns and Techniques of EmoTrance: Vol 2. DragonRising.ISBN: 1873483740.
Hartman S (2006) Energy Magic: The Patterns and Techniques of EmoTrance: Vol 3. Dragon Rising.ISBN: 1873483767.
Real magic.
Sylvia Hartman's books seem to feature heavily in the reading list. I just got news of her latest effort
Welcome to a special update to the June 2009 newsletter to announce Silvia Hartmann's latest book "Magic, Spells & Potions" is now available to pre-order from our site. The eBook edition will be released this Sunday, the most magical day of the year.

http://DragonRising.com/store/magic_spells_and_potions/?r=DR0609MSAP

If you do pre-order this exciting new book, not only will you be amongst the first to receive your copy, but you will also be entered into an exciting competition for Silvia Hartmann's handmade copal amber magic pendant. Each paperback book pre-ordered will also be signed by the author and contain a unique blessing for the reader.

Because this is a serious book on real magic, potions and fortune telling if you are a beginner Silvia has provided ample sample spells and potions for you to practice working with before you start covering the advanced material.
What? No honestly, I didn't invent that.
The idea that stuff of this sort is appropriate for a bachelor of science degree is simply ludicrous. I have no doubt that Westminster's new dean can see that as well as anyone else. She has the delicate diplomatic job of extirpating the nonsense, I wish her well.
Follow-up
This is another short interruption in the epic self-destruction of chiropractors. In a sense it is more serious. One expects quacks to advocate quackery. What you don't expect is that the National Institute of Clinical Excellence (NICE) will endorse it. Neither do you expect the Medicines and Healthcare products Regulatory Agency (MHRA) to betray its mandate to make sure that medicines work.
The saga of the NICE low back pain guidance has been the subject of a deluge of criticism, It seems doubtful that the guidance can survive, not least because of its absurd endorsement of chiropractic, at a time when chiropractic is undergoing self-immolation as a consequence of the persecution of Simon Singh by the British Chiropractic Association (see here, and here, and here, and here and thousands of other sites).
The other betrayal has come to the for after the MHRA approved highly misleading labelling of a homeopathic preparation. At the time,
in 2006, when the principle was approved by the MHRA, just about every scientific organisation, even the Royal Society, condemned the action. What was discouraging that the clinical organisations all stayed silent. It is still a mystery why the MHRA made this enormous mistake, Some said that European regulations required it, but that is quite untrue, as Les Rose has shown. It appears to have been the result of a pusillanimous MHRA bowing to pressure from a deeply unscientific Department of Health (a letter from Caroline Flint at the time borders on the surreal).
On 20 May 2009, the British Medical Journal printed an article Drugs agency grants its first licence to homoeopathic product by Deborah Cohen (available free). The comments were mostly highly critical of the MHRA. The BMJ asked, as it does from time to time, for my comment to be converted to a letter
for the print edition. That isn't freely available, so here it is.
Published 9 June 2009, doi:10.1136/bmj.b2333
Cite this as: BMJ 2009;338:b2333
Letters
Homoeopathic product licence
MHRA label seems to be illegal
The strap line for the Medicines and Healthcare products Regulatory Agency (MHRA) is "We enhance and safeguard the health of the public by ensuring that medicines and medical devices work and are acceptably safe."
Yet the MHRA has made mockery of its own aims by ignoring the bit about "ensuring that medicines work" and allowing Arnica 30C pills to be labelled: "a homoeopathic medicinal product used within the homoeopathic tradition for the symptomatic relief of sprains, muscular aches, and bruising or swelling after contusions."1
This label should be illegal anyway because the pills contain no trace of the ingredient on the label, but this deceit has been allowed through a legal loophole for a long time now. If you sold strawberry jam that contained not a trace of strawberry you'd be in trouble.
But I can see no legal loophole that allows the manufacturers of Arnica 30C to evade the provisions of the Consumer Protection from Unfair Trading Regulations 2008. One of the 31 commercial practices which are in all circumstances considered unfair is "falsely claiming that a product is able to cure illnesses, dysfunction, or malformations."
The consumer protection laws apply to the way that "the average consumer" will interpret the label. The average consumer is unlikely to know that "used within the homoeopathic tradition" is a form of weasel words that actually means "there isn't a jot of evidence that the medicine works."
Since there is not the slightest evidence that Arnica 30C pills provide symptomatic relief of sprains, etc, the labelling that the MHRA has approved seems to be illegal. The MHRA is not selling anything itself, so I presume that it won't find itself in court, but anyone who follows its advice could well do so.
Cite this as: BMJ 2009;338:b2333
David Colquhoun, research professor1
University College London, London WC1E 6BT
---
Competing interests: None declared.
References
Cohen D. Drugs agency grants its first licence to homoeopathic product. BMJ 2009;338:b2055. (20 May.)
It is, I suppose, just a sign of the chaos that reigns in the multiple agencies and quangos responsible for 'regulation' that one arm of government proposes action that a different branch would consider illegal. That is an inevitable consequence of trying to regulate something without first deciding whether it is nonsense or not. The Department of Health appears to be quite incapable of grasping this simple and obvious fact.
Follow-up
Health: best treatments. The Guardian seems to the be picking up BMJ stories and ran this one.
On 23rd May 2009, the Financial Times magazine published a six-page cover story about pseudo-scientific degrees by Richard Tomkins. The online version has the text but doesn't do justice to the prominence that it was given. The print version had a much better title too, The Retreat from Reason. This article, which was some time in gestation, appeared shortly afte the last degree in homeopathy in the UK closed its doors. So perhaps it should have been called The Return of Reason. What's interesting is that it has become commonplace for the mainstream newspapers to print articles like this and to dump some of their whackier lifestyle articles.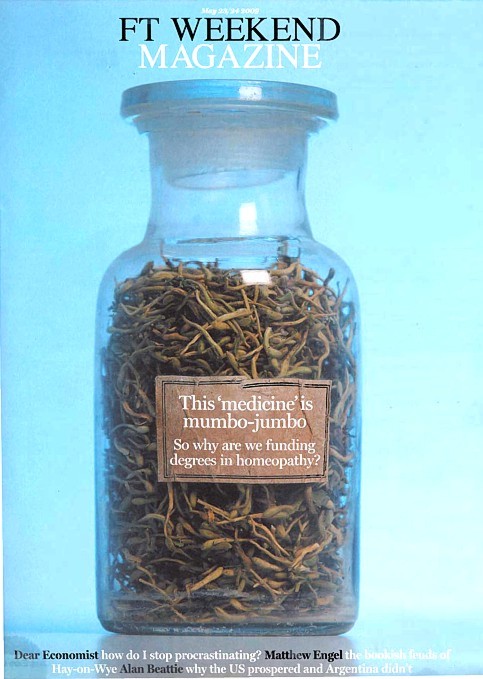 The print version had a much better title too, The Retreat from Reason, with a two-page spread..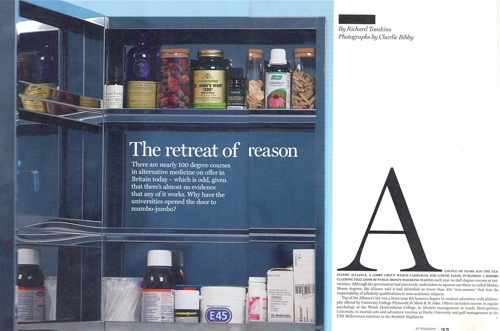 They published the entire 'Patients' Guide to Magic Medicine' as a sidebar on page 4.

To these has now been added, inspired by Jack of Kent,
Libel: A very expensive remedy, to be used only when you have no evidence. Appeals to alternative practitioners because truth is irrelevant
One part of the article that I particularly enjoyed is this.
George Lewith, professor of health research at the University of Southampton's medical school, is also director of the Centre for Complementary and Integrated Medicine, a private practice with ­clinics in Southampton and London's West End, so it is no surprise that he is ready to speak out in support of complementary therapies. In fact, Southampton University – a member of the elite Russell Group – does not offer degree courses in complementary medicine, but Lewith defends the idea of offering them in principle, on the basis that, done properly, they produce better-trained practitioners. "Without the new universities' involvement we might be faced with the quackery we saw in the 1940s and 1950s, when these people were outside medicine and were practising in an alternative fringe culture," he says.
Sorry George, you are still an "alternative fringe culture". And universities are realising that, and shutting down courses all over the place.
A response in the Finacial Times
The FT published one response in its letter column, A bilious attack on complementary medicine.
"Sir, Like many journalists, Richard Tomkins has been over-impressed by the scientific credentials of Professors David Colquhoun and Edzard Ernst as they carry on their absurdly over-stated, arrogant and irresponsible campaign against complementary medicine ("The retreat of reason", May 23)"

and then the trump card

"Absence of evidence is not evidence of absence"
That's the line used by quacks again and again and again (see, for example, integrative baloney @ Yale). I guess they have never heard of type 1 and type 2 errors. But that is a bit technical for homeopaths, so put it more simply. There is a quite remarkable absence of evidence for tooth fairies. So they must exist. Get it?
The letter is from Allen Parrott of Yeovil. Could that be the Allen Parrott of the British Acupuncture Accreditation Board? If so he is "is an adult educationist who was Dean of Adult and Community Education at Yeovil College and a lecturer in the School of Education at Exeter University. As well as his work for the Board, he is currently working as an educational adviser for the Kent, Surrey and Sussex Deanery in the NHS.". So no reason to worry about the standards of education in Yeovil, then.
The first post was NICE falls for Bait and Switch by acupuncturists and chiropractors: it has let down the public and itself.
That was followed by NICE fiasco, part 2. Rawlins should withdraw guidance and start again.
Since then, something of a maelstrom has engulfed NICE, so it's time for an update.
It isn't only those who are appalled that NHS should endorse voodoo medicine on the basis of very slim evidence who are asking NICE to rethink their guidance on low back pain. Pain specialists are up in arms too, and have even started a blog, 'Not Nearly as NICE as you think …', to express their views. Equally adverse opinions are being expressed in the Britsh Medical Journal. A letter there is signed by over 50 specialists in pain medicine. It ends thus
"Because of these new guidelines patients will continue to experience unnecessary pain and suffering and their rights to appropriately individually tailored treatment have been removed on the basis of a flawed analysis of available evidence. We believe the guidelines do not reflect best practice, remove patient choice and are not in our patients' best interests."
In a contribution headed "NICE misguidance". Dr Michel Vagg ends
It seems to me that this guideline has been used as a propaganda vehicle to allow cherry-picked evidence to be enshrined as doctrine. This is an abuse of the guideline development process . . . "
I have to say, though, that it seems to me that some of these people are promoting their own interests as much as chiropractors and acupuncturists. The evidence that spinal injections produce worthwhile benefits seems to be as thin as the evidence that chiropractic and acupuncture produce worthwhile benefits. But no doubt the injections are good for the budgets of PCTs or private practice doctors.. Could it perhaps be the case that some of the clinicians' anger is being generated by doctors who are rushing to defend their own favourite ineffective treatment?
Why, oh why, can't either NICE or the pain consultants bring themselves to state the obvious, that nothing works very well. The only thing that can be said for most of the regular treatments is that although they may not be much more effective than acupuncture or chiropractic, at least they don't come with the intellectually-offensive hokum that accompanies the latter. Very sensible attempts have been made to identify the cause of low back pain [reviewed here], Occasionally they succeed. Mostly they don't.
One clinician's letter deserves special attention because it goes into the evidence, and the costs, in some detail. Its conclusions are very different from those in the NICE guidance.
The letter, a Review of NICE guidance, is from Dr C.J.D. Wells [download the whole letter]. He is a pain relief consultant from Liverpool.
Let's look at some highlights.
Wells points out the absurdity of the cost estimates
"In the pricing section, they estimate that this will require an increase of facilities so that 3,500 patients can be treated instead of 1,000 at present (again see comments on pricing). This is not many treatments for the 20 million sufferers, of whom we can estimate that at least 2 million will have significant long-term disability and psychological distress"
And that is without even costing all the secondary costs of miseducating a new generation of students in fables about "Qi", meridians, energy flow, subluxations and innate intelligence.
"The abysmal ignorance of the committee is reflected in the poor overall advice. So if you have a committee with special interests in Exercise, Manipulation, PMP's, and Surgery, and you call an expert on Acupuncture, you get advice to use Exercise, Manipulation, Acupuncture, PMP's and Surgery. Amazing."
Another pain consutant, Charles Guaci, says in a comment in the Daily Mail.
I am a Pain Consultant of 30 years experience, have published two books (one translated into different languages).

NICE never asked me for my opinion.

This is the most ridicuculous pseudo-scientific document I have ever seen.

The panel consisted of a surgeon, psychologist, osteopath, acupuncturist a physiotherapist and an academic; not one pain consultant! The conclusions are simply a means of increasing the employment of their friends!

All evidence submitted to NICE was ignored.

It is almost certain than unless NICE rethink their ideas that Pain Consultants will be seeking a judicial review as well as full disclosure of how the panel arrived at their bizarre findings under the Freedom of information act.

Patients should realise that they are being taken for a ride.
Despite the outcry from opponents of magic medicine and from pain specialists, the assessment by the normally excellent NHS Choices site was disappointing. It made no mention at all of the secondary consequences of recommending CAM and described the assertions of the guidance group quite uncritically.
The reputation of NICE
NICE has been criticised before, though usually unjustly. In the past I have often supported them. For example. when NICE said that treatment of dementia with anticholinesterase drugs like galantamine was ineffective, there was a great outcry, but NICE were quite right. There is little or no rationale for such treatments, and more importantly, very little evidence that they work. But patients, especially when they are desperate, have greater faith in drug treatments than most pharmacologists, They want to clutch at straws. A bit like the NICE guidance committee, faced with a bunch of treatments most of which are almost ineffective, clutched at the straws of acupuncture and chiropractic. But this time it isn't only the patients who are cross. It is most of the medical and scientific world too.
One interpretation of these bizarre events is that they represent a case of medical/scientific arrogance. Ben Goldacre wrote of another aspect of the same problem thus week, in Dodgy academic PR [download the paper on which this is based].
The first job of a scientist is to say openly when the answer to a question is not known. But scientists are under constant pressure to exaggerate the importance of their results. Last year we published an article which I feel may, if verified, turn out to be the second most important that I have ever been an author on. Because it happened to be published in Nature (not because of its quality), a press release was written (by an arts graduate!). It took some argument to prevent the distorted and exaggerated account being imposed on the public. This is typical of the sort of thing reported in Goldacre's column. I reported a similar case a while ago, Why honey isn't a wonder cough cure: more academic spin.
If NICE does not reconsider this guidance, it is hard to see how it can be taken seriously in the future. I hope that when NICE's director, Professor Sir Michael Rawlins, returns from his trips abroad, he will find time to look at the case himself.
Indirectly, then, it can be argued that NICE's bizarre guidance is just another manifestation of the management of science being passed from the hands of scientists into the hands of administrators and spin experts. It is yet another example of DC's rule
Never trust anyone who uses the word 'stakeholder'
Some bone-headed bureaucrat decides that any charlatan or quack is a 'stakeholder' in the provision of NHS care and gives them a quite disproportionate say in how taxpayers' money is spent. The bureaucrats are so busy following processes and procedures, ticking boxes, and so deficient in scientific education, that they failed to notice that they've been caught out by the old trick of used car salesmen, bait and switch.
The consequences
The expected consequences have already started to materialise. The Prince of Wales' Foundation for Magic Medicine is jubilant about having been endorsed by NICE. And I'm told that "The chiropractors have now just written letters to all health boards in Scotland asking for contracts for their services to deal with back pain".
There could hardly have been a worse time for NICE to endorse chiropractic. We are in the middle of a storm about free speech because of the disgraceful action of the British Chiropractic Associaton in suing one of our best science writers, Simon Singh, for defamation because he had the temerity to express an opinion, Of course, even if the BCA wins in court, it will be the overall loser, because chiropractic claims are now being scrutinised as never before (just look at what they told me).
Follow-up
A much-cited paper. The paper that is most often cited by chiropractors who claim to be able to cure colic by spinal manipulation is Klougart N, Nilsson N and Jacobsen J (1989) Infantile Colic Treated by Chiropractors: A Prospective Study of 316 Cases, J Manip Physiol Ther,12:281-288. This is not easy to get hold of but Steve Vogel has sent me s scanned copy which you can download here. As evidence it is about as useless as the infamous Spence study so beloved of homeopaths. There was no control group at all. It simply follows 316 babies and found that most of them eventually got better. Well, they do, don't they? It is a sign of the pathetic standard of reaearch in chiropractic that anyone should think this paper worth mentioning at all.
June 6 2009. More flak for NICE from the Royal College of Anaesthetists, and more adverse comment in the BMJ. And of course the blogs. for example, "If this is "evidence based medicine" I want my old job back".
"Acupuncture on the NHS: a dangerous precedent": a good analysis at counterknowledge.com.
June 6 2009, Comment sent to the BMJ. The comment was submitted, as below, early on Friday 5th June. The BMJ said it was a "sensitive issue" and for the next five days lawyers pondered over it.
Underwood and Littlejohns describe their guidance as being a "landmark". I can only agree with that description. It is the first time that NICE has ever endorsed alternative medicine in the face of all the evidence. The guidance group could hardly have picked a worse moment to endorse chiropractic. Chiropractors find it so hard to find evidence for their practices that, when one of our finest science writers, Simon Singh, asked to see the evidence they sued him for defamation. I suggest that the guidance group should look at the formidable list of people who are supporting Singh, after his brave decision to appeal against this iniquitous persecution.

Of course I'm sure this bizarre decision has nothing to do with the presence on the guidance group of Peter Dixon, chair of the General Chiropractic Council. Nevertheless, I am curious to know why it is that when I telephoned two of the practices belonging to Peter Dixon Associates, I was told that they could probably treat infantile colic and asthma. Such claims have just been condemned by the Advertising Standards Authority.

The low back pain guidance stands a good chance of destroying NICE's previously excellent reputation for dispassionate assessment of benefits and costs. Yes, that is indeed a landmark of sorts.

If NICE is ever to recover its reputation, I think that it will have to start again. Next time it will have to admit openly that none of the treatments work very well in most cases. And it will have to recognise properly the disastrous cultural consequences of giving endorsement to people who, when asked to produce evidence, resort to legal intimidation.
Eventually, on Wednesday 10 June the comment appeared in the BMJ, and it wasn't greatly changed. Nevertheless if is yet another example of legal chill. This is the final version.
Underwood and Littlejohns describe their guidance as being a "landmark". I can only agree with that description. It is the first time that NICE has ever endorsed alternative medicine in the face of all the evidence. The guidance group could hardly have picked a worse moment to endorse chiropractic. Chiropractors are so sensitive about criticisms of their practices that, when one of our finest science writers, Simon Singh, queried the evidence-base for their therapeutic claims they sued him for defamation. I suggest that the guidance group should look at the formidable list of people who are supporting Singh, after his brave decision to appeal against an illiberal court ruling in this iniquitous persecution.

One wonders whether this bizarre decision by NICE has anything to do with the presence on the guidance group of Peter Dixon, chair of the General Chiropractic Council. I am also curious to know why it is that when I telephoned two of the practices belonging to Peter Dixon Associates, I was told that chiropractic could be effective in the treatment of infantile colic and asthma. Similar claims about treating colic have just been condemned by the Advertising Standards Authority.

The low back pain guidance stands a good chance of destroying NICE's previously excellent reputation for dispassionate assessment of benefits and costs. Yes, that is indeed a landmark of sorts.

If NICE is ever to recover its reputation, I think that it will have to start again. Next time it will have to admit openly that none of the treatments works very well in most cases. And it will have to recognise properly the disastrous cultural consequences of giving endorsement to people who, instead of engaging in scientific debate, resort to legal intimidation.
Bait and switch. Oh dear, oh dear. Just look at this. British Chiropractic Association tell their members to hide their sins from prying eyes.
Excellent round-up of the recent outburst of writing about "chiroquacktic" (Tut, tut, is there no respect?).
Dr Crippen writes "NICE recommends a cure for all known disease" [Ed some exaggeration, surely]
The Prince of Wales' Foundation for Integrated Health (FiH) is a propaganda organisation that aims to persuade people, and politicians, that the Prince's somewhat bizarre views about alternative medicine should form the basis of government health policy.

His attempts are often successful, but they are regarded by many people as being clearly unconstitutional.


The FiH's 2009 AnnualConferen ce conference was held at The King's Fund, London 13 – 14 May 2009. It was, as always, an almost totally one-sided affair devoted to misrepresentation of evidence and the promotion of magic medicine. But according to the FiH, at least, it was a great success. The opening speech by the Quacktitioner Royal can be read here. It has already been analysed by somebody who knows rather more about medicine than HRH. He concludes
"It is a shocking perversion of the real issues driven by one man; unelected, unqualified and utterly misguided".
We are promised some movie clips of the meeting. They might even make a nice UK equivalent of "Integrative baloney @ Yale".
This post is intended to provide some background information about the speakers at the symposium. But let's start with what seems to me to be the real problem. The duplicitous use of the word "integrated" to mean two quite different things.
The problem of euphemisms: spin and obfuscation
One of the problems of meetings like this is the harm done by use of euphemisms. After looking at the programme, it becomes obvious that there is a rather ingenious bit of PR trickery going on. It confuses (purposely?) the many different definitions of the word "integrative" . One definition of "Integrative medicine" is this (my emphasis).
" . . . orienting the health care process to engage patients and caregivers in the full range of physical, psychological, social, preventive, and therapeutic factors known to be effective and necessary for the achievement of optimal health."
That is a thoroughly admirable aim. And that, I imagine, is the sense in which several of the speakers (Marmot, Chantler etc) used the term. Of course the definition is rather too vague to be very helpful in practice, but nobody would dream of objecting to it.
But another definition of the same term 'integrative medicine' is as a PR-friendly synonym for 'alternative medicine', and that is clearly the sense in which it is used by the Prince of Wales' Foundation for Integrated Health (FIH), as is immediately obvious from their web site.
The guide to the main therapies supports everything from homeopathy to chiropractic to naturopathy, in a totally uncritical way. Integrated service refers explicitly to integration of 'complementary' medicine, and that itself is largely a euphemism for alternative medicine. For example, the FIH's guide to homeopathy says
"What is homeopathy commonly used for?

Homeopathy is most often used to treat chronic conditions such as asthma; eczema; arthritis; fatigue disorders like ME; headache and migraine; menstrual and menopausal problems; irritable bowel syndrome; Crohn's disease; allergies; repeated ear, nose, throat and chest infections or urine infections; depression and anxiety."
But there is not a word about the evidence, and perhaps that isn't surprising because the evidence that it works in any of these conditions is essentially zero.
The FIH document Complementary Health Care: A Guide for Patients appears to have vanished from the web after its inaccuracy received a very bad press, e.g. in the Times, and also here. It is also interesting that the equally widely criticised Smallwood report (also sponsored by the Prince of Wales) seems to have vanished too).
The programme for the meeting can be seen here, for Day 1, and Day 2
Conference chair Dr Phil Hammond, GP, comedian and health service writer. Hammond asked the FIH if I could speak at the meeting to provide a bit of balance. Guess what? They didn't want balance.
09:30 Opening session
Dr Michael Dixon OBE
09:30 Introduction: a new direction for The Prince's Foundation for Integrated Health and new opportunities in integrated health and care. Dr Michael Dixon, Medical Director, FIH
Michael Dixon is devoted to just about every form of alternative medicine. As well as being medical director of the Prince's Foundation he also runs the NHS Alliance. Despite its name, the NHS Alliance is nothing to do with the NHS and acts, among other things, as an advocate of alternative medicine on the NHS, about which it has published a lot.
Dr Dixon is also a GP at College Surgery, Cullompton, Devon, where his "integrated practice" includes dozens of alternative practitioners. They include not only disproven things like homeopathy and acupuncture, but also even more bizarre practitioners in 'Thought Field Therapy' and 'Frequencies of Brilliance'.
To take only one of these, 'Frequencies of Brilliance' is bizarre beyond belief. One need only quote its founder and chief salesperson.
"Frequencies of Brilliance is a unique energy healing technique that involves the activation of energetic doorways on both the front and back of the body."

"These doorways are opened through a series of light touches. This activation introduces high-level Frequencies into the emotional and physical bodies. It works within all the cells and with the entire nervous system which activates new areas of the brain."
"Frequencies of Brilliance is a 4th /5th dimensional work. The process is that of activating doorways by lightly touching the body or working just above the body."

"Each doorway holds the highest aspect of the human being and is complete in itself. This means that there is a perfect potential to be accessed and activated throughout the doorways in the body."
Best of all, it can all be done at a distance (that must help sales a lot). One is reminded of the Skills for Health "competence" in distant healing (inserted on a government web site at the behest (you guessed it) of the Prince's Foundation, as related here)
"The intent of a long distance Frequencies of Brilliance (FOB) session is to enable a practitioner to facilitate a session in one geographical location while the client is in another.

A practitioner of FOB that has successfully completed a Stage 5 Frequency workshop has the ability to create and hold a stable energetic space in order to work with a person that is not physically present in the same room.

The space that is consciously created in the Frequencies of Brilliance work is known as the "Gap". It is a space of nonlinear time. It contains "no time and no space" or respectively "all time and all space". Within this "Gap" a clear transfer of the energies takes place and is transmitted to an individual at a time and location consciously intended. Since this dimensional space is in non-linear time the work can be performed and sent backward or forward in time as well as to any location.

The Frequencies of Brilliance work cuts through the limitations of our physical existence and allows us to experience ourselves in other dimensional spaces. Therefore people living in other geographic locations than a practitioner have an opportunity to receive and experience the work.

The awareness of this dimensional space is spoken about in many indigenous traditions, meditation practices, and in the world of quantum physics. It is referred to by other names such as the void, or vacuum space, etc."
This is, of course, preposterous gobbledygook. It, and other things in Dr Dixon's treatment guide, seem to be very curious things to impose on patients in the 21st century.

Latest news. The Mid-Devon Star announces yet more homeopathy in Dr Dixon's Cullompton practice. This time it comes in the form of a clinic run from the Bristol Homeopathic Hospital. I guess they must be suffering from reduced commissioning like all the other homeopathic hospitals, but Dr Dixon seems to have come to their rescue. The connection seems to be with Bristol's homeopathic consultant, Dr Elizabeth A Thompson. On 11 December 2007 I wrote to Dr Thompson, thus
The reply, dated 11 December 2007, was unsympathetic
I have just submitted the funders report today and we have set ourselves the deadline to publish two inter-related papers by March 1st 2007.
Can I ask why you are asking and what authority you have to gain this information. I shall expect a reply to my questions,
I answered this question politely on the same day but nevertheless my innocent enquiry drew forth a rather vitriolic complaint from Dr Thompson to the Provost of UCL (dated 14 December 2007). In this case, the Provost came up trumps. On 14 January 2008 he replied to Thompson: "I have looked at the email that you copied to me, and I must say that it seems an entirely proper and reasonable request. It is not clear to me why Professor Colquhoun should require some special authority to make such direct enquiries". Dr Thompson seems to be very sensitive. We have yet to see the results of her trial in which I'm still interested.
Not surprisingly, Dr Dixon has had some severe criticism for his views, not least from the UK's foremost expert on the evidence for efficacy, Prof Edzard Ernst. Accounts of this can be found in Pulse,
and on Andrew Lewis's blog.
Dixon is now (in)famous in the USA too. The excellent Yale neurologist, Steven Novella, has written an analysis of his views on Science Based Medicine. He describes Dr. Michael Dixon as "A Pyromaniac In a Field of (Integrative) Straw Men"
Peter Hain
09:40 Politics and people: can integrated health and care take centre stage in 2009/2010? Rt Hon Peter Hain MP
It seems that Peter Hain was converted to alternative medicine when his first baby, Sam, was born with eczema. After (though possibly not because of) homeopathic treatment and a change in diet, the eczema got better. This caused Hain, while Northern Ireland Secretary to spend £200,000 of taxpayers' money to set up a totally uninformative customer satisfaction survey, which is being touted elsewhere in this meeting as though it were evidence (see below). I have written about this episode before: see Peter Hain and Get Well UK: pseudoscience and privatisation in Northern Ireland.
I find it very sad that a hero of my youth (for his work in the anti-apartheid movement) should have sunk to promoting junk science, and even sadder that he does so at my expense.
There has been a report on Hain's contribution in Wales Online.
09:55 Why does the Health Service need a new perspective on health and healing? Sir Cyril Chantler, Chair, King's Fund, previous Dean, Guy's Hospital and Great Ormond Street
Cyril Chantler is a distinguished medical administrator. He also likes to talk and we have discussed the quackery problem several times. He kindly sent me the slides that he used. Slide 18 says that in order to do some good we "need to demonstrate that the treatment is clinically effective and cost effective for NHS use". That's impeccable, but throughout the rest of the slides he talks of integrating with complementary" therapies, the effectiveness of which is either already disproved or simply not known.
I remain utterly baffled by the reluctance of some quite sensible people to grasp the nettle of deciding what works. Chantler fails to grasp the nettle, as does the Department of Health. Until they do so, I don't see how they can be taken seriously.
10.05 Panel discussion
The Awards
10:20 Integrated Health Awards 2009 Introduction: a review of the short-listed applications
10:45 Presentations to the Award winners by the special guest speaker
11:00 Keynote address by special guest speaker
Getting integrated
Dr David Peters
12:00 Integration, long term disease and creating a sustainable NHS. Professor David Peters, Clinical Director and Professor of Integrated Healthcare, University of Westminster
I first met David Peters after Nature ran my article, Science Degrees without the Science. .One of the many media follow-ups of that article was on Material World (BBC Radio 4). This excellent science programme, presented by Quentin Cooper, had a discussion between me and David Peters ( listen to the mp3 file).

There was helpful intervention from Michael Marmot who had talked, in the first half of the programme, about his longitudinal population studies.
Marmot stressed the need for proper testing. In the case of
homeopathy and acupuncture, that proper testing has largely been done. The tests were failed.
The University of Westminster has, of course, gained considerable notoriety as the university that runs more degree programmes in anti-scientific forms of medicine than any other. Their lecture on vibrational medicine teaches students that amethysts "emit high Yin energy so transmuting lower energies and clearing and aligning energy disturbances at all levels of being". So far their vice-chancellor, Professor Geoffrey Petts, has declined to answer enquiries about whether he thinks such gobbledygook is appropriate for a BSc degree.
But he did set up an internal enquiry into the future of their alternative activities. Sadly that enquiry seems to have come to the nonsensical conclusion that the problem can be solved by injection of good science into the courses, as reported here and in the Guardian.
It seems obvious that if you inject good science into their BSc in homeopathy the subject will simply vanish in a puff of smoke.
In 2007, the University of Westminster did respond to earlier criticism in Times Higher Education, but their response seemed to me to serve only to dig themselves deeper into a hole.
Nevertheless, Westminster has now closed down its homeopathy degree (the last in the country to go) and there is intense internal discussion going on there. I have the impression that Dr Peters' job is in danger. The revelation of more slides from their courses on homeopathy, naturopathy and Chinese herbal medicine shows that these courses are not only barmy, but also sometimes dangerous.
Professor Chris Fowler
12:10 Educating tomorrow's integrated doctors. Professor Chris Fowler, Dean for Education, Barts and The London School of Medicine and Dentistry
I first came across Dr Fowler when I noticed him being praised for his teaching of alternative medicine to students at Barts and the London Medical School on the web site of the Prince's Foundation. I wrote him a polite letter to ask if he really thought that the Prince of Wales was the right person to consult about the education of medical students. The response I got was, ahem, unsympathetic. But a little while later I noticed that two different Barts students had set up public blogs that criticised strongly the nonsense that was being inflicted on them.
At that point, I felt it was necessary to support the students who, it seemed to me, knew more about medical education than Professor Fowler. It didn't take long to uncover the nonsense that was being inflicted on the students: read about it here.
There is a follow-up to this story here. Fortunately, Barts' Director of Research, and, I'm told, the Warden of Barts, appear to agree with my view of the harm that this sort of thing can do to the reputation of Barts, so things may change soon,
Dame Donna Kinnair

12:30 Educating tomorrow's integrated nurses.
Dame Donna Kinnair, Director of Nursing, Southwark PCT
As far as I can see, Donna Kinnair has no interest in alternative medicine. She is director of nursing at Southwark primary care trust and was an adviser to Lord Laming throughout his inquiry into the death of Victoria Climbié. I suspect that her interest is in integrating child care services (they need it, judging by the recent death of 'Baby P'). Perhaps her presence shows the danger of using euphemisms like 'integrated medicine' when what you really mean is the introduction of unproven or disproved forms of medicine.
Michael Dooley
12:40 Integrating the care of women: an example of the new paradigm. Michael Dooley, Consultant Obstetrician and Gynecologist
DC's rule 2. Never trust anyone who uses the word 'paradigm'. It is a sure-fire sign of pseudoscience. In this case, the 'new paradigm' seems to be the introduction of disproven treatment. Dooley is a gynaecologist and Medical Director of the Poundbury Clinic. His clinic offers a whole range of unproven and disproved treatments. These include acupuncture as an aid to conception in IVF. This is not recommended by the Cochrane review, and one report suggests that it hinders conception rather than helps.
12.40 Discussion
13.00 – 14.00 Lunch and Exhibition
15.30 Tea
Boo Armstrong and Get Well UK
16.00 Integrated services in action: The Northern
Ireland experience: what has it shown us and what are its implications?
Boo Armstrong of Get Well UK with a team from the NI study
I expect that much will be made of this "study", which, of course, tells you absolutely nothing whatsoever about the effectiveness of the alternative treatments that were used in it. This does not appear to be the view of Boo Armstrong, On the basis of the "study", her company's web site proclaims boldly
"Complementary Medicine Works

Get Well UK ran the first government-backed complementary therapy project in the UK, from February 2007 to February 2008″
This claim appears, prima facie, to breach the Unfair Trading Regulations of May 2008. The legality of the claim is, at the moment, being judged by a Trading Standards Officer. In any case, the "study" was not backed by the government as a whole, but just by Peter Hain's office. It is not even clear that it had ethical approval.
The study consisted merely of asking people who had seen an alternative medicine practitioner whether they felt better or worse. There was no control group; no sort of comparison was made. It is surely obvious to the most naive person that a study like this cannot even tell you if the treatment has a placebo effect, never mind that it has any genuine effects of its own. To claim that it does so seems to be simply dishonest. There is no reason at all to think that the patients would not have got better anyway.
It is not only Get Well UK who misrepresent the evidence. The Prince's
Foundation itself says
"Now a new, year long trial supported by the Northern Ireland health service has . . . demonstrated that integrating complementary and conventional medicine brings measurable benefits to patients' health."
That is simply not true. It is either dishonest or stupid. Don't ask me which, I have no idea.
This study is no more informative than the infamous Spence (2005) 'study' of the same type, which seems to be the only thing that homeopaths can produce to support their case.
There is an excellent analysis of the Northern Ireland 'study' by Andy Lewis, The Northern Ireland NHS Alternative Medicine 'Trial'. He explains patiently, yet again, what constitutes evidence and why studies like this are useless.
His analogy starts
" . . . the Apple Marketing Board approach the NHS and ask for £200,000 to do a study to show the truth behind the statement 'An apple a day keeps the doctor away'. The Minister, being particularly fond of apples, agrees and the study begins."
16.30 Social enterprise and whole systems integrated care. Dee Kyne, Sandwell PCT and a GP. Developing an integrated service in secondary care
Dee Kyne appears to be CEO of KeepmWell Ltd (a financial interest that is not mentioned).
Peter Mackereth, Clinical Lead, Supportive Services, Christie Hospital NHS Foundation Trust
I had some correspondence with Mackereth when the Times (7 Feb 2007) published a picture of the Prince of Wales inspecting an "anti-MRSA aromatherapy inhaler" in his department at the Christie. It turned out that the trial they were doing was not blind No result has been announced anyway, and on enquiry, I find that the trial has not even started yet. Surprising, then to find that the FIH is running the First Clinical Aromatherapy Conference at the Christie Hospital, What will there be to talk about?
Much of what they do at the Christie is straightforward massage, but they also promote the nonsensical principles of "reflexology" and acupuncture.
The former is untested. The latter is disproven.
Parallel Sessions
Developing a PCT funded musculoskeletal service Dr Roy Welford, Glastonbury Health Centre
Roy Welford is a Fellow of the Faculty of Homeopathy, and so promotes disproven therapies. The Glastonbury practice also advertises acupuncture (disproven), osteopathy and herbal medicine (largely untested so most of it consists of giving patients an unknown dose of an ill-defined drug, of unknown effectiveness and unknown safety).
Making the best of herbal self-prescription in integrated practice: key remedies and principles. Simon Mills, Project Lead: Integrated Self Care in Family Practice, Culm Valley Integrated Centre for Health, Devon
Simon Mills is a herbalist who now describes himself as a "phytotherapist" (it sounds posher, but the evidence, or lack of it, is not changed by the fancy name). Mills likes to say things like "there are herbs for heating and drying", "hot and cold" remedies, and to use meaningless terms like "blood cleanser", but he appears to be immune to the need for good evidence that herbs work before you give them to sick people. He says, at the end of a talk, "The hot and the cold remain the trade secret of traditional medicine". And this is the 21st Century.
Practical ways in which complementary approaches can improve the treatment of cancer. Professor Jane Plant, Author of "Your life in your hands" and Chief Scientist, British Geological Society and Professor Karol Sikora, Medical Director, Cancer Partners UK
Jane Plant is a geologist who, through her own unfortunate encounter with breast cancer, became obsessed with the idea that a dairy-free diet cured her. Sadly there is no good evidence for that idea, according to the World Cancer Research Fund Report, led by Professor Sir Michael Marmot. No doubt her book on the subject sells well, but it could be held that it is irresponsible to hold out false hopes to desperate people. She is a supporter of the very dubious CancerActive organisation (also supported by Michael Dixon OBE –see above) as well as the notorious pill salesman, Patrick Holford (see also here).

Karol Sikora, formerly an oncologist at the Hammersmith Hospital, is now Dean of Medicine at the University of Buckingham (the UK's only private university). He is also medical director at CancerPartners UK, a private cancer company.
He recently shot to fame when he appeared in a commercial in the USA sponsored by "Conservatives for Patients' Rights", to pour scorn on the NHS, and to act as an advocate for the USA's present health system. A very curious performance. Very curious indeed.
His attitude to quackery is a mystery wrapped in an enigma. One was somewhat alarmed to see him sponsoring a course at what was, at first, called the British College of Integrated Medicine, and has now been renamed the Faculty of Integrated Medicine That grand title makes it sound like part of a university. It isn't.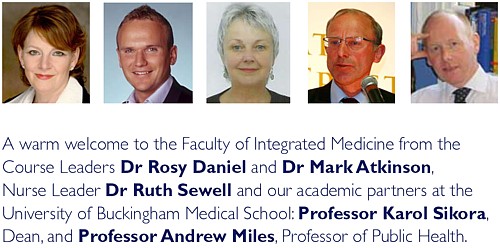 The alarm was as result of the alliance with Dr Rosy Daniel (who promotes an untested herbal conconction, Carctol, for 'healing' cancer) and Dr Mark Atkinson (a supplement salesman who has also promoted the Qlink pendant. The Qlink pendant is a simple and obvious fraud designed to exploit paranoia about WiFi killing you.
The first list of speakers on the proposed diploma in Integrated Medicine was an unholy alliance of outright quacks and commercial interests. It turned out that, although Karol Sikora is sponsoring the course, he knew nothing about the speakers. I did and when I pointed this out to Terence Kealey, vice-chancellor of Buckingham, he immediately removed Rosy Daniel from directing the Diploma. At the moment the course is being revamped entirely by Andrew Miles. There is hope that he'll do a better job. It has not yet been validated by the University of Buckingham. Watch this space for developments.
Stop press It is reported in the Guardian that Professor Sikora has been describing his previous job at Imperial College with less than perfect accuracy. Oh dear. More developments in the follow-up.
The role of happy chickens in healing: farms as producers of health as well as food – the Care Farm Initiative Jonathan Dover, Project Manager, Care Farming, West Midlands.
"Care farming is a partnership between farmers, participants and health & social care providers. It combines the care of the land with the care of people, reconnecting people with nature and their communities."
Sounds lovely, I wonder how well it works?
What can the Brits learn from the Yanks when it comes to integrated health? Jack Lord, Chief Executive Humana Europe
It is worth noticing that the advisory board of Humana Europe includes Micheal Dixon OBE, a well known advocate of alternative medicine (see
above). Humana Europe is a private company, a wholly owned subsidiary of Humana Inc., a health benefits company with 11 million members and 22,000 employees and headquarters in Louisville, Kentucky. In 2005 it entered into a business partnership with Virgin Group. Humana was mentioned in the BBC Panorama programme "NHS for Sale". The company later asked that it be pointed out that they provide commissioning services, not clinical services [Ed. well not yet anyway].
Humana's document "Humana uses computer games to help people lead healthier lives" is decidedly bizarre. Hang on, it was only a moment ago that we were being told that computer games rewired your brain.
Day 2 Integrated health in action
09.00 Health, epidemics and the search for new solutions. Sir Michael Marmot, Professor of Epidemiology and Public Health, Royal Free and University College Medical School
It is a mystery to me that a distinguished epidemiologist should be willing to keep such dubious company. Sadly I don't know what he said, but judging my his publications and his appearence on Natural World, I can't imagine he'd have much time for homeopaths.
9.25 Improving health in the workplace. Dame Carol Black, National Director, Health and Work, Department of Health
This is not the first time that Dame Carol has been comtroversial.
9.45 Integrated health in focus: defeating obesity. Professor Chris Drinkwater, President, NHS Alliance.
The NHS Alliance was mentioned above. Enough said.
10.00 Integrated healthcare in focus: new approaches to managing asthma, eczema and allergy. Professor Stephen Holgate, Professor of Immunopharmacology, University of Southampton
10.15 Using the natural environment to increase activity. The Natural England Project: the results from year one. Dr William Bird and Ruth Tucker, Natural England.
10.30 Panel discussion
10.45 Coffee
Self help in action
11.10 Your health, your way: supporting self care through care planning and the use of personal budgets. Angela Hawley, Self Care Lead, Department of Health
11.25 NHS Life Check: providing the signposts to
integrated health. Roy Lambley, Project Director, NHS LifeCheck Programme
This programme was developed with the University of Westminster's "Health and Well-being Network". This group, with one exception, is separate from Westminster's extensive alternative medicine branch (it's mostly psychologists).
11.45 The agony and the ecstasy of helping patients to help themselves: tips for clinicians, practices and PCTs. Professor
Ruth Chambers, FIH Foundation Fellow.
11.55 Providing self help in practice: Department of Health Integrated Self Help Information Project. Simon Mills, Project Lead: Integrated Self Care in Family Practice, Culm Valley Integrated Centre for Health, Devon and Dr Sam Everington, GP, Bromley by Bow.
The Culm Valley Integrated Centre for health is part of the College Surgery Partnership, associated with Michael Dixon OBE (yes, again!).
Simon Mills is the herbalist who says "The hot and the cold remain the trade secret of traditional medicine" .
Sam Everington, in contrast, seems to be interested in 'integration' in the real sense of the word, rather than quackery.
Integrated health in action

How to make sense of the evidence on complementary approaches: what works? What might work? What doesn't work?
Dr Hugh MacPherson, Senior Research Fellow in Health Sciences, York University and Dr Catherine Zollman, Bravewell Fellow
Hugh MacPherson's main interest is in acupuncture and he publishes in alternative medicine journals. Since the recent analysis in the BMJ from the Nordic Cochrane Centre (Madsen et al., 2009) it seems that acupuncture is finally dead. Even its placebo effect is too small to be useful. Catherine Zollman is a Bristol GP who is into homeopathy as well as acupuncture. She is closely connected with the Prince's Foundation via the Bravewell Fellowship. That fellowship is funded by the Bravewell Collaboration, which is run by Christie Mack, wife of John Mack ('Mack the Knife'), head of Morgan Stanley (amazingly, they still seem to have money). This is the group which, by sheer wealth, has persuaded so many otherwise respectable US universities to embrace every sort of quackery (see, for example, Integrative baloney @ Yale)
The funding of integrated services
14.15 How to get a PCT or practice- based commissioner to fund your integrated service. A PCT Chief Executive and a Practice-Based Commissioning lead.
14.30 How I succeeded: funding an integrated service. Dr John Ribchester, Whitstable
14.45 How we created an acupuncture service in St Albans and Harpenden PBC group. Mo Girach, Chief Executive, STAHCOM
Uhuh Acupunture again. Have these people never read Bausell's
book? Have they not read the BMJ? Acupuncture is now ell-established to be based on fraudulent principles, and not even to have a worthwhile placeobo effect. STAHCOM seem to be more interested in money than in what works.
Dragon's Den. Four pitchers lay out their stall for the commissioning dragons
And at this stage there is no prize for guessing that all four are devoted to trying to get funds for discredited treatments
An acupuncture service for long-term pain. Mike Cummings Chair, Medical Acupuncture Association
Manipulation for the treatment of back pain Simon Fielding, Founder Chairman of the General Osteopathic Council
Nigel Clarke, Senior Partner, Learned Lion Partners Homeopathy for long term conditions
Peter Fisher, Director, Royal Homeopathic Hospital
Sadly it is not stated who the dragons are. One hopes they will be more interested in evidence than the supplicants.
Mike Cummings at least doesn't believe the nonsense about meridians and Qi. It's a pity he doesn't look at the real evidence though.
You can read something about him and his journal at BMJ Group promotes acupuncture: pure greed.
Osteopathy sounds a bit more respectable than the others, but in fact it has never shaken off its cult-like origins. Still many osteopaths make absurd claims to cure all sorts of diseases. Offshoots of osteopathy like 'cranial osteopathy' are obvious nonsense. There is no reason to think that osteopathy is any better than any other manipulative therapy and it is clear that all manipulative therapies should be grouped into one.
Osteopathy and chiropractic provide the best ever examples of the folly of giving official government recognition to a branch of alternative medicine before the evidence is in.
Learned Lion Partners is a new one on me. It seems it is
part of Madsen Gornall Ashe Chambers ('MGA Chambers') "a grouping of top level, independent specialists who provide a broad range of management consultancy advice to the marketing community". It's a management consultant and marketing outfit. So don't expect too much when it comes to truth and evidence. The company web site says nothing about alternative medicine, but only that Nigel Clarke
". . . has very wide experience of public affairs issues and campaigns, having worked with clients in many sectors in Europe, North America and the Far East. He has particular expertise in financial, competition and healthcare issues. "
However, all is revealed when we see that he is a Trustee of the Prince's Foundation where his entry says
"Nigel Clarke is senior partner of Learned Lion Partners. He is a director of Vidapulse Ltd, Really Easy Ltd, Newscounter Ltd and Advanced Transport Systems Ltd. He has worked on the interfaces of public policy for 25 years. He has been chair of the General Osteopathic Council since May 2001, having been a lay member since it was formed. He is now a member of the Council for Healthcare Regulatory Excellence"
The Council for Healthcare Regulatory Excellence is yet another quango that ticks boxes and fails absolutely to grasp the one important point, does it work?. I came across them at the Westminster Forum, and they seemed a pretty pathetic way to spend £2m per year.
Peter Fisher is the last supplicant to the Dragons. He is clinical director of the Royal London Homeopathic Hospital (RLHH), and Queen's homeopathic physician, It was through him that I got an active interest in quackery. The TV programme QED asked me to check the statistics in a paper of his that claimed that homeopathy was good for fibrositis (there was an elementary mistake and no evidence for an effect). Peter Fisher is also remarkable because he agreed with me that BSc degrees in homeopathy were not justified (on TV –see the movie). And he condemned homeopaths who were caught out recommending their sugar pills for malaria. To that extent Fisher represents the saner end of the homeopathic spectrum. Nevertheless he still maintains that sugar pills work and have effects of their own, and tries to justify the 'memory of water' by making analogies with a memory stick or CD. This is so obviously silly that no more comment is needed.
Given Fisher's sensible condemnation of the malaria fiasco, I was rather surprised to see that he appeared on the programme of a conference at the University of Middlesex, talking about "A Strategy To Research The Potential Of Homeopathy In Pandemic Flu". The title of the conference was Developing Research Strategies in CAM. A colleague, after seeing the programme, thought it was more like "a right tossers' ball".
Much of the homeopathy has now vanished from the RLHH as a result of greatly reduced commissioning by PCTs (read about it in Fisher's own words). And the last homeopathy degree in the UK has closed down. It seems an odd moment for the FIH to be pushing it so hard.
Follow-up
Stop press It is reported in the Guardian (22 May 2009) that Professor Sikora has been describing his previous job at Imperial College with less than perfect accuracy. Oh dear, oh dear.
This fascinating fact seems to have been unearthed first by the admirable NHS Blog Doctor, in his post 'Imperial College confirm that Karol Sikora does not work for them and does not speak on their behalf'.
It seems that bits of good news don't come singly. First honours degrees in acupuncture vanish, Now a big chain of shops selling Chinese herbs and acupuncture has gone into administration.

It seems that, at last, people are getting fed up with being conned out of their hard-earned money





Herbmedic Barking
A local newspaper, The North Herts Comet reported thus.
Customers of Herbmedic, which trades under the name Herbs and Acupuncture, on Queensway in Stevenage have been left counting the cost after shelling out hundreds of pounds for treatment they never received.

The company, which has practices across the country, is now in the hands of receivers, Macintyre Hudson.

Sandra Emery, of The Paddocks in Stevenage, paid £350 for 10 treatment sessions, but only received one before the practice closed.

She said: "A standard course of treatment is 10 sessions, so most customers will have bought this package.

Claudia Gois, of Walden End in Stevenage, paid £240 for 12 treatment sessions but only received four before the practice closed.

She said: "I went there on Friday and it was closed. There was no warning or anything.

"I got in touch with head office and they said it's very unlikely I will get money back.
This report was on 1st April, The company's web site shows no sign of any problems, In fact they are still advertising jobs. So was this an April Fool joke?
No it wasn't. A visit to Companies House soon settled the matter. The whole company is insolvent, as of 27 March 2009..

Download the whole administration notice and the company report.
Criticisms of Herbmedic
This chain of shops was investigated by the BBC's
Inside Out programme. (September 25th 2006).
"We sent an undercover reporter to branches of the Herbmedic chain in southern England.

On each occasion, the reporter claimed to be suffering from tiredness and was prescribed herbal remedies after a consultation lasting less than five minutes.

The herbalists, who describe themselves as "doctors", didn't ask any questions about the patient's medical history or take any notes."
This is so bad that even Andrew Fowler, a past President of the Register of Chinese Herbal Medicine, described it as "malpractice".
"Herbmedic has been investigated by the authorities in the past.

In 2002, trading standards officers prosecuted the branch in Southampton for selling herbal remedies with 26 times the permitted legal limit of lead.

And in October 2003, the Advertising Standards Authority banned Herbmedic from describing its practitioners as "doctors".

Despite the ban, all three of the stores visited by Inside Out referred to the herbalist as the doctor."
See also the BBC report Herbalists' customers 'at risk', and a report in the Sunday Times, Herbmedic accused of high-pressure selling.
Read the Advertising Standards report. Seven different complaints against Herbmedic were upheld.
This is entirely consistent with my own experience. I went into one of their shops and asked about a cure for diabetes (hoping the be able to refer them to Trading Standards, but the young lady behind the counter had such a poor grasp of English that her reply was incomprehensible. She just kept trying to push me into having a consultation with "the doctor" who appeared to speak no English at all. I left.
The chequered history of Herbmedic
The company that his just gone into administration is Herbmedic Centre Ltd. It has been in existence for only two years. Its predecessor, known simply as Herbmedic, was dissolved on 13 March 2007, Companies House said
Company Filing History
Type Date Description Order
GAZ2(A)
13/03/2007
FINAL GAZETTE: DISSOLVED VIA VOLUNTARY STRIKE-OFF
GAZ1(A)
28/11/2006
FIRST GAZETTE NOTICE FOR VOLUNTARY STRIKE-OFF
652a
16/10/2006
APPLICATION FOR STRIKING-OFF
Another Chinese medicine chain seems to be having a few problems too
Harmony Medical Distribution Ltd ("specialists in acupuncture and holistic medicine") seems to be still in business(web site here), but several very similar companies have been dissolved, Harmomy Medics Ltd (dissolved 19 Sep 2006) ,, Harmony Medical Services (UK ) Ltd. (dissolved 6 May 2008) and Harmony Medical Services Ltd (dissolved 17 Oct 2008)
Given this history of companies that dissolve every couple of years and then mysteriously reincarnate with a slightly different name, one wonders if this really is the end of herbmedic, or it is just a device for shedding bad debts. Is this just another "pre-pack administration"?
Watch this space for more.
What's the latest evidence on acupuncture anyway?
A correspondent drew my attention to the 2009 Annual Evidence Update on acupuncture complied by the NHS Complementary and Alternative Medicine Specialist Library. This includes no fewer than 56 systematic reviews and meta-analyses. Although the reviews are complied by alternative medicine sympathisers, they seem mostly to be pretty fair. Well apart form one thing.
Almost all of the reviews fail to come up with any positive evidence that acupuncture works well enough to be clinically useful. Only two come close, and they are the two singled out as "editor's picks". Perhaps that's not entirely surprising given that the editor is Dr Mike Cummings.
Again and again, the results are inconclusive: #8 is pretty typical
Acupuncture for tension-type headache: a meta-analysis of randomized, controlled trials.

This meta-analysis suggests that acupuncture compared with sham for tension-type headache has limited efficacy for the reduction of headache frequency. There exists a lack of standardization of acupuncture point selection and treatment course among randomized, controlled trials. More research is needed to investigate the treatment of specific tension-type headache subtypes.
Vast effort and a lot of money is being put into trials, yet there are very few (if any) positive results. Very often there are no results at whatsoever. All we hear, again and again, is "more research is needed".
At some point someone will have to decide it is all a charade and start to spend time and money on investigating things that are more promising.
Follow-up
A correspondent checked with Companies House to discover more about two of the directors of Herbmedic, Mr. Li Mao and Mr Xiao Xuan Chen. They have a chequered history indeed. [download the complete list]
Mr. Li Mao is, or has been, on the board of 31 different companies. Of these 6 are active, 5 are in administration, 14 were dissolved, 4 were liquidated and 2 are active with proposal to strike off. Not only is Her Medic centre Ltd in administration, but so is Dr China (UK) Ltd, and Great Chinese Herbal Medicine Ltd
With record like that, my correspondent wonders whether they should be disqualified.
The Nutrition Society is the interim professional body for nutrition. It seems that, unlike so many 'regulatory bodies', it may actually take its responsibilities seriously. The following announcement has appeared on their web site.
The UK Voluntary Register of Nutritionists acts to protect the public and the reputation the nutrition profession
On March 4th 2009, a Fitness to Practice Panel was convened to consider an allegation against a registrant, Dr Ann Walker, that her fitness to practise was impaired. The panel considered whether the registrant, in advocating the use of a web based personal nutritional profiling service had complied with the Code of Ethics' clause 3: This expects all registered nutritionists to "maintain the highest standards of professionalism and scientific integrity". In particular, the panel considered whether the registrant showed "knowledge, skills and performance of high quality, up-to-date, and relevant to their field of practice", in keeping with the Statement of Professional Conduct (para 9). The Panel accepted the allegation of impaired fitness to practice. Mindful of its duty to protect the public, it recommended that Dr Walker be removed from the register. Dr Walker has a right of appeal.
Well. well, this must be none other than the Dr Ann Walker who caused UCL,and me, such trouble a few years ago. And just because I described her use of the word "blood cleanser" as gobbledygook. She has appeared a few times on this blog.
Presumably the "web-based personal nutritional profiling service" that is referred to is Nutriprofile, on which, with the help of a dietition, we had a bit of fun a while ago. However ideal your diet it still recommended at the end of the questionnaire that you should buy some expensive supplements. Read about it at Nutriprofile: useful aid or sales scam?
I have no idea who lodged the complaint (but it wasn't me).
It is interesting to compare the high standards of the Nutrition Society with the quite different standards of BANT (the British Association for Applied Nutrition and Nutritional Therapy). They bill themselves as the "Professional Body for Nutritional Therapists". Nutritional therapists are those fantasists who believe you can cure any ill by buying some supplement pills. Their standards can be judged by, for example, BANT ethics code: BANT nutritional therapists are allowed to earn commission from selling pills and tests.
It seems Dr Ann Walker may have joined the wrong society.
Follow-up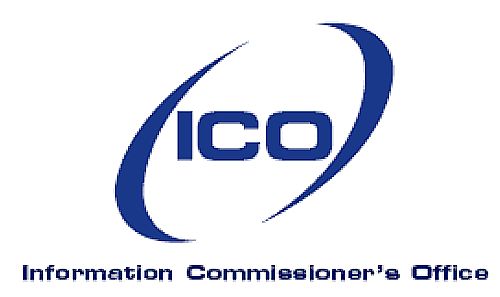 On 24 July 2006, I sent a request to the University of Central Lancashire (UCLAN), under the Freedom of Information Act (2000) I asked to see the teaching materials that were used on their BSc Homeopathy course. The request was refused, citing the exemption under section 43(2) of the Act (Commercial Interests).
Two internal reviews were then held. These reviews upheld and the original refusal on the grounds of commercial interests, Section 43(3), and additionally claimed exemption under Section 21 "that is reasonably accessible to applicants by other means (upon the payment of a fee)….i.e. by enrolling on the course…."
In 21 October 2006 I appealed to the Office of the Information commisioner. (The"public authority" means UCLAN, and "the complainant" is me.)
"The complainant specifically asked the Commissioner to consider the application of section 43(2) to the course materials he had requested. The main thrust of his argument in this regard was that the public authority could not be considered a 'commercial organisation' for the purposes of the Act, and that the public authority had confused 'commercial interests' with 'financial interests'. He however added that if the Commissioner decided section 43(2) was correctly engaged, then it was in the public interest to order disclosure."
In May 2008, my appeal got to the top of the pile, and on 30th March 2009 a judgement was delivered. In all respects but one trivial one, the appeal was upheld. In future universities will not be able to refuse requests for teaching materials.
The Decision Notice is on the web site of the Office of the Information Commissioner, [or download pdf file].
This whole thing has taken so long that the course at which it was aimed has already closed its doors last August (and blamed that, in part, on the problems caused by the Freedom of Information Act). UCLAN also announced a review of all its alternative medicine activities (and asked me to give evidence to it). That review is due to report its findings any time now.
Tha particular course that prompted the request is no longer the point. What matters is that all the usual exemptions claimed by universities have been ruled invalid. Here are a few details
What the decision notice says (the short version)
The full text of the Act is here.
The following three exemptions were judged NOT to apply the requests for university teaching materials. I'll quote some bits from the Decision Notice.
Section 21 provides that –

"Information which is reasonably accessible to the applicant otherwise than under section 1 is exempt information."
34. The public authority's argument suggests that the requested information is reasonably accessible to the complainant if he enrols as a student on the course, and is therefore not accessible to him by any other means outside the Act unless he decides to make a total payment of £9,345 as a combined payment of three years tuition fees.
40. The Commissioner therefore finds that the public authority incorrectly applied the exemption contained at section 21 of the Act.
Section 42(2) provides that –

"Information is exempt information if its disclosure under this Act would, or would be likely to, prejudice the commercial interests of any person (including the public authority holding it)."
71. The Commissioner therefore finds that the section 43(2) was incorrectly engaged by virtue of the fact that the public authority's ability to recruit students is not a commercial interest within the contemplation of section 43(2).
76. In addition to his finding on commercial interests the Commissioner finds that section 43(2) would in any case not be engaged as the likelihood of prejudice to the public authority's ability to recruit students as a result of disclosure under the Act is no more than the likelihood of prejudice resulting from the availability of the course materials to students already enrolled on the course.
Section 36(2)C provides that –

"Information to which this section applies is exempt information if, in the reasonable opinion of a qualified person, disclosure of the information under this Act-

(c) would otherwise prejudice, or would be likely otherwise to prejudice, the effective conduct of public affairs
98. For the reasons set out above, the Commissioner finds that section 36(2)(c) is not engaged as he does not accept the opinion of the qualified person is an objectively reasonable one. He does not find that disclosure would be likely to prejudice the effective conduct of public affairs.
Section 41(1) provides that –

"Information is exempt information if-

(a) it was obtained by the public authority from any other person (including another public authority), and

(b) the disclosure of the information to the public (otherwise than under this Act) by the public authority holding it would constitute a breach of confidence actionable by that or any other person."
56. The Commissioner therefore finds the public authority correctly applied the exemption contained at section 41 to the case studies listed in Annex A. In the Commissioner's view, even though the patients would not be identifiable if the case studies were disclosed, this disclosure would still be actionable by the patients.
The Decision
99. The Commissioner finds that section 41 is engaged
100. He however finds that the exemptions at sections 21, 43(2), and 36(2)(c) are not engaged.
101. The Commissioner therefore finds the public authority in breach of;
• Sections 1(1)(b) and 10(1), because it failed to disclose the remainder of the course materials (i.e. excluding the case studies) to the complainant within 20 working days.
• Section 17(1), because it did not specify in its refusal notice that it was also relying on sections 41 and 36(2)(c).
Steps required
103. The Commissioner requires the public authority to take the following steps to ensure compliance with the Act:
• Disclose all the course materials for the BSc (Hons) in Homeopathy apart from the case studies listed in Annex A of this Notice.
104. The public authority must take the steps required by this notice within 35 calendar days of the date of this notice.
Follow-up