Malcolm Grant
After an interchange on Twitter about how blogs get noticed, I commented that the best thing for me was being thrown off the UCL web site by Malcolm Grant, and the subsequent support that I got from Ben Goldacre. I am a big fan of just about everything that Goldacre has done. So are a lot of other people and his support was crucial.
When I looked up his 2007 post, I found a lot of links were now broken, and some characters didn't render properly. So, as a matter of historical record, I'm reproducing the whole post with updated links where possible.
Goldacre's comments, of course, greatly exaggerated my virtues. But they were very useful at the time, they quadrupled my readership overnight, and I'm eternally grateful to him.
Some of the history of this saga has already been transferred to this blog. The aftermath was interesting.
[Update: Letter from Provost below]
Ben Goldacre

Saturday June 9, 2007

The Guardian
I've always said you'd get a lot more kids interested in science if you told them it involves fighting – which of course it does. This week, for example, Professor David Colquhoun FRS – one of the most eminent scientists in the UK – has been forced to remove his quackbusting blog from the UCL servers where it has lived for many years, after complaints from disgruntled alternative therapists.
They objected, for example, to his use of the word "gobbledygook" to describe Red Clover as a "blood cleanser" or a "cleanser of the lymphatic system". Somebody from the "European Herbal and Traditional Medicine Practitioners Association" complained that he'd slightly misrepresented one aspect of herbalists' practice. One even complained about Colquhoun infringing copyright, simply for quoting the part of their website that he was examining. They felt, above all, that this was an inappropriate use of UCL facilities.
Now I don't want to get into the to and fro here, but it is striking that none of them engaged the Prof himself on the issue of the ideas. In fact, they all ran behind his back to the Provost, or rather, to teacher; and the Provost, after serving up a sterling defense of academic freedom in responses to them, quietly asked Colquhoun to take his blog elsewhere, on the grounds that it was bringing the university too much flak. Rousing defenses of Colquhoun have already been written by Professors from Stanford, and senior academics from the UK. [Some are linked here, I've got the rest archived. The provost's initial letter was actually rather stirring]
This episode reveals some unfortunate contrasts. Firstly, in a world where most orthodox "public engagement with science"  activity consists of smug, faux radical "science meets art" projects where ballet dancers watch each other prance about in brain scanners (and I am hardly caricaturing here) Colquhoun was showing the world what science really does.
He took dodgy scientific claims, or "hypotheses" as we call them in the trade, and examined the experimental evidence for them, in everyday language, with humour and verve. For all that being a world expert on single ion channels might make Colquhoun glamorous to me, I would say his blog is a bit more of a treat for the wider public, and arguably a rather good use of the time and resources of a public servant who has devoted his entire life to academia, on its relatively low wages, never once working for industry. Sharing ideas is an employment perk in academia.
Secondly, giving special attention to a blog shows that we may not have got to grips with new forms of social media yet. His blog is the problem in hand, but I've heard Prof Colquhoun speak about quackery in UCL lecture theatres. Was the electricity, the publicity material, the room rent, a misuse of public funds and resources? I've done talks myself, in universities and schools: are they all guilty of wasting public money on robust, challenging, childish and sarcastic discussion of ideas?
But lastly, if you're worrying about the appropriate use of a science department's resources, Prof Colquhoun is the bloke who made the fuss in Nature -the biggest academic journal in the world – about British universities giving away science degrees in quackery. The people who run the BSc "science" degrees in these pseudoscientific alternative therapies have still refused to answer questions from David, and from me, about what "science" they teach in their science degrees.
I notice that nobody is making the jokers behind these Quackery BSc's take their gobbledygook -a word that sounds best being snorted through Colquhoun's impressive nasal hair – off university webservers. Although courses in gobbledygook make money. And they are flattered by the Prince. And nobody can criticise them, because they actually refuse to tell us what they'e teaching. Now you tell me who should be booted out of a seat of learning.
Please send your bad science to ben@badscience.net
So:


Prof Colquhoun doesn't really have impressive nasal hair, I just didn't want the column to come across as too gushing. His quack page is definitely worth rooting about on:
And as you can see, he needs WordPress advice even more than I do. Also his politics feed is quite jolly and if I could work out, for example, how to link directly to the Greenhalgh story, I would. Rummage away.
[DC edit: one of the best side effects of the move was getting a proper blog, rather than a bloated web page. The old politics page is archived and the Greenhalgh story link now works]


Letter from Provost:
This is an email from the Provost to someone who emailed him this morning, which he has allowed me to post, I understand he will be sending something similar to those who email him. It's very much worth reading. I believe – as you can imagine – that an emeritus professor of pharmacology in his seventies making the link between science and real world claims for free in everyday language is a treat, but of course I have absolutely no doubt that Colquhoun's public engagement with science activity did pose difficulties for UCL.
These difficulties were thrown into sharp relief by the fact that those who disagreed with Colquhoun enacted their grievances through the Freedom of Information Act, UK libel law, copyright law, complaints about the use of academic resources, and efforts to lean on senior figures from the university, rather than engaging on the science, or contacting Colquhoun.
There is a balance to be struck on whether Colquhoun's public engagement with science activities were valued enough to be worth defending (through the miracle ofinstant context you can decide for yourself) and that is of course a decision for UCL to make.
If you are going to write to the Provost I hope I can rely on you to be polite and understanding about this balance, and understand that he's a busy man who has already been leant on over what ideally should never have been a Provost's concerns at such an early stage.
Andrew

If UCL had behaved in the way you seem to believe then your comments would be wholly justified, but of course it hasn't.

Allow me to supply the missing facts. I;m copying this message also to Ben Goldacre and David Colquhoun.

Academic freedom is a fundamental precept of any institution fit to style itself a university. Like all freedoms, it comes with conditions, largely those that are necessary to underpin the freedoms of other people under the law, including criminal law, human rights, copyright, the laws of tort and contract, and statutory regulation.

When a university hosts a website it is taken to be the publisher of the material on it. That means that it is liable in law for any breaches of copyright, data protection and defamation. It is possible of course to engage in robust academic debate without infringing any of these rules.

But breaches of all of them have now been claimed in legal claims against UCL regarding David Colquhoun's website, and with good reason.

A university can of course safeguard its position by moderating the content of the website. That is what I assume the Guardian does with its various blogs, and certainly is what it does with all its editorial content. Nobody sees that as a major assault on the freedom of expression of the press. To do this in a university would of course raise concerns that it constituted an incursion into academic freedom, and I also think it would be completely impractical.

Yet not to take appropriate action to protect UCL would be to expose us to potentially expensive legal action in respect of activity over which we have absolutely no control.

For the most part, academic websites don't infringe the law. Indeed, in over 35 years as an academic this is the first such instance that I have any detailed knowledge of. If it has unlawful material that the author believes is essential for conveying his/her message, then there is no reason why they shouldn't host it themselves and assume the consequences.

UCL has taken legal advice, which is to the effect that the website does contain material which breaks the law in several respects. Some of them have now been fixed: alleged breaches of copyright and data protection. But libel proceedings are now also in play, and Professor Colquhoun and I have a meeting on Monday with a senior defamation QC to explore the potential extent of UCL's vicarious liability for certain statements on the website, and our possible options. There is also the question of Professor Colquhoun's own personal liability, but of course a plaintiff will always prefer to go against a major institution because of our deep pockets.

On the basis of the advice that I receive then I shall have to determine UCL's future course of action, and Professor Colquhoun likewise.

Malcolm Grant
Just to be absolutely clear:
The item that has caused the fuss and complaint is this one. It has not been changed since the complaint, so you can decide for yourself how awful it is.


++++++++++++++++++++++++++++++++++++++++++

If you like what I do, and you want me to do more, you can: buy my books Bad Scienceand Bad Pharma, give them to your friends, put them on your reading list, employ me to do a talk, or tweet this article to your friends. Thanks! ++++++++++++++++++++++++++++++++++++++++++




56 Responses
woodchopper said,

SomeBeans said,

evidencebasedeating said,

Mojo said,

doctormonkey said,

andrew said,

JohnD said,

j

said,

[DC edit- —Walker no longer has any obvious connection with Healthspan, but Google reveals that this incident gave rise to a lot of rather unflattering interest in her activities]

PK

said,

SomeBeans said,

pv said,

Art5 said,

igb said,

rob said,

Mojo said,

Mojo said,

Dr Aust said,

Mojo said,

JohnK said,

Dr Aust said,

Pepper said,

Filias Cupio said,

igb said,

Gimpy said,

Dr Aust said,

vinnyr said,

Gimpy said,

andrew said,

Dr Aust said,

andrew said,

Symball said,

Dr Aust said,

igb said,

Dr Aust said,

Kells said,

Dr Aust said,

Pepper said,

andrew said,

Pepper said,

Pepper said,

Pepper said,

Tabazan said,

Grathuln said,
The press may like to portray students as irresponsible and revolting . When I visited the occupied Jeremy Bentham room last week, i got a very different impression. That was more than confirmed yesterday (29 November). The students aren't just sitting around grumbling. They have organised a very impressive series of events. Here is yesterday's programme.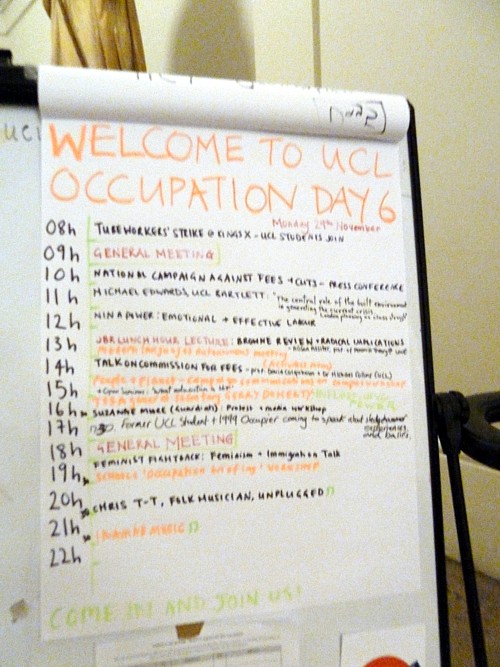 | | |
| --- | --- |
| I volunteered to discuss with them some ideas of what could be done to further their aims. It was the same day that our letter came out in the Daily Telegraph, that pointed out the foolishness of deciding on funding before deciding what form universities should have in the future, I also suggested some possible changes along the lines of those proposed in the Times in October. | |
I didn't talk for long and the discussion that followed was lively and constructive. It was about education, not revolt.
I was asked if I'd like to come back a bit later for group discussions, so I did. I found the students had split into groups. It could well have been an academic conference.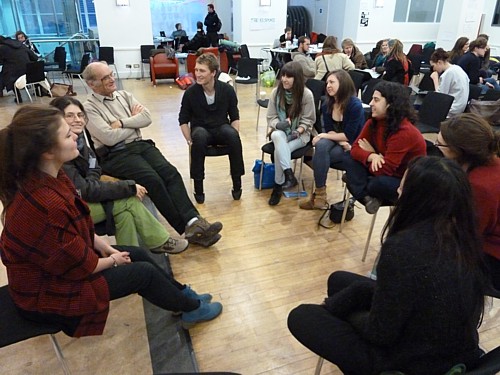 There was a cheerful but entirely serious discussion about what universities should be doing, about teaching methods and about research. There was also discussion about how the good atmosphere could be continued when the occupation eventually ends. Perhaps the most obvious thing is that the students were enjoying immensely being thrown together with people from other disciplines, whom they would never have met otherwise. There were two scientists in the group I joined, the rest being from a whole range of disciplines.
It is to the credit of UCL that they haven't brought in bailiffs or cut off access to toilets. So a lot more sensible than Warwick university's management for example. An email was shown on the screen from Rex Knight, vice provost (operations) who seems to have been put in charge of mediation. He's the one who refused to do anything about it when HR were advertising for people trained in that curious form of psychobabble/pyramid selling scheme, neurolinguistic programming. He decined to meet the students. These days, you just can't get the staff.
You can just walk in and out of the Jeremy Bentham room quite freely. Some students left for lectures and then returned. Others were away that afternoon on a demonstration outside TopShop on Oxford Street. If people like Top Shop owner Philip Green paid the taxes that they should do, the crisis might not be as bad as it is.
And between the earnest intellectual stuff they have fun too. This is the dance-off against the Oxford occupation.
And this is their weekend Ceilidh
Their blog is impressive. as is their organisation. They they have an events organiser with their own email address. You can follow the activities on Twitter @ucloccupation. In just a few days they have picked up more followers on Twitter than I have,
Even the BBC reporter, Sean Coughlan, sees this a something a bit different.
These are well-dressed, articulate youngsters, there's no damage to the room, and the occupation leaflets are mixed up with sleeping bags and text books about biology and Spanish grammar.

This looks like a revolution that probably does the hoovering when it's finished. Any stereotypes about rent-a-rioter are way off the mark.

,

It's the Hogwarts kids, with their strong sense of right and wrong, who are now putting up the barricades.

And they seem as distant from the old left as they do from the new right.
This could be the best educational experience of the year for some of them, and they were making the most of it.
It is really rather beautiful.
Follow-up
Sad to say. UCL's management soon managed to lose the moral high ground and went to court to evict the students. Their blog says
On Friday 3rd December two students on behalf of the UCL Occupations attended a hearing to resist the university's application for a possession order. After almost an hour of legal debate, the judge acknowledged the occupying students' rights to freedom of expression and freedom of assembly and concluded that no possession order could be granted without a full hearing of all the legal arguments. The hearing has been adjourned till Tuesday 7th December at 10:30am.
6 December 2010.Hobbled into work, for hospital appointment. The Slade School of Art is now occupied too. The signs are quite, eh, artistic.