University of Southampton
Almost all the revelations about what's taught on university courses in alternative medicine have come from post-1992 universities. (For readers not in the UK, post-1992 universities are the many new univerities created in 1992, from former polytechnics etc, and Russell group universities are the "top 20" research-intensive universities)
It is true that all the undergraduate courses are in post-1992 universities, but the advance of quackademia is by no means limited to them. The teaching at St Bartholomew's Hospital Medical School, one of the oldest, was pretty disgraceful for example, though after protests from their own students, and from me, it is now better, I believe.

Quackery creeps into all universities to varying extents. The good ones (like Southampton) don't run "BSc" degrees, but it still infiltrates through two main sources,
The first is via their HR departments, which are run by people who tend to be (I quote) "credulous and moronic" when it comes to science.
The other main source is in teaching to medical students. The General Medical Council says that medical students must know something about alterantive medicine and that's quite right, A lot of their patients will use it. The problem is that the guidance is shockingly vague .
"They must be aware that many patients are interested in and choose to use a range of alternative and complementary therapies. Graduates must be aware of the existence and range of such therapies, why some patients use them, and how these might affect other types of treatment that patients are receiving." (from Tomorrow's Doctors, GMC)
In many medical schools, the information that medical students get is quite accurate. At UCL and at King's (London) I have done some of the familiarisation myself. In other good medical schools, the students get some shocking stuff. St Bartholomew's Hospital medical School was one example. Edinburgh University was another.
But there is one Russell group university where alternative myths are propagated more than any other that I know about. That is the University of Southampton.
In general, Southampton is a good place, I worked there for three years myself (1972 – 1975). The very first noise spectra I measured were calculated on a PDP computer in their excellent Institute of Sound and Vibration Research, before I wrote my own programs to do it.
But Southanpton also has a The Complementary and Integrated Medicine Research Unit . Oddly the unit's web site, http://www.cam-research-group.co.uk, is not a university address, and a search of the university's web site for "Complementary and Integrated Medicine Research Unit" produces no result. Nevertheless the unit is "within the School of Medicine at the University of Southampton"
Notice the usual euphemisms 'complementary' and 'integrated' in the title: the word 'alternative' is never used. This sort of word play is part of the bait and switch approach of alternative medicine.
The unit is quite big: ten research staff, four PhD students and two support staff It is headed by George Lewith.
Teaching about alternative medicine to Southampton medical students.
The whole medical class seems to get quite a lot compared with other places I know about. That's 250 students (210 on the 5-year course plus another 40 from the 4-year graduate-entry route).
Year 1: Lecture by David Owen on 'holism' within the Foundation Course given to all 210 medical students doing the standard (5-year) course.



Year 2: Lecture by Lewith (on complementary medicine, focusing on acupuncture for pain) given within the nervous systems course to the whole medical student year-group (210 students).



Year 3 SBOM (scientific basis of medicine) symposium: The 3-hour session ("Complementary or Alternative Medicine: You Decide"). I'm told that attendance at this symposium is often pretty low, but many do turn up and all of them are officially 'expected' to attend.



There is also an optional CAM special study module chosen by 20 students in year 3, but also a small number of medical students (perhaps 2 – 3 each year?) choose to do a BMedSci research project supervised by the CAM research group and involving 16-18 weeks of study from October to May in Year 4. The CAM research group also supervise postgraduate students doing PhD research.

As always, a list of lectures doesn't tell you much. What we need to know is what's taught to the students and something about the people who teach it. The other interesting question is how it comes about that alternative medicine has been allowed to become so prominent in a Russell group university. It must have support from on high. In this case it isn't hard to find out where it comes from. Here are some details.
Year 1 Dr David Owen
David Owen is not part of Lewith's group, but a member of the Division of Medical Education headed by Dr Faith Hill (of whom, more below). He's one of the many part-time academics in this area, being also a founder of The Natural Practice .
Owen is an advocate of homeopathy (a past president of the Faculty of Homeopathy). Homeopathy is, of course, the most barmy and discredited of all the popular sorts of alternative medicine. Among those who have discredited it is the head of the alt med unit, George Lewith himself (though oddly he still prescribes it).
And he's also a member of the British Society of Environmental Medicine (BSEM). That sounds like a very respectable title, but don't be deceived. It is an organisation that promotes all sorts of seriously fringe ideas. All you have to do is notice that the star speaker at their 2011 conference was none other than used-to-be a doctor, Andrew Wakefield, a man who has been responsible for the death of children from measles by causing an unfounded scare about vaccination on the basis of data that turned out to have been falsified. There is still a letter of support for Wakefield on the BSEM web site.
The BSEM specialises in exaggerated claims about 'environmental toxins' and uses phony allergy tests like kinesiology and the Vega test that misdiagnose allergies, but provide en excuse to prescribe expensive but unproven nutritional supplements, or expensive psychobabble like "neuro-linguistic programming".
Other registered "ecological physicians" include the infamous Dr Sarah Myhill, who, in 2010, was the subject of a damning verdict by the GMC, and Southampton's George Lewith.
If it is wrong to expose medical students to someone who believes that dose-response curves have a negative slope (the smaller the dose the bigger the effect -I know, it's crazy), then it is downright wicked to expose students to a supporter of Andrew Wakefield.
David Owen's appearance on Radio Oxford, with the indomitable Andy Lewis appears on his Quackometer blog.
Year 2 Dr George Lewith
Lewith is a mystery wrapped in an enigma. He's participated in some research that is quite good by the (generally pathetic) standards of the world of alternative medicine.
In 2001 he showed that the Vega test did not work as a method of allergy diagnosis. "Conclusion Electrodermal testing cannot be used to diagnose environmental allergies", published in the BMJ .[download reprint].
In 2003 he published "A randomized, double-blind, placebo-controlled proving trial of Belladonna 30C" [download reprint] that showed homeopathic pills with no active ingredients had no effects: The conclusion was ""Ultramolecular homeopathy has no observable clinical effects" (the word ultramolecular, in this context, means that the belladonna pills contained no belladonna).
In 2010 he again concluded that homeopathic pills were no more than placebos, as described in Despite the spin, Lewith's paper surely signals the end of homeopathy (again). [download reprint]
What i cannot understand is that, despite his own findings, his private practice continues to prescribe the Vega machine and continues to prescribe homeopathic pills. And he continues to preach this subject to unfortunate medical students.
Lewith is also one of the practitioners recommended by BSEM. He's a director of the "College of Medicine". And he's also an advisor to a charity called Yes To Life. (see A thoroughly dangerous charity: YesToLife promotes nonsense cancer treatments).
3rd year Student Selected Unit
The teaching team includes:
David Owen – Principal Clinical Teaching Fellow SoM, Holistic Physician
George Lewith – Professor of Health Research and Consultant Physician
Caroline Eyles – Homeopathic Physician

Susan Woodhead – Acupuncturist

Elaine Cooke – Chiropractic Practitioner

Phine Dahle – Psychotherapist

Keith Carr – Reiki Master

Christine Rose – Homeopath and GP

David Nicolson – Nutritionalist

Shelley Baker – Aromatherapist

Cheryl Dunford – Hypnotherapist

Dedj Leibbrandt – Herbalist
More details of the teaching team here. There is not a single sceptic among them, so the students don't get a debate, just propaganda.
In this case. there's no need for the Freedom of Information Act. The handouts. and the powerpoints are on their web site. They seem to be proud of them
Let's look at some examples
Chiropractic makes an interesting case, because, in the wake of the Singh-BCA libel case, the claims of chiropractors have been scrutinised as never before and most of their claims have turned out to be bogus. There is a close relationship between Lewith's unit and the Anglo-European Chiropractic College (the 3rd year module includes a visit there). In fact the handout provided for students, Evidence for Chiropractic Care , was written by the College. It's interesting because it provides no real evidence whatsoever for the effectiveness of chiropractic care. It's fairly honest in stating that the view at present is that, for low back pain, it isn't possible to detect any difference between the usefulness of manipulation by a physiotherapist, by an osteopath or by a chiropractor. Of course it does not draw the obvious conclusion that this makes chiropractic and osteopathy entirely redundant -you can get the same result without all the absurd mumbo jumbo that chiropractors and osteopaths love, or their high-pressure salesmanship and superfluous X-rays. Neither does it mention the sad, but entirely possible, outcome that none of the manipulations are effective for low back pain. There is, for example, no mention of the fascinating paper by Artus et al [download reprint]. This paper concludes
"symptoms seem to improve in a similar pattern in clinical trials following a wide
variety of active as well as inactive treatments."
This paper was brought to my attention through the blog run by the exellent physiotherapist, Neil O'Connell. He comments
"If this finding is supported by future studies it might suggest that we can't even claim victory through the non-specific effects of our interventions such as care, attention and placebo. People enrolled in trials for back pain may improve whatever you do. This is probably explained by the fact that patients enrol in a trial when their pain is at its worst which raises the murky spectre of regression to the mean and the beautiful phenomenon of natural recovery."
This sort of critical thinking is conspicuously absent from this (and all the other) Southampton handouts. The handout is a superb example of bait and switch: No nonsense about infant colic, innate energy or imaginary subluxations appears in it.
Acupuncture is another interesting case because there is quite a lot of research evidence, in stark contrast to the rest of traditional Chinese medicine, for which there is very little research.
There is a powerpoint show by Susan Woodhead (though it is labelled British Acupuncture Council).

The message is simple and totally uncritical. It works.
In fact there is now a broad consensus about acupuncture.
(1) Real acupuncture and sham acupuncture have been found to be indistinguishable in many trials. This is the case regardless of whether the sham is a retractable needle (or even a toothpick) in the "right" places, or whether it is real needles inserted in the "wrong" places. The latter finding shows clearly that all that stuff about meridians and flow of Qi is sheer hocus pocus. It dates from a pre-scientific age and it was wrong.
(2) A non-blind comparison of acupuncture versus no acupuncture shows an advantage for acupuncture. But the advantage is usually too small to be of any clinical significance. In all probability it is a placebo effect -it's hard to imagine a more theatrical event than having someone in a white coat stick long needles into you, like a voodoo doll. Sadly, the placebo effect isn't big enough to be of much use.
Needless to say, none of this is conveyed to the medical students of Southampton. Instead they are shown crude ancient ideas that date from long before anything was known about physiology as though they were actually true. These folks truly live in some alternative universe. Here are some samples from the acupuncture powerpoint show by Susan Woodhead.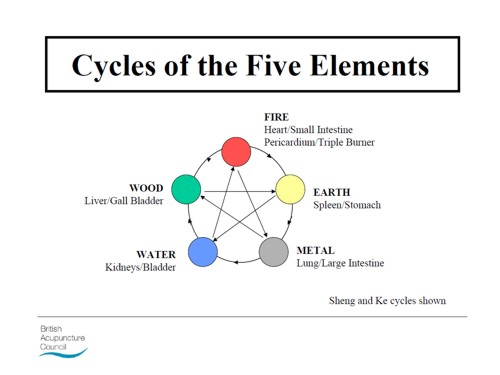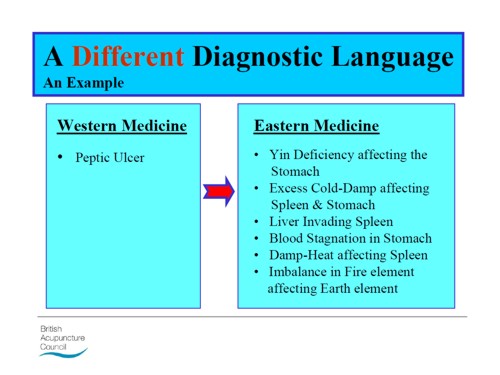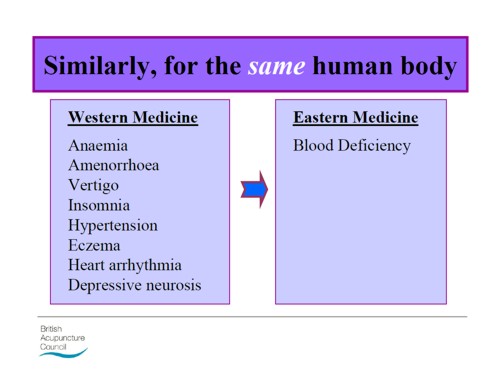 Well this is certainly a "different diagnostic language", but no attempt is made to say which one is right. In the mind of the acupuncurist it seems both are true. It is a characteristic of alternative medicine advocates that they have no difficulty in believing simultaneously several mutually contradictory propositions.
As a final exmple of barminess, just look at the acupuncture points (allegedly) on the ear The fact that it is a favoured by some people in the Pentagon as battlefield acupuncture, is more reminiscent of the mad general, Jack D. Ripper, in Dr Strangelove than it is of science.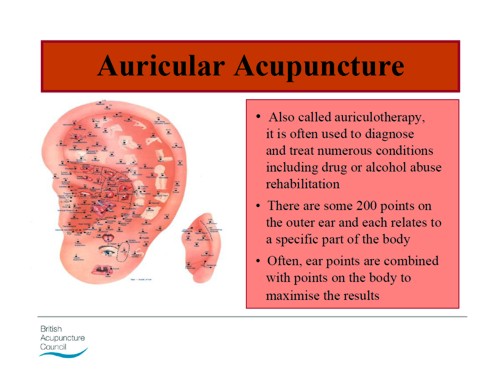 There is an equally uncritical handout on acupuncture by Val Hopwood. It's dated March 2003, a time before some of the most valuable experiments were done.
The handout says "sham acupuncture
is generally less effective than true acupuncture", precisely the opposite of what's known now. And there are some bits that give you a good laugh, always helpful in teaching. I like
"There is little doubt that an intact functioning nervous system is required for acupuncture to produce
analgesia or, for that matter, any physiological changes"
and
Modern techniques: These include hybrid techniques such as electro-acupuncture . . . and Ryadoraku [sic] therapy and Vega testing.
Vega testing!! That's been disproved dozens of times (not least by George Lewith). And actually the other made-up nonsense is spelled Ryodoraku.
It's true that there is a short paragraph at the end of the handout headed "Scientific evaluation of acupuncture" but it doesn't cite a single reference and reads more like excuses for why acupuncture so often fails when it's tested properly.
Homeopathy. Finally a bit about that most boring of topics, the laughable medicine that contains no medicine, homeopathy. Caroline Eyles is a member for the Society of Homeopaths, the organisation that did nothing when its members were caught out in the murderous practice of recommending homeopathy for prevention of malaria. The Society of Homeopaths also endorses Jeremy Sherr, a man so crazy that he believes he can cure AIDS and malaria with sugar pills.
The homeopathy handout given to the students has 367 references, but somehow manages to omit the references to their own boss's work showing that the pills are placebos. The handout has all the sciencey-sounding words, abused by people who don't understand them.
"The remedy will be particularly effective if matched to the specific/particular characteristics of the individual (the 'totality' of the patient) on all levels, including the emotional and mental levels, as well as just the physical symptoms. 'Resonance' with the remedy's curative power will then be at it's [sic] best."
The handout is totally misleading about the current state of research. It says
"increasing clinical research confirms it's [sic] clinical effectiveness in treating patients, including babies and animals (where a placebo effect would be hard to justify)."
| | |
| --- | --- |
| The powerpont show by Caroline Eyles shows all the insight of a mediaeval vitalist | |

Anyone who has to rely on the utterly discredited Jacques Benveniste as evidence is clearly clutching at straws. What's more interesting about this slide the admission that "reproducibility is a problem -oops, an issue" and that RCTs (done largely by homeopaths of course) have "various methodological flaws and poor external validity". You'd think that if that was the best that could be produced after 200 yours, they'd shut up shop and get another job. But, like aging vicars who long since stopped believing in god, but are damned if they'll give up the nice country rectory, they struggle on, sounding increasingly desperate.
How have topics like this become so embedded in a medical course at a Russell group university?
The details above are a bit tedious and repetitive. It's already established that hardly any alternative medicine works. Don't take my word for it. Check the web site of the US National Center for Complementary and Alternative Medicine (NCCAM) who, at a cost of over $2 billion have produced nothing useful.
A rather more interesting question is how a good university like Southampton comes to be exposing its medical students to teaching like this. There must be some powerful allies higher up in the university. In this case it's pretty obvious who thay are.
Professor Stephen Holgate MD DSc CSc FRCP FRCPath FIBiol FBMS FMed Sci CBE has to be the primary suspect, He's listed as one of Southampton's Outstanding Academics. His work is nothing to do with alternative medicine but he's been a long term supporter of the late unlamented Prince of Wales' Foundation, and he's now on the advisory board of it's successor, the so called "College of Medicine" (for more information about that place see the new "College of Medicine" arising from the ashes of the Prince's Foundation for Integrated Health, and also Don't be deceived. The new "College of Medicine" is a fraud and delusion ). His description on that site reads thus.
"Stephen Holgate is MRC Clinical Professor of Immunopharmacology at the University of Southampton School of Medicine and Honorary Consultant Physician at Southampton University Hospital Trust. He is also chair of the MRC's Populations and Systems Medicine Board. Specialising in respiratory medicine, he is the author of over 800 peer-reviewed papers and contributions to scientific journals and editor of major textbooks on asthma and rhinitis. He is Co-Editor of Clinical and Experimental Allergy, Associate Editor of Clinical Science and on the editorial board of 25 other scientific journals."
Clearly a busy man. Personally I'm deeply suspicious of anyone who claims to be the author of over 800 papers. He graduated in medicine in 1971, so that is an average of over 20 papers a year since then, one every two or three weeks. I'd have trouble reading that many, never mind writing them.
Holgate's long-standing interest in alternative medicine is baffling. He's published on the topic with George Lewith, who, incidentally, is one of the directors of the "College of Medicine"..
It may be unkind to mention that, for many years now, I've been hearing rumours that Holgate is suffering from an unusually bad case of Knight starvation.
The Division of Medical Education appears to be the other big source of support for. anti-scientific medicine. That is very odd, I know, but it was also the medical education people who were responsible for mis-educating medical students at. St. Bartholomew's and at Edinburgh university. Southampton's Division of Medical Education has a mind-boggling 60 academic and support staff. Two of them are of particular interest here.
Faith Hill is director of the division. Her profile doesn't say anything about alternative medicine, but her interest is clear from a 2003 paper, Complementary and alternative medicine: the next generation of health promotion?. The research consisted of reporting anecdotes from interviews of 52 unnamed people (this sort of thing seems to pass for research in the social sciences). It starts badly by misrepresenting the conclusions of the House of Lords report (2000) on CAM. Although it comes to no useful conclusions, it certainly shows a high tolerance of nonsensical treatments.
Chris Stephens is Associate Dean of Medical Education & Student Experience. His sympathy is shown by a paper he wrote In 2001, with David Owen (the homeopath, above) and George Lewith: Can doctors respond to patients' increasing interest in complementary and alternative medicine?. Two of the conclusions of this paper were as follows.
"Doctors are training in complementary and alternative medicine and report benefits both for their patients and themselves"
Well, no actually. It wasn't true then, and it's probably even less true now. There's now a lot more evidence and most of it shows alternative medicine doesn't work.
"Doctors need to address training in and practice of complementary and alternative medicine within their own organisations"
Yes they certainly need to do that.
And the first thing that Drs Hill and Stephens should do is look a bit more closely about what's taught in their own university, I hope that this post helps them,
Follow-up
4 July 2011. A correspondent has just pointed out that Chris Stephens is a member of the General Chiropractic Council. The GCC is a truly pathetic pseudo-regulator. In the wake of the Simon Singh affair it has been kept busy fending off well-justified complaints against untrue claims made by chiropractors. The GCC is a sad joke, but it's even sadder to see a Dean of Medical Education at the University of Southampton being involved with an organisation that has treated little matters of truth with such disdain.
A rather unkind tweet from (ex)-chiropractor @RichardLanigan.
"Chris is just another light weight academic who likes being on committees. Regulatory bodies are full of them"
| | |
| --- | --- |
| Professor George Lewith is perhaps the most prominent advocate of alternative medicine within quackademia, at least in Russell Group University. He claims to be a member of "The Complementary and Integrated Medicine Research Unit is within the School of Medicine at the University of Southampton.". | |
The URL for this unit is actually http://www.cam-research-group.co.uk/. Strangely, though, a search of Southampton University's own web site for "Complementary and Integrated Medicine Research Unit" yields very little information about this unit.
But Lewith does not spend all of his time on his academic duties. He also spends time in London at his private practice, at the Centre for Complementary and Integrated Medicine. This practice, I discovered in 2006, was selling to patients that well known method for misdiagnosing food intolerance, the Vega test. It was doing so despite the fact that Lewith himself had written a paper that concluded that the Vega machine does not work, The paper was in the British Medical Journal, 2001;322:131-4. It concludes "Electrodermal testing cannot be used to diagnose environmental allergies". This history is recorded in Lewith's private clinic has curious standards.
Dr Lewith was in the news again recently when he published a paper that showed (yet again) that homeopathic pills work no better than placebo. No surprise there of course. The paper has been described here, in Despite the spin, Lewith's paper surely signals the end of homeopathy (again).
So we can congratulate Lewith for being one of the few members of the magic-medicine community to have published papers of reasonable quality that show that neither homeopathy nor the Vega test work. In fact there was nothing novel in the conclusions about the Vega machine. It has been debunked again and again.
The BBC's Inside Out programme in 2003 found that when the Vega test was taken in three different branches of Holland and Barrett, the results were quite different every time. The reporter was advised to by a total of 20 different supplements, but got different advice from every store.
In 2006, the test was destroyed again in, of all places, the Daily Mail which published 'The great allergy con'.
In 2011, BBC's Watchdog programme looked again at food intolerance tests, with results as crazy as before. Holland & Barrett said "In light of this report, however, we have instructed The UK Health Partnership to investigate the findings and review their current training practices". That's odd, because in 2001 they had said ""In light of the issues raised, we are already carrying out a full review of the services that HSL provide." So not much progress there.
What is rather more surprising is to find that Dr Lewith, having himself shown that neither the Vega test nor homeopathy work, continues to sell both to patients in his private practice.
I recently heard from a young student about her experiences when she went to Prof Lewith's private practice. If you want to read her letter in full, download the pdf. Some quotations from it suffice to tell the tale.
"I had suffered from CFS/ME for nearly 8 years when on March 18th 2009 I had my first appointment with doctor Lewith"

"We talked for 7 to 10 minutes about my history and gave a very brief outline of my medical past. I did feel that this was a bit rushed"

"He said that he would treat me with a mixture of homeopathic medicine and conventional treatments and then hooked me up to a machine to determine any food intolerances."

"He put me off all dairy products and said that he would send me some homeopathic remedies and food supplements"

"Having suffered with the illness for so long and having been involved with the conventional practices for treating ME with no relief I went to Dr Lewith desperate. I left this first consultation a little shocked at the rushed pace and a little wary of homeopathy but determined to carry on. "

"I waited for my remedies in the post but only the food supplements and the blood test results arrived."

"On April 8th 2009, I went back for my 30 minute follow up consultation. We talked briefly about how I was doing. Dr Lewith exclaimed that I looked so much better than last time and that the treatments that he had sent me had obviously worked. I assumed he meant the food supplements. It quickly transpired that he meant the homeopathic drops that I had never received. I suggested that I was probably better than last time because I was not recently recovering from tonsillitis. My confidence was immediately lost as I felt I was being coerced into thinking that the drugs he had provided were the reason for my recovery. Someone with knowledge of ME should be aware that a sufferer is not in a permanent state of ill health but generally that they follow what is known as 'Boom and Bust'. I was going through a good patch, which after 8 years of being ill was the normal pattern. This was a maximum 5 minute conversation."

"He hooked me up to the machine again still without any real explanation. "

"I cancelled my next appointment with Dr Lewith having completely lost faith in his methods. I subsequently received two packages of drugs by post which I have returned. Neither at the consultation nor with the packages of drugs was there any explanation of what each drug was prescribed to achieve."

"It was soon after that Lewith was chasing me for payment of the cancelled appointment and the homeopathic drugs that I had sent back. This was a total of £230. I had already spent nearly £300. I refused to pay as I did not feel that I had received the proper medical care that is expected of a GP."

"He threatened to lay a claim against me at the small claims court."

"I submitted both a Defence and Counterclaim to his action against me."

"We went to court yesterday [January 17 2011] where Dr Lewith did not attend. "

"He failed to submit witness statements and a Defence to my Counterclaim. The judge struck the case off and my costs awarded against Dr Lewith."

"Conventional medicine had not been successful in helping me with ME and at 20 years old and at university I was desperate for a cure. I feel that complementary medicine takes advantage of people in my situation – I witnessed extortionate fees, blatant coercion to believe that it was working and blasé professionalism"
In response to a subsequent enquiry, the student told me
"He never told me what the homeopathic drugs were or what they were meant to do. When I received them I sent them straight back."

"I am pretty sure that I was given general vitamins and minerals and some magnesium (if that makes sense?)"
| | |
| --- | --- |
| "From what I can gather from the internet it was the Vega machine. I was given something metal to hold in my hand whilst he applied a probe to my toe and added different vials into a slot in the machine. " | A Vega machine |
The student also paid £85 for an ATP metabolism test, done by Acumen, a private company run by Dr John McLaren-Howard. This test allegedly found defects in ATP metabolism on the basis of which the student was charged £91.91 for CoQ10 tablets. Neither the test, nor CoQ10, have any verified usefulness for her condition.
Here's the bill for the homeopathic pills prescribed by Lewith.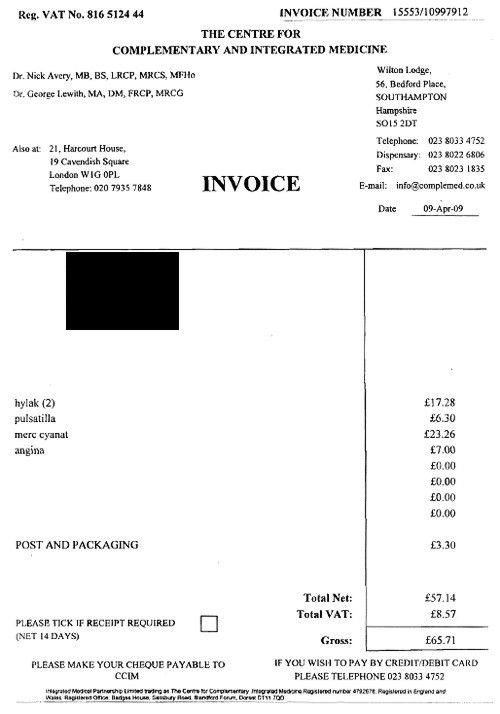 Click to enlarge
These are the facts. Make of them what you will. At a cost of over £500, no good was done.
It isn't surprising that Lewith's claim was dismissed by the court.

The College of Medicine
We notice that Professor Lewith plays is vice-chair of the "College of Medicine" that has arisen from the ashes of the Prince's Foundation for Integrated Health (for more details see Don't be deceived. The new "College of Medicine" is a fraud and delusion). That organisation is supposed to be devoted to "patient-centered medicine". The reader can judge whether the case related here is a good example.
It is often said that one reason that people go to alternative practitioners is because real medicine can do nothing for them. That, only too often, is the case. People get desperate and clutch at straws. That is bad enough even in cases where the alternative practitioner believes sincerely, if wrongly, that their treatments work.
For the alternative practitioner to prescribe things which he knows full well don't work, is, perhaps, rather worse.
Follow-up
Just as this post was about to go up, George Lewith popped up again in a BCC piece about how expectations affect the perception of pain (something that has been known for years). Lewith is quoted as saying "It completely blows cold randomised clinical trials, which don't take into account expectation." This comment shows a total misunderstand of how a randomised trial works. It is all explained properly by Majikthyse, in The wrong end of the stick
Just for fun, here is a discussion that I had with Lewith on Channel 4 News, as edited (not by me) for YouTube.