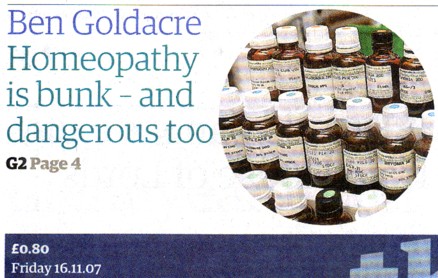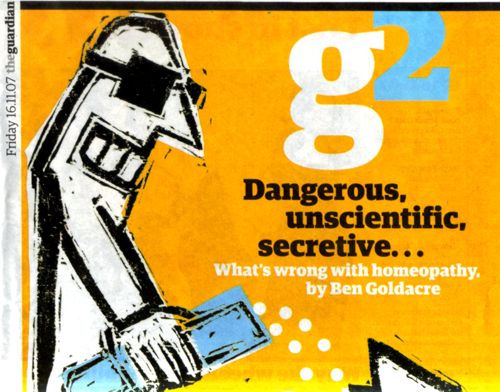 If you read nothing else on the topic, read Ben Goldacre's best ever piece,
A Kind of Magic?
(
Guardian
, 16 Nov 2007). This started as response to "
In defence of homeopathy
" in the same newspaper on 13 November. On the same day, the
Lancet
carried a rather more academic piece by Goldacre "
Benefits and Risks of Homeopathy
" , The same issue of the
Lancet
carried a commentary "
Pressure grows against homoeopathy in the UK
", as well as a sadder report, "
Homoeopathy booming in India
".
There is going to be plenty of commentary on these pieces. There is one bit of "A Kind of Magic" that is particularly important, and that is about how to do a proper trial. It is one of the most persistent myths of all sorts of quack that, for reasons that are never explained, their particular form of magic is not susceptible to being tested in the normal and well-established way. This is simply not true, and the fact that the myth is repeated again and again is perhaps the best reason to doubt that homeopaths are really genuine in the beliefs that they claim to have. If they were really so confident they would do the tests.
But they don't and won't
. When the government supplied money for doing tests, the money was distributed by a committee of "experts in alternative medicine" (though it beats me how you can be an 'expert' in something that isn't true), all the money was given to projects that were incapable of answering the main question, namely 'does it work better than placebo?'.
How to do the test
Here is Goldacre's description of how to do the test. It has been said before, but it must be said again and again. Until homeopaths take this seriously, there is no option but to regard them as frauds.
"You could do a randomised, controlled trial on almost any intervention you wanted to assess: comparing two teaching methods, or two forms of psychotherapy, or two plant-growth boosters – literally anything. The first trial was in the Bible (Daniel 1: 1-16, since you asked) and compared the effect of two different diets on soldiers' vigour. Doing a trial is not a new or complicated idea, and a pill is the easiest thing to test of all.

Here is a model trial for homeopathy. You take, say, 200 people, and divide them at random into two groups of 100. All of the patients visit their homeopath, they all get a homeopathic prescription at the end (because homeopaths love to prescribe pills even more than doctors) for whatever it is that the homeopath wants to prescribe, and all the patients take their prescription to the homeopathic pharmacy. Every patient can be prescribed something completely different, an "individualised" prescription – it doesn't matter.

Now here is the twist: one group gets the real homeopathy pills they were prescribed (whatever they were), and the patients in the other group are given fake sugar pills. Crucially, neither the patients, nor the people who meet them in the trial, know who is getting which treatment. "
Winterson and the Maun Project and AIDS
This particular round of discussion was started by Jeanette Winterson's "In defence of homeopathy".
It is an interesting article because, like the whole world of homeopathy, Winterson herself is split between homeopathy as a harmless placebo and homeopathy as a dangerous "treatment" for dangerous diseases. On one hand she claims that she is all for proper anti-retroviral treatment of AIDS, yet at the bottom of the article it says "Jeanette Winterson is donating the fee for this article to the Maun homeopathy project. " .
"Since 2002, The Maun Homeopathy Clinic has been running free homeopathy outreach clinics in Maun, a fast growing town in the north of Botswana, where over 35% of the people are infected with HIV or AIDS, one of the highest rates in the world."
Hilary Fairclough, much praised by Winterson for reducing her high temperature with pills that (didn't contain) any snake venom, describes herself as "clinical director" of the Maun project. She is, of course, qualified in neither science nor medicine, but is registered with the now notorious Society of Homeopaths. The Maun project newsletters have all the usual accounts of amazing cures. They quote
"The homeopaths are so loved here, and at the clinics we see daily miracles."
Do they really believe in miraculous cures? I'm inexorably reminded of an earlier generation of missionaries who went to Africa, to impose on the poor benighted natives a different brand of irrationality. At least the missionaries did some education too, and didn't, on the whole, kill people.
The ladies of Devon who contribute their money to this project, rather than proper treatment, are, sadly, contributing to the gentle art of homeopathic killing.
Referring to Goldacre's article in the Lancet, Winterson says " where is the scientific sense is saying that because we don't understand something, even though we can discern its effects, we have to ignore it, scorn it, or suppress it?". Needless to say, no pharmacologist has ever said anything of the sort. Quite the opposite. Goldacre comments
"The article does not say that, and I should know, because I wrote it. It is not an act of fusty authority, and I claim none: I look about 12, and I'm only a few years out of medical school. "
Winterson's article goes on about " boosting the patient's immune system so they are better able to fight off the opportunistic viruses that follow behind HIV".
Sorry, but there is not the slightest reason to think the sugar pills do anything whatsoever to the immune system: that is no more than a ritual form of words, a mantra recited by every homeopath.
Winterson also falls for the latest fashion in homeopathic gobbledygook, to describe it as nanopharmacology. It isn't nano, it's zero.
She also gives support, though it is intriguingly ambivalent, to the forthcoming conference of the Society of Homepaths, You can download the flyer for this conference, It defies belief. As well as Winterson's homeopath, Hilary Fairclough, it features Harry van der Zee and Peter Chappell.
"Harry believes that using the [Chappell's] PC1 remedy, the AIDS epidemic can be called to a halt, and that homeopaths are the ones that can do it. "
That is a direct claim for a cure. It is as good example as any of the Gentle Art of Homeopathic Killing, in the now immortal words of the quackometer blog.
Peter Chappell's web site says (no, really, seriously),
"Right now AIDS in Africa could be significantly ameliorated by a simple tune played on the radio across Africa. Or there is a slower solution using pills, and drops that works very well, but is harder to deliver. "

"The second creative idea is again is implied by those above, and relates to the ability to deliver healing aurally, instead or orally, so healing downloads and ehealing is possible and practical. Instead of taking pills containing resonance information, you listen to a very short piece of music which contains the same information. "
Just beat that, if you can.
You can get free samples here. Try the tuberculosis tune. Sounds like pretty standard 50s or 60s jazz (anyone recognise it?). Don't be fooled though. It's explained that
The music is not the download
The music is simply the carrier and alerts you to listen. The download is engrafted on the music by a special process. That is the new technology.
University of Westminster: a new course?
I hope that the University of Westminster is proud of the fact that its degree in homeopathy is recognised by the Society of Homeopaths , who are sponsoring this nonsense. Perhaps the university should consider an advanced third year module in "downloading therapeutic resonance music".
Read more
Andy Lewis's quackometer "Will Homeopathy and iTunes Cure AIDS?
Nick Cohen "The cranks who swear by citronella oil"
Jeremy Laurance in the Independent (17 Nov) "Homeopathic treatment of Aids attacked by medics"
24 Responses to Homeopathy: "a kind of magic" that kills