Suggested twitter tag: #buckgate
Number 19 Buckingham Street, London WC2N 6EF.is to be the home of the proposed "College of Medicine" that has arisen from the ashes of the late unlamented Prince's Foundation for Integrated Health (their last accounts can be seen at Quackometer).

Naturally one must ask if the "College of Medicine" will propagate the same sort of barmy ideas as the Prince's Foundation used to do, A visit to Companies House shows the auguries are not good

19 Buckingham Street
For one thing, the name College of Medicine has existed only since May 2010. The company was registered originally 19th November 2009 as The College of Integrated Health, but after a teleconference on 5th May 2010 it changed its name, presumably to make itself sound more like real medicine. This happened immediately after the closure of the Prince's Foundation on April 30th.
There is no doubt that the "College of Medicine" is the direct descendent of the Prince of Wales' Foundation. In a powerpoint show dated 9th November 2009 (before the name change) this slide is to be found.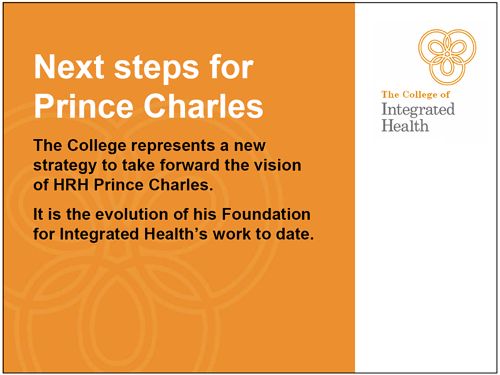 The author of the slide show is specified as "Linda". That, it is a fair bet, must be Linda Leung, who was Operations Director of the Prince's Foundation until it closed, and is now Company Secretary for the "College of Medicine".
The final form of the "College" is still being argued about, but guess who will open it?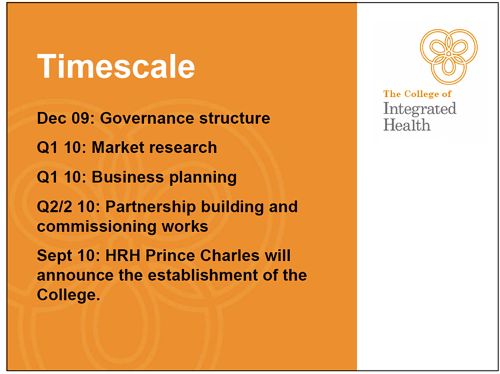 When ask about how Charles' relationship with the College, The Office of TRH The Prince of Wales and The Duchess of Cornwall declined to make any comment, but simply referred me to Michael Dixon, who, in turn referred me to Pat Goodall.
Recently a statement from Clarence House to the Guardian said that "the Prince of Wales was aware of the college, but "has not been involved with setting-up the college, is not launching it and has no official role with it". That's the official line anyway.
It is, of course, almost impossible to find out exactly what the relationship is between Prince Charles himself and the new "College". He operates largely out of sight, and the Freedom of Information Act, disgracefully, excludes his interference in the democratic process from public scrutiny.
Who is paying?
Flat 5 at 19 Buckingham Street was recently valued at half a million pounds. There is some serious money behind this venture. The rumour is that it's from a 'private donor'. Small prize for anyone who finds out who it is.
Aims of the College
The stated object of the College is "to advance health for the public benefit". Sounds good, but what does it mean? It doesn't take long to find out. It is laid out in the document from Companies House.
To further its objects the Charity may:
7.1 engage with and develop communities of health professionals, health care providers and patients;
7.2 set standards and promote excellence in the fields of health and care;
7.3 lead, represent, train and support stakeholders so that they are better equipped to serve the public in improving the health ofthe public;
7.4 establish an evidence base for integrated health and for individual complementary modalities;
7.5 promote, foster and advance an integrated approach to health and care;
7.6 raise public, professional and political awareness and cultivate a sentiment in favour of an integrated approach to health and care by publishing and distributing books, pamphlets, reports, leaflets, journals, films, tapes and instructional matter on any media;
and so on, for 36 paragraphs. Already in paragraph 4 to 6 we see their interest is to promote "integrated health" and "complementary modalities. These of course are just what most of the rest of the world calls quackery. The objects don't differ greatly from the Prince's Foundation from which this outfit sprang.
What will be taught at the College?
Some information about the preliminary plans can be gleaned from a letter that describes the new College (download the letter). The letter says
"The College is developing two groups of courses. The first is aimed at registered professionals such as doctors, nurses and physiotherapists. It will familiarise them with different aspects of CAM and develop skills they can use in their day to day practice – not least techniques they can pass on to patients to help them manage their own conditions."
In other words, the only course for doctors will be to teach them about quackery. Final judgement on that must await information about who will teach it.
"The second group of courses is aimed at non-registered practitioners and will focus on developing their understanding of conventional medicine, including 'red flag' symptoms, familiarisation with conventional therapeutics and increased awareness of critical appraisal."
The other course, it seems, will be for quacks, to try to teach them enough real medicine to prevent them from killing too many people. The bit about teaching them about "critical appraisal" is hard to believe. If that were really done the clients would mostly be out of business.
If you were in any doubt at all about the aims of the College, it is necessary only to look at the four directors of the Company
Directors of the College of Medicine.
Dr Michael Dixon, general practitioner. Michael Dixon was Medical Director of the Prince's Foundation until it closed down.
Professor George Lewith, is Professor of Health Research in the Complementary Medicine Research Unit, University of Southampton. He was a Foundation Fellow of the Prince's Foundation until it closed down.
Professor David Peters. is Professor of Integrated Healthcare and Clinical Director at the University of Westminster's School of Integrated Health.
He was a Foundation Fellow of the Prince's Foundation until it closed down.
Mrs Christine Glover is a pharmacist who sells homeopathic pills. She was a Foundation Fellow of the Prince's Foundation until it closed down.
The company secretary is named as Linda Leung, who was Operations Director of the Prince's Foundation until it closed.
A request to Michael Dixon for information was deflected to Mrs Pat Goodall She is yet another connection with PFIH. Mrs Goodall acted as a spokesperson for the Prince's Foundation until it closed down. Now she is scheduled to become Director of Policy and Communications for the "College of Medicine". Mrs Goodall declined to say where the money came from. But she did say that the College was not the "equivalent of a further education college,. . . or higher education college", That being the case, it seems very odd to use the name "College of Medicine". It is a downright misleading name.
These people are all well know advocates of alternative medicine, It is very obvious that the "College of Medicine", despite its misleadingly innocuous name, is simply a reincarnation of the Prince's Foundation for Integrated Health.
The term "integrated" is, of course, simply a euphemism for alternative medicine. That means those forms of medicine for which there is little or no evidence that they work. When evidence that something works is found, it is called simply medicine.
It may be useful to give a bit more information about the Directors.
Dr Michael Dixon OBE
Michael Dixon is devoted to just about every form of alternative medicine. As well as being medical director of the Prince's Foundation he also runs the NHS Alliance. Despite its name, the NHS Alliance is nothing to do with the NHS and acts, among other things, as an advocate of alternative medicine on the NHS, about which it has published a lot.
Dr Dixon is also a GP at College Surgery, Cullompton, Devon, where his "integrated practice" includes dozens of alternative practitioners. They include not only disproven things like homeopathy and acupuncture, but also even more bizarre practitioners in 'Thought Field Therapy' and 'Frequencies of Brilliance'.
To take only one of these, 'Frequencies of Brilliance' is bizarre beyond belief. One need only quote its founder and chief salesperson.
"Frequencies of Brilliance is a unique energy healing technique that involves the activation of energetic doorways on both the front and back of the body."

"These doorways are opened through a series of light touches. This activation introduces high-level Frequencies into the emotional and physical bodies. It works within all the cells and with the entire nervous system which activates new areas of the brain."
"Frequencies of Brilliance is a 4th /5th dimensional work. The process is that of activating doorways by lightly touching the body or working just above the body."

"Each doorway holds the highest aspect of the human being and is complete in itself. This means that there is a perfect potential to be accessed and activated throughout the doorways in the body."
Best of all, it can all be done at a distance (that must help sales a lot). One is reminded of the Skills for Health "competence" in distant healing (inserted on a government web site at the behest (you guessed it) of the Prince's Foundation, as related here)
"The intent of a long distance Frequencies of Brilliance (FOB) session is to enable a practitioner to facilitate a session in one geographical location while the client is in another.

A practitioner of FOB that has successfully completed a Stage 5 Frequency workshop has the ability to create and hold a stable energetic space in order to work with a person that is not physically present in the same room.

The space that is consciously created in the Frequencies of Brilliance work is known as the "Gap". It is a space of nonlinear time. It contains "no time and no space" or respectively "all time and all space". Within this "Gap" a clear transfer of the energies takes place and is transmitted to an individual at a time and location consciously intended. Since this dimensional space is in non-linear time the work can be performed and sent backward or forward in time as well as to any location.

The Frequencies of Brilliance work cuts through the limitations of our physical existence and allows us to experience ourselves in other dimensional spaces. Therefore people living in other geographic locations than a practitioner have an opportunity to receive and experience the work.

The awareness of this dimensional space is spoken about in many indigenous traditions, meditation practices, and in the world of quantum physics. It is referred to by other names such as the void, or vacuum space, etc."
This is, of course, preposterous gobbledygook. It, and other things in Dr Dixon's treatment guide, seem to be very curious things to impose on patients in the 21st century.
You can read more about Michael Dixon at Dr Aust's blog (Dr Michael Dixon is annoyed), and, from the USA, Steven Novella's analysis in Dr. Michael Dixon – "A Pyromaniac In a Field of (Integrative) Straw Men"
Professor George Lewith,
George Lewith has appeared quite often in this blog. He first came to my attention when I discovered in 2006 that his private clinic was offering a well-known form of fraudulent allergy diagnosis, the Vega test, despite the fact that Lewith himself had written a paper that said it didn't work.
Lewith is particularly keen on acupuncture and that most discredited form of quackery, homeopathy. On More 4 News, he actually claimed that there was no good sham form of acupuncture. That is simply not true: great ingenuity has gone into devising controls for acupuncture trials and 'real' acupuncture always comes out the same as sham.
Professor David Peters
David Peters comes from the University of Westminster, which is famous for offering more degrees than any other in anti-scientific nonsense.
Westminster is home of the quite remarkable teaching that "Amethysts emit high Yin energy". dowsing, aura photography and other such fairground frauds.
Westminster offers also a "BSc degree" in that quite remarkable branch of make-believe known as naturopathy, This teaches students about a totally insane form of psycho-babble called Emo-trance and they are taught (no. seriously) about diagnosis with dowsing and pendulums
Westminster also teaches about kinesiology. Sounds sort of sciencey, but Applied Kinesiology is actually a fraudulent and totally ineffective diagnostic method invented by (you guessed) a chiropractor. It has been widely used by alternative medicine to misdiagnose food allergies. It does not work (Garrow, 1988: download reprint).
Westminster offers "BSc degrees" in Chinese Medicine that are a menace to public health. Their unfortunate students are told "Legally, you cannot claim to cure cancer. This is not a problem because we treat people not diseases". It is hard to imagine anything more irresponsible,
David Peters, as Clinical Director at Westminster must bear responsibility for this load of irresponsible make-believe, I have no doubt that he is well-intentioned but some of the stuff on these courses is a serious danger to public health.
Mrs Christine Glover
Mrs Glover is an Edinburgh pharmacist. She claims
She believes symptoms rarely occur in isolation but are usually linked to a persons circumstancs [sic].

Illness occurs when there are imbalances in any of the physical, emotional and spiritual aspects of their life.
Well, yes and no, Would you really go to her if you had cancer, or tuberculosis, or even atrial flutter? Judging by her website, what you'd get is a bottle of her Liquid Iron & Vitamin Formula (for £16.25 !). Or any one of a range of homeopathic pills.
There is no branch of alternative medicine that is more totally discredited than homeopathy. Yet now it i being proposed to form a College of Medicine with four directors who are all part of the dwindling band that insists you can do magic with pills that contain no medicine.
Who else supports the College?
There are some pretty surprising people who are listed in the letter as supporting the College of Medicine, though it remains to be seen how many are left once the true nature of the College is known.
Some of the supporters were already Foundation Fellows of the Prince's Foundation, despite having no obvious sympathy with quackery. These include Professor Sir Cyril Chantler, Professor Adrian Eddleston and Professor Simon Gibbons. They also include the notorious Karol Sikora, and the geochemist Professor Jane Plant.
Professor Jane Plant is, apparently, a distinguished geochemist, but she developed an obsession with dairy-free diets, after her own experiences with breast cancer. She has written a lot of books and, no doubt, made a lot of money from the desperate. An extracr from one of her books is titled "Why I believe that giving up milk is the key to beating breast cancer". If you want to see the 'evidence' for some of her wild claims, her web site invites to join -at a cost of £30. To get a bit closer to the truth it is only necessary to quote the World Cancer Research Fund (WCRF) Report on diet and cancer, 'Food, Nutrition, Physical Activity, and the Prevention of Cancer: a Global Perspective'. The WCRF is inclined, in my view, to exaggerate the strength of the evidence for a causal link between diet and cancer (see Diet and health. What can you believe: or does bacon kill you?) but nevertheless their assessment of dairy products is very different from Plant's.
"The strongest evidence, corresponding to judgements of 'convincing' and 'probable', shows that milk probably protects against colorectal cancer, and that diets high in calcium are a probable cause of prostate cancer."
It seems that Jane Plant's claims are thoroughly irresponsible.
I'm told that two people who were also Foundation Fellows, and who were originally listed as supporters of the College seem to have already jumped ship, namely Professor Stephen Holgate and Baroness Finlay.
Professor Sir Graeme Catto is to be president, and I'm told, Professor Sir Ian Kennedy has agreed to be vice president.
It is incomprehensible to me why people like this should be willing to lend their names to the Prince's Foundation in the first place, or to its replacement now..
Other people listed as supporters include Sir Donald Irvine, Professor John Cox, and, on the "scientific advisory committee, Professor Mustafa Djamgoz and Professor Ajit Lalvani.
None of these people has an obvious belief in quackery. sp what are they doing mixed up with a venture like this?
Graeme Catto tells me he "knows very little about CAM", and Cyril Chantler says the College should deal with evidence-based integrated medicine "but not alternative medicine or homeopathy". Since, during his time as a Foundation Fellow of the Prince's Foundation, Cyril Chantler failed totally to shake the advocacy of homeopathy by them, it seems unlikely yhat he'll be any more successful with the College.
The only member of the "scientific advisory committee" who has answered by invitation to comment on a draft of this post is Professor Mustafa Djamgoz. It seems that he is more gullible that meets the eye He said, for example,
"There are many 'eastern' remedies (such as acupuncture that we witnessed dismissed 25 year ago) that work."

"We ourselves have already shown that natural substances like omega-3 polyunsaturated fatty acids, reseveratrol [sic] etc can produce anti-cancer effects by blocking ion channels."
Clearly Professor Djamgoz has not been keeping up with research in these areas. Has he never read Barker Bausell's book on acupuncture, Snake Oil Science.? Apparently not. And there is, of course, not the slightest reason to think that omega-3 or resveratrol help cancer in humans.
It is often said that the reason that eminent people support quackery is that they live in hopes of a peerage. That is, perhaps, a bit uncharitable. I think it more likely that they don't bother to investigate closely what it is they are signing up to, and that they are fooled by the weasel words of "integrated medicine".
People like Catto and Chantler seem to think they are supporting caring, human centred, medicine. I fear they have been fooled, They are supporting sheer quackery.
Patient centred medicine
One of the most infuriating characteristics of quacks is their attempt to hi-jack the 'human side of medicine'. I suppose they have little else to offer, so it's understandable. But there is nothing human about deceiving desperate patients and the human side of medicine is something that is emphasised in the education of every real doctor.
If you want to know more about it, there is no better exposition than Michael Baum's Samuel Gee lecture. Baum has been at the forefront of thinking about supportive or spiritual care of cancer patients. His 2009 Samuel Gee lecture is available in video, Concepts of Holism in Orthodox and Alternative Medicine. It is a masterpiece. He ends the lecture thus.
"Alternative versions of "holistic medicine" that offer claims of miracle cures for cancer by impossible dietary regimens, homeopathy or metaphysical manipulation of non-existent energy fields, are cruel and fraudulent acts that deserve to be criminalized."
A similar distinction has been made with beautiful clarity by Dr James May
"The use of the term 'integrative medicine' in your editorial seems to confuse more than clarify the problem of 'holism' in medicine. Complementary therapists for example often use the term 'holistic' to blur the boundaries between the therapies used and the practitioner's interpersonal skills. It would be better, however, to keep these distinctions clear. Caring is different from curing."

"'Holism' is not a multifaceted approach to curing, it is a multifaceted approach to caring"

"Effective medicine is best measured with RCTs. Caring is not. 'Integrative medicine' therefore risks both damaging how we measure effective medicines (RCTs), as well as reducing caring to measurables. A better term for this might be 'disintegrative medicine'.Effective medicine is best measured with RCTs. Caring is not. 'Integrative medicine' therefore risks both damaging how we measure effective medicines (RCTs), as well as reducing caring to measurables. A better term for this might be 'disintegrative medicine'."
I hope that the various eminent people who have lent their name to this mis-named 'College of Medicine' will look very carefully at what it actually does. And that will probably mean withdrawing their support.
Follow-up
The Guardian, 2nd August 2010, carried this story, written by their science correspondent, Ian Sample: College of Medicine born from ashes of Prince Charles's holistic health charity. He quotes Tracey Brown of the Sense about Science charity as saying that the college's emphasis on merging conventional medicine with unproven complementary therapies "would take society back a century".
"Despite its mission to promote the integration of alternatives to medicine, this new body has chosen to call itself very grandly the College of Medicine. Perhaps someone thinks this will sound good with Royal in front of it? This wouldn't be a surprise given the institution's origins in the Prince of Wales's efforts to integrate his favoured traditional remedies into medicine."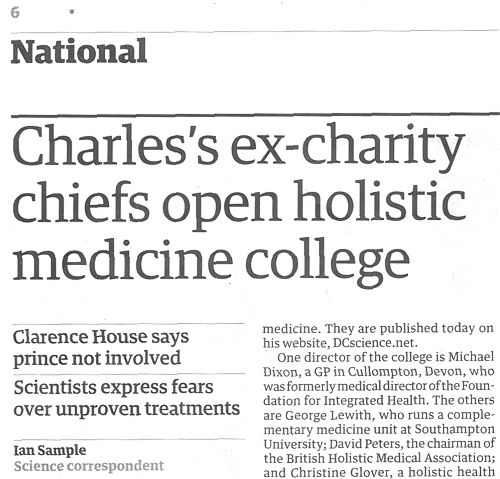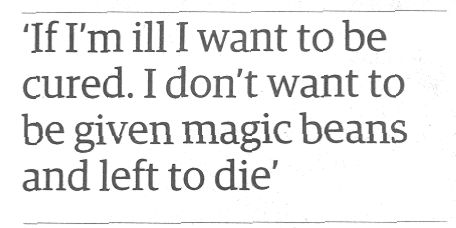 Quotation from DC
40 Responses to Buckinghamgate: the new "College of Medicine" arising from the ashes of the Prince's Foundation for Integrated Health