Pharmacology home page | DC Home page | Publications | Photo pages | Politics page | Education & religion page | Quackery page |
---
Andrew Stuart Colquhoun
---
[Recent, or changed, links in red]
Young MCC team, 2005 | AC's profile, Lords site | Batting saves the match | Debut at the Lord's ground | Movie of AC bowling |
Young MCC in Bangladesh | Young MCC at Esher | AC Local paper report | Herts debut at Long Marston |
AC County (photo) | AC County (Watford Observer) | AC at 15 |
---
MCC Young Cricketers, 2005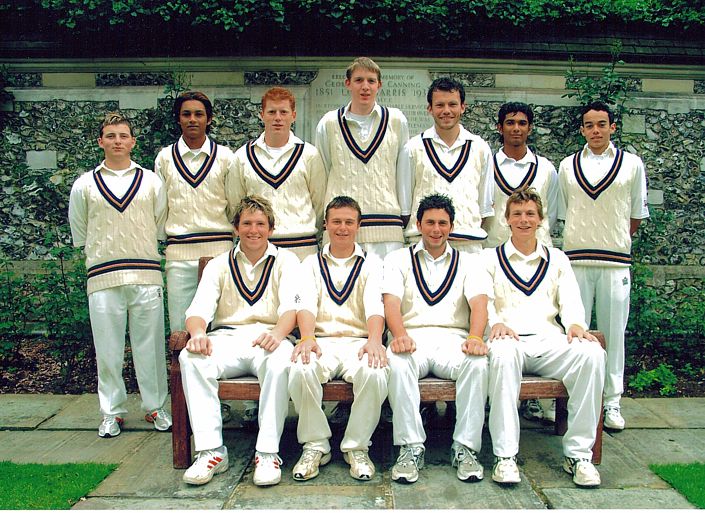 Ian Young Nadif Chowdury Kevin O'Brien Andrew Colquhoun Simon Roberts Mohammed Ullah Kyle Hodnett
Gary Wilson Sean O'Brien Jonathan Hughes William Gidman
---
Andrew's batting saves the day

Andrew is a fast bowler, but this time his batting saved the match.
(Watford Observer, 24th June 2005)

---
First game at Lord's Cricket Ground: MCC Young Cricketers versus MCC.
4 May 2005. Debut on the hallowed turf. Young MCC won, by 213 to 180.
Andrew's (on right) wicket came early.

Campbell, caught Hughes, bowled Colquhoun,
for 5 runs

Summary at the fall of the first wicket.

The famous Lord's pavilion (DC not allowed in -no tie!)

View from the pavilion: the media centre.

Andrew's energetic bowling
---
To download an mpg move (5.4 megabytes) of Andrew bowling in Young MCC versus Esher (16th April 2005), click here. The Young MCC team won by 10 wickets.
Return to top
---
MCC Young Cricketers 8-a-side in Bangladesh, February 2005
Report in Prothom Alo

(Bengali newspaper, Dhaka, Bangladesh, February, 2005)

Yesterday in the cricket carnival there were six matches in Dhaka. Nineteen cricketers took part of whom one, above, is an MCC Young Cricketer.


Bangladesh Sports Institute, Dhaka
Return to top
---
MCC Young Cricketers vs Esher (17 April 2004) (age 19)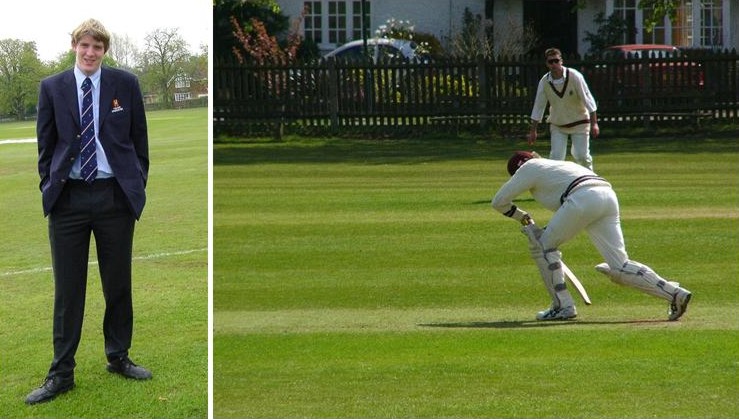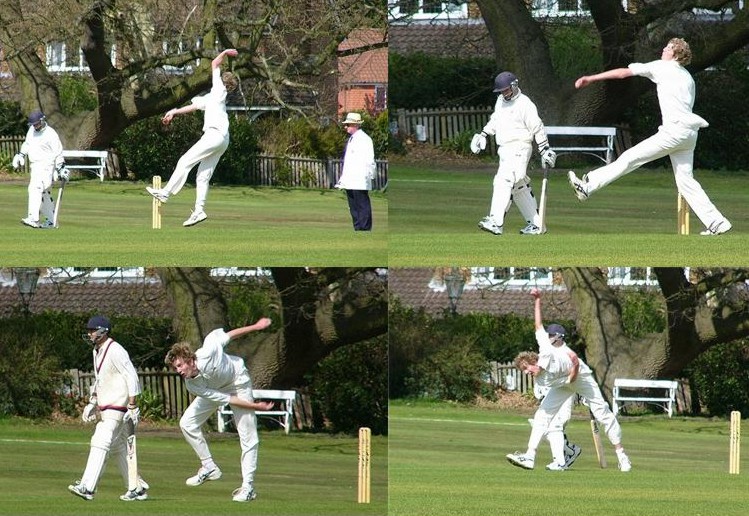 Return to top
Andrew's write up in local paper just before leaving for Australia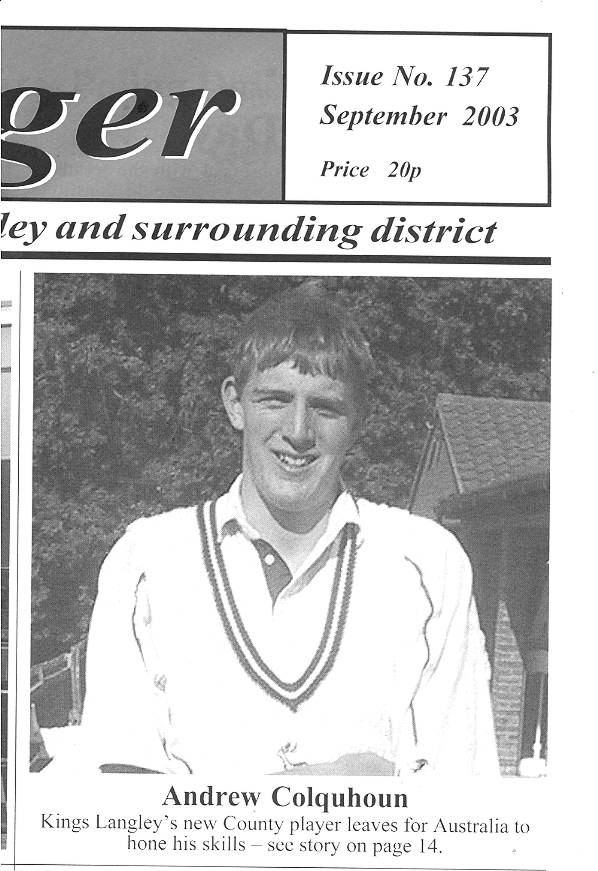 page 14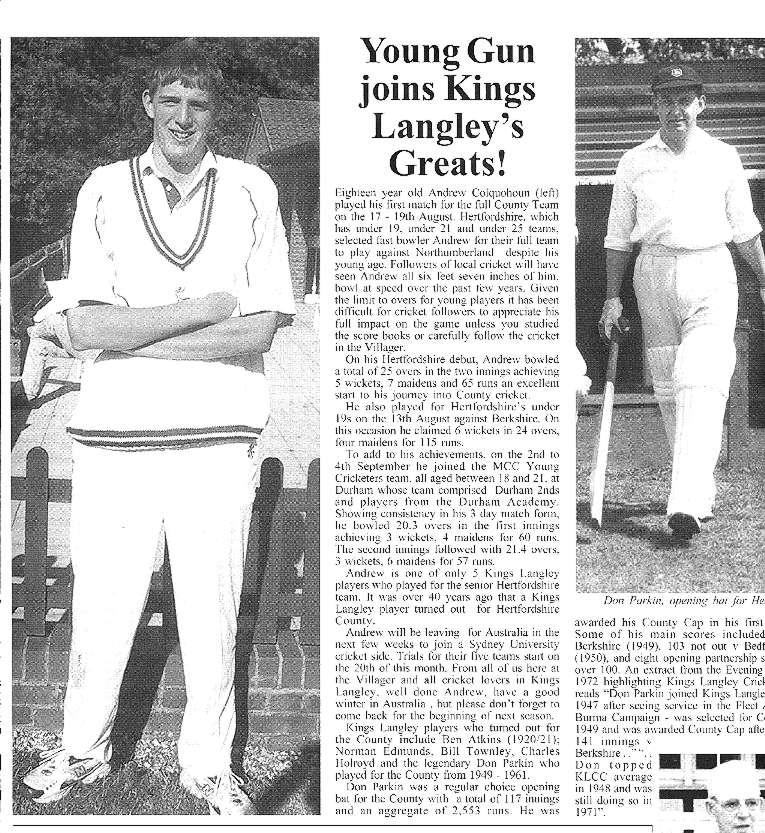 Return to top
County debut for Hertfordshire, August 2003 (see below)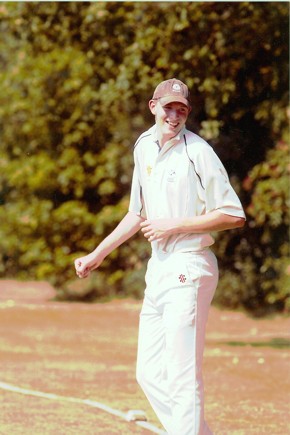 Return to top
Andrew (4th from right) gets middle stump (last ball of County match, below)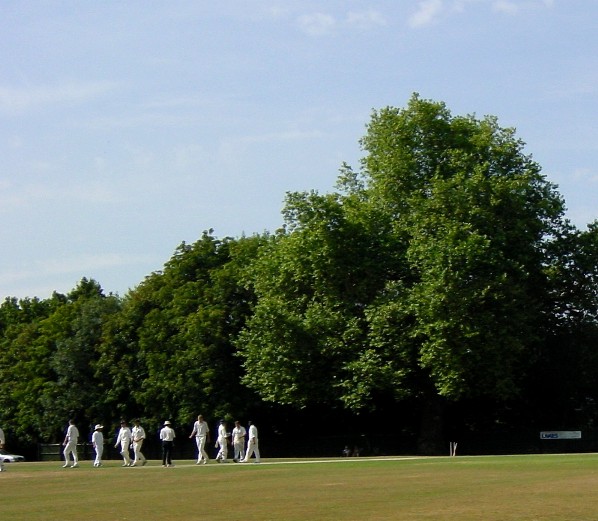 Return to top
Watford Observer, 31 October 2003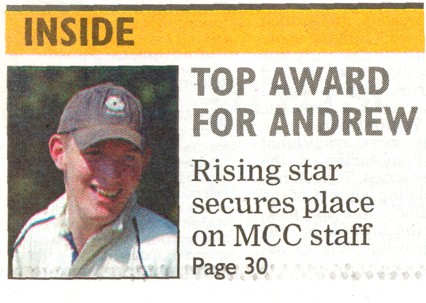 Andrew Colquhoun (age 15) in action
Return to top