Kate Birch
As I walked back from lunch today, I passed an exhibit that advertised the UCL Haiti Development Project. It was good to see that somebody still cares.
Now the dire problems of Haitians have got worse, At least 500 people have been killed by cholera.
In stark contrast, I also had today another email form Kate Birch. She used to be vice-president of the North American Society of Homeopaths (NASH), though she now appears to be only a "registered teacher". I wrote twice about Kate Birch in 2007
In August, Homeopathic "cures" for malaria: a wicked scam
and in October, A visit from Kate Birch.
When I googled "Kate Birch" homeopathy I was surprised to see that these two posts came in 2nd and 1st position respectively. Since then, she has emailed me from time to time. Such is her delusion that she seems to think that she'll be able to persuade me sugar pills cure malaria, rabies, smallpox, anthrax and plage, as claimed in her book.
Largely as a result of her letters, she appeared again in June 2009, in Homeopathy Awareness Week. Like tobacco companies, discredited at home, homeopaths exploit poor countries. And again in March 2010, More homeopathic killing
Today's first email from Ms Birch was brief.
My reply was equally brief
"Fascinating. Are you saying that homeopathy can cure cholera?
David"
Her response, though entirely predictable on past form. is worth posting in full.
During the cholera epidemics of Paris in the mid 1800's Hahnemann cured many patients with three remedies: Camphora, Veratrum and Cuprum. His son Friedrick Hahnemann came to America in the mid 1800's and cured many cased in the 1840's and 1890's epidemics on the east coast and in the work camps for building the railway with the remedy Crotalus horidus when the cholera developed in to the stage with hemorrhages from all of the orifices. Of cousre repid hydration is necessary too, but homeopathy helps along the way and can act preventatively, in addition to proper sanitation. If you were to look in my book that I gave you in the cholera chapter you will find many references to the success of homeopathy and cholera, even in England ( they are all referenced so that you can look them up and check for your self). Currently I am not sure of the success in Haiti, however I have collegues down there and I know that Since Cuba is using homeopathic for many of its epidemics (I was there in 2008) and they have had a hand in the relief aimed at Haiti I am sure we will see some statistics coming from them. I will be going to a Haiti Homeopathic releif benefit tomorrow and so I will have more information for you if you are interested.
These humanitarian aid orgs providing homeopathy down there are NGO's and they have gone through all of the paperwork to get themselves in the country. Homeopathy is cheap, effective, and fast acting and easy to dispense in epidemic situations. one day we will be everywhere. In
I hope that you are learning form this rather than looking for more fuel to feed your contempt
.Kate Birch, RSHom(NA), CCH, CMT
Sadly. Kate Birch is not the only person to endanger lives in Haiti. Read more at Gimpy's blog, Homeopaths go to Haiti, which was posted about a month after the disastrous earthquake.
With advanced delusions like this, it's not surprising that Haitians now blame aid workers for the cholera outbreak.
Nothing illustrates better than this the vast schism between the (small number of) medical homeopaths, and the vast majority of non-medical homeopaths.
Remember what Peter Fisher said after the revelations that London homeopaths were recommending their pills for malaria prevention.
""I'm very angry about it because people are going to get malaria – there is absolutely no reason to think that homeopathy works to prevent malaria and you won't find that in any textbook or journal of homeopathy so people will get malaria, people may even die of malaria if they follow this advice."
Fisher is, of course, the Queen's homeopathic physician and clinical director at Royal London Homeopathic Hospital (recently renamed to remove the word homeopathy from its name). He may be a homeopath, but at moments like this he feels like an ally. After all it was Fisher who agreed with me that BSc degrees in homeopathy could not be justified. He may be a homeopath but that quotation alone means his intellect is sharper (or perhaps his honesty greater) than that of several university vice-chancellors, the QAA and UUK. Watch him say so (more detail here).
Follow-up
Malaria in the news, yet again.
Today I had a not-very-friendly letter from Kate Birch
From: kate birch <katebhom@hotmail.com>

To: david colquhoun <d.colquhoun@ucl.ac.uk>

Subject: FW: Abha Light Products: Announcing NEW MalariX InfoSheet
As I said we keep on working. while you and your kangaroo committee put on a good show. Try to take this one to the cleaners and more and more people will begin to see the fools that you really are. I hope western medicine saved you for your health crisis but that maybe when you depart you will see the how your bitterness twisted things and made you suffer so.
You may recall the expose in which homeopaths in the UK were caught, in 2006, recommending their sugar pills for prevention of malaria, Lethal advice from homeopaths about malaria prevention
You may remember the saga of the taking down of Andy Lewis's classic post in 2007 on The Gentle Art of Homeopathic Killing
Despite all this, in 2008, the trendy Covent Garden company, Neal's Yard, tried marketing a homeopathic malaria "remedy". The quackometer's post Neal's Yard Remedies Offers Lethal Homeopathic Malaria Advice is a corker. Under pressure they withdrew the "remedy" (see Neal's Yard Ethical Bullshit Remedy . Eventually Neal's Yard was censured by the MHRA ( Neal's Yard Remedies 'rapped by medicines regulator' )
Then there was Kate Birch of the North American Society of Homeopaths, who advocates sugar pills for every disease under the sun (and follow-up to these claims). Memorably, she visited me in late 2007 and gave me a copy of her book. A visit from Kate Birch sitll comes top of the front page if you google 'kate birch homeopath'.
Attached to the unfriendly letter was a web page from Abha Light. It is an advertisement for a homeopathic malaria treatment. As far as I can see, it doesn't say anywhere what the "remedy" contains, but that doesn't matter if, as in most homeopathic products, it contains nothing whatsoever.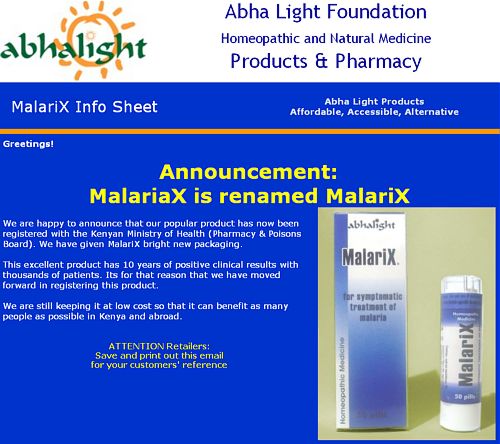 This document contains a direct claim that the treatment "has been successfully been used to prevent and treat malaria . . ."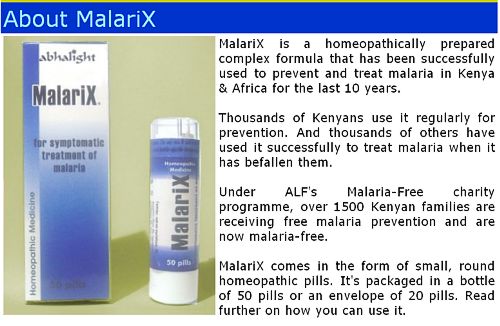 There follows more utter fantasy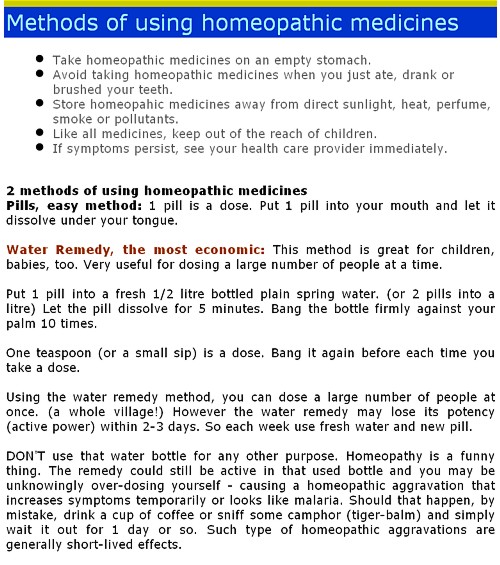 Nonsense like this would be a joke if it were not for the fact that they must be killing people.
Peter Fisher, clinical director the Royal London Homeopathic Hospital, said, of the original malaria scandal,
"I'm very angry about it because people are going to get malaria – there is absolutely no reason to think that homeopathy works to prevent malaria and you won't find that in any textbook or journal of homeopathy so people will get malaria, people may even die of malaria if they follow this advice"
Like most quasi-religious subjects, homeopathy is split into sects, at war with each other.
Follow-up