Trust Boots
Boots the Chemists (now Alliance Boots) is a very big business in the UK. There have 1,450 pharmacies in the UK and employ over 100,000 people.
I posted the item below a while ago, on the old Improbable Science page. I thought it deserved a bit more publicity, for the following reason. The quackometer has posted about Boots too,
I mentioned it during the debate with Felicity Lee at the British Pharmaceutical Conference (2007) (Ben Goldacre's interview with Felicity Lee is a gem). After the talk I was approached by two heavies. Well, two men in dark suits anyway. It turned out that one was from Boots and the other from Alliance Pharmacies, now merged to form Boots Alliance. They seemed rather bothered by the fact that I'd criticised Boots, but were not entirely unreasonable. They claimed to be on the scientific side and said they'd investigate the matter. I wrote to the Boots man on 10 September, but got no reply, After a reminder on 29 October, I got this.
Dear David


Thank you for your email and reminder. We have investigated the points you raised in your blog. I was informed that it was an old leaflet and has not been reprinted (to my knowledge). However on a point of principle, I have raised the wider issue of clinical validity in my department. This will take its course through to the commercial/buying team.
I wrote back to point out that is wasn't an old leaflet, but was still on their web site, labelled as 'education'.
Dear David


Thank you for pointing this out. I've had a quick look and it is an educational website looking at all aspects of medicine and therapy, including alternative medicine. It is not a direct sales message to the public. I hope this helps
So not much sign of concern for honesty there. Nothing has happened. Do they really care?
Corporate Social Responsibility
Boots web site makes a big point about Corporate Social Responsibility (CSR)
"TRUST BOOTS

As you may have noticed, that's the tagline which in 2005 we adopted as the sign-off to all our advertising. But it's much more than just a slogan. It's a concise statement of our entire corporate strategy. Our aim is to make Boots the world's best health and beauty retailer, and we're 100% clear that the unique trust in which we are held provides the key to achieving this. Which means, of course, that those two words are also the rationale for all our CSR activities. Everything we do that builds trust is good for our business; anything which could compromise it, a risk we can't afford to take."

Trust Boots to provide straight answers.
At one time. Boots were sufficiently ethical not to deal in homeopathy. But no longer.
When asked for evidence that the things they sell actually work, the Boots help desk is astonishingly coy, as related here (thanks to ebm-first.com for giving publicity to this report).
When Boots were asked about their 'Alternatives Hayfever Relief Tablets', the answer came, after some delay, "This is a homeopathic product, further information on homeopathic products is available from the Nelson company who make this
particular product for Boots. " This company has been making homeopathic products for many years and
may well be able to help you further. You may also find general
information about homeopathic medicines in reference books in the public
library". The email address that they gave me for Nelson's did not work, and writing to another Nelson's address produced no reply at all. Clearly any letter that contains the word "evidence" arouses suspicion and is simply deflected.
Dangerous advice from Boots: a small sting.
I have been into several Boots stores, sought out the most senior pharmacist that I can find, and asked them the following question. "I have a 5 year old son who has had diarrhoea for three days now. Please can you recommend a natural remedy". The response was interesting. In every case but one, the pharmacist reached for a copy of the Boots pamphlet on homeopathy, and thumbed through it, while desperately, but unsuccessfuly, trying to retain an air of professional authority. Then one or another homeopathic treatment from the booklet was recommended. In only one case out of six did the pharmacist even mention the right answer (GP and rehydration). One pharmacist, who turned out to have qualified in Germany, was very insistent that homeopathic treatment was inappropriate and that I should should start rehydration and take the child to the GP. The other five, including one who had an impressive-looking badge saying "consultant pharmacist", did not even mention rehydration.
Conclusion The education of the pharmacists was clearly insufficient for them to give reliable advice. On the contrary, their advice was downright dangerous.
Miseducation by Boots the chemists
Boots also run an "educational" web site for children, the 'Boots learning store'. Click on the section for 'pupils', and then '16+' and you find their education about alternative medicine (do their pharmacists do this course, I wonder?). The slide show that follows is an insult to human intelligence,

"'POTENCY' is the term used to describe the dilution of a remedy. The weaker the solution the more potent the medication."
Then follows a totally misleading slide about enzymes.
There is nothing wrong with the enzyme bit, but the analogy with homeopathy is baseless and misleading. Enzymes don't work when there are no molecules present.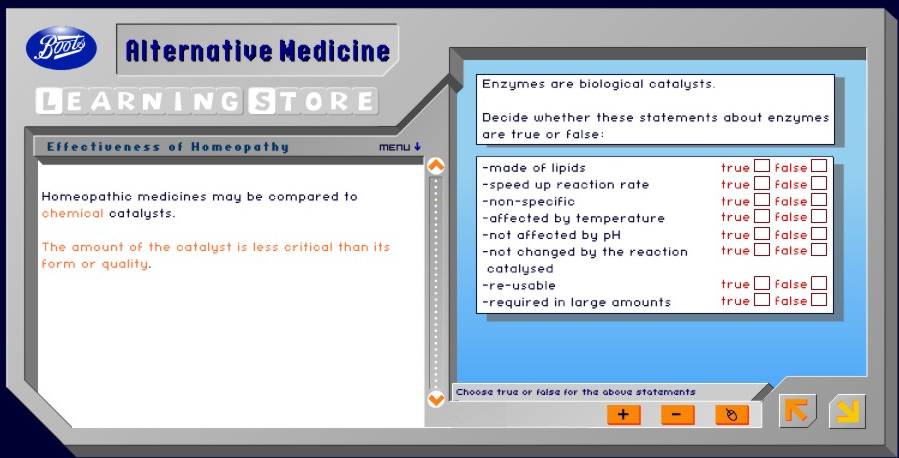 But in the next slide, enzymes and catalysts are forgotten anyway, This is how it works.
This meaningless mediaeval gobbledygook about 'vital forces' is being peddled as 'education' by the biggest retail pharmacy chain in the UK. What hope is there for kids?
But there is more. Now for the exam. If you click on the 'teacher' section you can download the students' notes and the test. The 'Student Notes' include the following direct claim that homeopathy can cure diseases.

Now take the test, Here is question 1, and the answer.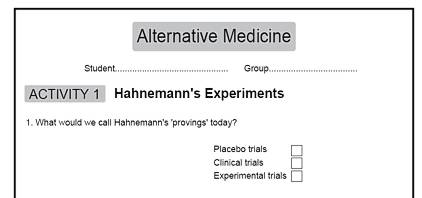 I suppose that if the educators at Boots classify Hahnemann's provings as a 'clinical trial' it goes a long way to explain the quality of their learning store, and the quality of the advice given by their pharmacists.
Boots Alternatives also sells a "snoring remedy"
The evidence for effectiveness of this herbal product is very dodgy, as described here earlier. This was an interesting saga that involved bad statistics, inappropriate controls and concealed financial interests. It eventually appeared on the BBC Radio 4 programme, You and Yours.
Postcript: "Nurses and pharmacists are to be given greater powers to prescribe drugs"
The foregoing history does not give one much confidence in the government's latest money-saving wheeze. [BBC]
"The latest measures mean nurses and pharmacists will be able to prescribe treatments for more serious conditions such as heart disease and diabetes – traditionally the domain of GPs.

Health Secretary Patricia Hewitt said: "Nurse and pharmacist independent prescribing is a huge step forward in improving patient accessibility to medicines from highly skilled and well trained staff."

And Chief Pharmaceutical Officer Dr Keith Ridge added: "For pharmacists, this is the dawn of a new era. It will help transform the public's perception of pharmacy and the services they deliver to patients."
This item was first posted on the original IMPROBABLE SCIENCE page.
30 Responses to Mis-education at Boots the Chemist