On Monday 5 Feb 2007, the BBC ran a piece entirled Alternative therapy put on trial. It started
"An experiment in allowing NHS patients easier access to alternative and complementary therapies has been launched by NI Secretary Peter Hain."
But it is NOT a trial, and NOT an experiment. Journalists seem incapable
of understanding the meaning of these words, and the result is irresponsible
reports (though one might detect a hint of irony in the picture that the
BBC used to illustrate acupuncture; right).
There is nothing new in the failure of journalists to distinguish good science from junk. We saw this very clearly in the case of the phoney fish oil "trials" going on in Durham (see Ben Goldacre's account of these).
In the case of Durham the effect is to use public money to produce bad evidencethat can be used to promote the dubious claims of a private company, in the case "Eye Q" pills made by Equazen.
In the case of Northern Ireland, £200,000 of taxpayers' money will be paid to a private company, GetwellUK, GPs in two areas will be able to refer patients for therapies like acupuncture, homeopathy and massage. Nothing there about seeing whether the treatments work! But Peter Hain seems to think he knows the answer already. He said
"I am certain, as a user of complementary medicine myself, that this has the potential to improve health substantially,"

He was "delighted that Northern Ireland is leading the way in integrating complementary and alternative therapies into the National Health Service"
Peter Hain used to be something of a hero to me. In the 70s his work for the Anti-apartheid movement was an inspiration (see his autobiographical notes). Now he has sunk to promoting junk science. Very sad.So what is Hain's attitude to alternative medicine, and how did he come to ally himself with the batty medical opinions of the Prince of Wales? On his web site he had a section on this topic. For some reason it has now been deleted, but thanks (again) to Google's cache, here is a quotation from a speech he made to The Prince of Wales Foundation for Integrated Health (12th October 2005).

"Our first baby, Sam, was born with eczema. Later, he developed asthma too. At first, we relied on conventional treatments. Various creams were prescribed, and a steroidal spray. But they didn't work. In fact, the spray seemed to make him more dependent.




Peter Hain now




Peter Hain in 1970
So instead, we turned to complementary medicine. And with the help of homeopathy and tight restrictions on the sort of food that our son could eat – avoiding in particular wheat and milk products- both ailments went away."
Hang on! You changed diet and gave homeopathic sugar pills. And that is a reason for the taxpayer to fund homeopathy? Any fool can see that this anecdote means that either (a) change in diet helped, (b) homeopathy helped, or (c) the eczema would have got better anyway. According to the National Eczema Society, "60-70% of children are virtually clear of the condition by the time they reach their mid-teens". They "grow out" of it. Evidently a First Class Honours Degree in Economics and Political Science is not enough to teach Peter Hain what constitutes evidence and what does not.
On the other hand, the in the same speech Peter Hain also said
"I would certainly never advocate the squandering of public money on so called treatments that have no proven benefits and which take money away from existing therapies that are shown to work."
But they have "no proven benefits". Just how inconsistent can you get?
Who are GetwellUK?
GetwellUK is a private company financed largely by taxpayers' money. And guess who supports it? The Prince of Quacks, once again exerting his unconstitutional influence on public policy. This is done partly through yet another of the Prince's lobby groups, "GP Associates" (report in BMJ). It seems that "GP Associates" was the forerunner of the recently-launched "Integrated Health Associates". The inaugural meeting of Integrated Health Associates" was sponsored by a drug company, Solgar Vitamins, a purveyor of unnecessary 'supplements' that is a trading arm of Boots Herbal Stores (no connection with that other well-known purveyor of misleading information, Boots the Chemists).
The Company says Support came from the government in February 2005 when the Parliamentary Under-Secretary for the Department of Health, Melanie Johnson, said in the House of Commons, "I thank the hon. Gentleman for notice of the question in relation to Get Well UK. We understand the benefit that many people get from complementary therapies. Local commissioning is a matter for local discretion, but we can see the benefits to local practices of an intermediary pulling together a range of services in the area for alternative medical treatments." [Hansard].
"We were delighted to be selected as one of the first investees of Futurebuilders – a Treasury fund established to assist capacity building in community organisations who deliver public sector services. The investment will help Get Well UK to serve more NHS patients."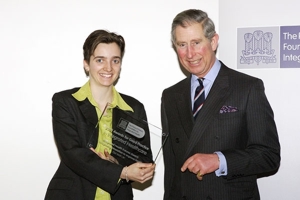 Prince of Wales with Boo Armstrong (Managing director of Getwell UK)
GetWellUK publish an evaluation of a "pilot project" in London, "Does it Work?", by Nicola Robinson (Head of the Centre for Complementary Healthcare & Integrated Medicine,Thames Valley University).
The report tells us nothing whatsoever about the effectiveness of the treatments, because the "pilot" study was not designed to do so. It is 40 pages of waffle.
The report also says "Get Well UK is a not for profit organisation established in response to a recommendation by the House of Lords in 2000 that complementary therapies should be made available through the NHS. This is a gross misrepresentation of the House of Lords report which said this should be done ONLY if the treatments worked better than placebo. And, with very few exceptions, that still remains to be shown.
For their efforts in setting back medicine to the 19th century, they have had money from UnLtd Ventures ("provides consultancy support to a number of outstanding social entrepreneurs" and taxpayers' money from Futurebuilders. And they are getting £200 000 of taxpayers' money from Paul Goggins, the Northern Ireland Health Secretary
At the end of the "pilot scheme" there will have been no proper assessment of the effectiveness of the treatments. We shall be none the wiser.
20 Responses to Peter Hain and GetwellUK: pseudoscience and privatisation in Northern Ireland