Sales of chondroitin and glucosamine are a worth billions of dollars, but the evidence that they work has never been good.
A new meta-analysis of clinical trials now shows that chondroitin on the symptoms of osteoarthritis is "minimal or nonexistent".
(Reichenbach S and others. Meta-analysis: Chondroitin for osteoarthritis of the knee or hip. Annals of Internal Medicine 146:580-590, 2007: download the paper]
It is the same old story. Early trials were small and badly-designed. They seemed to show some effect, which was wildly exaggerated by the supplement hucksters to push sales. Eventually somebody does the trials properly, and it is found that there is little or no benefit.
Look at Figure 6 from the paper (below). It shows the size of the beneficial effect plotted against the year of publication. The black circles represent trials with a large number (over 200) patients, the white circles are smaller (and mostly badly-designed) trials. As soon as the trials are done properly, the alleged benefits vanish.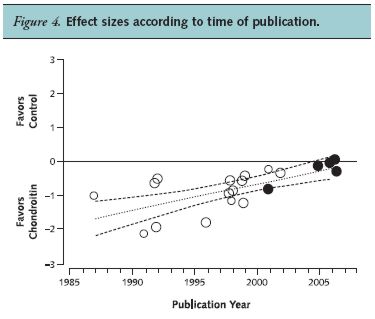 The authors conclude "Use of chondroitin in routine clinical practice should therefore be discouraged."
Analyses by ConsumerLab.com has reported that 8 out of 20 products said to contain chondroitin failed its quality tests, with four containing between 0% and 8% of amount stated on the label.
Glucosamine shows a similar trend. Glucosamine is a synthetic chemical, but it is not a licensed medicine in the UK. It is marketed as a "food supplement", not as a drug. It is not approved for precription on the NHS. The latest Cochrane review does not entirely rule out some benefit, but again the effects seem to get smaller as the trials get better.
Thanks to Quackwatch for the alert about the Reichenbach paper.
6 Responses to Chondroitin doesn't work