The British Medical Journal ran an article on "doctor bloggers" last week.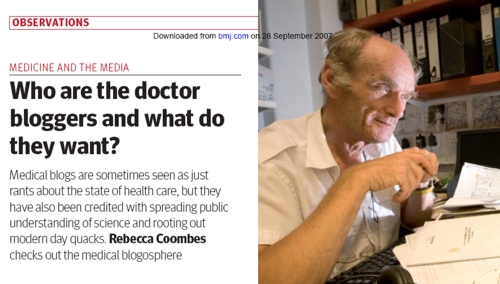 Photo ©Mark Thomas
The BMJ put the article behind a paywall, but you can download a reprint here.
Oops, no you can't. The BMJ have dictated that their piece on bloggers should not be available to bloggers. If you want a copy, email me. The question of availability is more interesting than the article itself anyway. It is by a journalist, Rebecca Coombes. Contrary to what you might think from reading it, I have never met her. She asked for opinions by email, so I spent a while writing something out, which she cut and pasted into an article (and I spent another hour with their photographer, Mark Thomas, who took a lot of pictures). But I can't use either the article or the photos freely. I don't even get paid. The commercial journals, as always, do pretty well out of exploiting academics.
The picture at the top should have been Ben Goldacre, whose badscience.net is now number two in the world. That picture prompted the child of a friend to ask if I was doing an impression of a velocirapter, I guess that is one better that gimpyblog's perception of me as being a dead ringer for some computer game thug.

So here is another one (possibly no less scary).

Photo ©Mark Thomas

By way of compensation, here is a picture of Goldacre.
| | |
| --- | --- |
| Goldacre | Science writer award 2005 |


Goldacre said
". . . blogs are popular because they are more honest than other media. It is hard to get away with misrepresenting stuff when the original source is but a click away. I see it as a way of making conversation public. What is good about it is you get unmediated expertise."

"In the press it's hard to know what is true. But with blogs people can link directly to the original source: this never happens in a newspaper."


DC said
"I think they [blogs] have really had some success in spreading public understanding of science and even in influencing public affairs (firstly with the merger [of Imperial and UCL] and more recently with withdrawal of NHS funding for homoeopathy). My own research is on the stochastic properties of single ion channels. I love it, but it is specialist and of zero interest to the public. So it's fun to talk about things that do interest the public. It's also fun to be able to influence politicians and vice chancellors, though that is rather harder."