We are all interested in the relationship between our health and what we eat. What a pity that so little is known about it.


The problem, of course, is that it almost impossible to do randomised experiments, and quite impossible in most cases to make the experiments blind. Without randomisation there is no way to be sure about causality, and causality is all that matters. All you can do is measure "associations" and that sort of information is simply unreliable.
For example, if you simply observe that people who eat a lot of dark green vegetables are healthier than those who don't, there is no reliable way to tell whether their health is
caused
by eating the vegetables. It is just as likely that, for example, rich people are healthier because the are rich, not because they eat more vegetables. The answer, though usually not known, is the only thing that matters for offering advice. The crucial problem is that, in the latter case, it will do no good at all to bully a poor person to eat more vegetables: their health will not improve because their bad health was caused by poverty, not by lack of vegetables.
It is precisely this difficulty that results in the constantly conflicting advice that we are given about diet. I can't think of any single thing that does more harm to real science than the fact that one week we are told that red wine is bad and the next week we are told that red wine is good. No doubt both statements were based on a naive observational studies, the significance of which is vastly exaggerated by its authors (and often by their university's media department too).
The first job of a scientist is to be able to say "I don't know". Under pressure from the government's audit culture, and the HR apparatchiks who embrace it so eagerly, all that is forgotten only too easily. he lack of certain answers about diet leaves a vacuum into which not only naive scientists are sucked, but also it is a gift for hucksters who are eager to sell you expensive 'supplements', whether or not you need them. As always, it is a case of
caveat emptor
.
The questions are important to us all, so when
sciencepunk pointed out to me a chance to check my own diet, I went for it. I try to keep pretty close to the current guidelines. Unreliable though they may be, they are the best we've got. So I went to the
Nutriprofile site
, and filled in the questionnaire, quite honestly (apart from saying I was 37 -I wish).
I eat plenty of fruit and oily fish every week so I though I'd do quite well. No such luck. I ended up being told I was deficient in iron and selenium, and at "risk of deficiency" in vitamin B5 (pantothenic acid), folate, vitamins D, E, K, magnesium, copper and potassium.
Uhuh, I must really be ill and I'd never realised it.
At the bottom of this analysis of all my deficiencies comes the sales pitch, "your personalised supplement recommendations"."Strongly recommended" for me is Gold Standard A-Z Multivitamins (just click on the "buy now" button). I'm also "recommended" to buy Omega 3 1000mg capsules.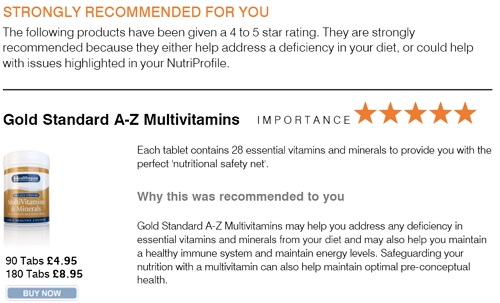 And then I'm invited to consider a whole list of other supplements
"The following products have been given a 1 star rating. This usually means they have been recommended to meet a specific issue raised by your NutriProfile. You should consider these supplements where you feel they could help if the issue is particularly important to you"
Here is the list.
Selenium + A,C,E,
Echinacea ("may help you maintain a healthy immune system").
OptiFive (antioxidant supplement)
Co-enzyme Q10 ("may help you maintain energy levels" -look out for a forthcoming post on this scam)
Memo Plus ("may help you maintain brain health and cognitive function"),
Panax Ginseng ("may help you to maintain energy levels"
Psyllium Husks
Magnesium
Vitamin D
Ginkgo Biloba
Probiotic
As always, there are lots of fantasies about "strengthening the immune system". And the great antioxidant myth is exploited to the full.
Puzzled by this result, I got my wife to do the questionnaire, and also a particularly healthy and diet conscious colleague.
My wife was recommended to buy Omega 3 1000mg, Osteo Plus Bone health supplement (despite telling them that she already took calcium) and 50 Plus Multivitamins ("may help you address any deficiency in essential vitamins and minerals and may also help you maintain a healthy immune system and maintain energy levels. "). And then it may not.
My spectacularly healthy and diet conscious colleague got a strongly recommended (maximum 5 stars like me) for Gold Standard A-Z Multivitamins and for Omega 3 1000mg, as well as "recommended" for plant sterols, garlic and Opti-Omega 3.
Either I'm a lot unhealthier than I thought, or Nutriprofile is a sales scam.
You decide.
Is there anyone at all who does NOT need supplements?
By this stage I was getting suspicious so I sent the link to a professional dietitian, Catherine Collins of St George's Hospital London. Unlike the people running the site, she has no financial interest in selling you pills. I asked her to fill in the questionnaire as a hypothetical person who had an ideal diet, based on current nutritional knowledge . Surely such a paragon of dietetic virtue would not need to buy pills too?
Don't you believe it. At least she didn't get any 5 star "strongly recommended", but she did get "Recommended for you" Opti-Omega 3 (3.5 stars) and Gold Standard A-Z Multivitamins (3 stars). Plus, of course the whole list of "you may like to consider", same as everyone seems to get.
So I asked Collins how it came about that everyone seems to end up being recommended to buy pills after going through all the questions. Here is what she said.
"Apparently my ratio of omega3:6 is unbalanced. not if you ate the amount of oily fish i'd put in, and used 'vegetable' oil which is mono-rich rapeseed. I think they've used the sunflower analysis to generate this distortion.

I disagree with absolute amounts of omega-3 per day. The amount I recorded meant I would easily exceed a daily intake of 500 mg of the important omega-3 fats, EPA and DHA

Low Vitamin B6 and folate – totally incorrect recommendation based on my entries

Potassium – the survey indicated concern that diet provided 200mg per day less potassium than recommended. This was incorrect, the flaw I assume being due to inability of the questionnaire to handle portion sizes. Should I have been worried even if this had been accurate? Of course not. Potassium is widespread across food groups, the most concentrated being fruit and vegetables. It is an essential nutrient, but its requirements are relative to sodium ('salt') intake.

Their omega-3 fat recommendation is double the FSA/ SACN suggestion of 450mg/d – they actually quote this in their supporting information but then say 'experts say we need double' [their experts are below]. This is highly misleading. We need a combination of omega-3 fats in our diet for health – not only the 'fishy' EPA and DHA, but also the readily available ALA, found in vegetable (rapeseed) oil

Omega 3:6 ratio -completely wrong based on the foods entered. Demonstrates a major flaws in the assumptions made about type and amount of foods in the diet.

Water recommendations. Totally inaccurate information based on the myth expounded by the health food industry and its workers that caffeine is a diuretic. This been extensively researched and proven to be not true ( Grandjeans excellent work). The only way in which a caffeinated beverage is 'diuretic' to someone who takes caffeinated drinks regularly is in the volume of drink consumed.
She concludes
""This appears an elaborate pill-pushing exercise. Superficially reassuring in promoting the recognised FSA (Food Standards Agency] line – but then giving undue – and unjustifiable – support to the anecdotal 'experts recommend' to create what will be a powerful sell"
The comment about water intake stems from this bit of Collins' Nutriprofile:
"Caffeinated drinks, fizzy drinks and alcohol do not count because, whilst they contain water, they are mild diuretics, ie. they boost urine output and therefore should only form a small part of your total fluid intake."
This myth (aka nutribollocks) is quite contrary to what the real research (going back to 1928) says, Check "Laying the caffeine myth to rest" for the real story..
I'm told that Healthspan are now sending out the paper questionnaire in newspapers. Presumably this is to ensure that the poor, the elderly etc and others who that aren't computer literate don't miss their buying opportunity. How considerate of them.
Nutriprofile's expert team
Who is the expert team behind Nutriprofile? Here they are.
Yes, that is
the Ann Walker
, the one who recently
wasted so much time
for the Provost of UCL. Luckily that little episode
worked out fine
in the end. At the last check she worked one tenth of her time for the University of Reading, and ran a herbal practice from her house. It is her recommendation of red clover as a "
blood cleanser
" that is responsible for the picture of clover in the header of this blog.
What do the real experts say about supplements?
The story you get is quite different when you ask somebody who is not trying to sell you something
The Food Standards Agency says
"Most people should be able to get all the nutrients they need by eating a varied and balanced diet. But if you choose to take supplements, it's important to know that taking too much or taking them for too long can cause harmful effects."
Harvard Men's Health Watch says

"Harvard Men's Health Watch suggests that the average man give up the multivitamin, at least until scientists solve the puzzle of folic acid and cancer."
"If you eat a balanced diet that includes food from all the major groups, there should be no need to take vitamin supplements. The food you eat will provide you with all the vitamins and minerals you need. "
I guess we should not be surprised at the direct contradiction between this advice and that of the Nutriprofile questionnaire. After all, Nutriprofile was developed by a company, Healthspan, that is devoted to selling "supplements" with all the dubious claims and customer testimonials associated with the alternative health industry.
But this is what always happens when big business controls science.
Postscript
Oddly enough, Ann Walker's experience seems to be much the same as ours. In an interview on the Healthspan site we read this.
Q: Which nutritional supplements do you choose to take?

A: I regularly take a multivitamin, vitamins C and E, fish oil, and a calcium and magnesium combination. I also take vitamin D during the winter and some herbs as and when they are needed.

Even if I have improved my diet, each time I complete the NutriProfile questionnaire my requirement for a multivitamin, calcium and magnesium, and a fish oil supplement are always thrown up.
Didn't it occur to her to wonder why?
The sales pitch was followed up on 27 March the email arrived from Healthspan "Healthspan are offering you £5 to spend towards your recommended supplements". One can't say whether this offer goes to people who were not recommended supplements, because so far no such person has been found.
20 Responses to Nutriprofile: useful aid or sales scam?