In a wonderful demonstration of common sense, the BBC has removed all the alternative medicine pages from BBC Health web site. I expect that it was helped in making that decision by the many complaints it had received about statements on these pages that were simply not true, The existence of these pages was just not compatible with the BBC's commitment to accuracy.
| | |
| --- | --- |
| Needless to say, this decision was greeted with howls of rage from the alternative world. Some wrote to the BBC to complain (and I wrote to congratulate them). Until today I haven't been able to find any BBC statement on the matter. This one appeared on Healthypages, one of the zaniest sites on the net. Nothing is too barmy for them. This is the picture they used to show how wrong the BBC is | Picture from Healthypages |
A recent offer on Healthypages, not to be missed, comes from "Innerjoy".
"I do a range of spiritual healing practices and can offer an energetic healing session including techniques from the Order of Melchizedek and about 10 forms of Reiki in exchange for a Theta Healing session."
And just in case you don't know about the Melchidezek method, here is a picture of a poster in the window of my local "health food" shop.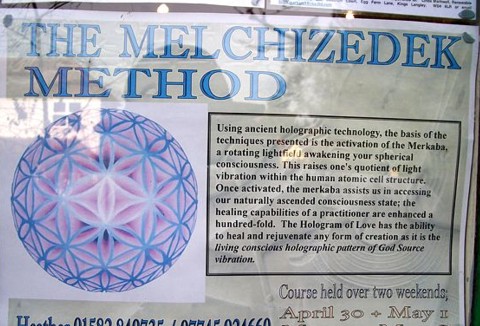 The explanation says
"Using ancient holographic technology, the basis of the techniques presented is the activation of the Merkaba, a rotating lightfield awakening your spherical consciousness. This raises one's quotient of light vibration within the human atomic cell structure. Once activated. the merkaba assists us in accessing our naturally ascended consciousness state: the healing capabilities are enhanced a hundred-fold. The Hologram of Love has the ability to heal and rejuvenate any form of creation as it is the living conscious holographic pattern of God Source vibration."
There, and I'll bet you thought holography was a recent invention. As an example of sciencey-sounding words used in random order, this one takes a bit of beating. It really is an insult to human intellect.
Anyway, back to the BBC. This is their diplomatic response (what they should have said really was, 'those pages were nonsense so we removed them').
BBC issued the following statement, dated 22 Feb 2008:
Complaint
We received complaints about the Complementary section of the BBC Health website being disbanded

The BBC's response

The decision to remove the complementary medicine area of the health website was taken as part of a wider review of all the health content in order to enable the BBC to focus its efforts on creating new and exciting content.

In order to release resources for this redevelopment work, we're reviewing existing content from an editorial and value-for-money perspective.The complementary health section was incomplete and, therefore, not of a satisfactory editorial standard.

It also represented a small proportion of traffic to the site but was disproportionately time-consuming.Therefore, the decision to take it down was based on a combination of factors: how much work it needed to maintain to a high editorial standard, how much this cost and how popular it was with site users.We have already removed other sections of the health site and plan to reduce or remove others.

We appreciate people are disappointed this area of the site has been removed and apologise if the decision has appeared abrupt to site users or inconvenienced other sites linking to BBC Health.

The BBC will continue to cover complementary health in other areas of its output, such as TV, radio and news programmes, and may reassess its complementary health content in future.
The news of the BBC's return to honesty was greeted with consternation in CAM magazine too. The March 2008 issue notes that there used to be over 40 pages of alternative medicine on the BBC, now all gone, They quote an email from 'Mardi', thus,
" . . . However the site has in recent months been targetted by the self-appointed 'quackbusters' ( . . . such as David Colquhoun), who sent a deluge of letters and emails claiming that complementary therapies such as homeopathy and cranial osteopathy were 'unscientific' and should be removed."
Well thanks for the credit, but sorry, there was no deluge. I wrote no more than a couple of times myself, and I suspect that a handful of friends did the same. I didn't even ask them to remove the whole lot, merely to correct particular statements that were not true,
'Mardi' goes on
"Rather than taking a reasoned view and considering the evidence from good research studies on complementary medicine, these individuals seem simply hell bent on trying to stamp out complementary medicine"
That really is a bit rich. Suddenly the alternative industry are invoking evidence from good research studies. It is precisely the other way round. It is because that evidence is almost all negative that the BBC have decided to remove their coverage.
Of course it may have helped that the BBC had to spend a lot of time defending itself against criticism of the BBC 2 TV series on Alternative Medicine from February 2006. After initially rejecting complaints, an appeal to the highest level, the Board of Trustees, two of the most serious complaints were upheld against these programmes.
7 Responses to BBC sees the light: removes Alternative Medicine Pages