It's only a matter of weeks since a lot of young scientists produced a rather fine pamphlet pointing out that the "detox" industry is simply fraud. They concluded
"There is little or no proof that these products work, except to part people from their cash."
With impeccable timing, Duchy Originals has just launched a "detox" product.
Duchy Originals is a company that was launched in 1990 by the Prince of Wales, Up to now, it has limited itself to selling overpriced and not particularly healthy stuff like Chocolate Butterscotch Biscuits and Sandringham Strawberry Preserve. Pretty yummy if you can afford them.
The move of HRH into herbal concoctions was first noted in the blogosphere (as usual) in December, by Quackometer. It was reported recently in the Daily Telegraph (23rd January).
Expect a media storm.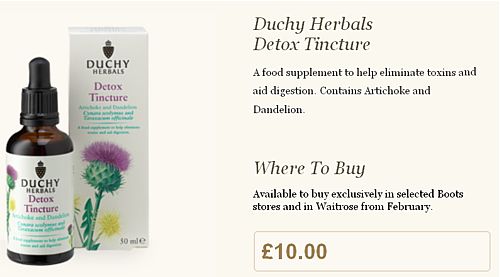 Aha so it is a "food supplement" not a drug. Perhaps Duchy Originals have not noticed that there are now rather strict regulations about making health claims for foods?
And guess who's selling it? Yes our old friend, for which no deception is too gross, Boots the Chemists.
That's £10 for 50 ml. Or £200 per litre.
And what's in it?
Problem 1. The word detox has no agreed meaning. It is a marketing word, designed to separate the gullible from their money
Problem 2. There isn't the slightest reason to think that either artichoke or dandelion will help with anything at all. Neither appears at all in the Cochrane reviews. So let's check two sources that are both compiled by CAM sympathisers (just so I can't be accused of prejudice).
National Electronic Library of CAM (NELCAM) reveals nothing useful.
There is no good evidence that artichoke leaf extract works for lowering cholesterol. No other indications are mentioned.
Dandelion doesn't get any mention at all.
The US National Center for Complementary and Alternative Medicine (NCCAM) has spent almost $1 billion on testing alternative treatments So far they have produced no good new remedies (see also Integrative baloney @ Yale).They publish a database of knowledge about herbs. This is what they say.
Dandelion. There is no compelling scientific evidence for using dandelion as a treatment for any medical condition.
Artichoke isn't even mentioned anywhere.
If "detox" is meant to be a euphemism for hangover cure, then look at the review by Pittler et al (2005), 'Interventions for preventing or treating alcohol hangover: systematic review of randomised controlled trials'.
"Conclusion No compelling evidence exists to suggest that any conventional or complementary intervention is effective for preventing or treating alcohol hangover. The most effective way to avoid the symptoms of alcohol induced hangover is to practise abstinence or moderation."
Problem 3. The claim that the product is "cleansing and purifying" is either meaningless or false. Insofar as it is meaningless, it is marketing jargon that is designed to deceive. The claim that it supports "the body's natural elimination and detoxification processes, and helps maintain healthy digestion" is baseless. It is a false health claim that, prima facie, is contrary to the Unfair Trading law, and/or European regulation on nutrition and health claims made on food, ref 1924/2006 , and which therefore should result in prosecution.
Two more Duchy herbals
Duchy are selling also Echinacea and Hypericum (St John's Wort).
The evidence that Echinacea helps with colds is, to put it mildly, very marginal.
Of St John's Wort, NCCAM says
"There is some scientific evidence that St. John's wort is useful for treating mild to moderate depression. However, two large studies, one sponsored by NCCAM, showed that the herb was no more effective than placebo in treating major depression of moderate severity."
As well as having dubious effectiveness it is well known that St John's Wort can interact with many other drugs, a hazard that is not mentioned by Duchy Originals
These two are slightly different because they appear to have the blessing of the MHRA.
The behaviour of the MHRA in ignoring the little question of whether the treatment works or not has been condemned widely. But at least the MHRA are quite explicit. This is what the MHRA says of St. John's Wort (my emphasis).
"This registration is based exclusively upon evidence of traditional use of Hypericum perforatum L. as a herbal medicine and not upon data generated from clinical trials.. There is no requirement under the Traditional Herbal Registration scheme to prove scientifically that the product works."
But that bit about "There is no requirement under the Traditional Herbal Registration scheme to prove scientifically that the product works" does not appear in the Duchy Originals advertisement. On the contrary, this is what they say.

Yes, they claim that "the two tinctures [echinacea and hypericum] -in terms of their safety, quality and efficacy -by the UK regulatory authorities"
That is simply not true.
On the contrary, anyone without specialist knowledge would interpret bits like these as claims that there will be a health benefit.

That is claim to benefit your health. So are these.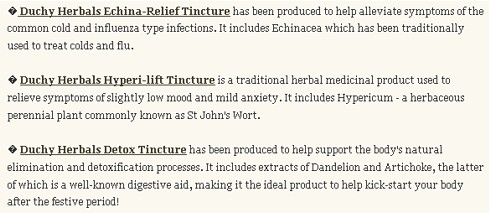 Who makes them?

Michael McIntyre is certainly a high profile herbalist.
He was founder president of the European Herbal Practitioners Association and a trustee of the Prince of Wales's Foundation for Integrated Medicine. It seems that he a great believer in the myth of "detox", judging by his appearance on the Firefly tonics web site. They will sell you
"Natural healthy energy" in a drink

That's what we wanted…

A Wake up for that drowsy afternoon… Detox for a dodgy Friday morning…

Sharpen up for that interminable meeting.

We left the herbs to our wonderful herbalists.
Their De-tox contains lemon, lime, ginger, sarsparilla and angelica. I expect it tastes nice. All the rest is pure marketing rubbish. It does not speak very well of Michael McIntyre that he should lend his name to such promotions.
Nelsons, who actually make the stuff, is better known as a big player in the great homeopathic fraud business. They will sell you 30C pills of common salt at £4.60 for 84. Their main health-giving virtue is that they're salt free.
If you want to know what use they are, you are referred here, where it is claimed that it is "used to treat watery colds, headaches, anaemia, constipation, and backache". Needless to say there isn't a smidgeon of reason to believe it does the slightest good for them.
And remember what Nelson's advisor at their London pharmacy told BBC TV while recommending sugar pills to prevent malaria?
"They make it so your energy doesn't have a malaria-shaped hole in it so the malarial mosquitos won't come along and fill that in."
You couldn't make it up.
The Prince of Wales has some sensible things to say in other areas, such as the world's over-reliance on fossil fuels. Even his ideas about medicine are, no doubt, well-intentioned. It does seem a shame that he just can't get the hang of the need for evidence. Wishful thinking just isn't enough.
Follow-up
Some more interesting reading about the Prince of Wales.
Michael Baum's An open letter to the Prince of Wales: with respect, your highness, you've got it wrong"
Gerald Weissman's essay Homeopathy: Holmes, Hogwarts, and the Prince of Wales.
Channel 4 TV documentary HRH "meddling in politics"
11 March 2009 The MHRA have censured Duchy Originals for the claims made for these products. and in May 2009, two complaints to the Advertising Standards Authority were upheld.
18 Responses to The Prince of Wales joins the "Detox" fraud