BSc courses in homeopathy are closing. Is it a victory for campaigners, or just the end of the Blair/Bush era?
The Guardian carries a nice article by Anthea Lipsett, The Opposite of Science (or download pdf of print version).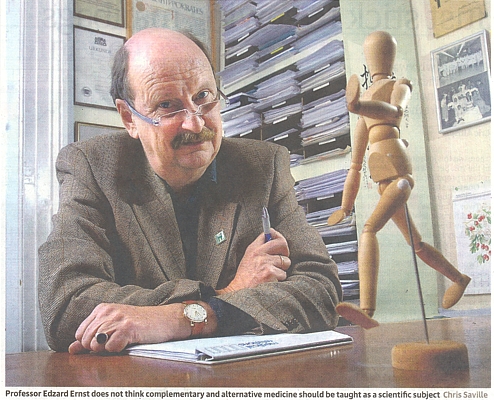 Dr Peter Davies, dean of Westminster's school of integrated health, says
"he welcomes the debate but it isn't as open as he would like."
Well you can say that again. The University of Westminster has refused to send me anything much, and has used flimsy excuses to avoid complying with the Freedom of Information Act. Nevertheless a great deal has leaked out. Not just amethysts emit hig Yin energy, but a whole lot more (watch this space). Given what is already in the public, arena, how can they possibly say things like this?
"Those teaching the courses insist they are academically rigorous and scientific."
There's another remark from an unlikely source that I can agree with too. George Lewith, of Southampton University and Upper Harley Street, is quoted as saying
"The quality of degrees is an open joke . . . "
Whatever next? [Note: Lewith told me later that he was quoted out of context by the Guardian, so it seems that after all he is happy with the courses. So sadly I have to withdraw the credit that I was giving him].
The article emphasises nicely the view that universities that run BSc degrees in things that are fundamentally the opposite of science are deceiving young people and corrupting science itself.
Professor Petts of Westminster seems to think that the problem can be solved by putting more science into the courses The rest of the world realises that as soon as you apply science to homeopathy or naturopathy, the whole subject vanishes in a puff of smoke, I fear that Professor Petts will have to do better,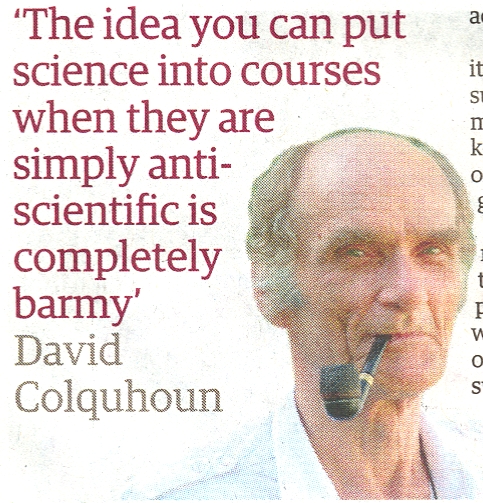 "He [DC] believes the climate is starting to change after the Bush/Blair era where people believed in things because they wished they were true. "This has been going on for a generation and it's about time for a swing in the other direction," he suggests."
Well, one can always hope.
Follow-up
10 Responses to The opposite of science