The proposals made here are intended to improve postgraduate education with little harm to undergraduate education and no extra cost. It is not intended to get the government off the hook when it comes to funding of either teaching or research. The recent Royal Society report, The Scientific Century: securing our future prosperity, makes it very clear that research funding in the UK is already low.
| | |
| --- | --- |
| There is a good summary of the financial case at Science is Vital. Even before cuts the UK invested only 1.8% of its GDP in R&D in 2007. This is short of the UK's own target of 2.5%, and further behind the EU target of 3.8%. If you haven't already, sign their petition. | |
The article reproduced here is the original 800-word version of proposals made already on this blog.
It was published today in The Times, in a 500 word version that was skilfully shortened by Times journalist, Robbie Millen [download web version, or print version] . It made the Thunderer column (page 22) It was written before I had seen the Browne report on University finance, Comments on that will be added in the follow-up.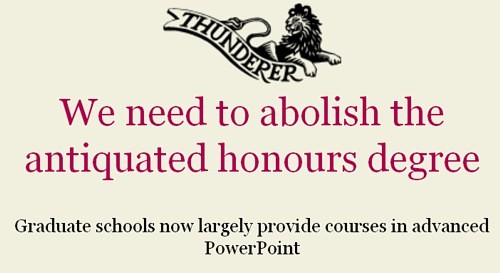 Honours degrees have had their day
Universities have problems. The competition for research money is already intense in the extreme, and many excellent research applications get turned down. Vice-chancellors want students to pay huge fees. A financial crisis looms. It is time for a rethink the entire university system.
The traditional honours degree has had its day
The UK's honours degree system is a relic left over from the time when a tiny fraction of the population went to university. The aim is now for half the population to get some sort of higher education, and the old system doesn't work. It tries to get children from school to the level where they can start research in only three years. Even in its heyday it often failed to do that. Now teachers in vastly bigger third year classes try to teach quite advanced stuff to students most of whom have long since decided that they don't want to do research. It's just as well they decided that, because academia doesn't have jobs for half the population.
The research funding system is strained to breaking point
Vince Cable's cockup over the amount of money spent on mediocre science has long since been corrected But despite the intense competition for research funds, anyone who listens to Radio 4's Today Programme (I do), or reads the Daily Mail (I don't) might get the impression that some pretty trivial research gets published. One reason for this is that science reporters always prefer the simple and trivial to basic research. But another reason is that the system places enormous pressure to publish vast amounts. Quantity matters more than quality. The Research Assessment Exercise determines the funds that a university gets from government, and although started with the best of intentions, it has done more to reduce the quality of research than any other single change in the last 20 years.
Promotion in universities is dependent on publication, and so is university funding. Since 1992, when John Major's government converted polytechnics into universities at a stroke of the pen, their staff too have been expected to publish to be promoted. We need a lot of teachers to cope with 50 percent of the population, but there just aren't enough good researchers to go round. It is a truth universally acknowledged that advanced teaching should be done by people who are themselves doing research, but the numbers don't add up. So what can be done?
Another way to organise higher education
The first essential is to abolish the honours degree (cue howls of outrage from the deeply conservative vice-chancellors). It is simply too specialist for an age of mass education. Rather, there should be more general first degrees. They should still, by and large, aim to produce critical thinking rather than being vocational, but cover a wider range of subjects to a lower level,
If this were done, the necessity to have the first degrees taught by active researchers would decrease. Many of them could be taught in 'teaching only' institutions. They could do it more cheaply too, if their staff were not under pressure to publish papers constantly. It would take fewer people and less space. It isn't ideal, but I see no other way to increase the numbers in higher education without spending much more than we do now.
After the first degree, that modest fraction of students who had the ability and desire to get more specialist knowledge would go to graduate school. There they could be taught at a rather higher level than the present third year of an honours degree, and be prepared for research, if that is what they wanted to do.
Hang on though, isn't it the case that UK Universities already have graduate schools? Yes, but they are largely offshoots of HR that provide courses in advanced powerpoint and life-style psychobabble. Vast amounts of money have been wasted in the "Roberts Agenda". What we need is real graduate schools that teach advanced stuff. Education not training.
There is another problem. It is very hard now for anyone in research to find time to think about their subject. Most of their time is occupied writing grant applications (with 15% chance of success), churning out trivial papers and teaching. If much of the lower level undergraduate teaching were to be done, more cheaply, in places that did little or no research, the saving would, with luck, fund the extra year for the minority who go on the graduate school. The research intensive universities would do less undergraduate teaching. Their staff would have more time to do research and teach the graduate school. They would turn into something more like Institutes of Advanced Studies.
A lot of details would have to be worked out, and it isn't ideal, just the least bad solution I can think of. It has not escaped my attention that this system has some resemblance to that in the USA. The USA does rather well in science. Perhaps we should try it.
What we should not copy is the high fees charged in the USA. Education is a public good, and the costs should be met by people paying according to their means. I think that is called income tax.
Follow-up
The Browne report is a retrogressive disaster
As I understand it. the recommendations not only remove the cap on fees but also make it more expensive for most people to repay loans. It is the most retrogressive thing that has happened in education in my lifetime. According to an analysis cited in the Guardian
"Graduates earning between £35,000 and £60,000 a year are likely to have to pay back more in fees and interest than those earning more than £100,000"
That is far to the right of anything that Mrs Thatcher contemplated. If it were to be adopted, it would be a national disgrace.
The Lib Dems are our only hope to stop the recommendations being implemented. They must hold the line.
15 October 2010.
It is getting clearer now. Numbers from the Social Market Foundation (SMF) were quoted in the Financial Times as showing that the rich pay less than the poor for their degrees. At first the Institute of Fiscal Studies (IFS) seemed to disagree. Now the IFS has rethought the analysis and there is little difference between the predictions of the liberal (SMF) and conservative predictions, There is, unsurprisingly, some difference in the spin. ISF says that you only pay less in the top two deciles of lifetime income, ie. the top 20 percent. That's not quite the point though.
Both analyses agree that anyone above the median income pays back much the same (until it decreases for the top 20 percent). In other words, unless you earn less than around £22k. there is little or no progressive element whatsoever.
It is an ill thought-out disaster.
31 Responses to How to save British science and improve education