The mainstream media eventually catch up with bloggers. BBC1 TV (Wales) produced an excellent TV programme that exposed the enormous degree validation scam run by the University of Wales. It also exposed the uselessness of the Quality Assurance Agency (QAA). Both these things have been written about repeatedly here for some years. It was good to see them getting wider publicity.
Watch the video of the programme (Part 1, and Part 2) "Week In Week Out – University Challenged." "The programme examines how pop stars and evangelical Christians are running colleges offering courses validated by the University of Wales." (I make a brief appearance, talking about validation of degrees in Chinese Medicine).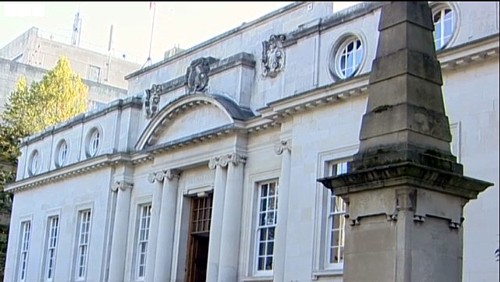 In October 2008 I posted Another worthless validation: the University of Wales and nutritional therapy. With the help of the Freedom of Information Act, it was possible to reveal the mind-boggling incompetence of the validation process used by the University of Wales.
McTimoney College of Chiropractic
The Chiropractic "degrees" from the McTimoney College of Chiropractic are also validated by the University of Wales by an equally incompetent, or perhaps I should say bogus, procedure. More details can be found at The McTimoney Chiropractic Association would seem to believe that chiropractic is "bogus", and in a later post, Not much Freedom of Information at University of Wales, University of Kingston, Robert Gordon University or Napier University.
Andy Lewis has also written about chiropractic in The University of Wales is Responsible for Enabling Bogus* Chiropractic Claims to be Made.
Sadly the BBC programme did not have much to say about these domestic courses, but otherwise it was excoriating. In particular it had extensive interviews with Nigel Palastanga, whose astonishing admission that courses were validated withour seeing what was taught on them was revealed here two years ago. After that revelation, the vice-chancellor of UoW, Marc Clement BSc PhD CEng CPhys FIET FInstP, promoted Palastanga to be pro-vice-chancellor in charge of Learning, Teaching and Enhancement (I know, you couldn't make it up).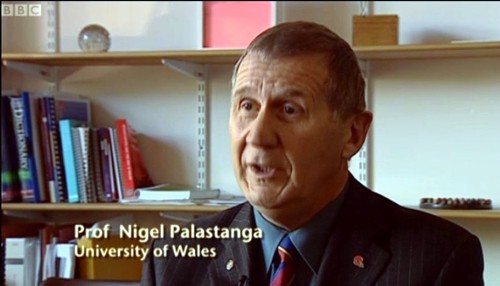 In the documentary Palastanga said
"It's a major business. We earn a considerable amount of money."
That was obvious two years ago, but it's good to hear it from the horse's mouth.
After a section that revealed a bit about what goes on at two very fundamentalist bible colleges which gave University of Wales degrees, A. C. Grayling commented thus.
"They are there to train advocates for the biblical message and that is absolutely not, by a very very long chalk, what a university should be doing.. . . A respectable British Higher education institution like the University of Wales shouldn't be touching them with a bargepole."
Undaunted, Palastanga responded
"That's his opinion. I would say they are validated to the highest standards. They match what are called QAA benchmark. We have serious academics looking at them, and their academic standards are established at the very highest level."
And if you believe that, you will truly believe anything.
You can download here one of many moderator's reports obtained under the Freedom of Information Act. This one is for the BSc (Hons) Chiropractic. It is entirely typical of theuncritical boxticking approach to validation, Nowhere does it say "subluxation is nonsense", though even the GCC now admit that.
Traditional Chinese Medicine
The University of Wales validates several courses in what almost everyone but them classifies as quackery. As well as chiropractic and "nutritional therapy", there is herbalism. For example a course at a college in Barcelona issues University of Wales degrees in Traditional Chinese medicine, a subject that is a menace to public health.. I was asked to comment on the course, and on a bag of herbs that the presenter had been sold to treat depression.
Radix Bupleuri Chinensis
Radix Angelicae Sinensis
Radix Paeoniae Lactiflorae
Rhizoma Atractylodis Macrocephalae
Sclerotium Poriae Cocos
Radix Glycyrrhizae Uralensis
Cortex Moutan Radicis (Paeonia Suffruticosa)
Fructus Gardeniae Jasminoidis
Herba Menthae Haplocalycis
Zingiber officinale rhizome-fresh

Ingredients of a custom mixture

.
There is no good evidence that any of the ingredients help depression, in fact next to nothing is known about most of them, apart from liquorice and ginger. Swallowing them would be rather reckless. They fall right into the description of any herbal medicine, in the Patients' Guide, "Herbal medicine: giving patients an unknown dose of an ill-defined drug, of unknown effectiveness and unknown safety. "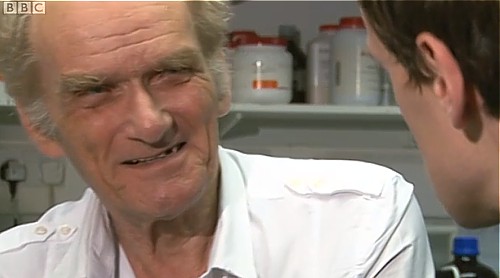 Of the degrees, I said
"There's no evidence that it [the herbs] does you any good. It may be dangerous because you have no idea of the dose. Degrees in Chinese Medicine consist of three years spent memorising myths and pre-scientific, er, untruths. That isn't a degree, it's a travesty."
Palastanga. responded
"We've had long debates in the Health Committee about where we would draw the line about what we validate. They have to demonstrate to us that there is some scientific basis for the practice, that there is an established curriculum, that there is an established safe practice."
The presenter asked him "So you are confident that Chinese medicine works? Palastanga replied
" I didn't say that. I said that there is evidence that it does work . . We are trying to enforce these professions to undertake effective research."
That statement is simply not true, as shown by the response of the validation committee to the application for validation of the course in "Nutritional Therapy" at the Northern College of Acupuncture, documented previously. The fact of the matter is that the validation proceeded without looking at what was actually taught, and without even a detailed timetable of lectures. The committee looked only at the official documents presented to it and was totally negligent in failing to discover some of the bizarre beliefs of the people who were giving the course.
Palastanga went on to raise the usual straw man argument, about how little regular medicine is based on good evidence (though admittedly that is certainly true in his own field -he is a physiotherapist).
Fazley International College Kuala Lumpur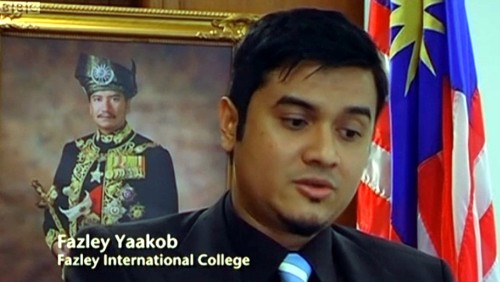 This business college in Kuala Lumpur offered University of Wales degrees. Its 32-year old president is a part time pop star with impressive looking qualifications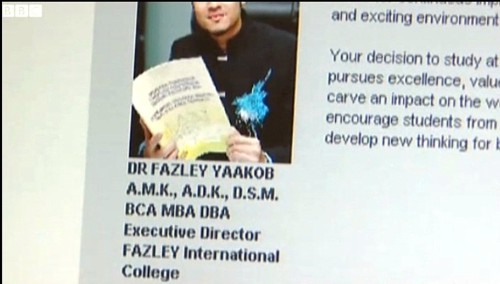 The presenter pointed out that
" His doctorate and his MBA were awarded in that citadel of education, Cambridge. Here he is, pictured at the city's prestigious business school. He was there for all of four days and walked away with a doctorate. But the degree was not from the University of Cambridge, but from the now defunct "European Business School Cambridge". It never had the right to award degrees."
Neither the University of Wales nor the QAA had noticed this unfortunate fact. Once the TV team had done their job for them, the UoW withdrew support. though, as of 15 November 2010, that is not obvious from Fazley's web site.
Mr (not Dr) Fazley seemed rather pleased about how students were attracted by the connection with the Prince of Wales. The fact that he is Chancellor of the University of Wales seems not inappropriate, given the amount of quackery they promote.
Quality Assurance Agency (QAA)
In 2007, I wrote, in Nature (see also here),
"Why don't regulators prevent BSc degrees in anti-science? The Quality Assurance Agency for Higher Education (QAA) claims that "We safeguard and help to improve the academic standards and quality of higher education in the UK." It costs taxpayers £11.5 million (US$22 million) annually. It is, of course, not unreasonable that governments should ask whether universities are doing a good job. But why has the QAA not noticed that some universities are awarding BSc degrees in subjects that are not, actually, science? The QAA report on the University of Westminster courses awards a perfect score for 'curriculum design, content and organization,' despite this content consisting largely of what I consider to be early-nineteenth-century myths, not science. It happens because the QAA judges courses only against the aims set by those who run the QAA, and if their aims are to propagate magic as science, that's fine."
That was illustrated perfectly in the documentary when Dr Stephen Jackson of the QAA appeared to try to justify the fact that the QAA had, like the University of Wales, failed entirely to spot any of the obvious problems. He had a nice dark suit, tie and poppy, but couldn't disguise the fact that the QAA had given high ratings to some very dubious courses.
The QAA sent nine people to the other side of the globe, at a cost of £91,000. They could have done a lot better if they'd spent 10 minutes with Google at home.
Universities UK (UUK)
Needless to say, the Committee of Vice-Chancellors and Principals has said nothing at all. As usual, Laurie Taylor had it all worked out in Times Higher Education (4th November).
Speaking to our reporter Keith Ponting (30), he commended UUK's decision to say absolutely nothing whatsoever about the abolition of all public funding for the arts and humanities.

He also praised UUK's total silence on Lord Browne's view that student courses should primarily be evaluated by their employment returns.

When pressed by Ponting for his overall view of UUK's failure to respond in any way at all to any aspect of the Browne Review, he described it as "welcome evidence, in a world of change, of UUK's consistent commitment over the years to ineffectual passivity".
Meanwhile, a University of Wales video on YouTube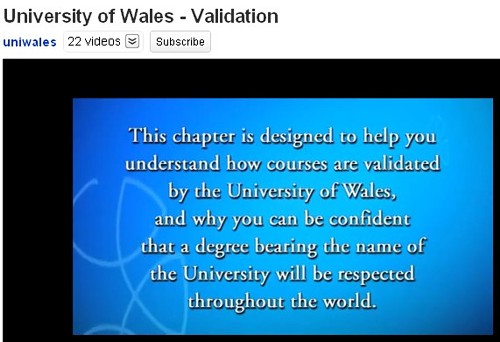 Caveat emptor
Follow-up
A couple of days later, a search of Google news for the "University of Wales" shows plenty of fallout. The vice-chancellor claims that ""The Minister's attack came as a complete and total surprise to me". That can't be true. It is over two years since I told him what was going on, and if he was unaware of it, that is dereliction of duty. It is not the TV programme that brought the University into disrepute, it was the vice-chancellor.
12 Responses to Scandal of the University of Wales and the Quality Assurance Agency