David Bignell
Academic staff are going to be fired at Queen Mary University of London (QMUL). It's possible that universities may have to contract a bit in hard times, so what's wrong?
What's wrong is that the victims are being selected in a way that I can describe only as insane. The criteria they use are guaranteed to produce a generation of second-rate spiv scientists, with a consequent progressive decline in QMUL's reputation.
The firings, it seems, are nothing to do with hard financial times, but are a result of QMUL's aim to raise its ranking in university league tables.
In the UK university league table, a university's position is directly related to its government research funding. So they need to do well in the 2014 'Research Excellence Framework' (REF). To achieve that they plan to recruit new staff with high research profiles, take on more PhD students and post-docs, obtain more research funding from grants, and get rid of staff who are not doing 'good' enough research.
So far, that's exactly what every other university is trying to do. This sort of distortion is one of the harmful side-effects of the REF. But what's particularly stupid about QMUL's behaviour is the way they are going about it. You can assess your own chances of survival at QMUL's School of Biological and Chemical Sciences from the following table, which is taken from an article by Jeremy Garwood (Lab Times Online. July 4, 2012). The numbers refer to the four year period from 2008 to 2011.
Category of staff

Research Output ­ Quantity
(No. of Papers)

Research Output ­
Quality
(No. of high quality papers)

Research Income (£)
(Total)

Research Income (£)
As Principal Investigator

Professor

11

2

400,000

at least 200,000

Reader

9

2

320,000

at least 150,000

Senior Lecturer

7

1

260,000

at least 120,000

Lecturer

5

1

200,000

at least 100,000
In addition to the three criteria, 'Research Output ‐ quality', 'Research Output – quantity', and 'Research Income', there is a minimum threshold of 1 PhD completion for staff at each academic level. All this data is "evidenced by objective metrics; publications cited in Web of Science, plus official QMUL metrics on grant income and PhD completion."
To survive, staff must meet the minimum threshold in three out of the four categories, except as follows:
Demonstration of activity at an exceptional level in either 'research outputs' or 'research income', termed an 'enhanced threshold', is "sufficient" to justify selection regardless of levels of activity in the other two categories. And what are these enhanced thresholds?
For research quantity: a mere 26 published items with at least 11 as significant author (no distinction between academic level); research quality: a modest 6 items published in numerically-favoured journals (e.g. impact factor > 7). Alternatively you can buy your survival with a total 'Research Income' of £1,000,000 as PI.
The university notes that the above criteria "are useful as entry standards into the new school, but they fall short of the levels of activity that will be expected from staff in the future. These metrics should not, therefore, be regarded as targets for future performance."
This means that those who survived the redundancy criteria will simply have to do better. But what is to reassure them that it won't be their turn next time should they fail to match the numbers?
To help them, Queen Mary is proposing to introduce 'D3' performance management (www.unions.qmul.ac.uk/ucu/docs/d3-part-one.doc). Based on more 'administrative physics', D3 is shorthand for 'Direction × Delivery × Development.' Apparently "all three are essential to a successful team or organisation. The multiplication indicates that where one is absent/zero, then the sum is zero!"
D3 is based on principles of accountability: "A sign of a mature organisation is where its members acknowledge that they face choices, they make commitments and are ready to be held to account for discharging these commitments, accepting the consequences rather than seeking to pass responsibility." Inspired?
I presume the D3 document must have been written by an HR person. It has all the incoherent use of buzzwords so typical of HR. And it says "sum" when it means "product" (oh dear, innumeracy is rife).
The criteria are utterly brainless. The use of impact factors for assessing people has been discredited at least since Seglen (1997) showed that the number of citations that a paper gets is not perceptibly correlated with the impact factor of the journal in which it's published. The reason for this is the distribution of the number of citations for papers in a particular journal is enormously skewed. This means that high-impact journals get most of their citations from a few articles.
The distribution for Nature is shown in Fig. 1. Far from being gaussian, it is even more skewed than a geometric distribution; the mean number of citations is 114, but 69% of papers have fewer than the mean, and 24% have fewer than 30 citations. One paper has 2,364 citations but 35 have 10 or fewer. ISI data for citations in 2001 of the 858 papers published in Nature in 1999 show that the 80 most-cited papers (16% of all papers) account for half of all the citations (from

Colquhoun, 2003

)
The Institute of Scientific Information, ISI, is guilty of the unsound statistical practice of characterizing a distribution by its mean only, with no indication of its shape or even its spread. School of Biological and Chemical Sciences-QMUL is expecting everyone has to be above average in the new regime. Anomalously, the thresholds for psychologists are lower because it is said that it's more difficult for them to get grants. This undermines even the twisted logic applied at the outset.
All this stuff about skewed distributions is, no doubt, a bit too technical for HR people to understand. Which, of course, is precisely why they should have nothing to do with assessing people.
At a time when so may PhDs fail to get academic jobs we should be limiting the numbers. But QMUL requires everyone to have a PhD student, not for the benefit of the student, but to increase its standing in league tables. That is deeply unethical.
The demand to have two papers in journals with impact factor greater than seven is nonsense. In physiology, for example, there are only four journals with an impact factor greater that seven and three of them are review journals that don't publish original research. The two best journals for electrophysiology are Journal of Physiology (impact factor 4.98, in 2010) and Journal of General Physiology (IF 4.71). These are the journals that publish papers that get you into the Royal Society or even Nobel prizes. But for QMUL, they don't count.
I have been lucky to know well three Nobel prize winners. Andrew Huxley. Bernard Katz, and Bert Sakmann. I doubt that any of them would pass the criteria laid down for a professor by QMUL. They would have been fired.
The case of Sakmann is analysed in How to Get Good Science, [pdf version]. In the 10 years from 1976 to 1985, when Sakmann rose to fame, he published an average of 2.6 papers per year (range 0 to 6). In two of these 10 years he had no publications at all. In the 4 year period (1976 – 1979 ) that started with the paper that brought him to fame (Neher & Sakmann, 1976) he published 9 papers, just enough for the Reader grade, but in the four years from 1979 – 1982 he had 6 papers, in 2 of which he was neither first nor last author. His job would have been in danger if he'd worked at QMUL. In 1991 Sakmann, with Erwin Neher, got the Nobel Prize for Physiology or Medicine.
The most offensive thing of the lot is the way you can buy yourself out if you publish 26 papers in the 4 year period. Sakmann came nowhere near this. And my own total, for the entire time from my first paper (1963) until I was elected to the Royal Society (May 1985) was 27 papers (and 7 book chapters). I would have been fired.
Peter Higgs had no papers at all from the time he moved to Edinburgh in 1960, until 1964 when his two paper's on what's now called the Higgs' Boson were published in Physics Letters. That journal now has an impact factor less than 7 so Queen Mary would not have counted them as "high quality" papers, and he would not have been returnable for the REF. He too would have been fired.
The encouragement to publish large numbers of papers is daft. I have seen people rejected from the Royal Society for publishing too much. If you are publishing a paper every six weeks, you certainly aren't writing them, and possibly not even reading them. Most likely you are appending your name to somebody else's work with little or no checking of the data. Such numbers can be reached only by unethical behaviour, as described by Peter Lawrence in The Mismeasurement of Science. Like so much managerialism, the rules provide an active encouragement to dishonesty.
In the face of such a boneheaded approach to assessment of your worth, it's the duty of any responsible academic to point out the harm that's being done to the College. Richard Horton, in the Lancet, did so in Bullying at Barts. There followed quickly letters from Stuart McDonald and Nick Wright, who used the Nuremburg defence, pointing out that the Dean (Tom Macdonald) was just obeying orders from above. That has never been as acceptable defence. If Macdonald agreed with the procedure, he should be fired for incompetence. If he did not agree with it he should have resigned.
It's a pity, because Tom Macdonald was one of the people with whom I corresponded in support of Barts' students who, very reasonably, objected to having course work marked by homeopaths (see St Bartholomew's teaches antiscience, but students revolt, and, later, Bad medicine. Barts sinks further into the endarkenment). In that case he was not unreasonable, and, a mere two years later I heard that he'd taken action.
To cap it all, two academics did their job by applying a critical eye to what's going on at Queen Mary. They wrote to the Lancet under the title Queen Mary: nobody expects the Spanish Inquisition
"For example, one of the "metrics" for research output at professorial level is to have published at least two papers in journals with impact factors of 7 or more. This is ludicrous, of course—a triumph of vanity as sensible as selecting athletes on the basis of their brand of track suit. But let us follow this "metric" for a moment. How does the Head of School fair? Zero, actually. He fails. Just consult Web of Science. Take care though, the result is classified information. HR's "data" are marked Private and Confidential. Some things must be believed. To question them is heresy."
Astoundingly, the people who wrote this piece are now under investigation for "gross misconduct". This is behaviour worthy of the University of Poppleton, as pointed out by the inimitable Laurie Taylor, in Times Higher Education (June 7)
The rustle of censorship
It appears that last week's edition of our sister paper, The Poppleton Evening News, carried a letter from Dr Gene Ohm of our Biology Department criticising this university's metrics-based redundancy programme.
We now learn that, following the precedent set by Queen Mary, University of London, Dr Ohm could be found guilty of "gross misconduct" and face "disciplinary proceedings leading to dismissal" for having the effrontery to raise such issues in a public place.
Louise Bimpson, the corporate director of our ever-expanding human resources team, admitted that this response might appear "severe" but pointed out that Poppleton was eager to follow the disciplinary practices set by such soon-to-be members of the prestigious Russell Group as Queen Mary. Thus it was only to be expected that we would seek to emulate its espousal of draconian censorship. She hoped this clarified the situation.
David Bignell, emeritus professor of zoology at Queen Mary hit the nail on the head.
"These managers worry me. Too many are modest achievers, retired from their own studies, intoxicated with jargon, delusional about corporate status and forever banging the metrics gong. Crucially, they don't lead by example."
What the managers at Queen Mary have failed to notice is that the best academics can choose where to go.
People are being told to pack their bags and move out with one day's notice. Access to journals stopped, email address removed, and you may need to be accompanied to your (ex)-office. Good scientists are being treated like criminals.
What scientist in their right mind would want to work at QMUL, now that their dimwitted assessment methods, and their bullying tactics, are public knowledge?
The responsibility must lie with the principal, Simon Gaskell. And we know what the punishment is for bringing your university into disrepute.
Follow-up
Send an email. You may want to join the many people who have already written to QMUL's principal, Simon Gaskell (principal@qmul.ac.uk), and/or to Sir Nicholas Montagu, Chairman of Council, n.montagu@qmul.ac.uk.
Sunday 1 July 2012. Since this blog was posted after lunch on Friday 29th June, it has had around 9000 visits from 72 countries. Here is one of 17 maps showing the origins of 200 of the hits in the last two days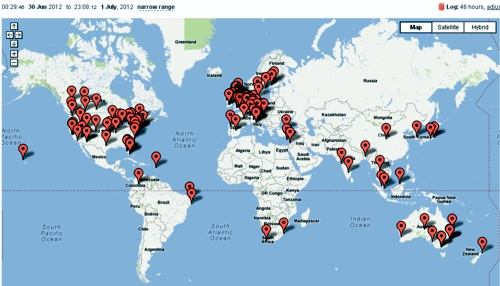 The tweets about QMUL are collected in a Storify timeline.
I'm reminded of a 2008 comment, on a post about the problems imposed by HR, In-human resources, science and pizza.
Thanks for that – I LOVED IT. It's fantastic that the truth of HR (I truly hate that phrase) has been so ruthlessly exposed. Should be part of the School Handbook. Any VC who stripped out all the BS would immediately retain and attract good people and see their productivity soar.
That's advice that Queen Mary should heed.
Part of the reason for that popularity was Ben Goldacre's tweet, to his 201,000 followers
"destructive, unethical and crude metric incentives in academia (spotlight QMUL) bit.ly/MFHk2H by @david_colquhoun"
3 July 2012. I have come by a copy of this email, which was sent to Queen Mary by a senior professor from the USA (word travels fast on the web). It shows just how easy it is to destroy the reputation of an institution.
Sir Nicholas Montagu, Chairman of Council, and Principal Gaskell,
I was appalled to read the criteria devised by your University to evaluate its faculty. There are so flawed it is hard to know where to begin.
Your criteria are antithetical to good scientific research. The journals are littered with weak publications, which are generated mainly by scientists who feel the pressure to publish, no matter whether the results are interesting, valid, or meaningful. The literature is flooded by sheer volume of these publications.
Your attempt to require "quality" research is provided by the requirement for publications in "high Impact Factor" journals. IF has been discredited among scientists for many reasons: it is inaccurate in not actually reflecting the merit of the specific paper, it is biased toward fields with lots of scientists, etc. The demand for publications in absurdly high IF journals encourages, and practically enforces scientific fraud. I have personally experienced those reviews from Nature demanding one or two more "final" experiments that will clinch the publication. The authors KNOW how these experiments MUST turn out. If they want their Nature paper (and their very academic survival if they are at a brutal, anti-scientific university like QMUL), they must get the "right" answer. The temptation to fudge the data to get this answer is extreme. Some scientists may even be able to convince themselves that each contrary piece of data that they discard to ensure the "correct" answer is being discarded for a valid reason. But the result is that scientific misconduct occurs. I did not see in your criteria for "success" at QMUL whether you discount retracted papers from the tally of high IF publications, or perhaps the retraction itself counts as yet another high IF publication!
Your requirement for each faculty to have one or more postdocs or students promotes the abusive exploitation of these individuals for their cheap labor, and ignores the fact that they are being "trained" for jobs that do not exist.
The "standards" you set are fantastically unrealistic. For example, funding is not graded, but a sharp step function – we have 1 or 2 or 0 grants and even if the average is above your limits, no one could sustain this continuously. Once you have fired every one of your faculty, which will almost certainly happen within 1-2 rounds of pogroms, where will you find legitimate scientists who are willing to join such a ludicrous University?
4 July 2012.
Professor John F. Allen is Professor of Biochemistry at Queen Mary, University of London, and distinguished in the fields of Photosynthesis, Chloroplasts, Mitochondria, Genome function and evolution and Redox signalling. He, with a younger colleague, wrote a letter to the Lancet, Queen Mary: nobody expects the Spanish Inquisition. It is an admirable letter, the sort of thing any self-respecting academic should write. But not according to HR. On 14 May, Allen got a letter from HR, which starts thus.
14th May 2012
Dear Professor Allen
I am writing to inform you that the College had decided to commence a factfinding investigation into the below allegation: That in writing and/or signing your name to a letter entitled "Queen Mary: nobody expects the Spanish Inquisition," (enclosed) which was published in the Lancet online on 4th May 2012, you sought to bring the Head of School of Biological and Chemical Sciences and the Dean for Research in the School of Medicine and Dentistry into disrepute.
. . . .
Sam Holborn
HR Consultant- Science & Engineering
Download the entire letter. It is utterly disgraceful bullying. If anyone is bringing Queen Mary into disrepute, it is Sam Holborn and the principal, Simon Gaskell.
Here's another letter, from the many that have been sent. This is from a researcher in the Netherlands.
Dear Sir Nicholas,
I am addressing this to you in the hope that you were not directly involved in creating this extremely stupid set of measures that have been thought up, not to improve the conduct of science at QMUL, but to cheat QMUL's way up the league tables over the heads of the existing academic staff.
Others have written more succinctly about the crass stupidity of your Human Resources department than I could, and their apparent ignorance of how science actually works. As your principal must bear full responsibility for the introduction of these measures, I am not sending him a copy of this mail. I am pretty sure that his "principal" mail address will no longer be operative.
We have had a recent scandal in the Netherlands where a social psychology professor, who even won a national "Man of the Year" award, as well as as a very large amount of research money, was recently exposed as having faked all the data that went into a total number of articles running into three figures. This is not the sort of thing one wants to happen to one's own university. He would have done well according to your REF .. before he was found out.
Human Resources departments have gained too much power, and are completely incompetent when it comes to judging academic standards. Let them get on with the old dull, and gobbledigook-free, tasks that personnel departments should be carrying out.


Yours,
5 July 2012.
Here's another letter. It's from a member of academic staff at QMUL, someone who is not himself threatened with being fired. It certainly shows that I'm not making a fuss about nothing. Rather, I'm the only person old enough to say what needs to be said without fear of losing my job and my house.
Dear Prof. Colquhoun,
I am an academic staff member in SBCS, QMUL. I am writing from my personal email account because the risks of using my work account to send this email are too great.
I would like to thank you for highlighting our problems and how we have been treated by our employer (Queen Mary University of London), in your blog. I would please urge you to continue to tweet and blog about our plight, and staff in other universities experiencing similarly horrific working conditions.
I am not threatened with redundancy by QMUL, and in fact my research is quite successful. Nevertheless, the last nine months have been the most stressful of all my years of academic life. The best of my colleagues in SBCS, QMUL are leaving already and I hope to leave, if I can find another job in London.
Staff do indeed feel very unfairly treated, intimidated and bullied. I never thought a job at a university could come to this.
Thank you again for your support. It really does matter to the many of us who cannot really speak out openly at present.
Best regards,
In a later letter, the same person pointed out
"There are many of us who would like to speak more openly, but we simply cannot."

"I have mortgage . . . . Losing my job would probably mean losing my home too at this point."

"The plight of our female staff has not even been mentioned. We already had very few female staff. And with restructuring, female staff are more likely to be forced into teaching-only contracts or indeed fired"."

"total madness in the current climate – who would want to join us unless desperate for a job!"

"fuss about nothing" – absolutely not. It is potentially a perfect storm leading to teaching and research disaster for a university! Already the reputation of our university has been greatly damaged. And senior staff keep blaming and targeting the "messengers"."
6 July 2012.
Througn the miracle of WiFi, this is coming from Newton, MA. The Lancet today has another editorial on the Queen Mary scandal.
"As hopeful scientists prepare their applications to QMUL, they should be aware that, behind the glossy advertising, a sometimes harsh, at times repressive, and disturbingly unforgiving culture awaits them."
That sums it up nicely.
24 July 2012. I'm reminded by Nature writer, Richard van Noorden (@Richvn) that Nature itself has wriiten at least twice about the iniquity of judging people by impact factors. In 2005 Not-so-deep impact said
"Only 50 out of the roughly 1,800 citable items published in those two years received more than 100 citations in 2004. The great majority of our papers received fewer than 20 citations."

"None of this would really matter very much, were it not for the unhealthy reliance on impact factors by administrators and researchers' employers worldwide to assess the scientific quality of nations and institutions, and often even to judge individuals."
And, more recently, in Assessing assessment" (2010).
29 July 2012. Jonathan L Rees. of the University of Edinburgh, ends his blog:
"I wonder what career advice I should offer to a young doctor circa 2012. Apart from not taking a job at Queen Mary of course. "
How to select candidates
I have, at various times, been asked how I would select candidates for a job, if not by counting papers and impact factors. This is a slightly modified version of a comment that I left on a blog, which describes roughly what I'd advocate
After a pilot study the entire Research Excellence Framework (which attempts to assess the quality of research in every UK university) made the following statement.
"No sub-panel will make any use of journal impact factors, rankings, lists or the perceived standing of publishers in assessing the quality of research outputs"
It seems that the REF is paying attention to the science not to bibliometricians.
It has been the practice at UCL to ask people to nominate their best papers (2 -4 papers depending on age). We then read the papers and asked candidates hard questions about them (not least about the methods section). It's a method that I learned a long time ago from Stephen Heinemann, a senior scientist at the Salk Institute. It's often been surprising to learn how little some candidates know about the contents of papers which they themselves select as their best. One aim of this is to find out how much the candidate understands the principles of what they are doing, as opposed to following a recipe.
Of course we also seek the opinions of people who know the work, and preferably know the person. Written references have suffered so much from 'grade inflation' that they are often worthless, but a talk on the telephone to someone that knows both the work, and the candidate, can be useful, That, however, is now banned by HR who seem to feel that any knowledge of the candidate's ability would lead to bias.
It is not true that use of metrics is universal and thank heavens for that. There are alternatives and we use them.
Incidentally, the reason that I have described the Queen Mary procedures as insane, brainless and dimwitted is because their aim to increase their ratings is likely to be frustrated. No person in their right mind would want to work for a place that treats its employees like that, if they had any other option. And it is very odd that their attempt to improve their REF rating uses criteria that have been explicitly ruled out by the REF. You can't get more brainless than that.
This discussion has been interesting to me, if only because it shows how little bibliometricians understand how to get good science.