David Tredinnick
This article has appeared, in nearly identical form, on the UK Conversation . You can leave comments there or here.
---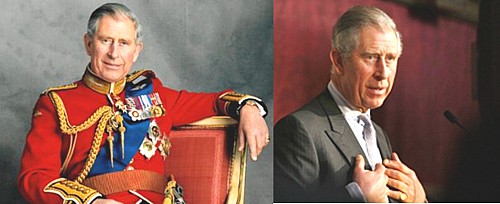 The modern major-general
A constitutional monarch is purely ceremonial and plays no part in politics. Well actually in the UK it isn't quite as simple as that. The first problem is that we have no constitution. Things haven't changed much since the 19th century when Walter Bagehot said "the Sovereign has, under a constitutional monarchy… three rights—the right to be consulted, the right to encourage, the right to warn."
These are not inconsiderable powers in a country which is meant to be run by elected representatives. But nobody knows how these powers are used: it is all done in secret. Well, almost all. Charles, Prince of Wales, has been unusually public in expressing his views. He told a conference at St James's Palace "I was accused once of being the enemy of the Enlightenment" "I felt proud of that." That's a remarkable point of view for someone who, if he succeeds, will become the patron of that product of the age of enlightenment, the Royal Society.
I have no doubt that Prince Charles means well. He can't be blamed for his lack of education. But his views on medicine date from a few centuries ago, and he has lost no opportunity to exploit his privileged position to proclaim them.
Euphemisms for quackery
He set up the Prince's Foundation for Integrated Health (PFIH) to promote his views. ( "Integrated", in this context, is, of course, just the latest euphemism for "alternative" or "quack".) When the Foundation collapsed because of a financial scandal in 2010, it was replaced by the "College of Medicine". The name changed, but not the people behind it. Initially this phoenix was to be named the "College of Integrated Health", but by this time the prince's views on medicine had become sufficiently discredited that the word "integrated" was quickly dropped. This might be thought less than frank, but it is just employment of the classic bait and switch technique, beloved by used car salesmen.
His views were well publicised in a PFIH publication, "Complementary Healthcare: a Guide for Patients". That volume either omitted or misrepresented the evidence about the one question that matters most to patients – does the treatment work or not? It caused me to write a much shorter, but more accurate, version, the Patients' Guide to Magic Medicine. The PFIH guide was arguably a danger to public health. When, very properly, it was criticised by Edzard Ernst, a letter was sent from from the prince's private secretary to Ernst's vice-chancellor, Steve Smith. Instead of defending Ernst's public spirited action, Smith instituted disciplinary proceedings against Ernst that lasted for a year. The prince had intervened directly in the affairs of the university. Steve Smith was rewarded with a knighthood in 2011.
None of this criticism has dimmed the prince's enthusiasm for barmy medical ideas. He is well known to write many letters to government ministers to try to persuade them to adopt his ideas in a whole range of areas. In July 2013, the Minister of Health, Jeremy Hunt, visited the prince at Clarence House. The visit was reported to be to persuade the minister to defend homeopathy, though it was more likely to have been to press the case to confer a government stamp of approval on herbalists and traditional Chinese Medicine practitioners by giving them statutory regulation. This is a matter that was recently raised again in parliament by Charles' greatest ally, David Tredinnick MP (Con, Bosworth) who got into trouble for charging astrology software to expenses. We shall never know what pressure was applied. A ruling of the Information Commissioner judged, reasonably enough, that there was public interest in knowing what influences were being brought to bear on public policy. But the Attorney General overruled the judgement on the grounds that "Disclosure of the correspondence could damage The Prince of Wales' ability to perform his duties when he becomes King." That, of course, is exactly what we are worried about.
Influence on politics
The prince's influence seems to be big in the Department of Health (DH). He was given £37,000 of taxpayers' money to produce his guide, and an astonishing £900,000 to prepare the ground for the setting up of the hapless self-regulator, the Complementary and Natural Healthcare Council (CNHC, also known as Ofquack). When NHS Choices (itself set up by DH to assess evidence) tried to rewrite its web page about that most discredited of all forms of quackery, homeopathy, officials in DH referred the new advice to Michael Dixon, the medical director of the Prince's Foundation and, were it not for the Freedom of Information act, the DH would have caused inaccurate information to be provided. The DH has a chief medical officer and two scientific advisors, but prefers to take the advice of the Prince of Wales.
The Prince of Wales' business, Duchy Originals, has been condemned by the Daily Mail, (of all places) for selling unhealthy foods. And when his business branched into selling quack "detox" and herbal nonsense he found himself censured by both the MHRA and the Advertising Standards Authority (ASA) for making unjustifiable medical claims for these products.
Ainsworth's homeopathic pharmacy is endorsed by both Prince Charles and the Queen: it has two Royal Warrants. They sell "homeopathic vaccines" for meningitis, measles, rubella and whooping cough. These "vaccines" contain nothing whatsoever so they are obviously a real danger to public health. Despite the fact that Ainsworth's had already been censured by the ASA in 2011 for selling similar products, Ainsworth's continued to recommend them with a "casual disregard for the law". The regulator (the MHRA) failed to step in to stop them until it was eventually stirred into action by a young BBC reporter, Sam Smith, made a programme for BBC South West. Then, at last, the somnolent regulator was stirred into action. The MHRA "told Ainsworths to stop advertising a number of products" (but apparently not to stop making them or selling them). They still sell Polonium metal 30C and Swine Meningitis 36C, and a booklet that recommends homeopathic "vaccination". Ainsworth's sales are no doubt helped by the Royal Warrants. The consequence is that people may die of meningitis. In 2011, the MHRA Chief Executive Professor Kent Woods, was knighted.
It runs in the family
The Prince of Wales is not the only member of the royal family to be obsessed with bizarre forms of medicine. The first homeopath to the British royal family, Frederick Quin, was a son of the Duchess of Devonshire (1765-1824). Queen Mary (1865-1953), wife of King George V, headed the fundraising efforts to move and expand the London Homeopathic Hospital.
King George VI was so enthusiastic that in 1948 conferred the royal title on the London Homeopathic Hospital. The Queen Mother loved homeopathy too (there is no way to tell whether this contributed to her need for a colostomy in the 1960s).
The present Queen's homeopathic physician is Peter Fisher, who is medical director of what, until recently was called the Royal London Homeopathic Hospital (RLHH). In 2010 that hospital was rebranded as the Royal London Hospital for Integrated Medicine (RLHIM) in another unsubtle bait and switch move.
The RLHIM is a great embarrassment to the otherwise excellent UCLH Trust. It has been repeatedly condemned by the Advertising Standards Authority for making false claims. As a consequence, it has been forced to withdraw all of its patient information.

The patron of the RLHIM is the Queen, not the Prince of Wales. It is hard to imagine that this anachronistic institution would still exist if it were not for the influence, spoken or unspoken, of the Queen. Needless to say we will never be told.

The Queen and Peter Fisher
Observer 8 April 2007
The attorney general, while trying to justify the secrecy of Charles' letters, said
"It is a matter of the highest importance within our constitutional framework that the Monarch is a politically neutral figure".
Questions about health policy are undoubtedly political, and the highly partisan interventions of the prince in the political process make his behaviour unconstitutional. They endanger the monarchy itself. Whether that matters depends on how much you value tradition and how much you value the tourist business generated by the Gilbert & Sullivan flummery at which royals excel.
The least that one can ask of the royal family is that they should not endanger the health of the nation. If I wanted to know the winner of the 2.30 at Ascot, I'd ask a royal. For any question concerning science or medicine I'd ask someone with more education.
---
Here is some more interesting reading
Michael Baum's "An open letter to the Prince of Wales: with respect, your highness, you've got it wrong"
Gerald Weissman's essay Homeopathy: Holmes, Hogwarts, and the Prince of Wales.
Channel 4 TV documentary HRH "meddling in politics"

Observer April 2007 "Royals' favoured hospital at risk as homeopathy backlash gathers pace. The Queen loves it. But alternative medicine centre's future looks uncertain as more NHS trusts axe funding"
Follow-up
It's hard to know what to make of David Tredinnick MP (Cons, Bosworth). He is certainly an extreme example of the scientific ignorance of our parliamentary representatives, but he isn't alone in that. Our present minister of Education, Michael Gove, memorably referred to Newton's Laws of Thermodynamics, blissfully unaware that thermodynamics was a 19th century development. And our present Minister of Health seems to think that magic water cures diseases.
But Mr Treddinick breaks every record for anti-scientific nonsense. That, no doubt, is why he was upset by the recent revision of come NHS Choices web pages, so that they now give a good account of the evidence (that's their job, of course). They did that despite two years of obstruction by the Department of Health. which seemed to think that it was appropriate to take advice from Michael Dixon of the Prince's Foundation for integrated Health. That shocking example of policy based evidence was revealed on this blog, and caused something of a stir.
Treddinick's latest letter

A copy of a letter from Mr Tredinnick to the Minister of Health, Jeremy Hunt, has some into my possession by a tortuous route [download the letter]. It's a corker. Here are a few quotations.
"1. UKIP moving onto our ground
Attached is an extract from a recent UKIP policy statement. The position which UKIP has taken is one with which most of our Daily Mail reading supporters of complementary medicine would agree."
It seems that Treddinick's preferred authority on medicine is now Nigel Farage, leader of the UK's far right party. UKIP's policy on health is appended to the letter, and it's as barmy as most of the other things they say.
"2. Herbal Medicine
. . .there is very real concern that the Government will not regulate Herbal Medicine and Traditional Chinese Medicine. The current situation is unacceptable, because herbal practitioners need regulation and cannot function as herbal therapists, nor can they cannot obtain stocks of their herbal remedies, without it.
This refers to a saga that has been running for at least 10 years. Herbalists are desperate to get a government stamp of approval by getting statutory regulation, much like real doctors have, despite the fact that they make money by selling sick people "an unknown dose of an ill-defined drug, of unknown effectiveness and unknown safety" (as quoted recently in the House of Lords).
Even the US National Center for Complementary and Alternative Medicine (NCCAM) doesn't claim that a single herbal treatment is useful. The saga of herbal regulation is long and tedious. The short version is that a very bad report, The Pittilo report, recommended regulation of herbalists. After years of prevarication, Andrew Lansley ignored the impartial scientific advice and yielded to the pressure from the herbal industry to accept the Pittilo report. But still nothing has happened.
Could it be that even Jeremy Hunt realises, deep down, that the regulation of nonsense is a nonsense that would harm the public?
We can only hope that a letter from Mr Tredinnick is the kiss of death. Perhaps his continuous pestering will only reinforce the doubts that seem to exist at the Department of Health.
Then Tredinnick returns (yawn) to his obsession with magic water. He vents his rage at the now excellent NHS Choices page on homeopathy.
3. Homeopathy

"Recently this wording has been removed and instead a comment by the Chief Medical Officer that homeopathy is placebo inserted in its place, as well as links to external organisations which campaign against homeopathy. For instance, there is a link to the Sense About Science website, and Caroline Finucane, who is Editor of new content at NHS Choices, also writes for the Sense About Science website. This is an organisation which has no expertise in homeopathy and traces its roots back to the ultra-left Revolutionary Communist Party (RCP)."

"I respectfully suggest that the original wording be reinstated and these links to external organisations be removed or changed to ensure a balanced view.".
So it seems that he prefers the medical views of Nigel Farage and the Prince of Wales to those of the Chief Medical Officer and the government's chief scientist. Disgracefully, Tredinnick picks out one particular employee of NHS Choices among many, and one who does an excellent job. And he raises the hoary old myth that Sense About Science is a communist organisation. Odd, since others accuse it of being neo-libertarian. The actual history is here. The organisation that is a bit too libertarian for my taste is Spiked Online. I haven't agreed with every word that Sense about Science has printed, but they have a totally honest belief in evidence.
To drag in the name of one person out of many, and to justify it by a false history shows, once again, how very venomous and vindictive the advocates of delusional medicine can be when they feel cornered.
A bit more information about Mr Treddinick
This is what the BBC News profile says about him.
David Tredinnick is an old style Conservative MP, being an Eton-educated former Guards officer, who has sat in the Commons since 1987.
However, his ambition for high office was thwarted by his role in one of the sleaze stories which helped to sink the Major government. He accepted £1,000 from an undercover reporter to ask parliamentary questions about a fictitious drug. He was obliged to resign from his role as a PPS and was suspended from the Commons for 20 sitting days. He has not sat on the frontbench since.
He is an orthodox Conservative loyalist, though he is more supportive of the European Union than many of his colleagues.
He has, however, carved himself a niche as the Commons' most enthusiastic supporter of complementary medicine. He has wearied successive health secretaries with his persistent advocacy of any and all homeopathic remedies. He has also supported their use in prisons and even suggested them as an aid in alleviating the foot and mouth crisis.
Tredinnick has also asserted that he was aware of a psychiatric hospital that doubled its staff at full moon (this is an old urban myth, and is, of course, quite untrue).

His advocacy of homeopathic borax as a way to control the 2001 epidemic of foot and mouth diease can be read here. Luckily it was ignored by the government. I hope his latest letter will be treated similarly.

Picture of David Tredinnick MP from the Conservative Party
Follow-up