Detox
This post has been translated into Belorussian..
Chinese medicine and herbal medicine are in the news at the moment. There is a real risk that the government could endorse them by accepting the Pittilo report.
In my view traditional Chinese medicine endangers people. The proposed 'regulation' would do nothing to protect the public. Quite on the contrary, it would add to the dangers, by giving an official stamp of approval while doing nothing for safety.
The government's idea of improving safety is to make sure that practitioners are 'properly trained'. But it is the qualifications that cause the danger in the first place. The courses teach ideas that are plain wrong and often really dangerous.
Why have government (and some universities) not noticed this? That's easy to see. Governments, quangos and university validation committees simply don't look. They tick boxes but never ask what actually goes on. Here's some examples of what goes on for them to think about. They show clearly the sort of dangerous rubbish that is taught on some of these 'degrees'.
These particular slides are from the University of Westminster, but similar courses exist in only too many other places. Watch this space for more details on courses at Edinburgh Napier University, Middlesex University and the University of East London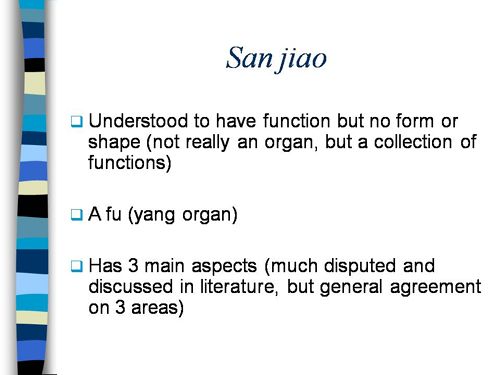 Just a lot of old myths. Sheer gobbledygook,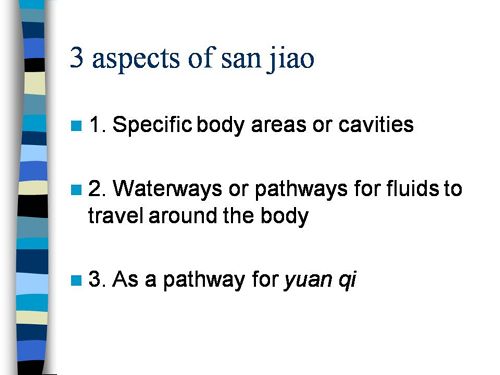 SO much for a couple of centuries of physiology,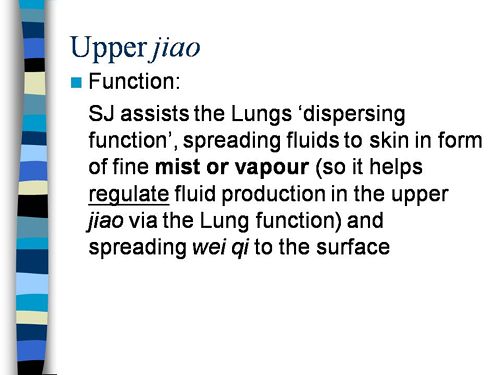 It gets worse.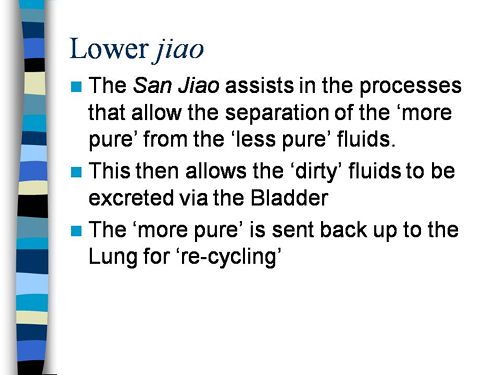 Plain wrong.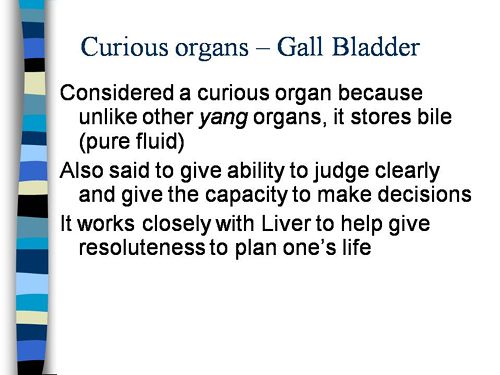 Curious indeed. The fantasy gobbledygook gets worse.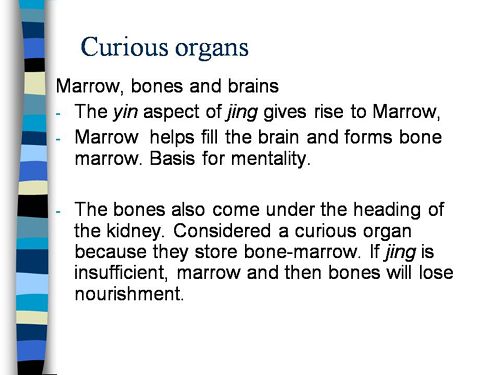 Now it is getting utterly silly. Teaching students that the brain is made of marrow is not just absurd, but desperately dangerous for anyone unlucky (or stupid) enough to go to such a person when they are ill.
Here's another herbal lecture., and this time the topic is serious. Cancer.
Herbal approaches for patients with cancer.
I've removed the name of the teacher to spare her the acute embarrassment of having these dangerous fantasies revealed. The fact that she probably believes them is not a sufficient excuse for endangering the public. There is certainly no excuse for the university allowing this stuff to be taught as part of a BSc (Hons).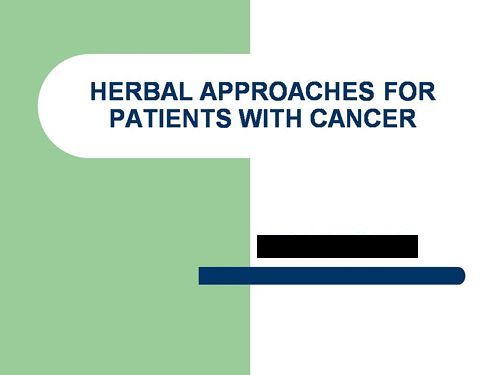 First get them scared with some bad statistics.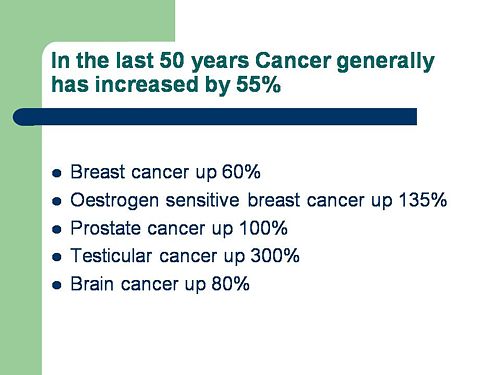 No fuss there about distinguishing incidence, age-standardisation and death rates. And no reference. Perhaps a reference to the simple explanation of statistics at Cancer Research UK might help? Perhaps this slide would have been better (from CDC). Seems there is some mistake in slide 2.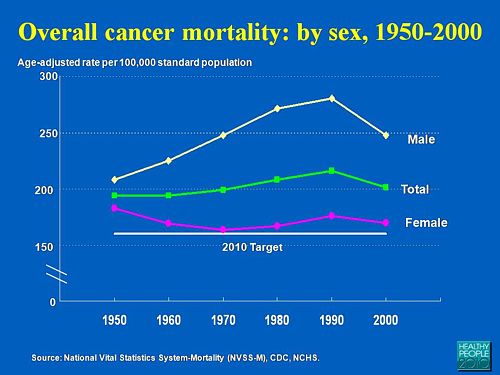 Straight on to a truly disgraceful statement in slide 3
The is outrageous and very possibly illegal under the Cancer Act (1939). It certainly poses a huge danger to patients. It is a direct incentive to make illegal, and untrue claims by using weasel words in an attempt to stay just on the right side of the law. But that, of course, is standard practice in alternative medicine,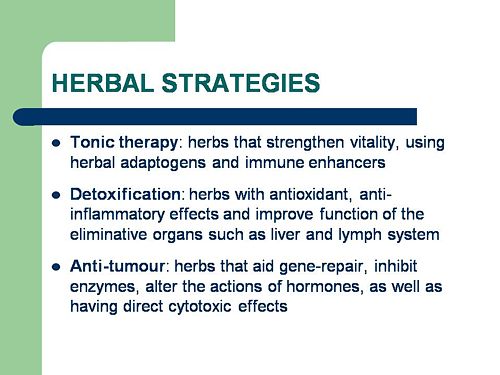 Slide 11 is mostly meaningless. "Strengthen vitality" sounds good but means nothing. And "enhancing the immune system" is what alternative medicine folks always say when they can think of nothing else. Its meaning is ill-defined and there is no reason to think that any herbs do it.
The idea of a 'tonic' was actually quite common in real medicine in the 1950s. The term slowly vanished as it was realised that it was a figment of the imagination. In the fantasy world of alternative medicine, it lives on.
Detoxification, a marketing term not a medical one, has been extensively debunked quite recently. The use of the word by The Prince of Wales' company, Duchy Originals recently fell foul of the Advertising Standards Authority, and his herbal 'remedies' were zapped by the MHRA (Medicines and Health Regulatory Authority).
And of course the antioxidant myth is a long-disproved hypothesis that has become a mere marketing term.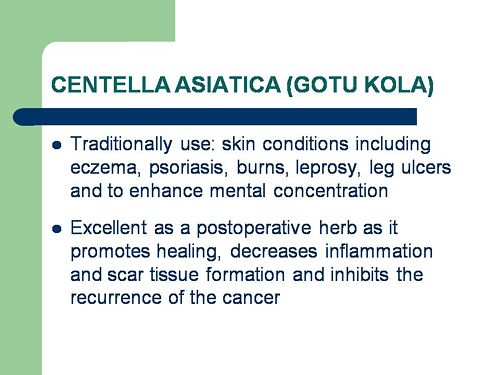 "Inhibits the recurrence of cancer"! That sounds terrific. But if it is so good why is it not even mentioned in the two main resources for information about herbs?
In the UK we have the National Library for Health Complementary and Alternative Medicine Specialist Library (NeLCAM), now a part of NHS Evidence. It was launched in 2006. The clinical lead was none other than Peter Fisher, clinical director of the Royal London Homeopathic Hospital, and the Queen's homeopathic physician. The library was developed with the School of Integrated Health at the University of Westminster (where this particular slide was shown to undergraduates). Nobody could accuse these people of being hostile to magic medicine,
It seems odd, then, that NeLCAM does not seem to thnk to think that Centella asiatica, is even worth mentioning.
In the USA we have the National Center for Alternative and Complementary Medicine (NCCAM), an organisation that is so friendly to alternative medicine that it has spent a billion dollars on research in the area, though it has produced not a single good treatment for that vast expenditure. But NCCAM too does not even mention Centella asiatica in its herb list. It does get a mention in Cochrane reviews but only as a cosmetic cream and as an unproven treatment for poor venous circulation in the legs.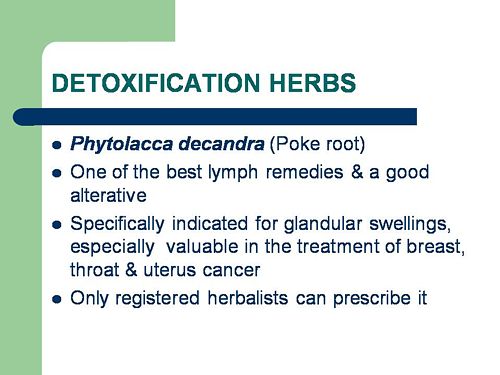 What on earth is a "lymph remedy". Just another marketing term?
"especially valuable in the treatment of breast, throat and uterus cancer."
That is a very dramatic claim. It as as though the hapless students were being tutored in doublespeak. What is meant by "especially valuable in the treatment of"? Clearly a desperate patient would interpret those words as meaning that there was at least a chance of a cure. That would be a wicked deception because there isn't the slightest reason to think it works. Once again there this wondrous cure is not even mentioned in either NELCAM or NCCAM. Phytolacca is mentioned, as Pokeweed, in Wikipedia but no claims are mentioned even there. And it isn't mentioned in Cochrane reviews either. The dramatic claims are utterly unfounded.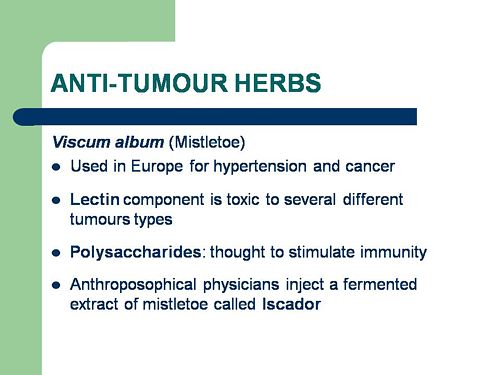 Ah the mistletoe story, again.
NHS Evidence (NeLCAM) lists three completed assessments. One concludes that more research is needed. Another concludes that "Rigorous trials of mistletoe extracts fail to demonstrate efficacy of this therapy", and the third says "The evidence from RCTs to support the view that the application of mistletoe extracts has impact on survival or leads to an improved ability to fight cancer or to withstand anticancer treatments is weak".
NCCAM says of mistletoe
Cochrane reviews lists several reviews of mistletoe with similar conclusions. For example "The evidence from RCTs to support the view that the application of mistletoe extracts has impact on survival or leads to an improved ability to fight cancer or to withstand anticancer treatments is weak".
Anthroposophy is one of the highest grades of fantasy you can find. A post on that topic is in the works.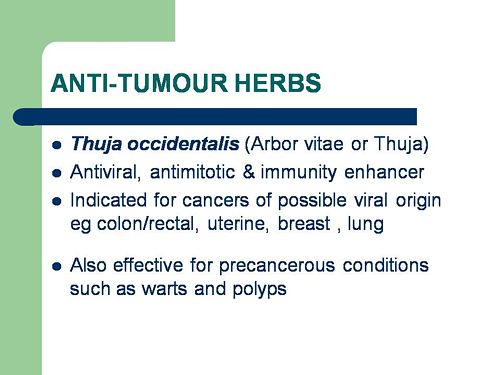 "Indicated for cancers . . . colon/rectal, uterine, breast, lung". A cure for lung cancer? That, of course, depends on how you interpret the weasel words "indicated for". Even Wikipedia makes no mention of any claims that Thuja benefits cancer. NHS Evidence (NeLCAM) doesn't mention Thuja for any indication. Neither does NCCAM. Nor Cochrane reviews. That is not the impression the hapless students of this BSc lecture were given. In my view suggestions that you can cure lung cancer with this tree are just plain wicked.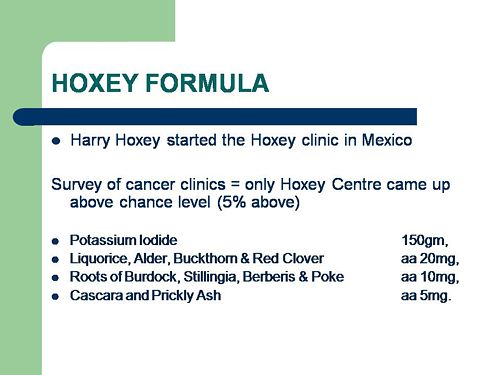 Pure snake oil, and not even spelled correctly, Harry Hoxsey's treatment centres in the USA were closed by court order in the 1950s.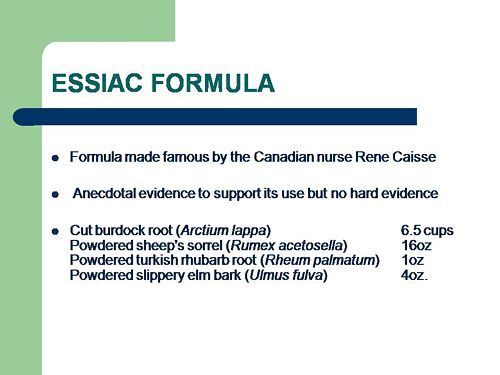 At least this time it is stated that there is no hard evidence to support this brand of snake oil.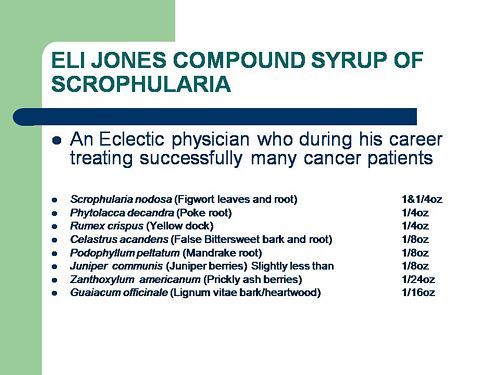 More unfounded claims when it says "treated successfully many cancer patients". No references and no data to support the claim. It is utterly unfounded and claims to the contrary endanger the public.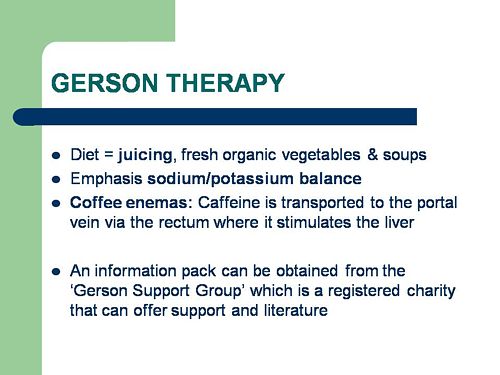 Gerson therapy is one of the most notorious and unpleasant of the quack cancer treatments. The Gerson Institute is on San Diego, but their clinics are in Mexico and Hungary. It is illegal in the USA. According to the American Cancer Society you get "a strict low-salt, low-fat, vegetarian diet and drinking juice from about twenty pounds of fresh fruits and vegetables each day. One glass of juice is consumed each hour, thirteen times a day. In addition, patients are given several coffee enemas each day. Various supplements, such as potassium, vitamin B12, pancreatic enzymes, thyroid hormone, and liver extracts, are used to stimulate organ function, particularly of the liver and thyroid.". At one time you also got several glasses of raw calf liver every day but after infections killed several people] carrot juice was given instead.
Cancer Research UK says "there is no evidence to show that Gerson therapy works as a cure for cancer", and "The Gerson diet can cause some very serious side effects." Nobody (except perhaps the Price of Wales) has any belief in this unpleasant, toxic and expensive folk-lore.
Again patients are endangered by teaching this sort of stuff.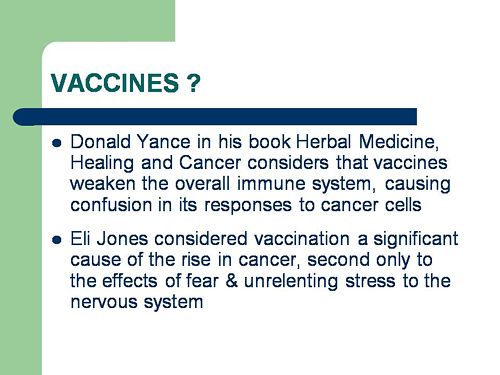 And finally, the usual swipe at vaccines. It's nothing to do with herbalism. but just about every alternative medicine advocate seems to subscribe to the anti-vaccination lobby.. It is almost as though they have an active preference for things that are known to be wrong. They seem to believe that medicine and science are part of an enormous conspiracy to kill everyone.
Perhaps this dangerous propaganda might have been ameliorated if the students had been shown this slide (from a talk by Melinda Wharton).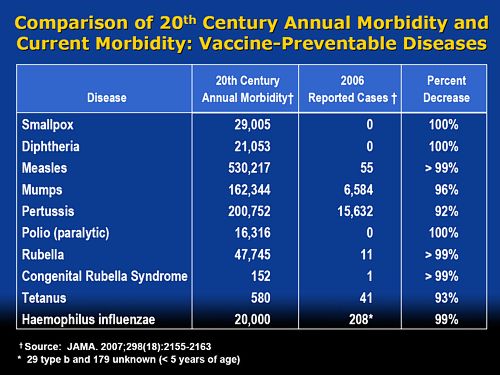 Click to enlarge
Left to people like this, we would still have smallpox, diphtheria. tetanus and rabies, Take a look at Vaccine-preventable diseases.
This is the sort of 'education' which the Pittilo report wants to make compulsory.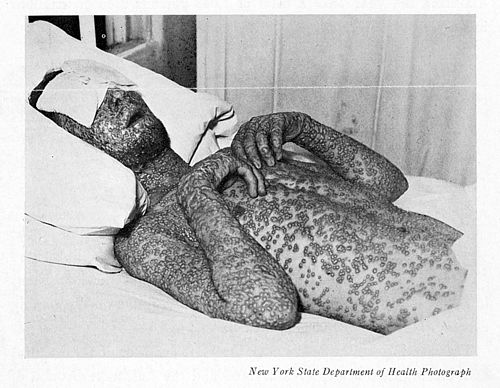 Smallpox in Baltimore, USA, 1939. This man was not vaccinated.
Conclusion
This selection of slides shows that much of the stuff taught in degrees in herbal medicine poses a real danger to public safety and to public health.
Pittilo's idea that imposing this sort of miseducation will help safety is obviously and dangerously wrong. The Department of Health must reject the Pittilo recommendations on those grounds.
Follow-up
Sense about Science have just produced a rather good pamphlet that exposes, yet again. the meaningless marketing slogan "detox". You can download the pamphlet from their web site.
The pamphlet goes through the claims of eleven products. Needless to say, the claims are either meaningless, or simply untrue.
Garnier Clean Detox Anti-Dullness Foaming Gel
"Detoxifies by cleansing the skin's surface"
MG Detox Shampoo Trevor Sorbie
"Deep cleansing and clarifying shampoo"
Boots Detox Body Brush
"Ritualistic body brushing helps expel toxins through the skin"
Innocent Natural Detox Smoothie
"Helps neutralise nasty free radicals which can cause damage to your body's cells"
Vitabiotics Detoxil 15 day support
"Helps the body cleanse itself of toxins and pollutants caused by the excesses of a busy life"
V-Water Detox
"Cleanse your system and whisk away the polluting nasties"
4321 Shape Up and Detox
"To drain off water and toxins" and "purify the body"
Boots Detox 5 Day Plan
Works "in harmony with your body to flush away toxins"
Farmacia Spa Therapy Detox range
To "rid your body of these damaging toxins"
Crystal Spring Detox patches
"I'm the easy way to detox, just put me on one foot at night and take me off in the morning"
Fushi Holistic and Health Solutions Total Detox Patch
"it acts as a toxin sink and absorbs impurities through your feet"
One nice thing about the pamphlet is that each item is written by a young scientist (including my close neighbour, Daniella Muallem). They are all people at an early stage in their career, but they care enough to spend time dissecting the rubbish spread by companies in order to part you from your money.
Garnier, it's true, is a cosmetics company, so one expects nothing but lies You won't be disappointed on that score.
That least ethical of pharmaceutical companies, Boots, appears twice The Boots Detox Body Brush is reviewed by a young chemist, Tom Wells. It turns out (there's a surprise) to be nothing more than an ordinary stiff brush. It seems that Boots' definition of "detox", for this purpose, is "removing dead skin cells" A totally shameless con, in other words.
The Boots Detox 5 day plan consists if 5 phials of apple or strawberry flavoured goo containing two vitamins and one mineral, mixed with glycerol. In this case the young investigator, Evelyn Harvey, elicited a quite remarkable response from Boots.
Well, have you tested the effects of that diet, with or without the detox product? Does the 'goo' stuff [the drink which forms part of the plan] add anything extra?

Well, it's meant to kick start it.

But has is been tested like that?

No.

Ok, I'm thinking I'll just try a healthy diet for a week, a bit more exercise, and not bother with buying the detox.

Yes, that sounds like a better idea, to be honest I'd never do this myself.
The media coverage
The Radio 4 Today programme interviewed Ben Goldacre and the managing director of yet another product "Detox in a box" (following their usual policy of equal time for the Flat Earth Society). Listen to the mp3. When Ben Goldacre asked the MD for evidence for the claim made on the web site of Detox in a box, that their diet could remove cadmium from the body, it was denied explicitly that any such claim had been made.
Not so.

But by 10.02 the site had already changed

So no apology for the mistake. Just a sneaky removal of a few words.
That seems to be the only change though. All the rest of the nutribollocks is still there. For example

There isn't the slightest reason to believe that it will "improve our immune function".
There isn't the slightest reason to think that scavenging free radicals would do you any good, even if it happened.
There isn't the slightest reason to think it will strengthen body's fight against cancer cells (that looks like a breach of the Cancer Act to me).
"Cleansing mucous" doesn't mean much, but whatever it is there isn't any reason to think its true.
"Purify our blood". Total meaningless bollocks. The words mean nothing at all. I've been here before.
Ben Goldacre's own account is here "The barefaced cheek of these characters will never cease to amaze and delight me."
The BBC web site does a good job too.
The Guardian gives an excellent account (James Randerson).
The Daily Mail writes "Detox diets to kick-start the New Year are a 'total waste of money' ".
Medical News Today write "Debunking The Detox Myth".
The Daily Telegraph disgraces itself by not only failing to carry a decent account of the item, but it does run an article on "Detox holidays: New year, new you". Mega-expensive holidays for the mega-stupid (not to mention the capital letter after the colon).
The Daily Mash provides a bit of cognate fun with "BRITAIN SIGNS UP FOR VORDERMAN'S 28-DAY PISS-DRINK DETOX". That alludes to "Carol Vorderman's 28-Day Detox Diet". A woman who got an enormous salary for playing a parlour game on TV, and has done some good for maths education, is reduced to promoting nonsense for yet more money.
As Clive James pointed out, it's a but like watching George Clooney advertising coffee for, of all unethical companies, Nestlé. They really look very silly.
Follow-up
Evening Standard 6th January. Nick Cohen writes "Give up detox – it's bad for your health"
"Giving up on detox should not be painful, however. On the contrary, it should e a life-enhancing pleasure."
The Times. rather later (January 18th) had a lovely one, "Detox
Debunked", by the inimitable Ben Goldacre, His account of /detox; as a quasi-religious 'cleansing ritual', is spot on.