Graham Donald
A flood of complaints against chiropractors has arrived at the General Chiropractic Council (GCC) in the wake of the British Chiropractic Association (BCA) v Singh affair. It is really rather beautiful that people have put some such enormous effort into writing complaints for no gain to themselves.
My own paltry two complaints to the GCC produced an interesting reaction. Yesterday I was told by the GCC
"Under the provisions of the General Chiropractic Council (Investigating Committee) Rules
2000 ("the Rules"), the Committee is required to invite you to make a statement of evidence in relation to your complaint by way of statutory declaration or affidavit. If you wish to, you can discuss your complaint with a solicitor who acts on behalf of the Committee who could help you draft a statement of evidence that meets the requirements of the Rules. The General Chiropractic Council will pay for the Investigating Committee solicitor's costs and will reimburse you for any fee you subsequently pay for having your witness statement sworn at a location convenient to you."
Naturally I shall take up this offer. If the same offer is made to everyone who complained (must be approaching 600), the legal fees incurred by the GCC would presumably be enough to bankrupt them. No wonder they are wriggling.
Here is a letter sent by the GCC's Chief Executive and Registrar, Margaret Coats, a couple of days ago. It reached me by more than one route, but it is already on the web anyway, on Richard Lanigan's site, Told you the General Chiropractic Council would find a way to dismiss the complaints. "Protecting the public" my arse! Protecting themselves more like it.. (The GCC has been under attack from within for some time, though mainly because some chiropractors think it regulates too much, not too little)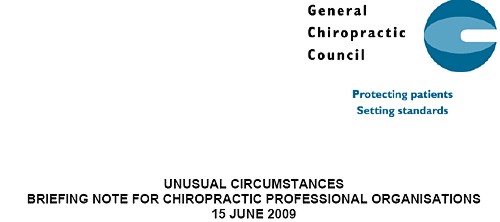 The bit that is especially interesting is para 2

In quangos like the GCC, complaints don't necessarily get considered at all. First they go to an investigating committee (IC) which has to decide if there is a 'case to answer'. Now the GCC wants that criterion to be changed to 'realistic prospect of success'. Given the GCC's attitude to evidence it is hard to imagine that any complaint will have a 'realistic prospect of success'.
The second idea is even more grotesque. The GCC want to be able to dismiss without consideration rafts of complaints where in their opinion, referral to the Professional Conduct Committee (PCC) 'is not required in the public interest. Or, more likely, not required in the interests of the GCC.
Will the Privy Council acquiesce in this disgraceful attempt to evade complaints? Wel, until January 2008, Graham Donald was a senior civil Servant at the Privy Council bit he now works for the GCC. That must help.
The GCC has been contacted by several Trading Standards Offices too, after complaints made to them about chiropractors. . A response was sent by the GCC on 5 June [download the whole response]. It includes
"It is important to emphasise that the GCC doesn't claim that chiropractors 'treat' asthma, headaches (including migraine) and infant colic. It is possible that chiropractic care may help to alleviate the symptoms of some of these conditions."
What on earth is that meant to mean?
One hopes that Trading Standards officers are too smart to be taken in by weasel words like that.
The attitude of the GCC to evidence is amply illustrated by the fact that they have said that the rather crude myths known as craniosacral therapy and applied kinesiology fall within their definition of evidence-based care.
Any organisation that can say that is clearly incompetent.
Follow-up