REF
A lot of people from around the world ready my last post, Is Queen Mary University of London trying to commit scientific suicide?. Nonetheless, the mainstream media reach a different audience. They are still needed. Oddly enough, the Guardian Higher Education section didn't seem very interested. For a paper that publishes Polly Toynbee and George Monbiot, the education section is surprisingly establishment-orientated. So is Times Higher Education, especially now the excellent Zoe Corbyn has left.
The Times, however, welcomed it. On Monday 30 July, the following much shortened version of the blog appeared. And in the Thunderer column, no less (again). Two of the most irritating things about writing for papers are the lack of links, and the often silly titles chosen by sub-editors not the author. [download pdf].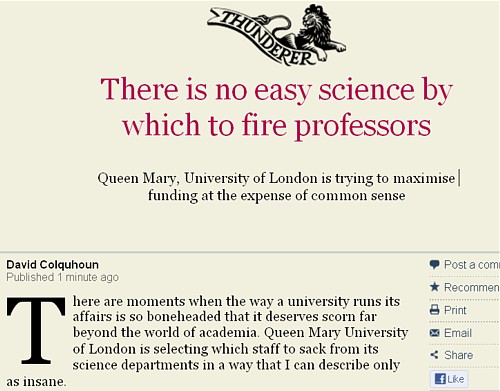 Follow-up
August 3 2012 A response from Simon Gaskell appeared in the letter column of The Times.
I fear that Gaskell has just dug himself deeper in the pit of his own making. Here is the letter I have submitted for publication. I left a similar online comment, which has already appeared.
August 3 2012 A correspondent write to me to point out an article that described the management methods that led to a lost decade by Microsoft. They are remarkably similar to those being imposed at Queen Mary.
"It leads to employees focusing on competing with each other rather than competing with other companies."
It's unfortunate that university managers so often seem to latch on to ideas that have already been discredited in industry.
August 6 2012. The Times hasn't published my response, but they did publish today a letter from Professor Gavin Vinson, of Queen Mary. I was too kind to mention the obvious absurdity of Gaskell's first sentence. Now it has been done..