Richard Brown
We all know that chiropractors feel pretty desperate, after their job has been revealed as baseless (much more information at ebm-first). Nonetheless it was very surprising when I was alerted by Twitter to the fact that the London Chiropractors were claiming to have been chosen by UCL as a "Centre of Excellence".

That was the heading in the whole page devoted to crowing about this designation. The page, as it was on18th April, can be seen on freezepage.com. They even boast about our 21 Nobel prizewinners, as though they had endorsed chiropractic.
"London Chiropractor has recently been designated as a "Centre of Excellence" by University College London. The University is among the world's leading universities as can be seen by its ranking in a variety of performance areas. Twenty-one Nobel prizewinners have come from the University's community".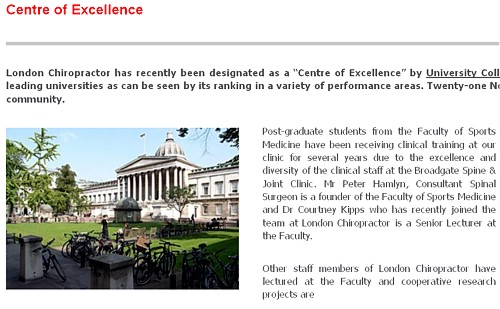 The triumphalist crowing goes on
"The designation of London Chiropractor as a Centre of Excellence is something that we are sincerely proud of. It distinguishes our clinic while providing impetus to carry on with our multi-disciplinary and evidence based treatment strategies while looking for new ways in which to improve on all aspects of our clinic at the same time and in a continuous manner."
But chiropractic is undoubtedly in deep trouble, after more that 600 complaints were submitted to the General Chiropractic Council (GCC). The GCC was forced to renounce what has always been a central myth of chiropractic, the "subluxation". The fact that most of the complaints have been rejected has revealed huge deficiencies in the GCC (some of which it recently admitted). It also reveals the uselessness of the Council for Health Regulatory Excellence (CHRE).which is meant to supervise them. More details at quackometer, Chiropractors at War with their Regulator, the GCC.
In the words of Richard Brown (president of the BCA) himself,
"The BCA sued Simon Singh personally for libel. In doing so, the BCA began one of the darkest periods in its history; one that was ultimately to cost it financially,"
Needless to say, chiropractors are trying to cash in on the Olympic games, sadly, with a little success. I suppose that invoking UCL. was part of that attempt. Like so many of chiropractors' attempts to defend themselves, it misfired badly.
The inspection of evidence that followed the attempt by the British Chiropractic Association (BCA) to sue Simon Singh showed that he was entirely justified to describe many of their treatments as "bogus" and "without a jot of evidence".
A quick email to the UCL authorities quickly determined that the claimed endorsement was not true. Attempting to access this page now leads to "page not found". The page vanished on Sunday 22nd April, and a near identical page for the Broadgate Spine and Joint Clinic had already vanished on Friday 20th April. While it is true that two surgeons from UCL's Institute of Sports Medicine have worked in the same building, they neither use chiropractic nor endorse it.
I'm assured that the alleged endorsement never happened. London Chiropractors won't say where it came from. It seems that it was simply made up. I think that's called a lie. I presume it is a sign of the desperation of chiropractors.
Follow-up