Sylvia Hartman
Here is a short break from the astonishing festival of chiropractic that has followed the British Chiropractic Association (BCA) v Simon Singh defamation case, and the absurd NICE guidance on low back pain.
| | |
| --- | --- |
| Singh's statement already has over 10000 signatories, many very distinguished, Sign it now if you haven't already. And getting on for 600 separate complaints about exaggerated and false claims by chiropractors have been lodged with the General Chiropractic Council and with Trading Standards offices. | |
The BCA has exposed the baselessness of most of chiropractic's claims more effectively than any sceptic could have done.
The University of Westminster is seeing the light?
It is only recently that the University of Westminster suspended entry to degrees in homeopathy and remedial massage and neuromuscular therapy. Luckily for science, they have a new Dean who knows bullshit when she sees it. I suspect than she has been instrumental in starting to restore Westminster's reputation. The job isn't finished yet though. According to the UCAS site Westminster still offers
Chinese Medicine: Acupuncture with Foundation (B341) 4FT Hon BSc
Health Sciences: Complementary Ther with Foundn (B300) 4FT Hon BSc
Health Sciences: Complementary Therapies (B255) 3FT Hon BSc
Health Sciences: Herbal Medicine (B342) 3FT Hon BSc
Health Sciences: Herbal Medicine with Foundation (B340) 4FT Hon BSc
Health Sciences: Naturopathy (B391) 3FT Hon BSc
Health Sciences: Naturopathy with Foundation (B392) 4FT Hon BSc
Health Sciences: Nutritional Therapy (B400) 3FT Hon BSc
Health Sciences: Nutritional Therapy with Foundn (B402) 4FT Hon BSc
With the possible exception of herbal medicine, which could be taught scientifically. all the rest is as delusional as homeopathy.
Rumour has it that Naturopathy may be next for the chop, so it seems appropriate to help the dean by showing a bit more of what the hapless students get taught. Remember that, according to Westminster, this is a bachelor of science degree!
Psychotherapeutic Approaches in Naturopathy 3CMW606
"This module is a core subject for BSc (Hons) Health Sciences: Naturopathy and option for BSc (Hons) Health Sciences: Complementary Therapies; BSc (Hons) Health Sciences: Therapeutic Bodywork; Graduate Diploma in Therapeutic Bodywork."
Lectures 3 – 5 of this course are about the Theory and Application of EmoTrance.
EMOTRANCE? No I had never heard of it either. But it takes only two minutes with Google to discover that it yet another product of the enormous navel-gazing self-help industry. A new variant is born almost every day, and no doubt they make buckets of money for their inventors. You can download a primer from http://emotrance.com/. The web site announces.
"EmoTrance REAL energy healing for the 21st Century"
Here are three quotations from the primer.
And then I thought of the lady in the supermarket whose husband had died, and I spend the following time sending her my best wishes, and my best space time quantum healing efforts for her void.
It doesn't matter how "bad"; something is or how old, it is ONLY AN ENERGY and energy can be moved with consciousness in quantum time, easily, and just for the asking.
Is EmoTrance a Science?
Yes! But only if you can accept that all living creatures have an energetic/emotional system. Once you make that leap then EmoTrance is completely logical and just makes sense. Like all great discoveries, EmoTrance is simple, natural and you might find you have always been aware of these processes subconsciously.
Now back to Westminster
Here are a few slides about EmoTrance
So it is pure vitalistic psycho-babble. The usual undefined use of impressive sounding words like "energy" and "quantum" with no defined meaning. Just preposterous made-up gobbledygook.
Before getting to EmoTrance, the course Psychotherapeutic Approaches in Naturopathy (3CMW606) had a lecture on Flower Essences. The evidence says, not surprisingly, that the effects of flower essences is not distinguishable from placebo "The hypothesis that flower remedies are associated with effects beyond a placebo response is not supported by data from rigorous clinical trials." (See Ernst Wien. Klin. Wochenschr. 2002 114(23-24):963-6). Here are two of the slides.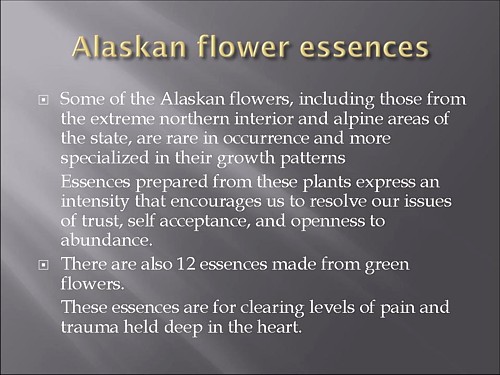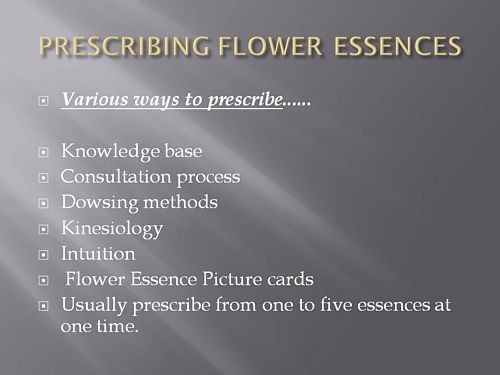 This last slide departs from the simply silly to the totally mad. Dowsing? Kinesiology?
Pendulums I'm told from more than one source that the use of pendulums is not uncommon. both in teaching and by students in the Westminster University polyclinic Apparently they provide an excellent way to choose a 'remedy' or make a diagnosis (well, I expect they are as good as the alternatives). If in doubt, guess.
Of course pendulums were popular with Cherie Blair who is reported to have taken her son Leo to a pendulum waver, Jack Temple, rather than have him vaccinated with MMR. At least her delusions affected fewer people than those of her husband (the latest Iraq body count is about 100,000).
Kinesiology was originally a word that applied to the perfectly sensible science of human movement. But Applied Kinesiology more often refers now to a fraudulent and totally ineffective diagnostic method invented by (you guessed) a chiropractor. It has been widely used by alternative medicine to misdiagnose food allergies. It does not work (Garrow, 1988: download reprint).
General Chiropractic Council It is a mind-boggling sign of the incompetence of the General Chiropractic Council that they manage to include kinesiology within their definition of "evidence based care". Their definition is clearly sufficiently flexible to include anything whatsoever. The incompetence of the GCC is documented in superb detail on jdc325's blog (James Cole).
Council for Healthcare Regulatory Excellence (CHRE) is yet another example of the network of ineffective and incompetent quangos that plague us.. It is meant to ensure that regulation is effective but utterly fails to do so. The CHRE is quoted as saying "[The GCC] takes its role seriously and aspires to, and often maintains, excellence.". Like endorsing kinesiology and 'craniosacral therapy' perhaps? Quangos like the CHRE not only fail to ensure regulatory excellence, they actually endorse rubbish. They do more harm than good.
The reading list for the course includes the following books. I guess the vibrational medicine (whatever that means) was covered already in the now infamous 'amethysts emit high yin energy' lectures.
Reading List
Essential:
Hartman S (2003) Oceans of Energy: The Patterns and Techniques of EmoTrance: Vol 1.DragonRising. ISBN: 1873483732.
Lynch V and Lynch P (2001) Emotional Healing in Minutes. Thorsons: London. ISBN: 0007112580

Recommended:
Gerber R (2001) Vibrational Medicine for the 21st Century. Piatkus Publishers: London.
Gurudas (1989) Flower Essences and Vibrational Medicine. Cassandra Press: California, USA
Hartman S (2000) Adventures in EFT: The Essential Field Guide to Emotional Freedom Techniques. DragonRising. ISBN: 1873483635.
Hartman S (2004) Living Energy: The Patterns and Techniques of EmoTrance: Vol 2. DragonRising.ISBN: 1873483740.
Hartman S (2006) Energy Magic: The Patterns and Techniques of EmoTrance: Vol 3. Dragon Rising.ISBN: 1873483767.
Real magic.
Sylvia Hartman's books seem to feature heavily in the reading list. I just got news of her latest effort
Welcome to a special update to the June 2009 newsletter to announce Silvia Hartmann's latest book "Magic, Spells & Potions" is now available to pre-order from our site. The eBook edition will be released this Sunday, the most magical day of the year.

http://DragonRising.com/store/magic_spells_and_potions/?r=DR0609MSAP

If you do pre-order this exciting new book, not only will you be amongst the first to receive your copy, but you will also be entered into an exciting competition for Silvia Hartmann's handmade copal amber magic pendant. Each paperback book pre-ordered will also be signed by the author and contain a unique blessing for the reader.

Because this is a serious book on real magic, potions and fortune telling if you are a beginner Silvia has provided ample sample spells and potions for you to practice working with before you start covering the advanced material.
What? No honestly, I didn't invent that.
The idea that stuff of this sort is appropriate for a bachelor of science degree is simply ludicrous. I have no doubt that Westminster's new dean can see that as well as anyone else. She has the delicate diplomatic job of extirpating the nonsense, I wish her well.
Follow-up