In March 2007 I wrote a piece in Nature on Science degrees without the science. At that time there were five "BSc" degrees in homeopathy. A couple of weeks ago I checked the UCAS site for start in 2009, and found there was only one full "BSc (hons)" left and that was at Westminster University.
Today I checked again and NOW THERE ARE NONE.
A phone call to the University of Westminster tonight confirmed that they have suspended entry to their BSc (Hons) homeopathy degree.
They say that they have done so because of "poor recruitment". It was a purely financial decision. Nothing to do with embarrasment. Gratifying though it is that recruits for the course are vanishing, that statement is actually pretty appalling It says that the University of Westminster doesn't care whether it's nonsense, but only about whether it makes money.
Nevertheless the first part of this post is not entirely outdated before it even appeared, because homeopathy will still be taught as part of Complementary Therapies. And Naturopathy and "Nutritional Therapy" are still there..
According to their 'School of Integrated Health', "The University of Westminster has a vision of health care for the 21st Century". Yes, but it is what most people would call a vision of health care in the 18th century.
The revelation that the University of Westminster teaches that Amethysts emit high Yin energy caused something of a scandal.
Since then I have acquired from several sources quite a lot more of their teaching material, despite the fact that the university has refused to comply with the Freedom of Information Act.
In view of the rather silly internal review conducted by Westminster's Vice-Chancellor, Professor Geoffrey Petts, this seems like a good moment to make a bit more of it public,
I think that revelation of the material is justified because it is in the
public interest to know how the University if Westminster is spending taxpayers' money. Another motive is to defend the reputation of the post-1992 universities. I have every sympathy with the ex-polytechnics in their efforts to convert themselves into universities. In many ways they have succeeded. That effort
is impeded by teaching mystical versions of medicine.
If the University of Westminster is being brought into disrepute, blame its vice-chancellor, not me.
Homeopathic spiders
Here are a few slides from a lecture on how good spider venom is for you. It is from Course 3CTH502 Homeopathic Materia Medica II. No need to worry though, because they are talking about homeopathic spider venom, so there is nothing but sugar in the pills. The involvement of spiders is pure imagination. No more than mystical gobbledygook.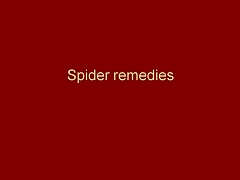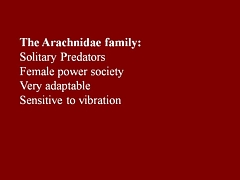 You are in hurry, or play with your fingers? You need spider venom pills (that contain no spider venom).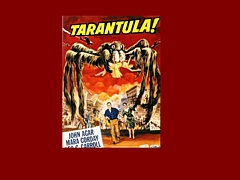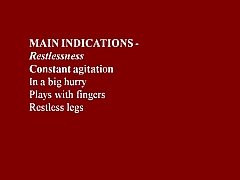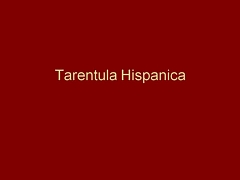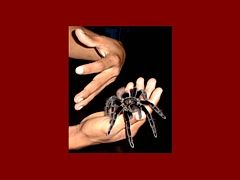 You break furniture? Time goes too fast for you? Try the tarantula-free tarantula pills.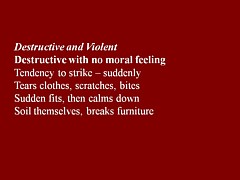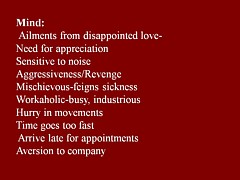 You are preoccupied with sex? You play with ropes? What you need is Mygale (which contains no Mygale)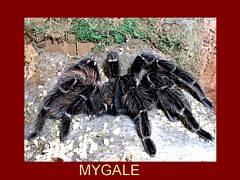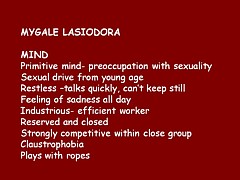 Much more seriously, the same sugar pills are recommended for serious conditions, chorea, 'dim sight', gonorrhoea, syphilis and burning hot urine.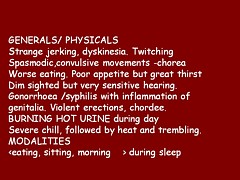 This isn't just preposterous made-up stuff. It is dangerous.
There is a whole lot more fantasy stuff in the handouts for Homeopathy Materia Medica II (3CTH502). Here are a couple of examples.
Aurum metallicum (metallic gold) [Download the whole handout]

Affinities MIND, VASCULAR SYSTEM, Nerves, Heart, Bones, Glands, Liver, Kidneys, RIGHT SIDE, Left side.

Causations Emotions. Ailments from disappointed love and grief, offence or unusual responsibility, abuse of mercury or allopathic drugs.

Aurum belongs to the syphilitic miasm but has elements of sycosis (Aur-Mur).
Potassium salts are the subject of some fine fantasy, in "The Kali's" [sic]. (there is much more serious stuff to worry about here than a few misplaced apostrophes.). [Download the whole handout]
"The radioactive element of potassium emits negative electrons from the atom nucleus and is thought to be significant in the sphere of cell processes especially in relation to functions relating to automatism and rhythmicity."

"Kali people are very conscientious with strong principles. They have their rules and they stick to them, 'a man of his word'."

"Potassium acts in a parasympathetic way, tending towards depression"

"They ["Kali people=] are not melancholic like the Natrum's but rather optimistic."
Radioactive potassium is involved in automaticity? Total nonsense.
Where is the science?
Yes, it is true that the students get a bit of real science. There isn't the slightest trace that I can find of any attempt to resolve the obvious fact that what they are taught in the science bits contradict directly what they are told in the other bits. Sounds like a recipe for stress to me.
They even get a bit of incredibly elementary statistics. But they can't even get that right. This slide is from PPP – Res Quant data analysis.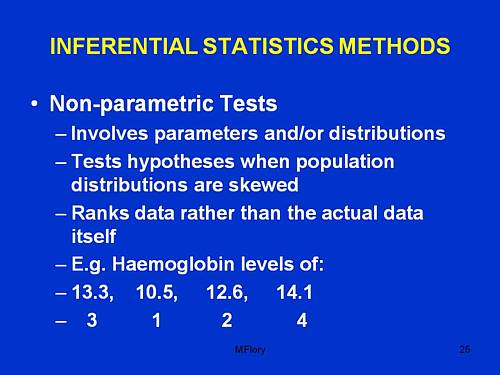 "Involves parameters and/or distributions". This has no useful meaning whatsoever, that I can detect.
"Tests hypotheses when population distributions are skewed". Well yes, though nothing there about forms of non-Gaussian properties other than skew, nothing about normalising transformations, and nothing about the Central Limit theorem.
"Ranks data rather than the actual data itself". This is plain wrong. Randomisation tests on the original data are generally the best (uniformly most powerful) sort of non-parametric test. It seems to have escaped the attention of the tutor that ranking is a short-cut approximation that allowed tables to be constructed, before we had computers.
The students are told about randomised controlled trials. But amazingly in the lecture PPP-RCTs, the little matter of blinding is barely mantioned. And the teacher's ideas about randomisation are a bit odd too.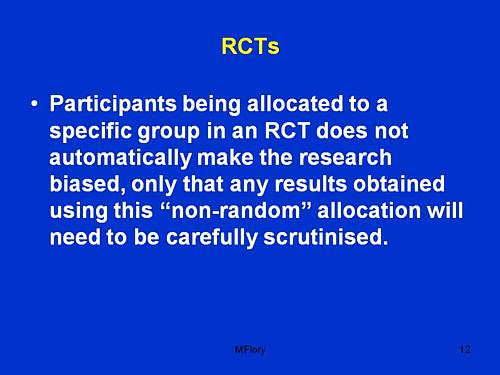 Sorry, but if you fiddle the randomisation, no amount of "careful scrutiny" will rescue you from bias.
An Introduction to Naturopathic Philosophy
Naturopathy is just about as barmy as homeopathy. You can see something about it at the University of Wales. How about this slide from Westminster's An Introduction to Naturopathic Philosophy.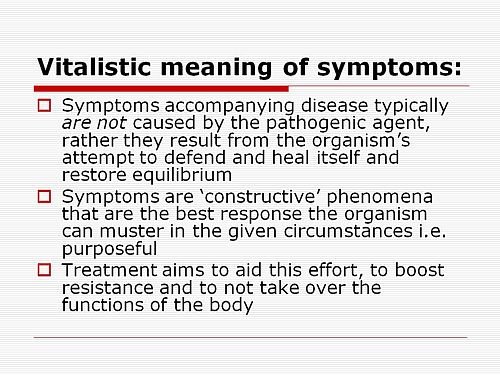 So if you get tuberculosis, it isn't caused by Mycobacterium tuberculosis? And the symptoms are "constructive"? So you don;t need to do anything. It's all for the best really.
This isn't just nonsense. It's dangerous nonsense.
Traditional Chinese Medicine
Ever wondered what the mysterious "Qi" is? Worry no more. All is explained on this slide.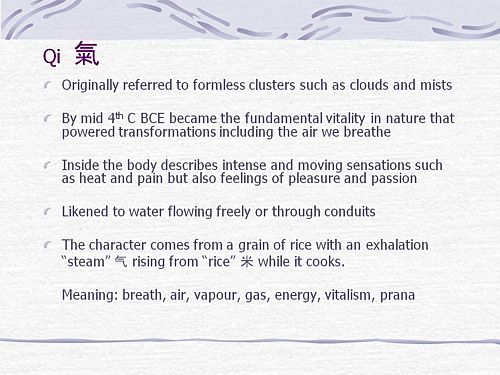 It means breath, air, vapour, gas, energy, vitalism. Or perhaps prana? Is that quite clear now?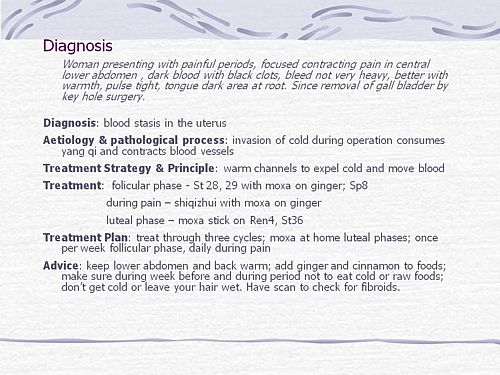 What can we make of this one? Anyone can see that the description is barely written in English and that vital information is missing (such as the age of the woman). And it's nonsense to suggest that "invasion of cold" (during keyhole surgery!) would cause prolonged constriction of blood vessels (never mind that it would "consume yang qi"). Not being a clinician, I showed it to an oncologist friend. He said that it was impossible to tell from the description whether the problem was serious or not, but that any abdominal pain should be investigated properly. There isn't anything here about referral for proper investigation. Just a lot of stuff about ginger and cinnamon. Anyone who was taught in this way could be a real danger to the public. It isn't harmless nonsense It's potentially harmful nonsense.
And finally, it's DETOX
Surely everyone knows by now that 'detox' is no more than a marketing word? Well not at the University of Westminster. They have a long handout that tells you all the usual myths and a few new ones.
It is written by Jennifer Harper-Deacon, who describes herself modestly, thus.
Jennifer Harper-Deacon is a qualified and registered Naturopath and acupuncturist who holds a PhD in Natural Health and MSc in Complementary Therapies. She is a gifted healer and Reiki Master who runs her own clinic in Surrey where she believes in treating the 'whole' person by using a combination of Chinese medicine and naturopathic techniques that she has qualified in, including nutritional medicine, Chinese and Western herbalism, homoeopathy, applied kinesiology, reflexology, therapeutic massage, aromatherapy and flower remedies.
It seems that there is no limit on the number of (mutually incompatible) forms of nuttiness that she believes. Here are a few quotations from her handout for Westminster students.
"Detoxification is the single most powerful tool used by natural health professionals to prevent and reverse disease"
What? To "prevent and reverse" malaria? tuberculosis? Parkinson's disease? AIDS? cancer?
"When you go on to a raw food only diet, especially fruit, the stored toxins are brought up from the deep organs such as the liver and kidneys, to the superficial systems of elimination.";
Very odd. I always though that kidneys were a system of elimination.
"The over-use and mis-use of antibiotics has weakened the body's ability to attack and destroy new strains of resistant bacteria, virulent viruses, which have led to our immune system becoming compromised."
Certainly over-use and mis-use are problems. But I always thought it was the bacteria that became resistant.
"The beauty about detoxification therapy is that it addresses the very causative issues of health problems"
That is another dangerous and silly myth. Tuberculosis is not caused by mythical and un-named "toxins". It is caused by Mycobacterium tuberculosis.
"Naturopathy follows the logic of cause and effect therefore believes that we simply need pure food and water, sunshine, air, adequate rest and sleep coupled with the right amount of exercise for health."
Try telling that to someone with AIDS.
"Colon cleansing is one of the most important parts of any detoxification programme."
The strange obsession with enemas in the alternative world is always baffling.
"Frankincense: holds the capacity to physically strengthen our defence system and can rebuild energy levels when our immune system is weak. Revered as a herb of protection, frankincense can also strengthen our spiritual defences when our Wei qi is low, making us more susceptible to negative energies. This calming oil has the ability to deepen the breath, helping us to let go of stale air and emotions, making it ideal oil to use inhale prior to meditating."
This is so much hot air. There is a bit of evidence that frankincense might have some anti-inflammatory action and that's it.
But this has to be my favourite.
"Remember when shopping to favour fruits and vegetables which are in season and locally grown (and ideally organic) as they are more vibrationally compatible with the body."
Locally grown vegetables are "more vibrationally compatible with the body"? Pure mystical gobbledygook. Words fail me.
OK there's a whole lot more, but that will do for now.
It's good that Westminster is shutting down its Homeopathy BSc, but it seems they have a bit further to go.
84 Responses to The last BSc (Hons) Homeopathy closes! But look at what they still teach at Westminster University.