I voted labour in every election (apart from my very first) up to and including 1997. This is about my feelings for the 2010 election. Make up your own mind (but don't let Rupert Murdoch manipulate you).

Downloadable button from Mark Golding at http://www.coia.org.uk

Don't Get Fooled Again "I agree with Rupert"
By 2001 election, I had been forced to the conclusion that Tony Blair had views that were well to the right of Margaret Thatcher's, in many areas that mattered to me. so I voted Lib Dem. That was before 9/11 After that event, all doubt was gone, so the 2005 election it was Lib Dem again.
I won't even consider the Conservative party much. I have never understood how anyone could vote for them, ever. The only choice for me is Lib Dem versus Labour. Let's try to be fair. Labour has done some good things (though most of them would probably have been done by Lib Dems too).
Minimum Wage Act 1998 was a great innovation
The Freedom of Information Act (2000) was a major step forward for openness and democracy.
Nursery school places have increased
Heating allowances for pensioners (though not sure that I should have got it)
The funding for the NHS was increased considerably and it has been very good for me (see Why I love the NHS).
Funding for science increased considerably
Against the big increases for the NHS must be set the huge increase in the number of highly-paid managers, relative to the number of nurses and doctors, that has occurred under Labour.
Bad things that labour has done
It was obvious from an early stage that Labour were in favour of selective schools (but were not honest about). They certainly favoured religious selective schools, and still do.
The explicit support of Tony Blair for creationist schools and his implicit support for homeopathy are distasteful, but not in themselves sufficient reason for voting against him. The decisive thing for me is the Labour government's careless attitude to human rights and free speech.
Nothing made that clearer than the Iraq war and its aftermath.
Saddam Hussein was a wicked dictator, Sadly the world has many wicked dictators. One wishes they would all go away. But only one of the world's wicked dictators was singled out to be invaded. It was already clear before 1997that Iraq had been picked out by American neoconservatives as a 'special case'. They didn't get far until the election of George Bush in 2001, and the tragedy of the twin towers, 9/11, gave them the chance they sought.
George Bush was perhaps the most extreme right wing president in US History (as well as one of the most stupid). As someone who seemed to have difficulty in distinguishing between real life and a B-movie, his behaviour may not be surprising, but it brought shame on his country. His regime's legitimisation of torture is, to my mind, the greatest disgrace that has happened during my adult lifetime.
It was with increasing incredulity that I watched Tony Blair's poodle-like behaviour to Bush. It seemed incredible that any normal human. let alone a Labour prime minister could behave like that. The sight of two such men, both believing that god was on their side was scary in the extreme.
Some things are in danger of being forgotten with the passing of time. All these and much more were documented on my politics blog, up to the point when Blair left office.
Remember the US governments legalisation of torture. That caused no wavering in Blair's support.
Remember the plagiarised dossier? Any student would have been fired for that, but Blair shrugged it off.
Remember how the attorney general mysteriously changed his mind about the legality of the war?
Remember Abu Ghraib? If not, read Seymour Hersh.
Remember the ex-aide to Blair who said


"I couldn't help feeling TB was rather relishing his first blooding as PM, sending the boys into action. Despite all the necessary stuff about taking action 'with a heavy heart', I think he feels
it is part of his coming of age as a leader."

and how the government tried to tone down his remarks.

Remember David Kelly? The death of a good man must be largely the fault of Blair's government.
Remember how, eventually, generals and even neocons turned on Bush, but Blair would still not admit any mistake?
Remember the Hutton report, and the vicious attacks on the BBC's independence that followed it?
Remember the attempts to conceal 'rendition' (i.e. .torture by proxy).
Remember the wonderful efforts of UCL lawyer, Phillipe Sands, to expose illegal activities by both US and UK governments. He is someone of whom UCL can be very proud.
The good done by the Freedom of Information Act has to be set against their sloppy attitude to human rights, as evidenced by their constant attempts to extended detention without charge or trial. In 2004 I made the following poster, based on a dramatic front page of the Independent, 18th Dec. 2004. It is still relevant.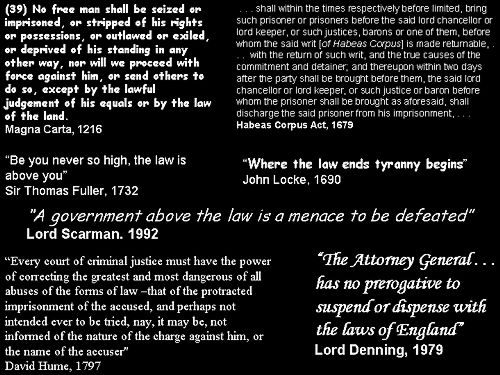 Click to enlarge
This followed the ruling pf the Law Lords that the government's detention policy was illegal
"The real threat to the life of the nation, in the sense of a people living in accordance with its traditional laws and political values, comes not from terrorism but from laws such as these. That is the true measure of what terrorism may achieve. It is for Parliament to decide whether to give the terrorists such a victory." Lord Justice Hoffmann, in the 8-1 ruling of the Law Lords that the UK government's policy of detention without charge is illegal. [Washington Post] , [Original report]

The sight of Blair acquiescing to the wish of the most right-wing neoconservative government in the western world sickened me unspeakably, and still does, The happy days of 1997 seemed to be a long way away.
That was Blair, but Gordon Brown and most of the Labour cabinet looked on and did nothing.
David Miliband said "You've punished us enough about Iraq". Well no, you haven't been punished at all, Yet. As someone said on twitter, resuscitate the 100,000 dead and we'll forgive you.
I'm still baffled about why the crowd that gathered in UCL's quad for the start of the second great march on 20th March 2003, were able to predict the outcome of the invasion so much more accurately than the government.

UCL quadrangle 20 March 2003

Click here to download high resolution
Apart from the war
Brown is guilty not only of supporting the war.
He has supported segregated religious schools and the reintroduction of "academy" schools, both being ways of surreptitiously re-introducing selection into the education system
He and Blair presided over an endless multiplication of box-ticking quangos. The intention was, no doubt to increase quality, but the effect has been exactly the opposite. Just look, for example, at Skills for Health, the QAA, the QCA and a multitude of others.
These are some of the reasons that I cannot vote "Labour" this time. They have become. in many ways, a party of the right, barely distinguishable from the Conservative party (and in some respects, further to the right). Remember that the Conservatives supported Blair in his love affair with George Bush, they support selective schools, they support religious schools. And they are even more likely that Labour to sell their soul to Rupert Murdoch. Imagine Fox "News" coming to the UK and be afraid, very afraid.
Why Liberal Democrats?
Since I find it impossible to vote Labour this time. they are the only option. But I think one can be a bit more positive than that.
Some of the reasons why are listed in a letter in today's Guardian (the list of signatories is remarkable). The Lib Dem manifesto is here.
The Lib Dems are more likely than the other parties to roll back New Labour's attack on civil liberties
Lib Dems tax and green policies look pretty good to me.
The cost of replacing Trident missiles could be around £100 billion, and if that were spent it is doubtful whether what you get is useful under present conditions. Only Lib Dems would rethink this ghastly waste of money. Brown and Cameron prefer macho posturing.
Brown's judgment about banks was wrong, yet he still won't separate the casino banks and the savings banks. Lib Dem's would.
Lib Dems have been more open about how cuts would be made than other parties (if not 100%). Vince Cable for Chancellor.
Nick Clegg's response to the letter sent party leaders by the Campaign for Science & Engineering CaSE) was clearly better than the others,in many respects. See also Lib Dems science policy test
Can you imagine a better science minister than Dr Evan Harris?. I can't.
Follow-up
31 Responses to The General Election 2010: why it has to be Lib Dem this time