| | |
| --- | --- |
| Professor George Lewith is perhaps the most prominent advocate of alternative medicine within quackademia, at least in Russell Group University. He claims to be a member of "The Complementary and Integrated Medicine Research Unit is within the School of Medicine at the University of Southampton.". | |
The URL for this unit is actually http://www.cam-research-group.co.uk/. Strangely, though, a search of Southampton University's own web site for "Complementary and Integrated Medicine Research Unit" yields very little information about this unit.
But Lewith does not spend all of his time on his academic duties. He also spends time in London at his private practice, at the Centre for Complementary and Integrated Medicine. This practice, I discovered in 2006, was selling to patients that well known method for misdiagnosing food intolerance, the Vega test. It was doing so despite the fact that Lewith himself had written a paper that concluded that the Vega machine does not work, The paper was in the British Medical Journal, 2001;322:131-4. It concludes "Electrodermal testing cannot be used to diagnose environmental allergies". This history is recorded in Lewith's private clinic has curious standards.
Dr Lewith was in the news again recently when he published a paper that showed (yet again) that homeopathic pills work no better than placebo. No surprise there of course. The paper has been described here, in Despite the spin, Lewith's paper surely signals the end of homeopathy (again).
So we can congratulate Lewith for being one of the few members of the magic-medicine community to have published papers of reasonable quality that show that neither homeopathy nor the Vega test work. In fact there was nothing novel in the conclusions about the Vega machine. It has been debunked again and again.
The BBC's Inside Out programme in 2003 found that when the Vega test was taken in three different branches of Holland and Barrett, the results were quite different every time. The reporter was advised to by a total of 20 different supplements, but got different advice from every store.
In 2006, the test was destroyed again in, of all places, the Daily Mail which published 'The great allergy con'.
In 2011, BBC's Watchdog programme looked again at food intolerance tests, with results as crazy as before. Holland & Barrett said "In light of this report, however, we have instructed The UK Health Partnership to investigate the findings and review their current training practices". That's odd, because in 2001 they had said ""In light of the issues raised, we are already carrying out a full review of the services that HSL provide." So not much progress there.
What is rather more surprising is to find that Dr Lewith, having himself shown that neither the Vega test nor homeopathy work, continues to sell both to patients in his private practice.
I recently heard from a young student about her experiences when she went to Prof Lewith's private practice. If you want to read her letter in full, download the pdf. Some quotations from it suffice to tell the tale.
"I had suffered from CFS/ME for nearly 8 years when on March 18th 2009 I had my first appointment with doctor Lewith"

"We talked for 7 to 10 minutes about my history and gave a very brief outline of my medical past. I did feel that this was a bit rushed"

"He said that he would treat me with a mixture of homeopathic medicine and conventional treatments and then hooked me up to a machine to determine any food intolerances."

"He put me off all dairy products and said that he would send me some homeopathic remedies and food supplements"

"Having suffered with the illness for so long and having been involved with the conventional practices for treating ME with no relief I went to Dr Lewith desperate. I left this first consultation a little shocked at the rushed pace and a little wary of homeopathy but determined to carry on. "

"I waited for my remedies in the post but only the food supplements and the blood test results arrived."

"On April 8th 2009, I went back for my 30 minute follow up consultation. We talked briefly about how I was doing. Dr Lewith exclaimed that I looked so much better than last time and that the treatments that he had sent me had obviously worked. I assumed he meant the food supplements. It quickly transpired that he meant the homeopathic drops that I had never received. I suggested that I was probably better than last time because I was not recently recovering from tonsillitis. My confidence was immediately lost as I felt I was being coerced into thinking that the drugs he had provided were the reason for my recovery. Someone with knowledge of ME should be aware that a sufferer is not in a permanent state of ill health but generally that they follow what is known as 'Boom and Bust'. I was going through a good patch, which after 8 years of being ill was the normal pattern. This was a maximum 5 minute conversation."

"He hooked me up to the machine again still without any real explanation. "

"I cancelled my next appointment with Dr Lewith having completely lost faith in his methods. I subsequently received two packages of drugs by post which I have returned. Neither at the consultation nor with the packages of drugs was there any explanation of what each drug was prescribed to achieve."

"It was soon after that Lewith was chasing me for payment of the cancelled appointment and the homeopathic drugs that I had sent back. This was a total of £230. I had already spent nearly £300. I refused to pay as I did not feel that I had received the proper medical care that is expected of a GP."

"He threatened to lay a claim against me at the small claims court."

"I submitted both a Defence and Counterclaim to his action against me."

"We went to court yesterday [January 17 2011] where Dr Lewith did not attend. "

"He failed to submit witness statements and a Defence to my Counterclaim. The judge struck the case off and my costs awarded against Dr Lewith."

"Conventional medicine had not been successful in helping me with ME and at 20 years old and at university I was desperate for a cure. I feel that complementary medicine takes advantage of people in my situation – I witnessed extortionate fees, blatant coercion to believe that it was working and blasé professionalism"
In response to a subsequent enquiry, the student told me
"He never told me what the homeopathic drugs were or what they were meant to do. When I received them I sent them straight back."

"I am pretty sure that I was given general vitamins and minerals and some magnesium (if that makes sense?)"
| | |
| --- | --- |
| "From what I can gather from the internet it was the Vega machine. I was given something metal to hold in my hand whilst he applied a probe to my toe and added different vials into a slot in the machine. " | A Vega machine |
The student also paid £85 for an ATP metabolism test, done by Acumen, a private company run by Dr John McLaren-Howard. This test allegedly found defects in ATP metabolism on the basis of which the student was charged £91.91 for CoQ10 tablets. Neither the test, nor CoQ10, have any verified usefulness for her condition.
Here's the bill for the homeopathic pills prescribed by Lewith.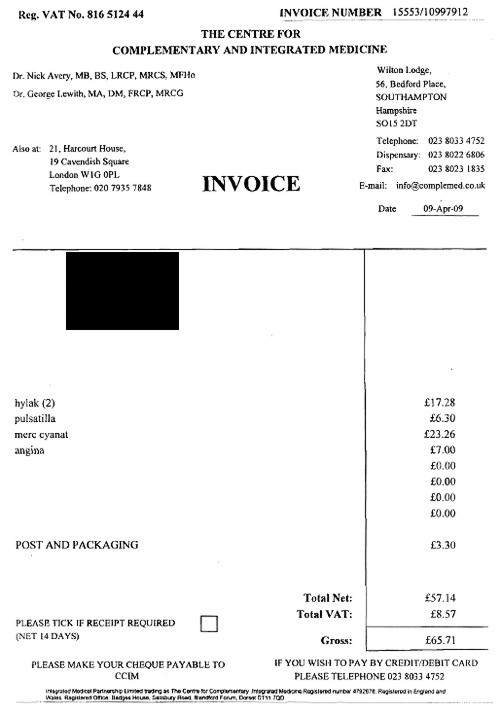 Click to enlarge
These are the facts. Make of them what you will. At a cost of over £500, no good was done.
It isn't surprising that Lewith's claim was dismissed by the court.

The College of Medicine
We notice that Professor Lewith plays is vice-chair of the "College of Medicine" that has arisen from the ashes of the Prince's Foundation for Integrated Health (for more details see Don't be deceived. The new "College of Medicine" is a fraud and delusion). That organisation is supposed to be devoted to "patient-centered medicine". The reader can judge whether the case related here is a good example.
It is often said that one reason that people go to alternative practitioners is because real medicine can do nothing for them. That, only too often, is the case. People get desperate and clutch at straws. That is bad enough even in cases where the alternative practitioner believes sincerely, if wrongly, that their treatments work.
For the alternative practitioner to prescribe things which he knows full well don't work, is, perhaps, rather worse.
Follow-up
Just as this post was about to go up, George Lewith popped up again in a BCC piece about how expectations affect the perception of pain (something that has been known for years). Lewith is quoted as saying "It completely blows cold randomised clinical trials, which don't take into account expectation." This comment shows a total misunderstand of how a randomised trial works. It is all explained properly by Majikthyse, in The wrong end of the stick
Just for fun, here is a discussion that I had with Lewith on Channel 4 News, as edited (not by me) for YouTube.
26 Responses to George Lewith's private practice. Another case study.