Since writing about anti-scientific degrees in Nature (March 2007), much has been revealed about the nonsense that is taught on these degrees. New Year's day seems like a good time to assess how far we've got, five years on.
At the beginning of 2007 UCAS (the universities central admission service) offered 45 different BSc degrees in quackery, at 16 universities.
Now there are only 24 such degrees.
If you exclude chiropractic and osteopathy, which all run at private colleges, with some sort of "validation" from a university, there are now only 18 BSc/MSc courses being offered in eight universities.
Degrees in homeopathy, naturopathy and "nutritional therapy", reflexology and aromatherapy have vanished altogether from UCAS.
In the race to provide BScs in anti-science, Middlesex University has now overhauled the long-standing leader, Westminster, by a short head.
| | |
| --- | --- |
| Michael Driscoll, vice-chancellor of Middlesex | Geoffrey Petts, vice-chancellor of Westminster |
Let's see what's gone.
The University of Central Lancashire (UCLAN) was the first to see sense. In August 2008 they announced closure of their "BSc" degree in homeopathy. On September 2008 they announced an internal review of their courses in homeopathy. herbalism and acupuncture. The report of this review closed down all of them in July 2009. I first asked for their teaching materials in July 2006. I finally got them in December 2010, after winning an appeal to the Information Commissioner, and then winning an appeal against that decision at an Information tribunal . By the time I got them, the course had been closed for over two years. That is just as well, because it turned out that UCLAN's students were being taught dangerous nonsense. No wonder they tried so hard to conceal it.
Salford University was the next to go. They shut down their courses in complementary medicine, homeopathy and acupuncture. In January 2009 they announced " they are no longer considered "a sound academic fit" ". Shortly afterwards. a letter appeared in The Times from three heavyweights (plus me) congratulating the vice-chancellor on his decision.
University of Westminster
For many years, Westminster was the biggest supplier of BSc degrees in quackery. At the beginning of 2007 they offered 14 different BSc degrees in homeopathy, naturopathy, nutritional therapy, "complementary therapies", (western) herbal medicine and traditional Chinese medicine with acupuncture. Some of their courses were so bizarre that some of the students and even staff sent me slides which taught things like "amethysts emit high Yin energy". Like UCLAN, Westminster also held an internal review. Unlike UCLAN it came to the absurd conclusion that all would be well if they injected more science into the courses. The incompetence of the review meant that those who wrote it hadn't noticed that if you try to put science into homeopathy or naturopathy, the whole subject vanishes in a puff of smoke. Nevertheless Westminster closed down entry to BSc homeopathy in March 2009 (though the subject remained as part of other courses).
Three years after the Nature article, all five BSc homeopathy degrees had shut their doors.
During 2011, Westminster shut down Naturopathy, Nutritional therapy, Therapeutic bodywork and Complementary Medicine. See, for example,
More dangerous nonsense from the University of Westminster: when will Professor Geoffrey Petts do something about it?
Professor Geoffrey Petts of the University of Westminster says they "are not teaching pseudo-science". The facts show this is not true
University of Westminster shuts down naturopathy, nutritional therapy, but keeps Acupuncture and Herbal Medicine
Now Westminster has only four courses in two subjects. They still teach some dangerous and untrue things, but I suspect the writing is on the wall for these too.
I have seen a document, dated 11 April 2011, which states
"The following courses have been identified as 'at risk' (School definition) and will be discussed at the APRG and University Review Group2, due to poor recruitment and high cost of delivery:
 Integrated Health Scheme: BSc Complementary Medicine, Naturopathy; BSc Chinese Medicine; BSc Nutritional Therapy; BSc Herbal Medicine"
All but Chinese medicine and Herbal medicine have already gone. Almost there.
University of Wales
Since my first post in 2008 about the validation scam operated by the University of Wales, and some good investigations by BBC Wales TV, the outcome was the most spectacular so far. The entire institution collapsed. They no longer "validate" external degrees at dodgy business colleges, loony religious colleges or magic medicine colleges.
Another worthless validation: the University of Wales and nutritional therapy (October 2008) This is a 'degree' in nutrtional therapy. It is even more hilarious than usual, but it passed the validation anyway.
Scandal of the University of Wales and the Quality Assurance Agency (November 2010). This post followed the BBC Wales TV programme. At last the QAA began to notice, yet further confirmation of its utter ineptitude.
The University of Wales disgraced (but its vice chancellor is promoted) (October, 2011) The eventual collapse of the university was well-deserved. But it is very weird that the people who were responsible for it have still got their jobs. In fact the vice-chancellor, Marc Clement, was promoted despite his mendacious claim to be unaware of what was going on.
It remains to be seen how many of the many quack courses that were validated by the University of Wales will be taken on by other universities. The McTimoney College of Chiropractic is owned by BPP University (so much for their quality control, as explained in Private Eye). but still claims to be validated by Wales until 2017.
Some of the more minor players
Edinburgh Napier University. After an FOI request (rejected), Napier closed their herbal medicine degree in 2010.
Hot and cold herbal nonsense from Napier University Edinburgh: another course shuts. (June 2010)
As expected, the Scottish Information Commissioner agreed with that for England and Wales and ordered material to be sent. Edinburgh Napier University teaches reflexology, aromatherapy and therapeutic touch. Scottish Information Commissioner says you should know. Some of the horrors so discovered appeared in Yet more dangerous nonsense inflicted on students by Edinburgh Napier University. The embarrassment seems to have worked. Their remaining degrees in aromatherapy and reflexology have now vanished from UCAS too. All that remains is a couple of part time "Certificates of Credit" for aromatherapy and reflexology
Anglia Ruskin Univerity Not only have BSc degrees gone in aromatherapy and reflexology, but their midwifery degree now states "We are unable to accept qualifications in aromatherapy, massage and reflexology."
University of Derby Reflexology and aromatherapy have gone, though doubtless Spa management therapies have much nonsense left
University of Greenwich. BSc in Complementary Therapies (Nutritional Health) and BSc in Complementary Therapies (Nutritional Health) have been shut. The BSc Acupuncture is listed on their web site but it is under review, and is not listed in UCAS for 2012. (Acupuncture is run at International College of Oriental medicine, validated by Greenwich.). Only osteopathy (MOst) is still running, and that is a validation of an external course run at The European School of Osteopathy, in Maidstone
Thames Valley University was renamed the University of West London in 2010. The nonsense that was run there (e.g. Nutritional Fairy Tales from Thames Valley University) seems to have vanished. Their previous alt med guru, Nicola Robinson, appears now to be at London South Bank University (ranked 116 out of the 116 UK universities)
What's left?
Chiropractic Surprisingly, given the total discreditation of chiropractic in the wake of the Simon Singh affair, and the internecine warfare that followed it, none of the chiropractic courses have shut yet. Some are clearly in trouble, so watch this space.
Osteopathy has also had no course closures since 2007. Like chiropractic it also suffers from internecine warfare. The General Osteopathic Council refuses to disown the utter nonsense of "craniosacral" osteopathy. But the more sensible practitioners do so and are roughly as effective as physiotherapists (though there are real doubts about how effective that is).
Excluding chiropractic and osteopathy, this is all that's left. It now consists almost entirely of Chinese medicine and a bit of herbal.
Glyndwr university (Known as North East Wales Institute until 2008) Ranked 104 out of 116 UK universities
BSc Acupuncture (B341) BSc
BSc Complementary Therapies for Healthcare (B343)
Cardiff Metropolitan University (UWIC) (Known as University of Wales Institute Cardiff (UWIC) until Nov 2011.) The vice-chancellor of Cardiff Metropolitan, Antony Chapman, is in the QAA's board of directors, so perhaps it isn't surprising that the QAA has done nothing.
BSc Complementary Therapies (3 years) (B390)
BSc Complementary Therapies (4 yrs inc Foundation) (B300)
University of Lincoln
Acupuncture (B343) 3FT Hon BSc
Herbal Medicine (B342) 3FT Hon BSc
University of East London Ranked 113 out of 116 UK universities
Acupuncture (B343) 3FT Hon BSc
London South Bank University Ranked 116 out of 116 UK universities
Acupuncture (B343) 4FT Deg MCM
The Manchester Metropolitan University Ranked 93 out of 116 UK universities
Acupuncture (B343) 3FT Hon BSc
Middlesex University
Acupuncture (B348) 3FT Hon BSc
Ayurvedic Medicine (A900) 4FT Oth MCM
Herbal Medicine (B347) 3FT Hon BSc
Traditional Chinese Medicine (BT31) 4FT Hon BSc
University of Westminster
Chinese Medicine: Acupuncture (B343) 3FT Hon BSc
Chinese Medicine: Acupuncture with Foundation (B341) 4FT/5FT Hon BSc/MSci
Herbal Medicine (B342) 3FT Hon BSc
Herbal Medicine with Foundation Year (B340) 4FT/5FT Hon BSc/MSci
It seems that acupuncture hangs on in universities that are right at the bottom of the rankings.
Manchester Metropolitan gets the booby prize for actually starting a new course, just as all around are closing theirs. Dr Peter Banister, who was on the committee that approved the course (but now retired), has told me " I am sceptical in the current economic climate whether it will prove to be successful". Let's hope he's right.
But well done Westminster. Your position as the leader in antiscientific degrees has now been claimed by Middlesex University. Their "degrees" in Ayurveda mark out Middlesex University as the new King of Woo.
Over to you, Professor Driscoll. As vice-chancellor of Middlesex University, the buck stops with you.
Both still teach Chinese and herbal medicine, which are potentially dangerous. There is not a single product from either that has marketing authorisation from the MHRA, though the MHRA has betrayed its trust by allowing misleading labelling of herbal medicines without requiring any evidence whatsoever that they work, see, for example
Why degrees in Chinese medicine are a danger to patients
More quackedemia. Dangerous Chinese medicine taught at Middlesex University
Why does the MHRA refuse to label herbal products honestly? Kent Woods and Richard Woodfield tell me
Sub-degree courses
In contrast to the large reduction in the number of BSc and MSc degrees, there has actually been an increase in two year foundation degrees and HND courses in complementary medicine, at places right near the bottom of the academic heap. The subject is sinking to the bottom. With luck it will vanish entirely from universities before too long.
Research-intensive Universities
Although all of the degrees in magic medicine are from post-1992 universities, the subject has crept into more prestigious universities. Of these, the University of Southampton is perhaps the worst, because of the presence of George Lewith, and his defender, Stephen Holgate. Others have staunch defenders of quackery, including the University of Warwick, University of Edinburgh and St Batholomew's.
Why have all these courses closed?
One reason is certainly the embarrassment caused by exposure of what's taught on the courses. Professors Petts (Westminster) and Driscoll (Middlesex) must be aware that googling their names produces references to this and other skeptical blogs on the front page. Thanks to some plain brown emails, and, after a three year battle, the Freedom of Information Act, it has been possible to show here the nonsense that has been foisted on students by some universities. Not only is this a burden on the taxpayer, but, more importantly, some of it is a danger to patients.
When a course closes, it is often said that it is because of falling student numbers (though UCLAN and Salford did not use that excuse). Insofar as that is true, the credit must go to the whole of the skeptical movement that has grown so remarkably in the last few years. Ben Goldacre's "ragged band of bloggers" have produced a real change in universities and in society as a whole.
The people who should have done the job have either been passive or an active hindrance. The list is long. Vice-chancellors and Universities UK (UUK), the Quality Assurance Agency (QAA), the Hiigher Education Funding Council England (HEFCE), Skills for Health, the Medicines and Health Regulatory Authority ( MHRA) , the Health Professions Council (HPC), the Department of Health, the Prince of Wales and his reincarnated propaganda organisation, the "College of Medicine", the King's Fund, the Universities and Colleges Union (UCU), OfQual, Edexcel, National Occupational Standards and Qualifications and the Curriculum Authority (QCA).
Whatever happened to that "bonfire of the quangos"?
Follow-up
2 January 2012 The McTimoney College of Chiropractic (owned by BPP University) claims that its "validation" by the University of Wales will continue until 2017. This contradicts the statement from UoW. Watch this space.
3 January 2012. Thanks to Neil O'Connell for drawing my attention to a paper in Pain. The paper is particularly interesting because it comes from the Southampton group which has previously been sympathetic to acupuncture. Its authors include George Lewith. It shows, yet again that there is no detectable difference between real and sham acupuncture treatment. It also shows that the empathy of the practitioner has little effect: in fact the stern authoritarian practitioner may have been more effective.
Patients receiving acupuncture demonstrated clinically important improvements from baseline (i.e., a 29.5% reduction in pain), but despite this, acupuncture has no specific efficacy over placebo for this group of patients. The clinical effect of acupuncture treatment and associated controls is not related to the use of an acupuncture needle, nor mediated by empathy, but is practitioner related and may be linked to the perceived authority of the practitioner."
Sadly. the trial didn't include a no-treatment group, so it is impossible to say how much of the improvement is regression to the mean and how much is a placebo effect. The authors admit that it could be mostly the former.
Surely now the misplaced confidence in acupuncture shown by some medical and university people must be in tatters.
In yet another sign that even acupuncture advovates are beginning to notice that it doesn't work, a recent article Paradoxes in Acupuncture Research: Strategies for Moving Forward, shows some fascinating squirming.
3 January 2012. The Daily Telegraph has carried a piece about closure of university courses, written by Michael Hanlon. On 31 January they carried a much longer piece.
3 January 2012. It is a great pity that some physiotherapists seem to have fallen hook, line and sinker for the myths of acupuncture. Physiotherapists are, by and large, the respectable face of manipulative therapy. Their evidence base is certainly not all one would wish, but at least they are free of the outrageous mumbo humbo of chiropractors. Well, most of them are, but not the Acupuncture Association of Chartered Physiotherapists (AACP), or, still worse, The Association of Chartered Physiotherapists in Energy Medicine, a group that is truly away with the fairies. These organisations are bringing a very respectable job into disrepute. And the Health Professions Council, which is meant to be their regulator, has, like most regulators, done nothing whatsoever to stop it.
5 January 2012. Times Higher Education gives a history of the demise of the University of Wales, Boom or Bust. It's a useful timeline, but like so many journalists, it's unwilling to admit that bloggers were on to the problem long before the BBC, never mind the QAA.
There was also a leader on the same topic, Perils of the export business. It again fails to take the QAA to task for its failures.
Interviews for Deutsche Welle and Middle East Broadcasting Center TV.
17 January 2012 Another question answered. I just learned that the ludicrous course in Nutritional Therapy, previously validated by the University of Wales (and a contributor to its downfall), is now being validated by, yes, you guessed, Middlesex University. Professor Driscoll seems determined to lead his univerity to the bottom of the academic heap. His new partnership with the Northern college of Acupuncture is just one of a long list of validations that almost rivals that of the late University of Wales. The course has, of course, an enthusiastic testimonial, from a student. It starts
I work full time as a team leader for a pension company but I am also a kinesiologist and work in my spare time doing kinesiology, reiki and Indian head massage.
Evidently she's a believer in the barmiest and totally disproved forms of magic medicine. And Middlesex University will give her a Master of Science degree. I have to say I find it worrying that she's a team leader for a pension company. Does she also believe in the value of worthless derivatives. I wonder?
18 January 2012. the story has gone international, with an interview that I did for Deutsche Welle, UK universities drop alternative medicine degree programs. I'm quoted as saying "They're dishonest, they teach things that aren't true, and things that are dangerous to patients in some cases". That seems fair enough.
There is also an interesting item from July 2010 about pressure to drop payment for homeopathy by German health insurance
31 January 2012
The Daily Telegraph carried a prominent 1200 word account (the title wasn't mine). The published version was edited slightly.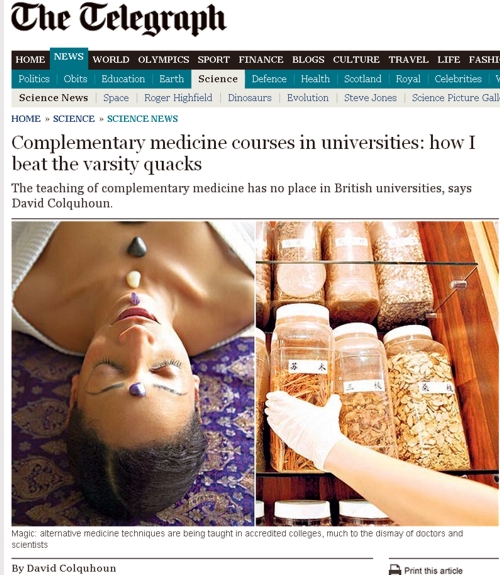 39 Responses to The demise of quackademia. Progress in the last 5 years leaves Michael Driscoll and Geoffrey Petts isolated.