The purpose of this post is to reveal a few samples of things that are taught on a homeopathy 'degree' course. The course in question was the "BSc Hons homeopathy course at the University of Central Lancashire (UCLAN). Entry to this course was closed in 2008 and, after an internal review, UCLAN closed almost all of the rest of its courses in alternative medicine too. The university is to be commended for this .
The purpose of making public some of what used to be taught is not to embarrass UCLAN, which has already done the sensible thing, but to make it clear that the sort of thing taught on such courses is both absurd and dangerous, in the hope of discouraging other courses
.Three years after I first asked for teaching materials, the Information Commisioner ruled that all the reasons given for refusal were invalid, and they must be handed over. However UCLAN then appealed against the decision, so the appeal went to an Information Tribunal. That appeal was lost decisively and UCLAN was.obliged to provide the whole of the course material.

On Christmas Eve I got five large box files, 13.7 kg of documents, or 30 pounds, in old money.
Because these documents are copyright, I rely on the twin defences of fair quotation (only a tiny proportion is being quoted) and public interest. The Information Tribunal decided very firmly that it was in the public interest that it should be known what is taught on such courses, and that can be achieved if some of it is made public. Here are a few extracts.
Code of ethics
The students are given a copy of the code of ethics of the Society of Homeopaths. This is 25 pages long, but paragraph 48 is especially interesting.
48 Advertisements, stationery and name plates maintain a high standard of propriety and
integrity to enhance the reputation of homeopathy.

Advertising shall not contain claims of superiority.
No advertising may be used which expressly or implicitly claims to cure named diseases.
Advertising shall not be false, fraudulent, misleading, deceptive, extravagant or sensational.
No mention though, of the fact that this code of ethics has been repeatedly breached by the Society of Homeopaths itself, on its own website. See, for example, here in 2007 and again in 2009. as well as Ernst's article on this topic.
Anyone who has followed dialogues among homeopaths knows that "claims to cure named diseases" is the norm not the exception. The code of ethics is just a bad joke. And the (late) course at UCLAN was no exception. Take, for example, course HP3002, Therapeutic Homeopathy, module leader Jean Duckworth.
Homeopathic treatment of cancer
There was a lecture on HP3002 called "A Homeopathic Approach to Cancer (Ramakrishnan methodology [sic])".. Here are 10 slides from that lecture. It is illegal to claim to be able to cure cancer under the Cancer Act 1939. If a homeopath were to make claims like these in public they'd be open to prosecution, not to mention in breach of the SoH's code of ethics. If cancer is not a "named disease", what is?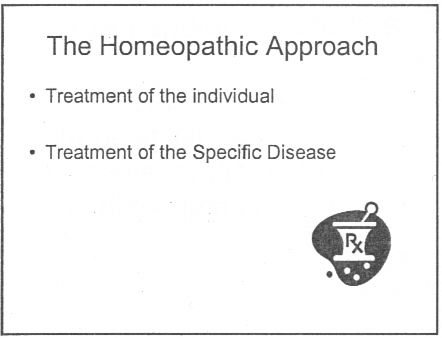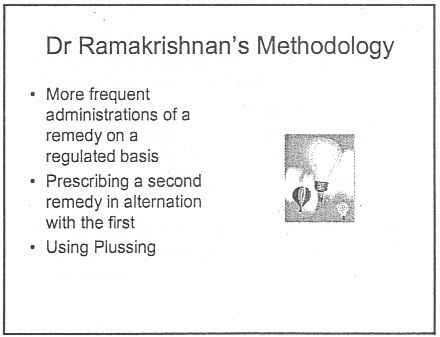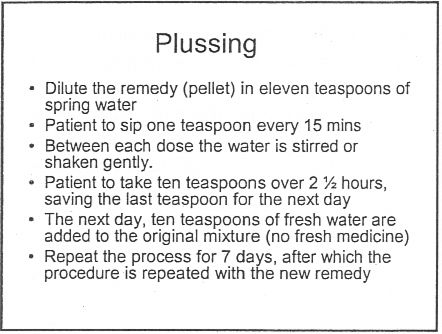 Aha so it is better if the water is diluted in some more water.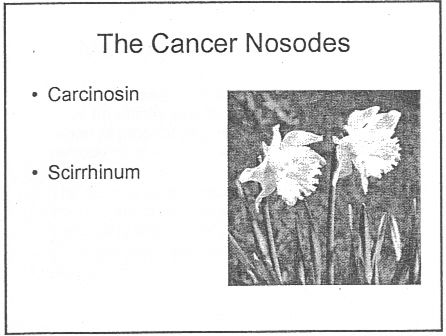 Specific treatments for a named disease are recommended.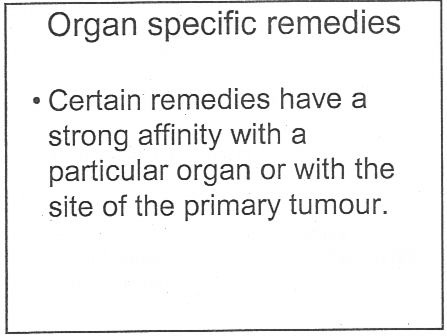 What happened to treating the whole person? Now specific organs are being treated. The term "affinity", as used here, is of course sheer hocus pocus.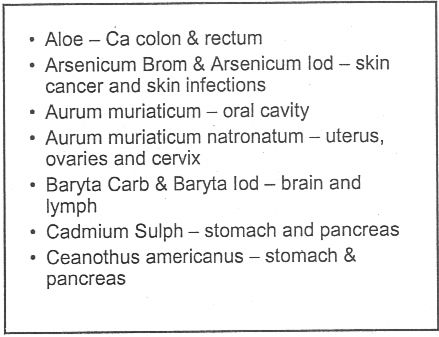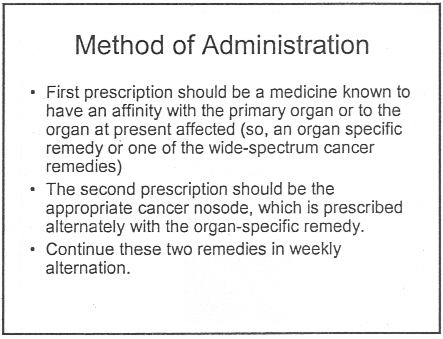 It is easy to forget when reading this that none of the "medicines" contain any medicine whatsoeever.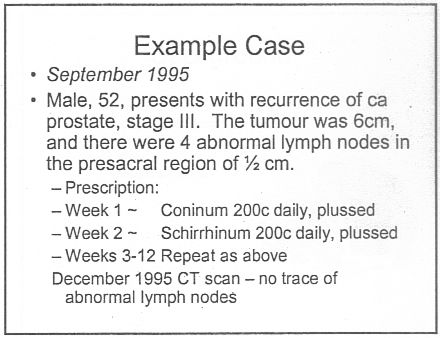 Notice that the term "remedy" is used throughout. Any reasonable person would interpret "remedy" to imply "cure", though no doubt a homeopath, if challenged, would claim that "remedy" carried no such implication. The last slide is typical of junk medicine: the personal testimonial, supplied with no detail whatsoever. Just an anecdote which is useless as evidence.
This lecture alone strikes me as a cruel (and possibly illegal) hoax perpetrated on desperate patients. Of course a true believer might get some solace from taking the sugar pills, but that is not sufficient justification.
The same course dealt with quite a lot of other "named diseases", autism, ADHD and coping with a heart attack. And, you are asked, did you think arnica is just a first aid remedy?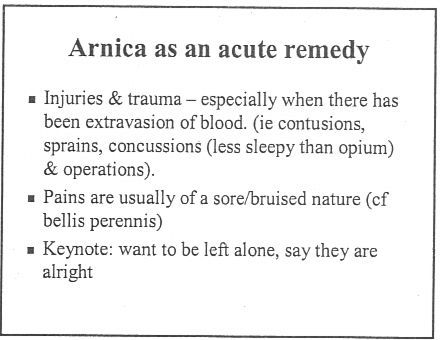 If that isn't a list of "named diseases", what is? The code of ethics appears to be a total sham.
And of course never forget that the "arnica" doesn't contain any arnica anyway. And if you don't believe that you can read the words of Kate Chatfield, module leader on thie very course, as recorded in the minutes of evidence to the Select Committee on Science and Technology .
Q538 Lord Broers: I have a simple, technical question about homeopathy and drugs. Is it possible to distinguish between homeopathic drugs after they have been diluted? Is there any means of distinguishing one from the other?

Ms Chatfield: Only by the label.
You can read a lovely analysis of the views of Kate Chatfield by physicist A.P. Gaylard here.
Follow-up
The Daily Telegraph. January 8th 2009 Ian Douglas reported on this post: The workings of a BSc in homeopathy
The Lancashire Evening Post carried a big spread on January 15th, Professor seeks out the truth about 'quackery'.
River's Edge. News and thoughts from Preston, Lancashire reviewed the Lancashire Evening Post article on Saturday January 16th: Homeopathy at UCLAN, a degree in quackery.
The cost of trying to stop this material being revealed. UCLAN told me on 5 February 2010 that the legal costs alone were £80,307.94 (inc. VAT). That doesn't include staff time and photocopying. I'm not convinced that this was a good way to spend taxpayers' money.