Sarah Ferguson, ex-wife of Prince Andrew, Duke of York, seems to need a lot of money. Some of her wheezes are listed in today's Times. That's behind a paywall, as is the version reproduced in The Australian (Murdoch connection presumably). You can read it (free) here, with more details below the article.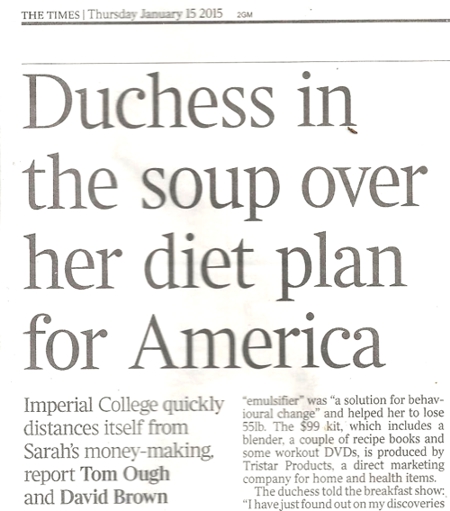 Thomas Ough and David Brown
Published at 12:01AM, January 15 2015
In her seemingly endless quest to make money, Sarah, Duchess of York, has had little hesitation using her title to generate sales.
This week, though, she landed herself in trouble after appearing to use the name of Britain's foremost scientific university to lend credibility to a promotion for her new diet system.
The duchess told NBC's Today show during an interview to promote her "emulsifier" programme that she was aware of the dangers of obesity through her work as an ambassador for the Institute of Global Health Improvement at Imperial College London.
Last night she apologised for "any misunderstanding" after Imperial College, ranked the joint second-best university in the world, sought to distance itself from the duchess's promotion.
A spokesman said: "The commercial activities promoted by Sarah Ferguson in the interview with Today are not connected in any way to Imperial's staff or research activities, and the college does not endorse the suggestion of any possible link."
The institute, which has more than 160 specialists, including clinicians, engineers, scientists and psychologists, is headed by Lord Darzi of Denham, a former Labour health minister.
The duchess told the Today presenter Matt Lauer that she had been a comfort eater since the age of 12 but the "turning point" was when she realised that she was the same weight as when pregnant with Princess Beatrice, now 25.
"I couldn't bear looking at myself any minute longer," she confided. "In fact, the size of my ass probably saved my life." She said she discovered that the "emulsifier" was "a solution for behavioural change" and helped her to lose 55lbs. The $99 kit, which includes a blender, a couple of recipe books and some workout DVDs, is produced by Tristar Products, a direct marketing company for home and health items.
The duchess told the breakfast show: "I have just found out on my discoveries with Imperial College London . . . I'm an ambassador for the Institute for Global Health Innovation, and I found out that children, little children, are going to die before their parents because of obesity."
The benefits of the kit were questioned yesterday by Ayela Spiro, a senior scientist at the British Nutrition Foundation.
She said: "In terms of the particular product, no juicer or blender on their own can enhance how much nutrition your body will absorb. Any claims made about such products such that it accelerates weight loss, boosts energy and strengthens the immune system need to be treated with caution."
Professor David Colquhoun of University College London, said: "I find it pretty amazing that Imperial chose someone like her to be an 'ambassador'. Imperial does have an interest in appetite suppression but hasn't come up with any usable product yet and this research has nothing to do with blenders.
"[Her television appearance] was sheer name-dropping, something she's quite good at. The only 'discovery' she seems to have made is that if you eat less you'll lose weight. The $100 blender has nothing to do with it."
A spokesman for the duchess said: "She is not trying to use her association with the institute to promote her personal interests. She was talking about 'behavioural change', which is endorsed by the institute, and her own behavioural change."
With the article there's an inset that gives details of other ways in which Sarah Ferguson has exploited her title to make money.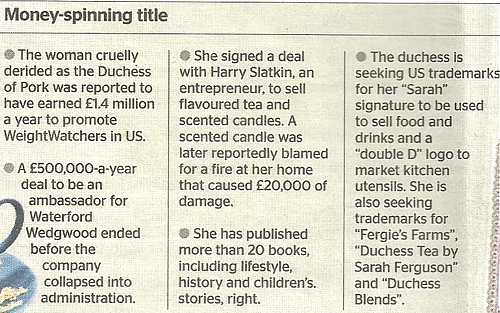 Fergie's latest wheeze, Duchess Discoveries is being promoted heavily on US television. It bears a close resemblance to those ghastly daytime TV advertising channels. Watch her interview on a US TV programme, "Today".
It's partly promoting her latest diet scam, and partly a vigorous defence of her ex-husbands innocence in the face of allegations of sexual shenanigans. Of course she doesn't know whether the allegations are true. The Queen doesn't know (so why bother with the denial from Buckingham Palace?). And I don't know. We know plenty about Prince Andrew's bad behaviour, but we don't know whether he's had sex with minors.
Worse still is the promotional video on the "Duchess Discoveries" site itself.
I quote:
"I'm SO excited about my fusion accelerator system, accelerates weight loss, accelerates your energy, accelerates and strengthens your immune system."
"accelerates weight loss" is certainly unproven. Mere hype
"accelerates your energy" is totally meaningless. It's the sort of sciencey-sounding words that are loved by all quacks.
"accelerates and strengthens your immune system". Sigh. "strengthening the immune system is the perpetual mantra of just about every quack. It's totally meaningless. Just made-up nutribollocks.
The promotional video is fraudulent nonsense. If it were based in the UK I have no doubt that it would be quickly slapped down by the Advertising Standards Authority. But in the USA the first amendment allows people to lie freely about nutrition, which is why it's such big business.
It bothers me that the most that the best that the British Nutrition Foundation could manage was to say that such claims "need to be treated with caution". They are mendacious nonsense. Why not just say so?
Follow-up