University College London
I have always been insanely proud to work at UCL. My first job was as an assistant lecturer. The famous pharmacologist, Heinz Otto Schild gave me that job in 1964, and apart from nine years, I have been there ever since. That's 50 years. I love its godless tradition. I love its multi-faculty nature. And I love its relatively democratic ways (with rare exceptions).
It is there that I met the great statistician Alan Hawkes, without whom much of my research would never have happened. It was there that Hyman Kestelman (among others) gave me informal tutorials on matrix algebra over lunch. It was there where I have met John Sutherland (English), Mary Fulbrook (German), many historians and people from the Slade school of Art. And it was there where, yesterday, I had an illuminating conversation with Steve Jones about the problems of twin studies for measuring heritability.
I was astonished when I arrived at UCL to discover that the Housman room was male only. I'd just come from Edinburgh which still had separate men's and women's student unions and some men-only bars. But Edinburgh also had a wonderful staff club, open to all. It's true that UCL had also a women-only common room and a mixed common room, the Haldane room (which is where I went usually). But the biggest and most impressive room, the Housman room, was for men only. I found this very odd in the 1960s, the age of sexual liberation. Reform was in the air in the 1960s.
A lot of other people, not all female, thought it odd too. Direct action was called for (I was in CND at the time). So we'd go into the Housman room with a woman and join the queue for coffee. It never took long before some pompous prat would tap the woman on the shoulder and eject her. I can't remember now the names of any of the feisty women who braved the lions' den (perhaps this blog will remind someone).
In 1967 we proposed a motion at the Housman AGM to desegregate all common rooms. It was defeated. The next year we did it again, and were defeated again.. But at the third attempt, in 1969, we succeeded. I was very happy to have had a small role in upholding UCL's liberal traditions.
Nevertheless, in the mid-1960s, women were very far from being regarded as equal, even at UCL. At the time, segregation was more common than people now remember.
I was spurred to write this post when Melissa Terras, UCL's professor of digital humanities, retweeted a reminder that it was in 1967 that a woman first ran in a an official marathon, and suffered physical attack from a male organiser for her temerity.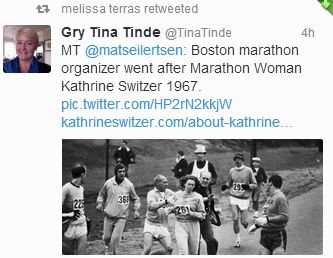 I responded

I was urged to record this history by both Terras and by Lisa Jardine, Director of UCL's Centre for Interdisciplinary Research in the Humanities. So I have done it.

I was very aware of Kathy Switzer at the time, and I've no doubt she is part of the reason why I felt strongly about segregation. You can read about the 1967 Boston marathon in her own words. I thought it was a wonderful story, though I wasn't yet into distance running myself (I was still sailing and boxing).
One of the great thing about marathons is that women and men run in the same race. That means that almost all men have had to get used to being overtaken by very many women. That has been wonderfully good for deflating male egos. When I was training for marathons in the 1980s, my training partner, Annie Briggs was on the elite start -a good hour faster than I could manage.
It's now utterly beyond belief that in the 1960s men were saying that women were too feeble to run 26 miles. It was sheer blind arrogance. After Switzer, progress was fast. In 1972 women were allowed to run in Boston, and within 10 years, the women's record time had fallen by a full hour. Physiology hadn't changed, but confidence had.
Of course it wasn't until the 2012 Olympics that women gained total equality in sport. Everyone who said that women were incapable of competing in combat sports should see Rosi Sexton in action.
She's the ultimate high-achiever. She's an accomplished musician (grade 7 cello, ALCM piano) and she played at the Albert Hall with the Reading Youth Orchestra. She went on to get a first in maths (Cambridge, Trinity College), where her tutor was Tim Gowers. Then she did a PhD in theoretical computer science from Manchester (read her thesis). And she's had a distinguished career as professional athlete, competing at the highest level in MMA. Why? "The other things I did, the music, the maths, just weren't quite hard enough".
Not many athletes have a paper in the Journal of Pure and Applied Algebra. I'd be very happy if I could do any one of these things as well as she does.
On 15 July 2017, Maryam Mirzakhani died, at a mere 40 years old. It's tragic that having achieved so much, against all the odds, the dice rolled the wrong way for her, and cancer destroyed her. Her life will inspire generations to come.
As in marathons, confidence, role models and zeitgeist matter as much as genetics.
It's examples like these that have made me profoundly suspicious of generalisations about what particular groups of people can and cannot do. Whether it is working class boys. black boys, or women, such generalisations can be shattered over a decade or two, once the zeitgeist changes.
That's one reason that I am so unsympathetic to the IQ enthusiasts. Great harm has stemmed from the belief that it's possible to sum up human achievements in a single number. What's more, it's a number that measures your resemblance to white male psychologists. It is because politicians believed the over-hyped claims of psychologists in the 1930s, that three-quarters of the population was written off. Much the same thing has happened with women, and with skin colour.
Don't believe it.
And the job of desegregation may not be entirely finished. In fact now it is harder to combat, since it's unspoken. Once again, I'm reminded of Peter Lawrence's essay, The Mismeasurement of Science. Speaking of the perverse incentives and over-competitiveness that has invaded academia, he says
"Gentle people of both sexes vote with their feet and leave a profession that they, correctly, perceive to discriminate against them [17]. Not only do we lose many original researchers, I think science would flourish more in an understanding and empathetic workplace."
The perverse incentives that make academic life hard for women (and for many men too) are administered by HR departments (with the collusion of mostly elderly male academics). They are the very same people who write fine-sounding diversity documents and lecture you about work-life balance.
It's time they woke up.
---
Note. The minutes of Housman AGMs from the 1960s are missing at the moment. If they come to light, this post will be modified accordingly.
Follow-up
29 August 2014
In 1967 she must have been about 42. The episode is mentioned in Gertrude's obituary in the Guardian. She also sent me a copy of the Physiologocal Society's obituary, which recounts the story thus.
"Her indifference to conventions is well illustrated by the occasion when, drinking coffee in the men's staff common room, at that time still segregated, she responded calmly to the Beadle summoned to escort her out, "well, I am certainly going to finish my coffee first", and did so at her leisure."
I have another story about Gertrude's feistiness. Every year the Royal Society has a soirée for fellows and guests. It's a sort of private view for the Summer Science exhibition. Men are required to dress like penguins despite the heat, and the invitation says "decorations will be worn". The food is good though it's all a bit pompous for my taste. Some years ago I met Gertrude at a soirée and I saw she was wearing a medal round her neck. I said "have they made you a Dame of the British Empire?". She held up the medal and I saw it said "Erasmus High School Economics Prize". She is why I usually go to the soirée wearing my London Marathon medal.
12 May 2015
Surprising as it seems now that the Housman room excluded women until 1969, there are other UCL institutions that were almost as slow as Oxford and Camridge to join the modern age.
One of these is the Professors' Dining Club (it isn't actually restricted to professors). I recall going to one of their dinners in the 1960s, as a guest of Heinz Otto Schild, the then head of Pharmacology, who gave me my first job. He was a lovely man, but I was horrified that it didn't allow women to join. I recently discovered that its records reveal that it didn't see the light until 1981. It wasn't until after that happened that I joined the club. It seems now to be a shameful record.
Last year, I was sent my answer paper for one of my final exams, taken in 1959. This has triggered a bout of shamelessly autobiographical nostalgia.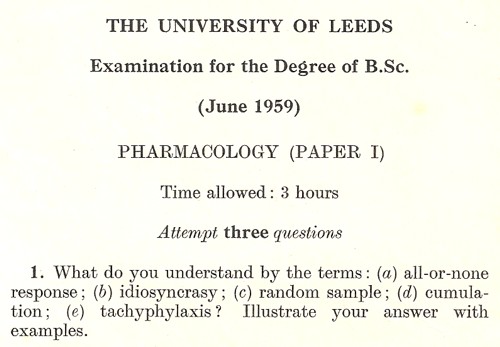 Trevan is something of hero to me. And he was said to be very forgetful. Gaddum, in his biographical memoir, recounts this story
"One day when he had lost something and suspected that it had been tidied away by his secretary, he went round muttering 'It's all due to this confounded tidiness. It always leads to trouble. I won't have it in my lab.' "
Mogey wrote several papers with Trevan. In 1948 he presented one at a meeting of the Physiological Society. The programme included also A.V. Hill. E.J Denton, Bernhard [sic] Katz, J.Z. Young and Richard Keynes (Keynes was George Henry Lewes Student at Cambridge: Lewes was the Victorian polymath with whom the novelist George Eliot lived, openly unmarried, and a founder of the Physiological Society. He probably inspired the medical content of Eliot's best known novel, Middlemarch).
The tradition of interest in statistics and biological assay must have rubbed off on me, because the answers I gave in the exam were very much in that tradition. Here is a snippet (click to download the whole answer sheet).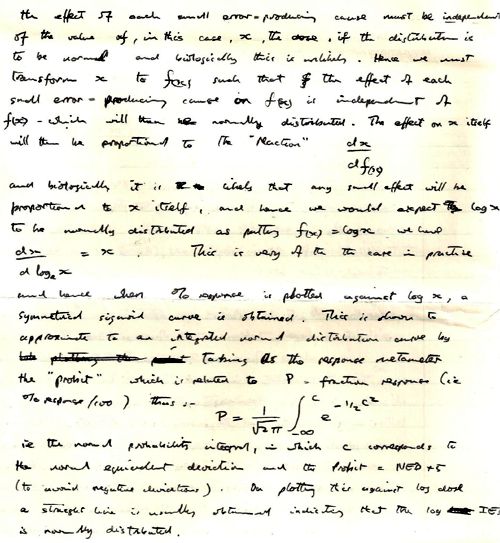 A later answer was about probit analysis, an idea introduced by statistician Chester Bliss (1899–1979) in 1934, as an direct extension of Trevan's work. (I met Bliss in 1970 or 1971 when I was in Yale -we had dinner, went to a theatre -then back to his apartment where he insisted on showing me his collection of erotic magazines!)
This paper was a pharmacology paper in my first final exam at the end of my third year. The external examiner was Walter Perry, head of pharmacology in Edinburgh (he went on to found the Open University). He had previously been head of Biological Standards at the National Institute for Medical Research, a job in which he had to know some statistics. In the oral exam he asked me a killer question "What is the difference between confidence limits and fiducial limits?". I had no real idea (and, as I discovered later, neither did he). After that, I went on to do the 4th year where we specialised in pharmacology, and I spent quite a lot of time trying to answer that question. The result was my first ever paper, published in the University of Leeds Medical Journal. I hinted, obliquely, that the idea of fiducial inference was probably Ronald Fisher's only real mistake. I think that is the general view now, but Fisher was such a towering figure in statistics that nobody said that straight out (he was still alive when this was written -he died in 1962).

It is well-worth looking at a paper that Fisher gave to the Royal Statistical Society in 1935, The Logic of Inductive Inference. Then, as now, it was the custom for a paper to be followed by a vote of thanks, and a seconder. These, and the subsequent discussion, are all printed, and they could be quite vicious in a polite way. Giving the vote of thanks, Professor A.L. Bowley said
"It is not the custom, when the Council invites a member to propose a vote of thanks on a paper, to instruct him to bless it. If to some extent I play the inverse role of Balaam, it is not without precedent;"
And the seconder, Dr Isserlis, said
"There is no doubt in my mind at all about that, but Professor Fisher, like other fond parents, may perhaps see in his offspring qualities which to his mind no other children possess; others, however, may consider that the offspring are not unique."
Post-publication peer review was already alive and well in 1935.
I was helped enormously in writing this paper by Dr B.L.Welch (1911 – 1989), whose first year course in statistics for biologists was a compulsory part of the course. Welch was famous particularly for having extended Student's t distribution to the case where the variances in two samples being compared are unequal (Welch, 1947). He gave his whole lecture with his back to the class while writing what he said on a set of blackboards that occupied the whole side of the room. No doubt he would have failed any course about how to give a lecture. I found him riveting. He went slowly, and you could always check your notes because it was all there on the blackboards.
Walter Perry seemed to like my attempt to answer his question, despite the fact that it failed. After the 4th year final (a single 3 hour essay on drugs that affect protein synthesis) he offered me a PhD place in Edinburgh. He was one of my supervisors, though I never saw him except when he dropped into the lab for a cigarette between committee meetings. While in Edinburgh I met the famous statistician. David Finney, whose definitive book on the Statistics of Biological Assay was an enormous help when I later wrote Lectures on Biostatistics and a great help in getting my first job at UCL in 1964. Heinz Otto Schild. then the famous head of department, had written a paper in 1942 about the statistical analysis of 2+2 dose biological assays, while interned at the beginning of the war. He wanted someone to teach it to students, so he gave me a job. That wouldn't happen now, because that sort of statistics would be considered too difficult Incidentally, I notice that Schild uses 99% confidence limits in his paper, not the usual 95% limits which make your results look better
It was clear even then, that the basis of statistical inference was an exceedingly contentious matter among statisticians. It still is, but the matter has renewed importance in view of the crisis of reproducibility in science. The question still fascinates me, and I'm planning to update my first paper soon. This time I hope it will be a bit better.
Postscript: some old pictures
While in nostalgic mood, here are a few old pictures. First, the only picture I have from undergraduate days. It was taken on a visit to May and Baker (of sulphonamide fame) in February 1957 (so I must have been in my first year). There were 15 or so in the class for the first three years (now, you can get 15 in a tutorial group). I'm in the middle of the back row (with hair!). The only names that I recall are those of the other two who went into the 4th year with me, Ed Abbs (rightmost on back row) and Stella Gregory (2nd from right, front row). Ed died young and Stella went to Australia. Just in front of me are James Dare (with bow tie) and Mr Nelson (who taught old fashioned pharmacognosy).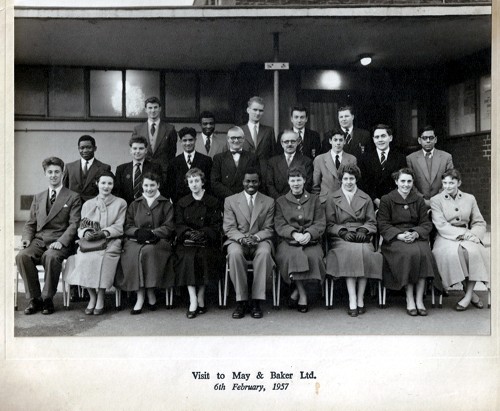 The history of UCL's pharmacology goes back to 1905. For most of that time, it's been a pretty good department. It got top scores in all the research assessments until it was abolished by Malcolm Grant in 2007. That act of vandalism is documented in my diary section.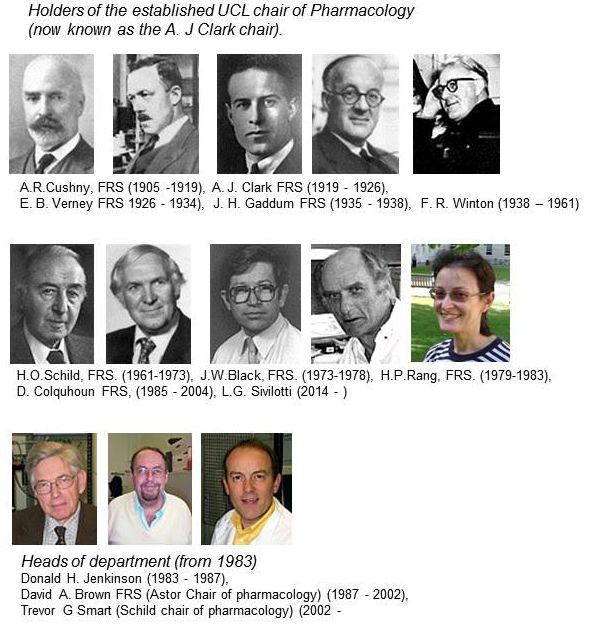 For most of its history, there was one professor who was head of the department. That tradition ended in 1983,when Humphrey Rang left for Novartis. The established chair was then empty for two years, until Donald Jenkinson, then head of department, insisted with characteristic modesty, that I rather than he should take the chair. Some time during the subsequent reign of David Brown, it was decided to name the chairs, and mine became the A.J. Clark chair. It was decided that the headship of the department would rotate, between Donald, David Brown and me. But when it came to my turn, I decided I was much too interested in single ion channels to spend time pushing paper, and David Brown nobly extended his term. The A.J. Clark chair was vacant after I 'retired' in 2004, but in 2014, Lucia Sivilotti was appointed to the chair, a worthy successor in its quantitative tradition.
The first group picture of UCL's Pharmacology department was from 1972. Heinz Schild is in the middle of the front row, with Desmond Laurence on his left. Between them they dominated the textbook market: Schild edited A.J. Clark's Pharmacology (now known as Rang and Dale). Laurence wrote a very successful text, Clinical Pharmacology. Click on the picture for a bigger version, with names, as recalled by Donald Jenkinson: (DHJ). I doubt whether many people now remember Ada Corbett (the tea lady) or Frank Ballhatchet from the mechanical workshop. He could do superb work, though the price was to spent 10 minutes chatting about his Land Rover, or listening to reminiscences of his time working on Thames barges. I still have a beautiful 8-way tap that he made. with a jerk-free indexing mechanism.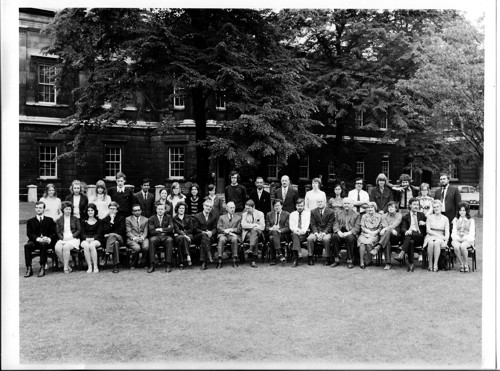 The second Departmental picture was taken in June 1980. Humphrey Rang was head of department then. My colleagues David Ogden and Steven Siegelbaum are there. In those days we had a tea lady too, Joyce Mancini. (Click pictures to enlarge)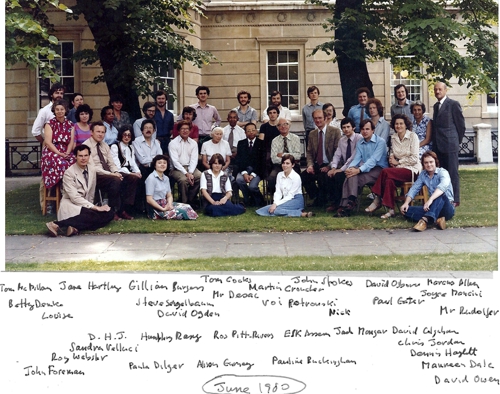 Follow-up