Boots the Chemists have proved themselves dishonest before, over their promotion of homeopathy and of B Vitamins "for vitality"
In a press release dated 12 March 2008, they have hit a new low in ethical standards
Boots help boost the nation's energy levels in just one week

"Health and beauty expert Boots has launched an exclusive energising vitamin supplement that helps boost depleted energy levels and maintain vitality. It is the first time that this exclusive form of CoQ10 has been made available on the high street."

" . . .supplementation can help to supply higher levels of CoQ10 than are available in the diet. Boots Energy Super Strength CoQ10 containing natural Kaneka CoQ10 is a way of boosting energy levels that can help people who lack energy to see results in a week"
This is as bad a bit of nutribollocks as I've ever seen. It is based on the confusion between two totally different meanings of the word "energy". I see only two interpretations. Either the people who wrote and checked the promotional material are utterly ignorant about biochemistry and psychology. Or it is a deliberate attempt to mislead the public in order to shift the product.
You decide.
Last year there was an
equally misleading press release
about CoQ10 from Solgar/Boots Herbal. That one was headed "Need More Energy – Solgar's Nutri Nano™ Uses Nanotechnology to Deliver Unprecedented Bioavailability of CoQ10". Not only is the word 'energy' misused but notice that the trendy term 'nanotechnology' is worked in for extra sciencey effect. It turns out that all this means is that the preparation contains
micelles
. So nothing new there either. Micelles have been known for almost 100 years.
In contrast, the
Boots online store
is noticeably more restrained. Could that be because the Advertising Standards People can't touch press releases, just as they can't control what
Boots Expert Team
tell you face to face in the shop?
Boots PR contact is given as: Carrie Eames, PR Manager, Boots The Chemists, D90W WG14, Thane Road, Nottingham NG90 1BS. I'm not sure how Ms Eames sleeps at night. Perhaps you should write to her and let her know what you think.
You might point out to her
Boots (anti) Social Corporate (ir)Responsibility Page
. It says
"So it's part of our heritage to treat our customers fairly and act with integrity in everything we do, rather than seizing on the quickest and easiest way to turn a profit."
CoQ10 and "energy"

Coenzyme Q10 (also known as ubiquinone) is a relatively small molecule. It cooperates with cytochrome enzymes (big proteins) to synthesize a molecule called ATP. This is a chemical form of energy that can be used to do work, such as making a muscle fibre contract.

The word "energy " here is used in the sense that a physicist would use it. It is measured in joules or in calories. The meaning of the word 'energy' is described nicely in the Wikipedia entry. For example, when an electric current passes through a resistor (like a kettle) the electrical energy is converted to heat energy, and the energy used is potential difference (volts) X current (amps) X time. In other words energy is power (in watts) times time. So another unit for energy is kilowatt-hours (one kilowatt-hour is about 3.6 megajoules).

Energy in this sense has nothing whatsoever to do with the everyday use of 'energy' to indicate your vitality, or how lively you feel.

Furthermore there is not the slightest empirical reason to think that CoQ10 makes you feel more lively. None. The press release cites a sciencey-sounding reference (Ernster L, Dallner G. Biochemical, physiological and medical aspects of ubiquinone function. Biochim Biophys Acta. 1995 May 24;1271(1):195-204.). But this paper is just a review of the biochemistry, nothing whatsoever to do with feeling good.


CoQ10 and the supplement business
There is nothing new in this big push by Boots. CoQ10 has been a staple of supplement business for a long time now. All sorts of medical claims have been made for it. Everything from migraine, to Parkinson's disease to cancer has been raised as possible benefits of the magic drug, oops, I mean 'supplement'. This is quite improper of course, since it is being sold as a food not as a medicine, but it is standard practice among supplement hucksters, and so far they have been allowed to get away with it.

What's interesting though is that until Boots PR machine swung into action, one thing that hadn't been claimed much is that it made you feel more lively. That's one they just invented.
CoQ10 and the press
It's standard technique to get free advertising by hoping that journalists will dash off an article on the basis of a press release, with the hope that they will be in too much hurry to check the spin. Too often it works.


The Daily Mail has big coverage of the press release, under the title "Can a 60p pill from the chemist really add years to your life?". This was written by Anna Hodgekiss and it's not bad. It starts with a nice note of scepticism
"Forget vitamins C, E or even B12. The real wonder supplement is Coenzyme Q10 or CoQ10. That's what Boots would have you believe, anyway. "


"So should we all be taking this supplement?

Not according to David Colquhoun, professor of pharmacology at University College London, who says Boots' claims are "deliberately misleading customers".

"Yes, CoQ10 helps the body convert glucose into energy, but it's not the psychological get-up-and-go energy you feel day to day.

"The type of energy it does produce powers our muscles and cells – physical energy. They have confused the two here to promote a product that I'm not convinced would make any difference to how you actually feel at all."
The article goes on
Among the other sceptics is Scott Marsden, a senior dietician at The London Clinic.

"There haven't been enough trials to warrant us all taking CoQ10," he says.

"It sounds boring, but if you are healthy and eating a balanced diet, you will get all the nutrients you need and shouldn't have to take supplements.

"Not only could you be spending money unnecessarily, you could also be putting your health at risk. Buy some wholesome food instead." "

Dr Clare Gerada, vice chairman of the Royal College of General Practitioners, is more forthright.

"While there is some evidence to suggest CoQ10 supplements may help patients with heart failure or severe respiratory disorders, more work is needed," she says.

"This is just another example of normal health being medicalised, and it's an issue that worries me.

"The human body is an amazing machine, and we have never been in better health. The fact that more people are living well into their 80s and 90s is proof.

"People need to stop looking for a wonder pill in their quest to live for ever."
But guess who comes out fighting for Boots? None other than my old friend Dr Ann Walker. Little wonder then that my Nutriprofile result recommended a co Q10 supplement, because she is involved in that too.
Ann Walker's colleague on the Nutriprofile project, Dr Sarah Brewer comments on CoQ10 on the Healthspan site, thus.
"As CoQ10 is vital for energy production in muscle cells, lack of CoQ10 is linked with lack of energy, physical fatigues, muscle aches and pains . . ."
It seems that she also can't distinguish between energy in joules and energy as vitality,
Female First and Marie Claire also carry a story "Boots Sell 'Life Extending' Pill"
"A new pill that claims to add years to our lives is due to hit shelves in Boots stores this week but scientists say the drug is misleading."

"Despite these claims Professor David Colquhoun told Marie Clare that he believes the drug is 'deliberately misleading customers': "Yes, CoQ10 helps the body convert glucose into energy, but it's not the psychological get-up-and-go energy you feel day to day," he said."
(Funny, I never consciously spoke to Marie Claire but the quotation is OK.)
The Times, in contrast, carries an appalling column by their Dr Thomas Stuttaford, "A natural solution to tiredness". There isn't even a question mark in the title, and the content is totally uncritical. Private Eye has nicknamed the author 'Dr Thomas Utterfraud'. How very cruel.


See also, excellent articles on CoQ10 by Ben Goldacre in the Guardian, and at badscience.net, and at Holfordwatch and Dr Aust's Spleen

Aha Boots have repeated their mendacious claims in newspaper advertisements
This appeared in the Guardian on 18 March, and I'm told it was in the Mail too.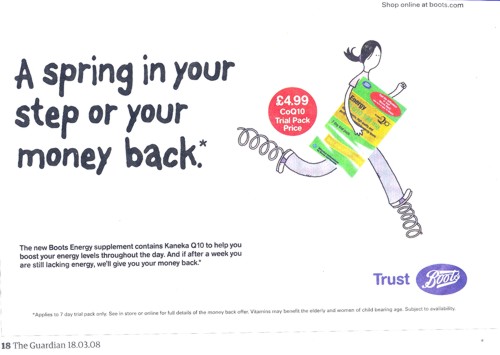 The small print says
"The new Boots Energy supplement contains Kaneka Q10 to help boost your energy levels throughout the day"
Here is what I just sent to the Advertising Standard Authority, or email new.complaints@asa.org.uk . Why not have a go yourself?
"The words "boost your energy levels" and "still lacking energy" constitute a (presumably deliberate) confusion beteen 'energy' measured in joules and the everyday use of the word 'energy' to mean vitality. The former usage would be justified in viewof the role of Coenzyme Q10 in ATP production. There is neither theoretical justification nor any empirical evidence that CoQ10 helps your vitality or 'energy' in the latter sense."
A full size graphic to attach to your complaint can be
downloaded here
.
74 Responses to Boots reaches new level of dishonesty with CoQ10 promotion