The press may like to portray students as irresponsible and revolting . When I visited the occupied Jeremy Bentham room last week, i got a very different impression. That was more than confirmed yesterday (29 November). The students aren't just sitting around grumbling. They have organised a very impressive series of events. Here is yesterday's programme.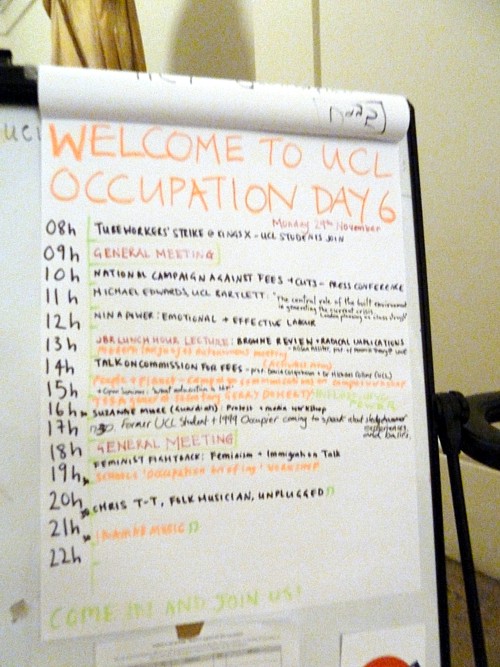 | | |
| --- | --- |
| I volunteered to discuss with them some ideas of what could be done to further their aims. It was the same day that our letter came out in the Daily Telegraph, that pointed out the foolishness of deciding on funding before deciding what form universities should have in the future, I also suggested some possible changes along the lines of those proposed in the Times in October. | |
I didn't talk for long and the discussion that followed was lively and constructive. It was about education, not revolt.
I was asked if I'd like to come back a bit later for group discussions, so I did. I found the students had split into groups. It could well have been an academic conference.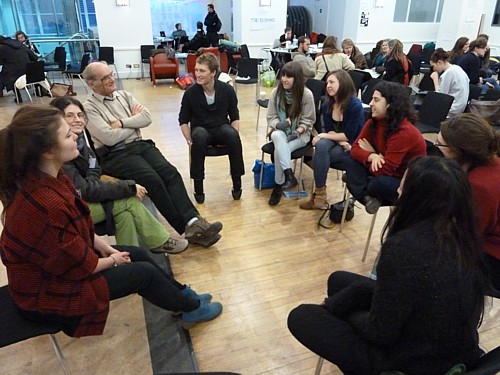 There was a cheerful but entirely serious discussion about what universities should be doing, about teaching methods and about research. There was also discussion about how the good atmosphere could be continued when the occupation eventually ends. Perhaps the most obvious thing is that the students were enjoying immensely being thrown together with people from other disciplines, whom they would never have met otherwise. There were two scientists in the group I joined, the rest being from a whole range of disciplines.
It is to the credit of UCL that they haven't brought in bailiffs or cut off access to toilets. So a lot more sensible than Warwick university's management for example. An email was shown on the screen from Rex Knight, vice provost (operations) who seems to have been put in charge of mediation. He's the one who refused to do anything about it when HR were advertising for people trained in that curious form of psychobabble/pyramid selling scheme, neurolinguistic programming. He decined to meet the students. These days, you just can't get the staff.
You can just walk in and out of the Jeremy Bentham room quite freely. Some students left for lectures and then returned. Others were away that afternoon on a demonstration outside TopShop on Oxford Street. If people like Top Shop owner Philip Green paid the taxes that they should do, the crisis might not be as bad as it is.
And between the earnest intellectual stuff they have fun too. This is the dance-off against the Oxford occupation.
And this is their weekend Ceilidh
Their blog is impressive. as is their organisation. They they have an events organiser with their own email address. You can follow the activities on Twitter @ucloccupation. In just a few days they have picked up more followers on Twitter than I have,
Even the BBC reporter, Sean Coughlan, sees this a something a bit different.
These are well-dressed, articulate youngsters, there's no damage to the room, and the occupation leaflets are mixed up with sleeping bags and text books about biology and Spanish grammar.

This looks like a revolution that probably does the hoovering when it's finished. Any stereotypes about rent-a-rioter are way off the mark.

,

It's the Hogwarts kids, with their strong sense of right and wrong, who are now putting up the barricades.

And they seem as distant from the old left as they do from the new right.
This could be the best educational experience of the year for some of them, and they were making the most of it.
It is really rather beautiful.
Follow-up
Sad to say. UCL's management soon managed to lose the moral high ground and went to court to evict the students. Their blog says
On Friday 3rd December two students on behalf of the UCL Occupations attended a hearing to resist the university's application for a possession order. After almost an hour of legal debate, the judge acknowledged the occupying students' rights to freedom of expression and freedom of assembly and concluded that no possession order could be granted without a full hearing of all the legal arguments. The hearing has been adjourned till Tuesday 7th December at 10:30am.
6 December 2010.Hobbled into work, for hospital appointment. The Slade School of Art is now occupied too. The signs are quite, eh, artistic.